Energy & natural resources law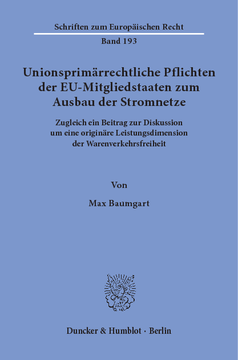 BOOK
Unionsprimärrechtliche Pflichten der EU-Mitgliedstaaten zum Ausbau der Stromnetze
Zugleich ein Beitrag zur Diskussion um eine originäre Leistungsdimension der Warenverkehrsfreiheit
Schriften zum Europäischen Recht, Vol. 193
(2020)
Additional Information
Book Details
ISBN

978-3-428-55794-3
978-3-428-15794-5 (print edition)

DOI

https://doi.org/10.3790/978-3-428-55794-3

Edition

1

Language

German

Pages

198

Collections

Subjects
Pricing
Institution

€ 70.00 (incl. local VAT if applicable)

Individual

€ 53.90 (incl. local VAT if applicable)
About The Author
Max Baumgart ist Wissenschaftlicher Mitarbeiter am Lehrstuhl für Bürgerliches Recht, Kartell- und Regulierungsrecht, Recht der digitalen Wirtschaft sowie am Institut für Energiewirtschaftsrecht der Universität zu Köln. Er absolvierte sein Jura-Studium in Berlin, Köln und Genf, verbrachte Forschungsaufenthalte an den Universitäten in Basel, St. Gallen sowie an der UC Berkeley (USA), und lehrte an der China-EU School of Law in Peking und der Universität in Akureyri (Island). Sein Rechtsreferendariat absolvierte er u. A. am Landesgericht für Zivilrechtssachen in Wien, der Europäischen Kommission, bei der Energierechtssozietät AssmannPeiffer und beim Gerichtshof der Europäischen Union.
Max Baumgart is a research assistant at the University of Cologne's Chair for Civil Law, Competition Law, Regulatory Law, Law of the Digital Economy and at the Institute for Energy Law. He completed his law studies in Berlin, Cologne and Geneva and spent research stays at the universities in Basel, St. Gallen and at UC Berkeley. He taught EU and energy law at the China-EU School of Law in Beijing and at the University of Akureyri in Iceland. Within his German post-graduate legal traineeship, Max Baumgart worked not only in Germany but also for the Regional Court for Civil Law in Vienna, the European Commission in Brussels and the Court of Justice of the European Union in Luxembourg.
Abstract
Energiebinnenmarkt und Energieunion sind nur mithilfe eines ausreichend ausgebauten Stromnetzes zu verwirklichen. Auch um den Energiebinnenmarkt und die vermehrte Erzeugung und Einspeisung volatiler Erneuerbarer Energien zu vereinbaren, ist ein weiterer Netzausbau unabdingbar. Dazu leistet die Arbeit einen Beitrag, indem sie eine rechtliche – und nicht nur ökonomische oder politische – Grundlage für eine Pflicht zum Ausbau der Stromnetze auf der Grundlage des EU-Primärrechts herausarbeitet. Sie knüpft dazu insbesondere an die rechtsdogmatische Frage an, ob die Vorschriften zum freien Warenverkehr über ihre abwehrrechtliche und schutzrechtliche Dimension eine originäre Leistungspflicht zur Schaffung und Gewährleistung von Infrastruktur enthalten, welche sich in einer Pflicht der EU-Mitgliedstaaten zum Ausbau ihrer Stromnetze konkretisiert. Darüber hinaus befasst sie sich begleitend mit der allgemeinen EU-rechtlichen Loyalitätspflicht und dem EU-Kartellrecht. »EU Member State Obligations to Expand the Electricity Grids Based on EU Primary Law«

The aim of an internal market for energy, the so-called Energy Union and the de facto changes in electricity production structures require a suitable electricity transmission and distribution grid within the EU Member States. The study demonstrates that the EU provisions on the free movement of goods contain not only an economic and political but a legal obligation for the EU Member States to create and maintain a minimum level of existing electricity infrastructure for the internal market.
Table of Contents
Section Title
Page
Action
Price

Vorwort

7

Inhaltsverzeichnis

13

Abkürzungsverzeichnis

17

Kapitel 1: Einleitung

21

A. Hintergrund und Problemstellung

21

B. Ansatz und Lücke in der bisherigen Forschung

24

C. Methode

26

D. Gang der Untersuchung

33

E. Bedeutung des Forschungsbeitrags für den gesamteuropäischen Energiehandel und insbesondere auch für die Schweiz

35

Kapitel 2: Anwendung der Vorschriften zum freien Warenverkehr

41

A. Anwendbarkeit der Art. 28ff. AEUV

41

B. Wareneigenschaft

42

I. Strom als Ware

42

II. Abgrenzung zu anderen Waren

46

III. Handelsabsicht

47

C. Sonstige Anwendungsvoraussetzungen

48

I. Grenzüberschreitender Sachverhalt

48

II. Befindlichkeit der Waren im freien Verkehr der Union

50

D. Zwischenergebnis und Zusammenfassung

50

Kapitel 3: Zu einer allgemeinen originären Leistungsdimension

51

A. Zum Spannungsfeld von Integration, Solidarität und Souveränität

51

B. Zur normativen Grundlage einer allgemeinen originären Leistungsdimension

56

I. Kritik am Vorliegen der normativen Grundlagen

56

II. Grammatikalische Erwägungen

56

1. Offener Wortlaut

56

2. Kein Unterschied zwischen Art. 34 und 35 AEUV

58

3. Verbotsbegriff

59

4. Zwischenergebnis

61

III. Teleologische Erwägungen

61

1. Grundrechte und Grundfreiheiten

61

2. Auslegung im Hinblick auf die Vertragsziele

64

3. Souveränitätsverlust

67

4. "Mehr Markt" oder "Schutz vor weniger Markt"

69

5. Keine Rückschlüsse von Systematisierungsversuchen

70

6. Zwischenergebnis

71

IV. Systematische Erwägungen

71

1. Art. 4 Abs. 3 EUV und der Grundsatz nach Treu und Glauben

71

2. Integrationsmethode und richterliche Macht

72

3. Binnenmarktgewährleistung nach Art. 26 Abs. 2 AEUV

74

4. Koordinierungspflichten

75

5. Keine Daseinsvorsorge im EU-Recht

75

6. Kein Verstoß gegen Art. 107 AEUV

77

7. Grundsätze der mitgliedstaatlichen Wirtschaftspolitik

77

8. Territoriale Souveränität der Mitgliedstaaten

79

9. Zwischenergebnis

81

V. Historische Erwägungen

83

VI. Zwischenergebnis und Bedeutung für den Fortgang der Untersuchung

83

C. Ausgestaltung

84

I. Voraussetzungen

84

1. Beeinträchtigung des Marktzugangs oder -ausgangs durch ein Unterlassen

84

2. Rechtswidrigkeit des Zustands

93

3. Behinderungswille

94

4. Spürbarkeitskriterium, Relevanzregel, Kernbereich

95

5. Höhere Gewalt

99

6. Eigenständige Begründung der Pflicht

100

II. Reichweite

101

1. Nur dasjenige, was die Vertragsgemeinschaft vernünftigerweise vom Mitgliedstaat verlangen kann

101

2. Mitgliedstaatliches Ermessen

105

3. Überprüfung einer Verletzung der Leistungspflicht durch den EuGH

107

III. Zwischenergebnis

108

D. Zwischenergebnis und Zusammenfassung

109

Kapitel 4: Zu einer speziellen originären Leistungsdimension für die Ware Strom

111

A. Besonderheiten

111

I. Zur besonderen Bedeutung von Strom

111

II. Souveränitätsvorbehalt und virtueller Handel in Gebotszonen

112

III. Zu dem, was die Vertragsgemeinschaft vernünftigerweise vom Mitgliedstaat verlangen kann

113

IV. Zum Ermessen

115

V. Zwischenergebnis

116

B. Zur Rechtfertigung eines Unterlassens des Ausbaus der Stromnetze

116

C. Handlungsformen der Mitgliedstaaten zur Erfüllung der Leistungspflicht

123

D. Zwischenergebnis und Zusammenfassung

124

Kapitel 5: Weitere pflichtbegründende Vorschriften

126

A. Sonstiges Unionsprimärrecht als Grundlage für eine mitgliedstaatliche Pflicht zum Ausbau der Stromnetze

126

B. Art. 4 Abs. 3 EUV

126

I. Akzessorische Pflichten

127

II. Solidaritätspflichten

128

III. Pflicht zur loyalen Zusammenarbeit

131

IV. Zwischenergebnis

135

C. Art. 37 Abs. 1 Unterabs. 1 AEUV

136

I. Übertragungs- und Verteilernetzbetreiber als staatliche Handelsmonopole

136

II. Umformungspflicht und Verhältnis der Vorschriften

139

III. Zwischenergebnis

142

D. Art. 106 Abs. 1 AEUV i.V.m. 102 AEUV

142

I. Art. 106 Abs. 1 AEUV und Unternehmen im Sinne der Vorschrift

142

II. Verstoß gegen Art. 102 AEUV

146

1. Verpflichtungsgrundlage

146

2. Marktbeherrschende Stellung

148

a) Relevanter Markt

148

b) Beherrschende Stellung

150

c) Binnenmarkt oder wesentlicher Teil desselben

151

3. Missbräuchliches Ausnutzen

152

a) Missbrauch durch die (notwendige) Beschränkung der Kapazität für die grenzüberschreitende Stromübertragung

152

b) Missbrauch durch die Einschränkung der technischen Entwicklung zum Schaden der Verbraucher

155

c) Kausalität zwischen Missbrauch und Ausnutzung der beherrschenden Stellung und freier Entscheidungsspielraum

157

4. Beeinträchtigung des Handels zwischen den Mitgliedstaaten

158

5. Modifikation der Voraussetzungen des Art. 102 AEUV bei der Anwendung von Art. 106 Abs. 1 AEUV

160

III. Rechtfertigungsmöglichkeiten

160

IV. Verhältnis zu den Vorschriften des freien Warenverkehrs

161

V. Zwischenergebnis

164

E. Zwischenergebnis und Zusammenfassung

165

Kapitel 6: Ergebnis und Ausblick

166

A. Gesamtergebnis

166

B. Ausblick

169

C. Ergebnisse in Thesen

170

Kapitel 7: Summary in English

176

Kapitel 8: Résumé en français

179

Literaturverzeichnis

182

Sachverzeichnis

196