Bankruptcy & insolvency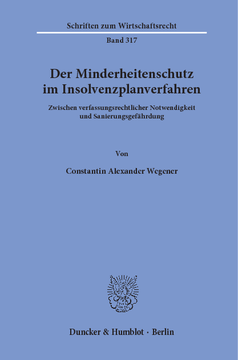 BOOK
Der Minderheitenschutz im Insolvenzplanverfahren
Zwischen verfassungsrechtlicher Notwendigkeit und Sanierungsgefährdung
Schriften zum Wirtschaftsrecht, Vol. 317
(2020)
Additional Information
Book Details
ISBN

978-3-428-55916-9
978-3-428-15916-1 (print edition)

DOI

https://doi.org/10.3790/978-3-428-55916-9

Edition

1

Language

German

Pages

253

Collections

Subjects
Pricing
Institution

€ 104.00 (incl. local VAT if applicable)

Individual

€ 79.90 (incl. local VAT if applicable)
About The Author
Constantin Alexander Wegener studierte Rechtswissenschaften an der Universität zu Göttingen und schloss sein Studium 2014 ab. Im Anschluss widmete er sich seiner Dissertation »Minderheitenschutz im Insolvenzplanverfahren«. Während seiner Promotionsphase arbeitete er als wissenschaftlicher Mitarbeiter am Lehrstuhl für Bürgerliches Recht, Handelsrecht, deutsches und ausländisches Zivilprozessrecht von Herrn Professor Dr. Joachim Münch an der Universität zu Göttingen. Seit Abschluss der zweiten juristischen Staatsprüfung arbeitet er als Rechtsanwalt in einer international tätigen deutschen Anwaltssozietät mit Schwerpunkt im Wirtschaftsrecht.
Constantin Alexander Wegener studied law at the University of Göttingen and graduated in 2014. Afterwards, he wrote his thesis »Proctection of Minorities in Insolvency Plan Proceedings«. During his doctoral phase, he worked as a research assistant at the chair for civil law, commercial law, German and foreign civil procedure law of Professor Dr. Joachim Münch at the University of Göttingen. After completing his second state examination in law, he has been working as a lawyer in an internationally active German law firm with a focus on commercial law.
Abstract
Das Insolvenzplanverfahren gewann seit seiner Einführung im Rahmen der Insolvenzordnung im Jahre 1999 nur langsam an Bedeutung. Hintergrund war auch die Unvorhersehbarkeit des Verfahrensablaufs aufgrund seiner Rechtsmittellastigkeit. Durch das ESUG wurde diese maßgeblich beschnitten und weitere Maßnahmen ergriffen, um das Verfahren attraktiver zu gestalten. Die Arbeit untersucht nun diesen neu ausgestalteten Minderheitenschutz, um zu prüfen, ob dem Gesetzgeber der Ausgleich zwischen verfassungsrechtlich verbürgten Forderungsrechten der Gläubiger und der Möglichkeit einer Unternehmenssanierung gelungen ist. Dabei wird ein verfassungsrechtlicher Mindestschutz in verfahrensrechtlicher und materieller Hinsicht ermittelt und zugleich die praktische Möglichkeit des Schutzes thematisiert, um diesen ins Verhältnis zu den berechtigten Wünschen nach der Vorhersehbarkeit des Verfahrens zu setzen. Die Arbeit schließt mit konkreten Gesetzesänderungsvorschlägen. The thesis deals with the legal protection of creditors against the confirmation of an insolvency plan (minority protection), which is shortened according to the ESUG. This modification of the law aimed at improving the predictability of the plan procedure in order to create a practically relevant restructuring possibility in insolvency proceedings. The study serves to review the purpose of the legislation, taking the constitutionally protected interests of creditors into account.
Table of Contents
Section Title
Page
Action
Price

Vorwort

5

Inhaltsverzeichnis

7

Kapitel 1: Einleitung

17

A. Grundlagen

17

B. Thematische Heranführung und Gang der Untersuchung

19

Kapitel 2: Der Sinn und Zweck eines Insolvenzverfahrens – Die Gläubigerbefriedigung als Ziel und der Unternehmenserhalt als Beilage

22

A. Die Entstehung der InsO und ihre Beweggründe – ein kurzer Abriss

22

I. Ursprünge des Konkurs- und Insolvenzrechtes

22

1. Einleitendes und Begrifflichkeiten

22

2. Asiatischer Ursprung und römischer Anfang

23

3. Vereinheitlichtes deutsches Recht

25

II. "Konkurs der Konkurse"

27

III. Der lange Gang zur InsO

28

B. Kultur des Insolvenzrechtes im Wandel der Zeit

31

I. Der Konkurs als Makel

31

II. Die Insolvenz als Chance zum Neuanfang

33

C. Die heutige Intention eines Insolvenzverfahrens

36

I. Allgemeines

36

II. Die gemeinschaftliche Befriedigung der Gläubiger als Primärziel

37

1. Wortlaut

37

2. Gesetzesmaterialien

39

III. Der Sanierungsweg

39

Exkurs: Entschuldung natürlicher Personen

41

IV. Ordnungsfunktion

42

1. Befriedungsfunktion

42

2. Marktwirtschaftliche Sicherung des Wettbewerbes

43

V. Das Zusammenwirken der verschiedenen Zielrichtungen zu einer gemeinsamen Basis

44

1. Konfliktpotenzial

44

2. Praktische Konkordanz

45

Kapitel 3: Das "neue" Instrument des Insolvenzplanverfahrens – Vom Hoffnungsträger zur Randerscheinung

46

A. Die "kränkelnden" Vorgänger des Insolvenzplanverfahrens

46

I. Zwangsvergleich

46

1. Inhalt

46

2. Zustandekommen

47

a) Mehrheitskonzept

47

b) Schutzeinrichtungen des Zwangsvergleiches

47

3. Das Schattendasein des Zwangsvergleiches

48

II. VerglO

50

1. Konkursabwendender Vergleich

50

a) Vorgeschichte

50

b) Ausgestaltung

52

2. Abstimmung

53

a) Erforderliche Mehrheiten

53

b) Kontrollmöglichkeiten der Gläubigerschaft

53

aa) Grundsätzliches

53

bb) Schutzfunktion des Vergleichsgerichts

53

cc) Rechtsmittelschutz

54

3. Praktikabilität der VerglO

55

B. Ziele und verfolgter Zweck des Gesetzgebers zur Einführung des Insolvenzplanverfahrens

57

I. "Kernstück der Reform"

57

II. Vorbild: Chapter 11-Verfahren

58

1. Ziel des Reorganisationsverfahrens

58

2. Inhalt

59

a) Ablauf

59

b) Abstimmung

62

c) Cram-down-Verfahren

63

d) Mechanismen des Gläubigerschutzes

64

aa) Planbestätigung durch den "bankruptcy court"

64

(1) Allgemeines

64

(2) "Best interest test"

65

(3) "Feasibility of a plan"

66

bb) Rechtsschutz gegenüber dem Bestätigungsbeschluss

66

cc) Vorzeitige Beendigung des Reorganisationsverfahrens

67

C. Die Möglichkeiten nach dem deutschen Insolvenzplanverfahren

68

I. Ablauf

68

1. Aufstellung des Planes

68

a) Zeitpunkt

68

b) Wirkung

69

c) Gerichtliche Vorprüfung

70

2. Annahme und Bestätigung

71

a) Planerörterung und Abstimmungsverfahren

71

aa) Ladung

71

bb) Erörterungstermin

72

cc) Abstimmungstermin

72

dd) Ersetzung der Zustimmung

72

b) Bestätigung durch das Insolvenzgericht

73

3. Folgen eines bestätigten Planes

73

4. Überwachung der Planausführung

74

II. Aufbau und Regelungsmöglichkeiten eines Planes

75

1. Gestaltungsmöglichkeiten

75

2. Bestandteile des Planes

76

a) Darstellender Teil

76

b) Gestaltender Teil

76

c) Anlagen

77

III. Die verschiedenen Verwertungsvarianten

78

1. Der Plan als Haftungsverwirklichungsinstrument

78

2. Liquidation

78

3. Übertragende Sanierung

79

4. Reorganisation des Unternehmensträgers

79

D. Die praktische Relevanz des Insolvenzplanverfahrens

80

I. Vorteile gegenüber einem normalen Insolvenzverfahren

80

II. Tatsächliche Ausbreitung des Insolvenzplanes

81

III. Gründe

82

Kapitel 4: Minderheitenschutz im Insolvenzplanverfahren

84

A. Notwendigkeit von Mehrheitsentscheidungen

84

I. Einleitende Überlegungen

84

II. Der Zusammenschluss der Gläubiger als "Gemeinschaft"

85

III. Funktionsfähigkeit der Gläubigerautonomie

86

B. Grundgesetzlicher Einfluss

88

I. Die Verfassung als Rahmengeber für den Minderheitenschutz?

88

II. Die Geldforderung als verfassungsrechtlich anerkannte Position

90

1. Grundlegendes

90

2. Der Eigentumsschutz nach Art. 14 GG

91

a) Schutzbereich

91

b) Inhalts- und Schrankenbestimmungen

91

aa) Ausgestaltung

91

bb) Verfassungskonformität der Bestimmung

92

(1) Sozialbindung des Eigentums

92

(2) Situationsgebundenheit des Eigentums

92

(3) Vertrauensschutz

93

(4) Ausgleichspflichten

93

c) Zwischenergebnis

94

III. Das Insolvenzverfahren im Lichte des Grundgesetzes

95

IV. Die Einschränkungen von Gläubigerrechten im Regelverfahren

96

1. Die Sicherungsanordnung gem. § 21 Abs. 2 Nr. 3 InsO

96

2. Wirkungen des eröffneten Insolvenzverfahrens

97

3. Mehrheitsbeschlüsse der Gläubigerversammlung

99

V. Das AG München und die Restschuldbefreiung

101

1. Wirkung der Restschuldbefreiung

101

2. Verfassungsrechtliche Problematik

102

VI. Zwischenfazit

105

VII. Das Planverfahren und sein grundgesetzlicher Einschlag

106

1. Der Forderungserlass als Planwirkung

106

Exkurs: Der Begriff "unvollkommene Verbindlichkeit"

107

2. Verfassungsrechtlich verbürgter Schutz für Minderheiten im Insolvenzplanverfahren

109

a) Materieller Mindeststandard

109

b) Prozessuale Einkleidung

112

aa) Anspruch auf "Rechtszug"

112

bb) Qualität des Bestätigungsbeschlusses

114

C. Mangelndes Planinitiativrecht

117

I. Machtposition des Planerstellers

117

1. Blockadepotenzial durch Aussetzung der Verwertung

117

2. Gestaltungsfreiheit des Planerstellers

119

II. Gründe für die Nichtberücksichtigung

120

III. Beurteilung

121

1. Grundsätzliches

121

a) Hinderliche Planvielfalt und Verfahrensblockade

122

b) Praktische Schwierigkeiten bei Planmehrzahl

124

c) Die Vorteile eines Gläubigervorlagerechts

128

2. Varianten

129

IV. Notwendige Informationsversorgung der Gläubigerschaft

130

D. Der Schutz nach § 251 InsO

134

I. Grundsätzliches

134

II. Antragsverfahren

135

1. Antragsberechtigung

135

a) Zulässiger Antragsteller

135

b) Zeitpunkt der Antragstellung

137

2. Glaubhaftmachung

138

3. Praktische Möglichkeiten der Glaubhaftmachung

139

a) Notwendige Planinformationen

139

aa) Vergleichsrechnung

139

bb) Berechnung der Vergleichswerte

141

(1) Wert des Regelverfahrens

141

(2) Planwert

142

b) Überprüfbarkeit der Vergleichsrechnung

143

aa) Gerichtliche Überprüfung

143

bb) Möglichkeiten einzelner Gläubiger

145

c) Problemfall Eigenverwaltung

147

aa) Überprüfung der Sachwaltereigenschaften durch das Gericht

147

bb) Vergütungs- und Haftungsregelungen als Objektivitätsgarantie

148

cc) Divergierender Vorschlag des vorläufigen Gläubigerausschusses?

150

dd) Kontrolle durch den vorläufigen Gläubigerausschuss

150

ee) Lehren aus der Geschichte

151

ff) Fehlende Suche nach Unternehmenskäufer

152

III. Schlechterstellung

154

1. Prüfungsumfang des Gerichts

154

a) Allgemein

154

b) Im Planverfahren

154

c) Im Rahmen von § 251 Abs. 1 Nr. 2 InsO

155

2. Prognoseentscheidung

157

Exkurs: Kostentragungspflicht im Rahmen von § 251 InsO

158

3. Vergleich zum Regelverfahrenserlös

161

IV. Ausgleichsmittel

162

1. Gesetzgeberische Intention

162

2. Mittelbereitstellung

162

a) Art

162

b) Höhe

164

3. Praktikabilität salvatorischer Klauseln

166

4. Ausgleichsverfahren

169

Kapitel 5: Sanierungsgefährdung durch Blockade

172

A. Das Interesse an einer raschen rechtskräftigen Planbestätigung

172

I. Zeitpunkt der Planwirkung

172

1. Beschlussverkündung

172

2. Eintritt der Rechtskraft

174

II. Der zügige Planvollzug als funktionale Notwendigkeit

176

III. Die Notwendigkeit der Vorhersehbarkeit des Verfahrens

178

B. Das Interesse an weiteren Instanzentscheidungen

180

I. Wahrung des Verfahrenszwecks

180

II. Rechtsvereinheitlichung

181

C. Der Weg des Gesetzgebers

181

I. Rechtsmittel im Rahmen der InsO

181

II. Die sofortige Beschwerde nach § 253 InsO

182

1. Einleitende Gedanken

182

2. Wesentliche Schlechterstellung

183

a) Verfassungsrechtliche Bedenken

183

b) Umfang der nötigen Schlechterstellung

184

3. Umfang der Begründetheitsprüfung

187

4. Beweislast

189

III. Beschleunigter Zurückweisungsantrag

190

1. Kurz vor Toresschluss und aktienrechtlicher Pate

190

2. Rechtsnatur

192

a) Prüfungsreihenfolge

192

b) Beweislast und -maßstab

195

3. Begrenzter Kreis der Antragsberechtigten

196

4. Unverzüglichkeit

197

5. Besonders schwerer Rechtsverstoß

200

a) Grundverständnis

200

b) Materielle Schlechterstellung als Grundvoraussetzung?

201

c) Versuch einer Annäherung

202

6. Abwägungsfrage

207

a) Personenkreis

207

b) Inhalt der Abwägung

208

aa) Aufschubinteressen

208

bb) Vollzugsinteressen

209

cc) Abwägungsentscheidung

211

7. Der Schadensersatzanspruch nach § 253 Abs. 4 S. 3 InsO

211

a) Geltendmachung

211

b) Haftungssubjekt

212

8. Praktikabilität

214

9. Rechtsbeschwerde

215

Kapitel 6: Fazit

218

A. Eigene Schlussfolgerungen

218

I. Zusammenfassendes

218

II. Gesetzliche Umsetzungen und Begründung

219

1. Erweiterung des Planvorlagerechts

219

a) Modifizierte Version von § 218 Abs. 1, 4 InsO/§ 231 InsO

219

b) Begründung

220

2. Sachwalterbestellung- und Kompetenz

221

a) Modifizierte Version von §§ 270b, 272 InsO

221

b) Begründung

222

3. Das beschleunigte Zurückweisungsverfahren

224

a) Modifizierung von § 253 Abs. 2, 4 InsO

224

b) Begründung

225

B. Anderweitige Forderungen

225

I. Grundlegende Reaktionen auf das ESUG

225

II. Angleichung an die US-amerikanische Rechtslage

227

III. Änderung der Wesentlichkeitsschwelle

228

IV. Neutralitäts- und Überwachungsaspekt im Rahmen der Eigenverwaltung

229

Literaturverzeichnis

230

Stichwortverzeichnis

251