Public international law: international organisations & institutions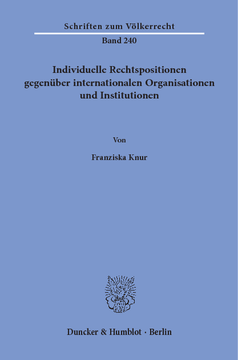 BOOK
Individuelle Rechtspositionen gegenüber internationalen Organisationen und Institutionen
Schriften zum Völkerrecht, Vol. 240
(2020)
Additional Information
Book Details
ISBN

978-3-428-55947-3
978-3-428-15947-5 (print edition)

DOI

https://doi.org/10.3790/978-3-428-55947-3

Edition

1

Language

German

Pages

229

Collections

Subjects
Pricing
Institution

€ 86.00 (incl. local VAT if applicable)

Individual

€ 67.90 (incl. local VAT if applicable)
About The Author
Franziska Knur wurde 2019 an der Juristischen Fakultät der Technischen Universität Dresden promoviert. Sie arbeitete dort von 2012 bis 2017 als Wissenschaftliche Mitarbeiterin am Lehrstuhl für Öffentliches Recht, Europa- und Völkerrecht. Zuvor studierte sie Internationale Beziehungen und Europastudien in Dresden, Chemnitz und Joensuu (Finnland).
Franziska Knur completed her PhD at the Faculty of Law of Dresden University of Technology in 2019. From 2012 to 2017 she worked as a research and teaching associate at the Chair of Public Law, European and International Law. Previously, she studied International Relations and European Studies in Dresden, Chemnitz and Joensuu (Finland).
Abstract
Trotz wachsender Zuständigkeiten internationaler Organisationen und Institutionen mit unmittelbaren Auswirkungen auf den Einzelnen sind individualisierte Rechtsschutz- oder Beschwerdeverfahren noch immer rar. Vor dem Hintergrund der sich wandelnden Rechtsstellung des Einzelnen »jenseits des Staates« und der Verankerung individueller Rechte im Völkerrecht ist jedoch davon auszugehen, dass auch zwischen internationalen Organisationen und den von ihrem Handeln betroffenen Menschen eine eigenständige Rechtsbeziehung entsteht, die eine Form der Rechenschaftspflicht erfordert. Anhand von fünf Referenzgebieten stellt die Arbeit exemplarisch die Quellen und Inhalte individueller Rechtspositionen gegenüber internationalen Organisationen und Institutionen dar. Das ausgewertete Material – darunter insbesondere die Rechtsprechung internationaler Dienstgerichte, des Internationalen Strafgerichtshofs und Dokumente zum UN-Peacekeeping – belegt die zunehmende Bedeutung dieser Rechtsbeziehung und der resultierenden Rechenschaftspflicht internationaler Organisationen gegenüber dem Einzelnen. »The Rights of the Individual against International Organisations and Institutions«

In light of growing competencies of international organisations and institutions with consequences for the individual human being, the sources and contents of individual rights against such organisations and institutions are examined along five areas of reference. For this purpose comprehensive source material has been analysed, such as the decisions of international administrative tribunals and the international criminal court as well as the legal documents concerning UN peacekeeping.
Table of Contents
Section Title
Page
Action
Price

Vorwort

7

Inhaltsverzeichnis

9

Abkürzungsverzeichnis

12

Einleitung

17

I. Problemaufriss

18

II. Fragestellung

21

III. Begriff der internationalen Organisationen und Institutionen

24

IV. Gang der Untersuchung

27

A. Referenzgebiete

29

I. Peacekeepingmissionen der Vereinten Nationen

29

1. Rechtsrahmen

30

2. Personen im Gewahrsam von Friedensmissionen

35

3. Schutz von Zivilisten

39

4. Geschädigte Personen

40

5. Zusammenfassung

44

II. Der Internationale Strafgerichtshof

45

1. Rechtsrahmen

45

2. Personen während der Ermittlungen

47

3. Am Gerichtsverfahren beteiligte Personen

49

a) Angeklagte

49

b) Zeugen

50

c) Opfer

53

4. Personen in der Haftanstalt des IStGH

53

5. Zusammenfassung

54

III. Beschwerdeverfahren bei internationalen Organisationen und Institutionen

55

1. Rechtsrahmen

57

2. Rechte und Pflichten der beteiligten Personen

59

3. Zusammenfassung

61

IV. Das Dienstrecht internationaler Organisationen

62

1. Rechtsrahmen

63

2. Rechte und Pflichten der Bediensteten

67

3. Zusammenfassung

71

V. Verträge zwischen internationalen Organisationen und Privaten

71

1. Rechtsrahmen

72

2. Streitbeilegung

74

3. Zusammenfassung

76

VI. Fazit

77

B. Die Voraussetzungen individueller Rechtspositionen gegenüber internationalen Organisationen und Institutionen

78

I. Die Kompetenzen internationaler Organisationen und Institutionen

78

1. Funktionalität

79

2. Befugnisse über Individuen

81

3. Ausübung internationaler öffentlicher Gewalt

84

4. Zusammenfassung

86

II. Die Rechtsstellung des Einzelnen "jenseits des Staates"

87

1. Das Individuum im Völkerrecht

88

2. Das völkerrechtliche Individualrecht

91

a) Begriff

91

b) Nachweis

93

c) Durchsetzbarkeit

96

3. Individuelle völkerrechtliche Sekundäransprüche

99

4. Zusammenfassung

103

III. Fazit

103

C. Die Quellen der Rechtsbeziehung zwischen internationalen Organisationen und Individuen

105

I. Die Satzungen internationaler Organisationen

105

1. Die Satzung der Vereinten Nationen

106

2. Das Statut des Internationalen Strafgerichtshofs

108

3. Verträge zum Schutz der Menschenrechte mit Individualbeschwerdemöglichkeiten

109

4. Bewertung

110

II. Weitere völkerrechtliche Verträge

113

1. Abkommen über die Rückerstattung von Einkommensteuern

114

2. Abkommen über die Behandlung von Gefangenen bei UN-Friedensmissionen

115

3. Sitzabkommen und Verträge über die Vorrechte und Immunitäten internationaler Organisationen

116

a) Umfang der Verpflichtung zur Einrichtung von Streitbeilegungsverfahren

117

b) Anforderungen an die Verfahren

121

c) Individualanspruch auf Einrichtung von Streitbeilegungsverfahren?

123

4. Bewertung

125

III. Die Menschenrechtsverpflichtungen internationaler Organisationen

126

1. Bedeutung für die dienstrechtlichen Beziehungen

128

a) Beispiele aus der Rechtsprechung

128

b) Recht auf effektive Beschwerde

130

2. Bedeutung im Rahmen der Gerichtsbarkeit des Internationalen Strafgerichtshofs

131

3. Bedeutung im Rahmen von UN-Friedensmissionen

133

a) Umfang der menschenrechtlichen Verantwortung

134

b) Recht auf effektive Beschwerde

136

4. Bewertung

138

IV. Sekundäres Organisationsrecht

143

1. Rechte der Bediensteten

145

2. Weitere Rechte aus Verfahrens- und Geschäftsordnungen

146

3. Schadensersatzansprüche

147

a) Überblick über die Haftungsvorschriften internationaler Organisationen

148

b) Ersatzpflicht und Anspruchsinhaber

151

4. Bewertung

153

V. Fazit

156

D. Die Inhalte der Rechtsbeziehung zwischen internationalen Organisationen und Individuen

158

I. Primäre Rechtsbeziehung

158

1. Achtung individueller Rechtspositionen

158

2. Gewährleistung individueller Rechtspositionen

160

3. Schutz gegenüber Dritten

163

4. Zusammenfassung

169

II. Sekundäre Rechtsbeziehung

170

1. Allgemeine Überlegungen

170

2. Vorschriften über individuelle Sekundärrechte

172

3. Zusammenfassung

176

III. Fazit

177

E. Die Bedeutung der Rechtsbeziehung zwischen internationalen Organisationen und Individuen

178

I. Anerkennung des Individuums als Rechtssubjekt

178

II. Auswirkungen auf den Status internationaler Organisationen

182

III. Konsequenzen für die Völkerrechtsordnung

185

IV. Fazit

188

Zusammenfassung

190

Dokumentenverzeichnis

193

Rechtsprechungsverzeichnis

202

Literaturverzeichnis

207

Stichwortverzeichnis

226