Private or civil law: general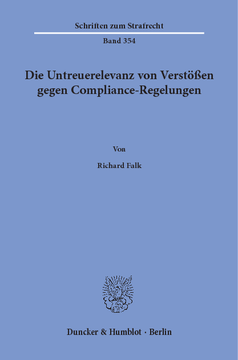 Additional Information
Book Details
ISBN

978-3-428-55896-4
978-3-428-15896-6 (print edition)

DOI

https://doi.org/10.3790/978-3-428-55896-4

Edition

1

Language

German

Pages

253

Collections

Subjects
Pricing
Institution

€ 80.00 (incl. local VAT if applicable)

Individual

€ 62.90 (incl. local VAT if applicable)
About The Author
Richard Falk studierte Rechtswissenschaften an der Universität Leipzig und am King's College London und promovierte unter Betreuung von Prof. Dr. Katharina Beckemper. Er absolvierte sein Referendariat am Kammergericht Berlin und ist als Rechtsanwalt tätig.
Richard Falk studied law at the University of Leipzig and Kings's College London and did his doctorate under the supervision of Prof Dr Katharina Beckemper. He completed his legal clerkship at the Berlin Court of Appeal and is working as an attorney at law.
Abstract
§ 266 StGB hat seit jeher den Ruf, eine »Superverbotsnorm« zu sein. Diese Kritik hat neue Nahrung bekommen durch die flächendeckende Einführung von Compliance-Regelwerken. Diese Regelungen gestalten die Pflichten von Angestellten aus und können durch § 266 StGB strafrechtliche Bedeutung erlangen. Die Arbeit untersucht, welche Grenzen einer »Verstrafrechtlichung« privater Rechtssetzung durch den Untreuetatbestand gesetzt sind. Zunächst werden die zivilrechtlichen Anforderungen wirksamer Compliance-Regelungen erarbeitet. Sodann wird das akzessorische Verhältnis der Untreuepflichtwidrigkeit zum Compliance-Verstoß beleuchtet und die Forderung nach einem »gravierenden« Pflichtverstoß abgelehnt. Stattdessen wird der Blick auf den »Schutzzweckzusammenhang« zwischen betreutem Vermögen und verletzter Pflicht gelenkt und argumentiert, dass nur Pflichten, die auch den Schutz des Vermögens bezwecken, untreuerelevant sind. Schließlich wird die Untreuerelevanz von Compliance-Regelungen untersucht und einer Verstrafrechtlichung Grenzen gesetzt. »Breach of Compliance-Clauses and its Relevance for Embezzlement«

Embezzlement, § 266 of the German Criminal Code, is an interface between civil and criminal law. In companies, compliance guidelines are standard and shape the duties of employees. Breaches can become criminally significant through § 266. The question here is, whether every breach can be relevant or only »serious breaches of duty« or breaches of »duties to protect assets«. Furthermore, the boundaries of regularly used compliance regulations are assessed.
Table of Contents
Section Title
Page
Action
Price

Vorwort

7

Inhaltsverzeichnis

9

Einleitung

15

A. Problemstellung

18

B. Vorgehensweise

19

Kapitel D.: Zivilrechtliche Grenzen von Compliance-Regelungen

19

Kapitel E.: Akzessorietät der Untreuepflichtwidrigkeit

19

Kapitel F.: Rechtsgutsbezogene Einschränkung untreuerelevanter Pflichtverstöße

20

Kapitel G.: Untreuerelevanter Vermögensschutz von Compliance-Regelungen

20

C. Notwendige Vorarbeiten zur Untreuepflichtwidrigkeit

21

I. Die Missbrauchsuntreue

21

II. Die Treuebruchsuntreue

22

III. Vermögensbetreuungspflicht als gemeinsame Voraussetzung

23

IV. Gemeinsame Prüfung mittels des Obergriffs der sog. "Untreuepflichtwidrigkeit"

26

D. Zivilrechtliche Grenzen von Compliance-Regelungen

27

I. Möglichkeiten der Implementierung und Grenzen

27

1. Implementierung durch Weisung

27

a) Geltungserlangung im Arbeitsverhältnis

28

b) Zulässiger Weisungsinhalt

28

aa) Konkretisierung tätigkeitsbezogener Pflichten

29

bb) Konkretisierung von Rücksichtnahmepflichten

30

cc) Dienstliches Verhalten

31

c) Grenzen des Weisungsrechts

32

aa) Arbeitsvertrag, Betriebsvereinbarung und Tarifvertrag

32

bb) Billiges Ermessen

33

cc) Verletzung gesetzlicher Vorschriften

35

d) Rechtsfolgen bei Überschreiten der Grenzen des Weisungsrechts

36

e) Zwischenergebnis

37

2. Implementierung durch Beschäftigungsvertrag

37

a) Formulararbeitsvertrag

38

aa) Grenzen zulässiger arbeitsvertraglicher Regelungen

38

(1) Unangemessene Benachteiligung

39

(2) Transparenzgebot

40

bb) Rechtsfolgen bei Unangemessenheit der Regelung

42

b) Individualarbeits- bzw. Dienstvertrag

43

c) Zwischenergebnis

44

3. Implementierung durch Betriebsvereinbarung

44

a) Geltungserlangung im Arbeitsverhältnis

45

b) Zulässiger Regelungsinhalt

46

c) Grenzen zulässiger Regelungen

47

aa) Inhaltskontrolle der unmittelbar geltenden Betriebsvereinbarung

48

bb) Sonderfall: Kontrolle von AGB-Bezugnahmeklauseln

50

cc) Individuelle Prüfung einzelner Compliance-Regelungen

52

d) Rechtsfolgen bei Unangemessenheit der Regelung

53

e) Zwischenergebnis

53

4. Zusammenfassung der Anforderungen an Compliance-Regelungen

53

II. Wirksamkeit typischer Compliance-Regelungen \nund ihre Verletzung

54

1. Verschwiegenheitsklauseln

55

a) Regelungsbeispiele

56

b) Zulässigkeit und Pflichtumfang der Regelungsbeispiele

57

aa) Wiederholung gesetzlicher Pflichten

57

bb) Konkretisierung gesetzlicher Pflichten

58

cc) Erweiterung gesetzlicher Pflichten

59

dd) Zwischenergebnis

61

c) Pflichtverletzung

61

2. Anzeigepflicht und Whistleblowing

62

a) Regelungsbeispiele

62

b) Zulässigkeit und Pflichtumfang der Regelungsbeispiele

63

aa) Wiederholung gesetzlicher Pflichten

63

bb) Konkretisierung gesetzlicher Pflichten

64

cc) Erweiterung gesetzlicher Pflichten

66

dd) Zwischenergebnis

67

c) Pflichtverletzung

68

3. Anti-Bestechungspflichten

69

a) Regelungsbeispiele

69

b) Zulässigkeit und Pflichtumfang der Regelungsbeispiele

70

aa) Wiederholung und Konkretisierung gesetzlicher Pflichten

70

(1) Arbeitsrechtliches Bestechungsverbot

71

(2) Anzeige bzw. Information korrupter Geschäftspartner

72

bb) Erweiterung gesetzlicher Pflichten

73

(1) Sog. "Zero Tolerance"

74

(2) Wertgrenzen

75

(3) Zustimmungsvorbehalt

76

(4) Herausgabe erhaltener Zuwendungen

77

cc) Zwischenergebnis

78

c) Pflichtverletzung

79

4. Bilanz- und Buchführung

80

a) Regelungsbeispiele

80

b) Zulässigkeit und Pflichtumfang der Regelungsbeispiele

81

aa) Wiederholung und Konkretisierung gesetzlicher Pflichten

81

bb) Erweiterung gesetzlicher Pflichten

83

cc) Zwischenergebnis

83

c) Pflichtverletzung

84

III. Schlussfolgerungen zum zulässigen Pflichteninhalt von Compliance-Regelungen

84

E. Akzessorietät der Untreuepflichtwidrigkeit

87

I. Dogmatische Vorbetrachtung zur Verweisungstechnik der Untreuepflichtwidrigkeit

87

1. Auswirkungen für die Inbezugnahme von Compliance-Regelungen

88

2. Materielle Prüfung der Verweistechnik der Untreuepflichtwidrigkeit

89

a) Bildung einer sinnvollen Bestimmungsnorm der Untreue

90

b) Inbezugnahme des Regelungseffekts des Bezugsobjekts

94

c) Konkludente Inbezugnahme des Ausfüllungsobjekts

95

3. Zwischenergebnis

96

II. Qualitative Umwandlungsvoraussetzungen der Untreuepflichtwidrigkeit

96

1. Sog. "asymmetrische Akzessorietät"

97

a) Asymmetrische Akzessorietät im Spiegel der Rechtsprechung

99

aa) Forderung einer zusätzlichen strafrechtlichen Intensitätsprüfung

100

(1) Kreditgewährung (BGHSt 46, 30; 47, 148)

100

(2) Unternehmenszuwendungen (BGHSt 47, 187)

102

(3) Zwischenergebnis

106

bb) Forderung der Wahrung des weiten Ermessensspielraums

106

(1) Kompensationslose Anerkennungsprämien (BGHSt 50, 331)

106

(2) Verbandsinterner Kapitaltransfer (BGH, NJW 2006, 453)

109

(3) Zwischenergebnis

112

cc) Forderung einer vorgelagerten zivilrechtlichen Intensitätsprüfung

112

(1) Die Entscheidung des BVerfG (BVerfGE 126, 170)

113

(2) Betriebsratswahlbeeinflussung (BGHSt 55, 288)

117

(3) Verschleiern von Parteispenden (BGHSt 56, 203)

119

(4) Mangelhafte Fondsabsicherung (BGH, NStZ 2013, 715)

120

(5) Zwischenergebnis

121

dd) Zusammenfassung des Rechtsprechungsüberblicks

122

b) Konkretisierungsversuche der asymmetrischen Akzessorietät

124

aa) Asymmetrische Akzessorietät als strafrechtliche Intensitätsprüfung

124

bb) Asymmetrische Akzessorietät als zivilrechtliche Intensitätsprüfung

129

c) Zwischenergebnis

133

2. Sog. "strenge Akzessorietät"

135

3. Sog. "Zivilrechtsaffinität"

139

4. Sog. "erweiterte Akzessorietät"

140

III. Schlussfolgerungen für die Inbezugnahme von Compliance-Regelungen

142

F. Rechtsgutbezogene Einschränkung untreuerelevanter Pflichtverstöße

145

I. Dogmatische Vorbetrachtung zum Schutzzweckzusammenhang

145

1. Rechtsgut und Strafgrund der Untreue

146

2. Untreue und objektive Zurechnung

148

a) Grundsätze objektiver Zurechnung und Schutzzweck der Norm

148

b) Der untreuespezifische Schutzzweck der Norm

152

c) Zwischenergebnis

156

II. Die Anforderungen des Schutzzweckzusammenhangs an die verletzte Pflicht

156

1. Diskussion um den Vermögensschutz der verletzten Pflicht

156

a) Notwendiger Vermögensschutz

157

aa) Sog. "unmittelbarer Vermögensschutz"

158

bb) Sog. "mittelbarer Vermögensschutz"

162

b) Sog. "faktischer Vermögensschutz"

165

c) Sog. "Fremdvermögensbezug"

168

d) Zwischenergebnis

172

2. Vermögensschutz der verletzten Pflicht im Spiegel der Rechtsprechung

173

a) Verzicht auf den Vermögensschutz der verletzten Pflicht

173

b) Entwicklung der Forderung eines Vermögensschutzes

175

aa) Kreditgewährung (BGHSt 46, 30, 47, 148)

175

bb) Schwarze Kassen und Bestechung (BGHSt 52, 323)

176

(1) Vorinstanz: Kein Vermögensschutz der verletzten Pflicht

176

(2) Revisionsinstanz: Zurückweisung des weiten Pflichtenbegriffs

179

cc) Begünstigung von Betriebsratsmitgliedern (BGHSt 54, 148)

180

c) Forderung eines "faktischen" Vermögensschutzes der verletzten Pflicht

182

d) Forderung eines "mittelbaren" Vermögensschutzes der verletzten Pflicht

186

aa) Beeinflussung von Betriebsratswahlen (BGHSt 55, 288)

186

bb) Verschleiern von Parteispenden (BGHSt 56, 203)

190

cc) Darlehenssicherung mit Landesbürgschaften (BGHSt 61, 48)

192

3. Zusammenfassung des Rechtsprechungsüberblicks

193

III. Schlussfolgerungen für die Untreuerelevanz von Compliance-Regelungen

194

G. Der Schutzzweck von Compliance-Regelungen

198

I. Schutzzweck von Compliance-Regelwerken

199

II. Schutzzweck einzelner Compliance-Regelungen

201

1. Schutzzweck von Verschwiegenheitspflichten

201

2. Schutzzweck von Anzeigepflichten und Whistleblowing

206

3. Schutzzweck von Anti-Bestechungspflichten

212

4. Schutzzweck von Buchhaltungspflichten

218

III. Schlussfolgerungen zum Schutzzweck von Compliance-Regelungen

221

H. Zusammenfassung der Ergebnisse der Arbeit

222

Literaturverzeichnis

224

Stichwortverzeichnis

251