Private or civil law: general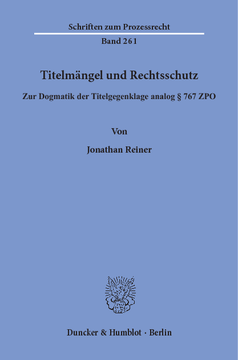 Additional Information
Book Details
ISBN

978-3-428-55951-0
978-3-428-15951-2 (print edition)

DOI

https://doi.org/10.3790/978-3-428-55951-0

Edition

1

Language

German

Pages

312

Collections

Subjects
Pricing
Institution

€ 104.00 (incl. local VAT if applicable)

Individual

€ 79.90 (incl. local VAT if applicable)
About The Author
Jonathan Reiner studierte Politikwissenschaften und Rechtswissenschaften an der Universität Münster. Von 2016 bis 2018 war er als wissenschaftlicher Mitarbeiter für Prof. Dr. Johann Kindl tätig und Dozent an der Fachhochschule für öffentliche Verwaltung NRW in Münster. In dieser Zeit entstand seine Dissertation »Titelmängel und Rechtsschutz«. Von 2018 bis 2020 war er Rechtsreferendar am Kammergericht Berlin mit Stationen unter anderem beim Rundfunk Berlin-Brandenburg, einer international tätigen Wirtschaftskanzlei und dem 20. Zivilsenat des Kammergerichts. Nach einer Tätigkeit im Justitiariat des Rundfunk Berlin-Brandenburg ist er seit August 2021 als Richter im Land Hamburg tätig.
Jonathan Reiner studied political science and law at the University of Münster. From 2016 to 2018 he worked as a research assistant for Prof. Dr. Johann Kindl and as a lecturer at the University of Applied Sciences for Police and Public Administration in North Rhine-Westphalia. During this time he wrote his thesis »Titelmängel und Rechtsschutz«. From 2018 to 2020, he was a trainee lawyer at the Higher Regional Court of Berlin. After working in the legal department of the Berlin-Brandenburg Broadcasting (rbb), he has been a judge in the state of Hamburg since August 2021.
Abstract
Als zentrale Voraussetzung der Zwangsvollstreckung kann der Vollstreckungstitel selbst an Fehlern leiden. Der BGH entwickelte zur Geltendmachung solcher Fehler einen analogen Anwendungsbereich des § 767 ZPO: die sogenannte Titelgegenklage. In Ausnahmefällen soll es dem Schuldner möglich sein, sich gegen die Vollstreckung aus einem mangelhaften Titel zu wehren. Die naturgemäß kasuistisch gebliebene Rechtsprechung erscheint dabei zum Teil widersprüchlich.

Geleitet von der Frage, ob eine analoge Anwendung des § 767 ZPO in diesen Fällen gerechtfertigt war, beschäftigt sich diese Arbeit mit den Grundlagen von Titelmängeln und dem Rechtsschutz gegen solche. Der Autor begründet einen eigenständigen vollstreckungsrechtlichen Wirksamkeitsbegriff, auf dessen Grundlage er eine einheitliche Systematik von Titelmängeln entwickelt. Anhand dieser Systematik weist er die verfassungsrechtliche Notwendigkeit einer Titelgegenklage in Analogie zu § 767 ZPO nach und steckt für diese einen klar umfassten Anwendungsbereich ab. »On Defects in Enforcement Orders and the Corresponding Legal Protection. Dogmatics of the ›Titelgegenklage‹ in Analogy to § 767 ZPO«

Despite a large number of supreme court decisions on the »Titelgegenklage« in analogy to § 767 ZPO, the dogmatics and the scope of application of the action have not yet been coherently examined in the literature. The present monograph closes this gap. On the basis of an independent concept of effectiveness under enforcement law, the author demonstrates the constitutional necessity of a »Titelgegenklage« and defines a precise scope of application.
Table of Contents
Section Title
Page
Action
Price

Vorwort

5

Inhaltsverzeichnis

7

Abkürzungsverzeichnis

12

A. Einleitung

13

I. Problemdarstellung

13

II. Gang der Untersuchung

14

B. Entwicklung

15

I. § 767 ZPO analog in der Rechtsprechung

15

II. Rückbezüge auf die Literatur

20

C. Grundlagen und Begriffe

24

I. Dichotomie von Erkenntnis und Vollstreckung

24

II. Grundlagen des Zwangsvollstreckungsrechts

30

1. Formalisierungsprinzip und Klauselverfahren

30

a) Die Klausel im Vollstreckungsverfahren

31

aa) Klauselverfahren als Brücke

31

bb) Materielle Evidenzkontrolle

32

cc) Titelmängel im Vollstreckungsverfahren

34

dd) Prüfungskatalog der Vollstreckungsorgane

36

b) Der Prüfungsumfang im Klauselverfahren

37

aa) Einfaches und qualifiziertes Verfahren

38

bb) "Innere" Mangelhaftigkeit

40

cc) Materielle Evidenzkontrolle

42

dd) Weitere Prüfpflichten

45

ee) Qualifiziertes Klauselverfahren

45

2. Vollstreckbarkeit

50

a) Vollstreckbarkeit als materiell-rechtliche Wirkung

51

b) Innere und äußere Vollstreckbarkeit

53

3. Vollstreckungsrechtsverhältnis

57

a) Antragsverhältnis zwischen Gläubiger und Staat

57

b) Eingriffsverhältnis zwischen Staat und Schuldner

58

c) Basisverhältnis zwischen Gläubiger und Schuldner

59

4. Gegenstand der Vollstreckung

62

a) "Beweislastumkehr" durch historische Entwicklung?

64

b) Anspruchsbegriff im Schmelztiegel der Urteilsfindung

65

c) Vorteile des prozessualen Begriffs

68

aa) Analogiefunktion

68

bb) Bestandsfunktion

70

cc) Abgrenzungsfunktion

71

(1) Streitige Titel

72

(2) Notarielle Urkunde

74

d) Zwischenergebnis

78

D. Titelmängel

79

I. Vom Titel: Ein folgenorientierter Begriff

79

1. Tatbestand und Mindestanforderungen

79

2. In Vielfalt geeint: Titelarten

82

II. Von Mängeln: Nichtigkeit und Wirksamkeit

85

1. Urteilsmängel in der Literatur

87

a) Nichturteil

88

b) Unwirksames Urteil

89

c) Wirkungsgemindertes Urteil

95

d) Beseitigtes Urteil

96

aa) Rechtsmittelverfahren

96

bb) Wiederaufnahmeverfahren

97

cc) In Verbindung mit einem anderen Urteil

98

dd) Durch Parteiakt

98

2. Mängel der notariellen Urkunde in der Literatur

100

a) Münch

100

b) Wolfsteiner

103

c) Schultheis

104

3. Systematik für Titelmängel

112

a) Übersichten in der Literatur

112

b) Eigene Darstellung: Die Lehre vom fehlerhaften Titel

112

aa) Nichttitel

114

bb) Vollstreckungsunwirksamer Titel

119

(1) Fehlende äußere Vollstreckbarkeit

119

(2) Gravierende Verfahrensmängel

121

cc) Vollstreckungsgeminderter Titel

123

(1) Individualisierungsmangel

124

(2) Verfahrens- und Formmangel

132

dd) Beseitigter oder nachträglich vollstreckungsunwirksamer Titel

135

(1) Übertragung von Jauernigs Lehre

136

(2) Mängel des materiell-rechtlichen Anspruchs

137

(3) Mängel der Unterwerfungserklärung

138

(4) Vollstreckungsvereinbarungen

140

(5) Zusammenfassung

145

E. Rechtsschutz gegen Titelmängel

147

I. Anwendung herkömmlicher Rechtsbehelfe

147

1. Das dualistische System der Vollstreckungsrechtsbehelfe

148

2. Die wichtigsten Rechtsbehelfe

150

3. Klauselerinnerung nach § 732 ZPO

151

a) Systematik und Zweck des § 732 ZPO

152

b) Anwendbarkeit auf Titelmängel

153

aa) Nichttitel

153

bb) Vollstreckungsunwirksamer Titel

153

cc) Vollstreckungsgeminderter Titel

154

dd) Anfangs vollstreckbarer aber nachträglich vollstreckungsunwirksamer Titel

154

c) Beweisführung

155

d) Rechtskraft der Entscheidung

157

e) Zwischenergebnis

163

4. Erinnerung nach § 766 ZPO

163

a) Anwendbarkeit auf Titelmängel

165

aa) Nichttitel

165

bb) Vollstreckungsunwirksamer Titel

165

cc) Vollstreckungsgeminderter Titel

166

dd) Anfangs vollstreckbarer, aber nachträglich unwirksamer Titel

166

b) Beweisführung und Rechtskraft

168

c) Zwischenergebnis

169

5. Vollstreckungsabwehrklage gem. § 767 ZPO direkt

170

a) Zulässigkeit bei Titelmängeln

171

aa) Fehlen der inneren Vollstreckbarkeit

172

bb) Fehlen der äußeren Vollstreckbarkeit

174

b) Anwendungsbereich und Klageart

176

aa) Wortlautgrenze des § 767 Abs. 1 ZPO

176

bb) Gestaltungsklage

184

cc) Feststellungsklage

189

dd) Leistungsklage

192

(1) Bereicherungsklage

193

(2) Negative Leistungsklage

194

(3) Unterlassungsklage

195

6. Feststellungsklage gem. § 256 ZPO

201

a) Allgemein zur Feststellungsklage

201

b) Materiell-rechtliche Feststellungsklage

202

c) Prozessual-rechtliche Feststellungsklage

204

aa) Feststellungsfähiges Rechtsverhältnis

208

bb) Feststellungsinteresse bezüglich der Titelwirksamkeit

210

cc) Rechtsfolge: Feststellung

211

7. Materiell-rechtliche Leistungsklage

213

a) Zivilklagen im Vollstreckungsverfahren

213

b) Kondiktionen gem. §§ 812 ff. BGB

215

c) Herausgabeanspruch analog § 371 BGB

217

d) Quasinegatorischer Unterlassungsanspruch analog § 1004 BGB

219

e) Vorsätzliche sittenwidrige Schädigung gem. § 826 BGB

222

8. Rechtsmittel- und Wiederaufnahmeverfahren

223

a) Berufung gem. §§ 511 ZPO und Revision gem. § 542 ff. ZPO

224

aa) Rechtsmittelfähigkeit des Nichturteils

225

bb) Beschwer bei mangelhaften Urteilen

226

cc) Titelmängel als Rechtsmittelgrund

227

(1) Nichturteil

227

(2) Vollstreckungsunwirksames Urteil

227

(3) Vollstreckungsgemindertes Urteil

228

(4) Äußere Titelmängel

229

dd) Rechtskraftdurchbrechung?

229

b) Wiederaufnahmeverfahren gem. §§ 578 ff. ZPO

231

9. Zwischenergebnis

232

II. Analoge Anwendung des § 767 ZPO

233

1. Rechtsmethodische Hintergründe zur Analogie

234

2. Analogiefähigkeit des § 767 ZPO

236

a) Analogiefähigkeit von Rechtsbehelfen

236

b) Umgehung des numerus clausus

237

3. Planwidrige Regelungslücke

242

a) Umstände außerhalb des Titels

242

aa) Unterwerfungserklärung

242

bb) Vollstreckungsvereinbarung

245

b) Unmittelbare Titelmängel

246

aa) Nichttitel

247

bb) Vollstreckungsunwirksamer Titel

248

(1) Gravierende Verfahrensfehler

248

(2) Fehlende äußere Vollstreckbarkeit

249

cc) Vollstreckungsgeminderter Titel

256

(1) Individualisierungsmangel

256

(2) Verfahrens- und Formmangel

258

dd) Beseitigter Titel

259

4. Vergleichbare Interessenlage

260

a) Gleichheit als Wertung

261

b) Verfassungsrechtliche Betrachtung

262

aa) Schutzbereich

263

bb) Eingriff

265

cc) Verfassungsrechtliche Rechtfertigung

268

(1) Reichweite des Rechtsschutzes

270

(2) Legitimer Zweck für ein eingeschränktes Rechtsbehelfssystem

272

(3) Geeignetheit und Erforderlichkeit

272

(4) Angemessenheit

273

5. Zwischenergebnis

281

III. Folgefragen

283

1. Verhältnis zur Vollstreckungsabwehrklage

283

2. Anwendbarkeit der Präklusionsvorschriften

291

3. Folgen der erfolgreichen Geltendmachung der Titelgegenklage

292

a) Fehlende äußere Vollstreckbarkeit

293

b) Entgegenstehende Vollstreckungsvereinbarungen

294

F. Fazit

295

Literaturverzeichnis

297

Sachverzeichnis

307