Company law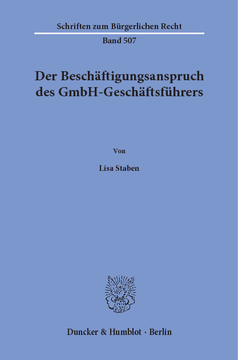 Additional Information
Book Details
ISBN

978-3-428-55998-5
978-3-428-15998-7 (print edition)

DOI

https://doi.org/10.3790/978-3-428-55998-5

Edition

1

Language

German

Pages

231

Collections

Subjects
Pricing
Institution

€ 80.00 (incl. local VAT if applicable)

Individual

€ 62.90 (incl. local VAT if applicable)
About The Author
Lisa Staben studierte Rechtswissenschaft an der Albert-Ludwigs-Universität Freiburg sowie der Humboldt-Universität zu Berlin. Sie absolvierte ihr Referendariat am Kammergericht Berlin, unter anderem mit Stationen in einer Kammer für Handelssachen am Landgericht Berlin sowie im arbeitsrechtlichen Bereich einer international aufgestellten Sozietät. Nach Abschluss des Referendariats begann sie ihre Promotion an der Freien Universität Berlin. Sie arbeitete promotionsbegleitend in der Praxisgruppe Arbeitsrecht einer internationalen Kanzlei, bevor sie die Arbeit, gefördert durch ein Stipendium des Landes Berlin, abschloss. Lisa Staben ist Rechtsanwältin in Hamburg.
Lisa Staben studied law at the Albert-Ludwigs-University of Freiburg and at the Humboldt-University of Berlin. She completed her legal clerkship at the Higher Regional Court of Berlin with assignments to (amongst others) a Chamber for Commercial Matters of the Regional Court of Berlin and the employment law group of an international law firm. After the second state exam, she commenced a PhD at Freie Universität of Berlin whilst gaining further practical experience through her part-time work in the employment law group of an international law firm. She continued her research funded by a scholarship and graduated in 2019. Lisa Staben is admitted to the German bar and works as an attorney in Hamburg.
Abstract
Geschäftsführern wird unter Verweis auf die strikte Trennung zwischen Anstellungs- und Organverhältnis bislang kein Anspruch auf tatsächliche Beschäftigung in der Organposition zuerkannt. Allerdings hat sich, auch im Zuge jüngerer europarechtlicher Judikatur, gezeigt, dass die derzeitige Rechtsanwendung den mit einer Abberufungssituation entstehenden Konflikt zwischen Geschäftsführer und Gesellschaftern in bestimmten Konstellationen nur unzureichend auflöst, nämlich einseitig zugunsten der Gesellschafter. Die Autorin ordnet diesen Konflikt grundrechtlich ein, arbeitet die Interessen des Geschäftsführers – auch unter Berücksichtigung soziologischer Erkenntnisse – heraus und setzt sie zum Grundsatz der freien Abberufbarkeit ins Verhältnis. Sie schlägt vor, die bestehenden Schutzlücken durch einen grundrechtlich begründeten Beschäftigungsanspruch des Geschäftsführers zu schließen. Die Autorin konturiert den Inhalt eines solchen Anspruchs und entwickelt eine eigenständige Systematik des Beschäftigungsanspruchs des GmbH-Geschäftsführers. »The Managing Director's Entitlement to Actual Employment«

Under German company law, shareholders have an unfettered right to remove the managing director of a limited liability company (GmbH). Such right conflicts with the managing director's intangible interest to actual employment which is only for employees generally recognized by employment law. The author analyses this conflict – also including sociological research – as one of fundamental rights. She proposes a balanced system to safeguard the managing director's entitlement to actual employment.
Table of Contents
Section Title
Page
Action
Price

Vorwort

5

Inhaltsverzeichnis

7

§ 1 Einleitung

15

§ 2 Arbeits- und gesellschaftsrechtliche Grundlegungen und der Bedarf einer neuen Grundkonzeption

20

A. Der arbeitsrechtliche Beschäftigungsanspruch im deutschen Recht

20

I. Anspruchsinhalt

20

II. Historische Entwicklung

21

III. Herleitung und Begründung

24

1. Materiell-rechtliche Legitimation

24

a) Grundrechte des Arbeitnehmers

24

aa) Allgemeines Persönlichkeitsrecht und Menschenwürde

24

bb) Grundrechte als Grundsatznormen der gesamten Rechtsordnung

28

b) Alternative Legitimationsansätze

30

2. Besondere Interessenlage im Arbeitsverhältnis

31

a) Sozial-faktische Übermacht des Arbeitgebers

32

b) Personenrechtliches Gemeinschaftsverhältnis, Fürsorge- bzw. Treue- und Förderpflicht

32

IV. Systematische Einordnung

34

1. Tatsächliche Beschäftigung als Ziel eines vertraglichen Anspruchs des Arbeitnehmers

34

2. Anspruchsvoraussetzungen

34

a) Bestehendes Arbeitsverhältnis

34

b) Überwiegen des Beschäftigungsinteresses

35

3. Durchsetzung

36

V. Zwischenergebnis

36

B. Die Rechtsstellung des GmbH-Geschäftsführers

37

I. Geteilte Rechtsstellung des Geschäftsführers

37

1. Die Organstellung

38

a) Bestellung

39

b) Organschaftliche Rechte und Pflichten

41

c) Abberufung

42

2. Das Anstellungsverhältnis

45

a) Abschluss und Rechtsnatur

45

b) Entbehrlichkeit eines Anstellungsvertrags

46

c) Kündigung des Anstellungsvertrags

47

II. Trennungsprinzip und sogenannter "Vorrang der Abberufungsfreiheit"

48

1. Aussagen des Trennungsprinzips

48

2. Berührungspunkte von Anstellungs- und Organverhältnis

50

3. Vorrang des Organverhältnisses

51

4. Anstellungsverhältnis nicht causa der Bestellung

52

III. Grundzüge des Rechtsschutzes gegen die Abberufung

55

1. Differenzierung nach Art des Beschlussmangels

55

2. Rechtsschutz mit und ohne förmlich festgestelltem Beschlussergebnis

57

3. Anspruch auf Wiederbestellung bei Satzungsrecht?

59

4. Bestand der Organstellung während eines Rechtsstreits ("Schwebezeit")

61

5. Zwischenergebnis

63

C. Die EuGH-Rechtsprechung zum Fortbestand des Organverhältnisses

64

I. Das "Danosa"-Urteil des EuGH

64

1. Aussagen des Urteils

65

2. Übertragbarkeit des Urteils auf die Anwendung deutscher Umsetzungsakte

69

II. Weitere Entwicklung der EuGH-Rechtsprechung

71

1. Weites Verständnis der Mutterschutz-Richtlinie

71

2. Einbeziehung von Geschäftsführern in den unionsrechtlichen Arbeitnehmerbegriff

71

III. Weitere Rezeption durch die deutsche Literatur \nund Rechtsprechung

73

1. Anwendung des Mutterschutzgesetzes nur im Rahmen des Anstellungsverhältnisses

73

2. Ausweitung auf das Organverhältnis

77

a) Rechtsgrundlage

77

b) Abberufungsverbot

80

c) Schicksal der Organpflichten

81

3. Fortentwicklung in anderen Anwendungsfeldern des unionsrechtlichen Arbeitnehmerbegriffs

84

a) Arbeitsschutzrecht und Elternurlaub

84

b) Allgemeines Gleichbehandlungsgesetz

85

aa) Persönlicher und sachlicher Anwendungsbereich für Organwalter

85

bb) Wirkungen im Organverhältnis

88

D. Bedürfnis für ein neues Gesamtkonzept des Beschäftigungsanspruchs des Geschäftsführers

90

I. Systematische Bedenken gegen die Ausweitung von Arbeitnehmerschutzgesetzen auf die Organstellung

91

1. Zuschnitt der Richtlinienvorgaben

91

2. Infiniter Zirkel von Tatbestand und Rechtsfolge

92

3. Rechtsgebietskonkurrenz

93

II. Gesellschaftsrechtliche Organisationsbedenken

93

III. Art und Weise der Rechtsdurchsetzung ungeklärt

95

IV. Einordnung in den Gesamtzusammenhang der Beschäftigungsproblematik

95

1. Abstraktion von europarechtlich determinierten Schutzgesetzen

95

2. Beschäftigungsinteresse als Kern des Rechtskonflikts

96

3. Notwendigkeit des Ausgleichs verfassungsmäßig geschützter Rechte

97

4. Anlehnung an den arbeitsrechtlichen Beschäftigungsanspruch

99

§ 3 Grundrechtliche Analyse des Konflikts zwischen Geschäftsführer und Gesellschaftern

101

A. Die Beschäftigung des Geschäftsführers als Verwirklichung von Freiheitsgrundrechten

101

I. Das Organverhältnis als Beschäftigungsverhältnis

101

II. Unterscheidung von materiellem und ideellem Beschäftigungsinteresse

103

B. Relevanz von Beschäftigung aus soziologischer und psychologischer Perspektive

105

I. Begriffsabgrenzungen

105

II. Beschäftigung aus individueller und gesellschaftlicher Perspektive

106

1. Bewertung von Beschäftigung für die eigene Persönlichkeit durch den Einzelnen

106

2. Bewertung von Beschäftigung durch die Gesellschaft

109

III. Fazit: Geltungsanspruch für alle Arten von Beschäftigung

110

C. Betroffene Grundrechte des Geschäftsführers

110

I. Allgemeines Persönlichkeitsrecht (Art. 2 Abs. 1 i. V. m. Art. 1 Abs. 1 GG)

110

1. Begriff der Persönlichkeit

110

2. Gewährleistungsgehalt des allgemeinen Persönlichkeitsrechts

112

a) Allgemeines Persönlichkeitsrecht als ein Teilrecht der Entfaltungsdimension des Art. 2 Abs. 1 GG

112

b) Selbstbestimmung der eigenen Identität durch Selbst-Wahl und Selbstreflexivität

113

c) Konzentration auf Voraussetzungsschutz

115

d) Innere und äußere Voraussetzungen \nder konstituierenden Persönlichkeitsentfaltung

117

3. Beschäftigungsinteresse des GmbH-Geschäftsführers als geschütztes Rechtsgut

118

a) Persönlichkeitsentfaltung durch Beschäftigung als Geschäftsführer

118

b) Fremdnützigkeit der Organtätigkeit

120

c) Abgrenzung zum Interesse an der Berufsausübung

120

II. Berufsausübungsfreiheit (Art. 12 Abs. 1 GG)

121

1. Verhältnis zum allgemeinen Persönlichkeitsrecht im Beschäftigungskontext

121

2. Gewährleistungsgehalt der Berufsausübungsfreiheit

122

3. Beschäftigungsinteresse des GmbH-Geschäftsführers als geschütztes Rechtsgut

123

III. Ergebnis

124

D. Dem Beschäftigungsinteresse widerstreitende Grundrechte der Gesellschafter

124

I. Berufsfreiheit (Art. 12 Abs. 1 GG)

124

II. Eigentumsfreiheit (Art. 14 GG)

125

1. Gewährleistungsgehalt

125

2. Keine verminderte Schutzintensität für sogenannte "mittelbare Verfügungsbefugnisse"

127

3. Keine verminderte Schutzintensität wegen mangelnder "personaler Funktion" des Anteilseigentums

129

III. Vereinigungsfreiheit (Art. 9 GG)

131

IV. Allgemeine Handlungsfreiheit (Art. 2 Abs. 1 GG)

131

V. Ergebnis

132

E. Der Umgang mit Grundrechtskonflikten im Privatrecht

132

I. Wirkung der Grundrechte im Privatrecht

132

1. Grundrechte als klassische Abwehrrechte gegen staatliche Handlungen

132

2. Grundrechte als objektive Werteordnung

133

3. Grundrechte als Gegenstand staatlicher Schutzpflichten

135

II. Die Umsetzung von Grundrechtsschutz mittels der Schutzpflichtendimension

137

1. Voraussetzungen einer Schutzpflicht

137

a) Einschlägigkeit eines Grundrechts

137

b) Bestehen eines Schutzbedürfnisses

138

2. Funktionell-rechtliche Zuordnung von Schutzpflichten im Privatrecht und ihre Umsetzung

141

a) Zuständigkeit des Gesetzgebers

141

b) Zuständigkeit der Rechtsprechung

142

3. Inhalt einer Schutzpflicht

145

a) Allenfalls Schutzminimum definierbar

145

b) Ausgleich von Grundrechtskonflikten zwischen Privaten

146

c) Entgegenstehende öffentliche Interessen und objektives Verfassungsrecht

148

§ 4 Auflösung des Grundrechtskonflikts zwischen Geschäftsführer und Gesellschaftern

149

A. Auflösung des Grundrechtskonflikts im geltenden Recht: Vorrang der Gesellschafterinteressen nach § 38 GmbHG

149

I. § 38 GmbHG als Ausdruck grundsätzlicher Eigentumsfreiheit der Gesellschafter

149

II. Verfassungsmäßigkeit der Regelung im Hinblick auf die Schutzpflicht zugunsten des Geschäftsführers

150

1. Voraussetzungen der Aktivierung einer Schutzpflicht grundsätzlich vorliegend

150

2. Der Schutzpflicht entgegenstehende Grundrechtspositionen der Gesellschafter

152

3. Der Schutzpflicht entgegenstehende öffentliche Interessen

154

4. Abwägung

154

5. Zwischenergebnis: Keine Unterschreitung des Minimalschutzgebots

155

III. Ergebnis

157

B. Auflösung des Grundrechtskonflikts bei unbilligen Abberufungsmotiven

157

I. Relevanz der Motive der Abberufung

157

II. Schutzpflichtenaktivierung durch Hinzutreten weiterer Grundrechte

158

1. Schutz vor Diskriminierung

158

a) Persönlichkeitsintendierter, grundrechtsobligatorischer Diskriminierungsschutz

158

b) Relevanz der Qualifikation der Diskriminierung

160

c) Qualifikation aufgrund des Rechtscharakters der Abberufung

162

2. Mutterschutz

164

a) Inhalt des Schutzauftrags von Art. 6 Abs. 4 GG

164

b) Differenzierung als Anwendungsfall von Art. 3 Abs. 3 S. 1 GG

164

3. Sonstige Motive

164

III. Überwiegen des Beschäftigungsinteresses aufgrund einer Kumulation der Schutzpflichten

165

1. Schutzpflichten-Kumulation

165

2. Bedeutung der Privatautonomie

166

IV. Keine Umsetzung der Schutzpflicht im geltenden spezialgesetzlichen Recht

167

1. Unwirksamkeit wegen offenbar unsachlicher Gründe für die Abberufung (§§ 226, 826 BGB)

167

2. Unwirksamkeit wegen Sittenwidrigkeit (§ 138 BGB)

168

3. Nichtigkeits- und Unwirksamkeitsgründe beim Abberufungsbeschluss nach geltendem Beschlussmängelrecht

169

a) Unvereinbarkeit mit dem Wesen der Gesellschaft gem. § 241 Nr. 3 Alt. 1 AktG analog

169

b) Verstoß gegen im öffentlichen Interesse bestehende Vorschriften gem. § 241 Nr. 3 Alt. 3 AktG analog

170

c) Verstoß gegen die guten Sitten (§ 241 Nr. 4 AktG analog)

171

d) Amtslöschung nach § 398 FamFG

171

e) Nichtigerklärung durch Anfechtungsurteil gem. § 241 Nr. 5 AktG analog

172

f) Unwirksamkeit bei satzungsmäßig zugesichertem Recht auf Geschäftsführung

174

V. Ergebnis

175

§ 5 Vorschlag für die Umsetzung der Schutzpflichten durch Zuerkennung eines Beschäftigungsanspruchs des Geschäftsführers

176

A. Vertragsrechtliche Konstruktion des Beschäftigungsanspruchs

176

I. Normanknüpfung in § 242 BGB

177

II. Skizzierung des Inhalts eines Beschäftigungsanspruchs des Geschäftsführers

178

III. Schuldrechtliche Anknüpfung des Anspruchs

179

1. Vorrang der Anknüpfung an eine Sonderverbindung

179

2. Geschäftsführer-Anstellungsvertrag als Rechtsgrundlage

180

3. (Vermeintlich) fehlender Anstellungsvertrag

184

4. Zwischenergebnis

185

IV. Entbehrlichkeit ergänzender Erwägungen

185

1. Die positive Förderungspflicht im Rahmen des arbeitsrechtlichen Beschäftigungsanspruchs

185

2. Entbehrlichkeit der Figur der Förderungspflicht

186

V. Vorteile einer schuldrechtlichen Lösung

188

B. Anspruchsgegner

189

C. Anspruchsinhalt

192

I. Anspruch auf (Wieder-)Bestellung in die Organposition

192

II. Anspruch auf Erstbestellung und Wiederbestellung nach Befristung

194

III. Auslegungsergebnis innerhalb geltenden Rechts

195

IV. Rückausnahme: Aktualisierte Interessenabwägung im Einzelfall

196

1. Entgegenstehende schützenswerte Interessen

197

2. Besonders zu berücksichtigende Interessen des Geschäftsführers?

198

D. Anspruchsinhalt bei treuwidriger Umgehung des Beschäftigungsanspruchs

198

I. Möglichkeiten der Umgehung des Beschäftigungsanspruchs

198

II. Umwandlung des Beschäftigungsanspruchs

199

E. Prozessuale Durchsetzung des Beschäftigungsanspruchs

200

I. Klageart

200

II. Verteilung der Darlegungs- und Beweislast

201

III. Einstweiliger Rechtsschutz

203

IV. Kein "Weiterbeschäftigungsanspruch" des Geschäftsführers

204

§ 6 Zusammenfassung und Ausblick

206

A. Zusammenfassung der wesentlichen Ergebnisse in Thesen

206

B. Ausblick

210

Literaturverzeichnis

212

Stichwortverzeichnis

228