Banking law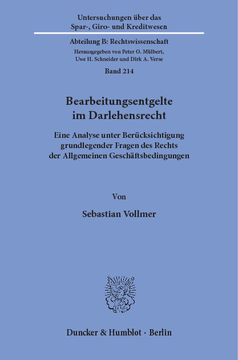 BOOK
Cite BOOK
Style
---
Vollmer, S. (2020). Bearbeitungsentgelte im Darlehensrecht. Eine Analyse unter Berücksichtigung grundlegender Fragen des Rechts der Allgemeinen Geschäftsbedingungen. Duncker & Humblot. https://doi.org/10.3790/978-3-428-58021-7
Vollmer, Sebastian. Bearbeitungsentgelte im Darlehensrecht: Eine Analyse unter Berücksichtigung grundlegender Fragen des Rechts der Allgemeinen Geschäftsbedingungen. Duncker & Humblot, 2020. Book. https://doi.org/10.3790/978-3-428-58021-7
Vollmer, S, (2020): Bearbeitungsentgelte im Darlehensrecht: Eine Analyse unter Berücksichtigung grundlegender Fragen des Rechts der Allgemeinen Geschäftsbedingungen, Duncker & Humblot, [online] https://doi.org/10.3790/978-3-428-58021-7
---
Format
---
Bearbeitungsentgelte im Darlehensrecht
Eine Analyse unter Berücksichtigung grundlegender Fragen des Rechts der Allgemeinen Geschäftsbedingungen
Untersuchungen über das Spar-, Giro- und Kreditwesen. Abteilung B: Rechtswissenschaft, Vol. 214
(2020)
Additional Information
Book Details
ISBN

978-3-428-58021-7
978-3-428-18021-9 (print edition)

DOI

https://doi.org/10.3790/978-3-428-58021-7

Edition

1

Language

German

Pages

187

Collections

Subjects
Pricing
Institution

€ 76.00 (incl. local VAT if applicable)

Individual

€ 58.90 (incl. local VAT if applicable)
About The Author
Sebastian Vollmer schloss das Studium der Rechtswissenschaften an der Albert-Ludwigs-Universität Freiburg im Jahr 2014 mit dem ersten juristischen Staatsexamen ab. Nach dem Referendariat am Landgericht Stuttgart war er promotionsbegleitend in einer internationalen Großkanzlei tätig. Seit April 2019 ist er Rechtsanwalt im Bereich Dispute Resolution bei Haver & Mailänder in Stuttgart.
Sebastian Vollmer completed his law studies at the Albert-Ludwigs-University of Freiburg with the first state examination in 2014. After his legal clerkship at the district court of Stuttgart he worked for a major international law firm while completing his doctorate. Since 2019 he is an attorney at law in the practice group Dispute Resolution at Haver & Mailänder in Stuttgart.
Abstract
Über Jahrzehnte entsprach es der üblichen Bankenpraxis, in Darlehensverträgen als »Bearbeitungsentgelt « oder »Bearbeitungsgebühr« bezeichnete laufzeitunabhängige Entgelte zu erheben. In mehreren Entscheidungen seit dem Jahr 2014 hat der BGH diese Entgelterhebung in Form von AGB für unwirksam erklärt. Sebastian Vollmer unterzieht diese Rechtsprechung einer umfassenden kritischen Würdigung und befasst sich dabei eingehend mit den Grundlagen des AGB-Rechts. Gegenstand der Untersuchung sind sowohl Verbraucher- als auch Unternehmerdarlehensverträge sowie besondere Darlehensformen wie Bausparverträge und Förderkreditverträge. Die Untersuchung kommt zu dem Ergebnis, dass die Erhebung von Bearbeitungsentgelten in Darlehensverträgen entgegen der Rechtsprechung des BGH der richterlichen Inhaltskontrolle von AGB entzogen ist. Auf Grundlage seiner Ergebnisse entwickelt Sebastian Vollmer abschließend einen alternativen Ansatz zur Kontrolle von Entgeltregelungen in AGB. »Handling Fees in Lending Law. An Analysis in Due Consideration of Fundamental Questions of the Law on General Terms and Conditions«

In several decisions since 2014, the BGH has declared the charging of handling fees in general terms and conditions of loan agreements to be invalid. Sebastian Vollmer subjects this case law to a comprehensive critical assessment. The study comes to the conclusion that, contrary to the case law of the BGH, the charging of handling fees in loan agreements is not subject to judicial review of the content of general terms and conditions.
Table of Contents
Section Title
Page
Action
Price

Vowort

7

Inhaltsverzeichnis

9

Abkürzungsverzeichnis

16

A. Einleitung

19

B. Die Bedeutung von Bearbeitungsentgelten im Kreditgeschäft

21

I. Tatsächliche Erscheinungsformen

21

II. Bankbetriebswirtschaftlicher Hintergrund

21

III. Verhältnis zur Vorfälligkeitsentschädigung

24

IV. Abgrenzung von einem Disagio

25

V. Vereinbarung in Form Allgemeiner Geschäftsbedingungen

26

1. Ausweisung in allgemeinen Preisverzeichnissen oder im einzelnen Darlehensvertrag

26

2. Möglichkeit einer Individualvereinbarung i. S. v. § 305 Abs. 1 S. 3 BGB

27

C. Allgemeine Überlegungen zur Inhaltskontrolle Allgemeiner Geschäftsbedingungen

29

I. Der Schutzzweck der Inhaltskontrolle nach § 307 BGB

29

1. Die Rechtsprechung des BGH vor Einführung des AGBG

29

2. Die Gesetzesbegründung zum AGBG

30

3. Heute herrschende Meinung in Rechtsprechung und Literatur

31

II. Die Rechtfertigung der Inhaltskontrolle

31

1. Einseitige Inanspruchnahme der Vertragsgestaltungsfreiheit

31

a) Vertragsgerechtigkeit durch Konsens der Parteien

32

b) Wertungen des BGB

33

c) Vertragsgestaltungsfreiheit zwischen Privatrechtssubjekten

33

d) Zwischenergebnis: Rechtfertigung nur bei Beeinträchtigung der Abschlussfreiheit

35

2. Beeinträchtigung der Abschlussfreiheit durch die Verwendung Allgemeiner Geschäftsbedingungen

37

a) Indifferenz in der Rechtsprechung des BGH

37

b) Die wirtschaftliche, soziale oder intellektuelle Unterlegenheit des Vertragspartners

38

aa) Widerspruch zur Gesetzesbegründung zum AGBG

38

bb) Keine typische Unterlegenheit

39

cc) Widerspruch zum Anwendungsbereich der §§ 305 ff. BGB

40

c) Fehlender Konditionenwettbewerb

41

aa) Fehlende Beachtung Allgemeiner Geschäftsbedingungen

41

bb) Der Grundsatz der Eigenverantwortlichkeit

43

(1) Informationsgefälle

43

(2) Motivationsgefälle

44

(3) Legitimes Desinteresse aufgrund Informations- und Motivationsgefälles

45

cc) Partielles Marktversagen in Folge fehlender Beachtung von AGB

46

dd) Die Kritik Hellweges

47

(1) Die Regelung des § 310 Abs. 3 Nr. 2 BGB

47

(2) Unerheblichkeit des Umfangs von AGB

48

(3) Verträge von hoher Bedeutung für den Verbraucher

49

d) Zwischenergebnis

51

III. Abgrenzung von Inhalts- und Transparenzkontrolle

51

D. Die Eröffnung der Inhaltskontrolle bei Entgeltklauseln

54

I. Keine richterliche Kontrolle von Preisen und Leistungsangeboten

54

II. Kontrollfähigkeit von Entgeltklauseln nach der Rechtsprechung

55

1. Rechtsvorschriften i. S. v. § 307 Abs. 3 S. 1 BGB

56

2. Die Abgrenzung von Preishauptabrede und Preisnebenabrede

57

a) Preishauptabreden

57

b) Echte Preisnebenabreden

58

c) Unechte Preisnebenabreden

59

d) Zwischenergebnis

61

3. Grundsatz: Keine gesonderte Entgelterhebung ohne echte Gegenleistung

61

a) Vorüberlegungen

61

aa) Zulässigkeit der Preisaufspaltung

61

bb) Zulässigkeit der Einpreisung von Kosten für eigenen Aufwand

62

b) Herleitung des Grundsatzes aus Wortlaut und Systematik des Gesetzes

62

aa) Rückschluss aus dem Fehlen einer Anspruchsgrundlage

63

bb) Die Tätigkeit im eigenen Interesse als untaugliches Differenzierungskriterium

65

c) Teleologische Betrachtung

68

aa) Kein Gerechtigkeitsgehalt von allgemeiner Bedeutung

69

bb) Schutzzweck bei der Verwendung Allgemeiner Geschäftsbedingungen

71

4. Zwischenergebnis

72

E. Bearbeitungsentgeltklauseln in Verbraucherdarlehensverträgen

74

I. Eröffnung der Inhaltskontrolle

74

1. Bearbeitungsentgelt als Teil der synallagmatischen Hauptleistungspflicht

75

a) Wortlaut und Zweck des Bearbeitungsentgelts

75

b) Das gesetzliche Leitbild des § 488 Abs. 1 S. 2 BGB

76

aa) Wortlaut und Genese

76

bb) Systematische Auslegung

78

(1) Bedeutung der Vertragstypen des BGB

78

(2) Vergleich mit anderen Gebrauchsüberlassungsverträgen

79

(a) Sachdarlehensvertrag nach § 607 BGB

80

(b) Mietvertrag nach § 535 BGB

81

(3) Die Definition des Verbraucherdarlehensvertrag in § 491 BGB

81

(4) Gesetz nennt neben Zinsen auch Kosten

82

(a) Die Regelung des § 501 BGB

83

(b) Weitere auf der PAngV beruhende Regelungen

83

(5) Teleologische Auslegung

84

c) Richtlinienkonforme Auslegung des Begriffs der kontrollfreien Hauptleistung

86

d) Zwischenergebnis

87

2. Bearbeitungsentgelt als zu vergütende Sonderleistung

87

aa) Bonitätsprüfung

88

bb) Sonstiger Aufwand im Vorfeld des Vertragsschlusses

90

cc) Zwischenergebnis

90

II. Teleologische Kontrollüberlegung zur Eröffnung der Inhaltskontrolle

91

1. Teilnahme der Bearbeitungsentgeltklauseln am Wettbewerb

91

a) Kein Informations- und Motivationsgefälle

91

b) Kenntnisnahme durch Darlehensnehmer aufgrund verbraucherschützenden Vorschriften

92

aa) Ausdrückliche Vereinbarung, § 312a Abs. 3 S. 1 BGB

92

bb) Einbeziehung in den effektiven Jahreszins, § 491a Abs. 1 BGB, Art. 247 § 3 Abs. 1 Nr. 3 EGBGB, § 6 Abs. 1 PAngV

93

2. Gegenauffassung des BGH

94

3. Zwischenergebnis

95

III. Inhaltskontrolle nach § 307 BGB

96

1. Vermutungswirkung des § 307 Abs. 2 Nr. 1 BGB

96

a) Erhebung eines Entgelts für Tätigkeiten im eigenen Interesse

97

b) Leitbild des § 488 Abs. 1 S. 2 BGB

97

2. Interessenabwägung nach § 307 BGB

99

a) Nachteile des Darlehensnehmers bei vollständiger Vertragsdurchführung

100

aa) Mitfinanzierung des Bearbeitungsentgelts

100

bb) Keine konkrete Berechnung des Bearbeitungsaufwands

100

b) Nachteile des Darlehensnehmers bei vorzeitiger Vertragsbeendigung

101

aa) Anstieg des effektiven Jahreszinses

102

bb) Gefährdung des Ablösungsrechts aus § 500 Abs. 2 S. 1 BGB

102

c) Zwischenergebnis

104

d) Zu berücksichtigende Interessen des Darlehensgebers

105

aa) Grundsatz der verursachungsgerechten Bepreisung

105

bb) Auswirkungen einer Unwirksamkeit auf die Praxis der Darlehensvergabe

106

cc) Keine Billigung durch den Gesetzgeber

107

dd) Unionsrechtliche Gründe

107

(1) Europäische Richtlinien

107

(2) Dienstleistungsfreiheit aus Art. 56 AEUV

108

(a) Volksbank Romania-Entscheidung des EuGH

108

(b) Übertragbarkeit auf die Frage der Zulässigkeit von Bearbeitungsentgeltklauseln

109

ee) Verfassungsrechtliche Gründe

110

IV. Ergebnis

111

F. Bearbeitungsentgeltklauseln in Unternehmerdarlehensverträgen

112

I. Allgemeine Überlegungen zur Inhaltskontrolle Allgemeiner Geschäftsbedingungen im Unternehmerbereich

112

1. Der Unternehmerbegriff des § 14 BGB

113

2. Die gesetzlichen Unterschiede der Inhaltskontrolle im Unternehmerbereich

114

a) Historische Entwicklung

114

b) Die Einschränkungen nach § 310 Abs. 1 BGB

115

c) Rücksichtnahme auf die im Handelsverkehr geltenden Gewohnheiten und Gebräuche

117

3. Die Inhaltskontrolle im Unternehmerbereich aus teleologischer Sicht

118

4. Zwischenergebnis

120

II. Eröffnung der Inhaltskontrolle

121

1. Keine kontrollfreie Vergütung einer Sonderleistung

122

a) Argument aus § 354 HGB

122

b) Höherer vorvertraglicher Aufwand

123

2. Zwischenergebnis

124

III. Inhaltskontrolle nach § 307 BGB

124

1. Nachteile des Darlehensnehmers

124

2. Argumente gegen eine unangemessene Benachteiligung

125

a) Berücksichtigung der im Handelsverkehr geltenden Gewohnheiten und Gebräuche

126

aa) Bearbeitungsentgelt als Handelsbrauch

126

bb) Besonderheiten des kaufmännischen Geschäftsverkehrs

127

cc) Geringere Schutzwürdigkeit von Unternehmern

128

b) Weitergabe der Belastung an Endkunden

130

c) Steuerliche Vorteile

130

d) Ermöglichung eines niedrigeren Zinses durch Erhebung des Bearbeitungsentgelts

131

IV. Ergebnis

132

G. Bearbeitungsentgeltklauseln in besonderen Darlehensverträgen

134

I. Kontokorrentkredit

134

1. Besonderheiten des Kontokorrentkredits

134

2. Wirksamkeit von Bearbeitungsentgeltklauseln

135

a) Eröffnung der Inhaltskontrolle

135

b) Inhaltskontrolle nach § 307 BGB

136

aa) Fehlende Möglichkeit der Einpreisung in den Zins

136

bb) Vorteile des Kontokorrentkredits

138

3. Möglichkeit eines kontrollfreien laufzeitunabhängigen Bereitstellungsentgelts

139

a) Laufzeitunabhängiges Bereitstellungsentgelt als Hauptleistung eines Krediteröffnungsvertrags

140

b) Laufzeitunabhängiges Bereitstellungsentgelt als Vergütung einer Sonderleistung in einem einheitlichen Darlehensvertrag

141

4. Ergebnis

141

II. Avalkredite

142

1. Besonderheiten des Avalkredits

142

2. Wirksamkeit von Bearbeitungsentgeltklauseln

143

3. Möglichkeit der Erhebung laufzeitunabhängiger Entgelte

143

4. Ergebnis

144

III. Konsortialkredite

144

1. Besonderheiten des Konsortialkredits

145

2. Wirksamkeit von Bearbeitungsentgeltklauseln

145

a) Eröffnung der Inhaltskontrolle

145

b) Inhaltskontrolle nach § 307 BGB

146

3. Zulässigkeit einer laufzeitunabhängigen Arrangierungsgebühr

147

4. Ergebnis

148

IV. Förderdarlehensvertrag

148

1. Besonderheiten des Förderdarlehensvertrags

148

2. Wirksamkeit von Bearbeitungsentgeltklauseln

149

a) Vorliegen von AGB

150

b) Eröffnung der Inhaltskontrolle

150

aa) Kein Erlaubnistatbestand

150

bb) Keine Sonderleistung

151

c) Inhaltskontrolle nach § 307 BGB

152

3. Ergebnis

154

V. Bausparvertrag

154

1. Besonderheiten des Bausparvertrags

155

2. Wirksamkeit der sog. Abschlussgebühr

156

3. Wirksamkeit von Darlehensgebühren

157

a) Eröffnung der Inhaltskontrolle

157

aa) Genehmigung durch die BaFin

157

bb) Auslegung der Darlehensgebühr als Bearbeitungsentgelt

158

cc) Abweichung vom Leitbild des § 488 Abs. 1 S. 2 BGB

159

b) Inhaltskontrolle nach § 307 BGB

160

aa) Vorteile des Bauspardarlehensvertrags

160

bb) Kollektives Gesamtinteresse der Bauspargemeinschaft

161

4. Ergebnis

162

H. Alternativer Ansatz zur Kontrolle von Entgeltregelungen

163

I. Bedürfnis nach einer Kontrolle von Entgeltregelungen

163

1. Unbedingt anfallende Entgelte

163

2. Bedingt anfallende Entgelte

164

II. Teleologische Reduktion von § 307 Abs. 3 S. 1 BGB

165

III. Folgen für die Angemessenheitsprüfung nach § 307 BGB

167

1. Indizien für eine Angemessenheit einer Entgeltklausel

167

2. Indizien gegen die Angemessenheit einer Entgeltklausel

169

IV. Ergebnis

169

I. Zusammenfassung

170

I. Allgemeine Überlegungen zur Inhaltskontrolle Allgemeiner Geschäftsbedingungen

170

II. Die Eröffnung der Inhaltskontrolle bei Entgeltklauseln

171

III. Bearbeitungsentgeltklauseln in Verbraucherdarlehensverträgen

172

IV. Bearbeitungsentgeltklauseln in Unternehmerdarlehensverträgen

174

V. Bearbeitungsentgeltklauseln in besonderen Darlehensverträgen

175

VI. Alternativer Ansatz zur Kontrolle von Entgeltklauseln

177

Literaturverzeichnis

178