Private or civil law: general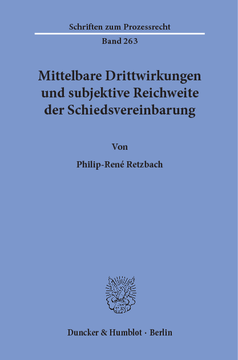 Additional Information
Book Details
ISBN

978-3-428-55908-4
978-3-428-15908-6 (print edition)

DOI

https://doi.org/10.3790/978-3-428-55908-4

Edition

1

Language

German

Pages

294

Collections

Subjects
Pricing
Institution

€ 104.00 (incl. local VAT if applicable)

Individual

€ 79.90 (incl. local VAT if applicable)
About The Author
Philip-René Retzbach studierte Rechtswissenschaften an der Eberhard Karls Universität Tübingen. Im Anschluss an das erste Staatsexamen promovierte er dort im Jahr 2019 unter Betreuung von Professor Dr. Martin Gebauer, an dessen Lehrstuhl er promotionsbegleitend als akademischer Mitarbeiter tätig gewesen ist. Seit 2018 ist Philip-René Retzbach Rechtsreferendar im Bezirk des OLG Stuttgart.
Philip-René Retzbach studied law at the Eberhard Karls Universität Tübingen. After his first state exam he worked as a research assistant at the chair of Prof. Dr. Martin Gebauer. In 2019, he received his doctorate for his study on the applicable law and the burden of proof regarding the third-party effect of arbitration agreements. He is currently a law clerk at the Higher Regional Court Stuttgart.
Abstract
Lassen sich Dritte an eine Schiedsvereinbarung binden? Die subjektive Reichweite von Schiedsvereinbarungen bildet nicht erst seit der Dow-Chemical-Entscheidung den Gegenstand vertiefter Diskussionen. Ungeachtet der praktischen Dimension dieser Frage, fehlt es neben sachrechtlichen Regelungen insbesondere an maßgeblichen Kollisionsnormen zur Bestimmung des hierfür anwendbaren Rechts. Im Kern der Untersuchung steht die Frage, nach welchen Rechtsregeln die Bindung Dritter an eine Schiedsvereinbarung zu bemessen ist und welche Kollisionsnormen in grenzüberschreitenden Fallkonstellationen diesbezüglich zur Anwendung zu bringen sind. Dabei hat sich gezeigt, dass sich die prozessuale Drittbindung auf Rechtsinstitute des materiellen Rechts stützen lässt und sich die kollisionsrechtlichen Interessen ausschließlich im Wege verschiedener Sonderanknüpfungen verwirklichen lassen. Diese Erkenntnisse ließen sich schließlich in ein praktisch handzuhabendes Prüfungsschema übersetzen. »The Law Applicable to the Third-Party Effect of Arbitration Agreements«

Especially the Dow-Chemical-Award triggered a continuing discussion about the third-party effect of arbitration agreements. The study addresses the question whether third parties can be bound to an arbitration agreement in light of the applicable law and the burden of proof demonstrated by the examples of assignment, supply chains and piercing the corporate veil.
Table of Contents
Section Title
Page
Action
Price

Vowort

5

Inhaltsübersicht

7

Inhaltsverzeichnis

9

Abkürzungsverzeichnis

16

Einleitung

21

I. Einführung in die Problemstellung

21

II. Fragestellung und Gegenstand der Untersuchung

24

III. Gang der Untersuchung

26

1. Kapitel: Die Schiedsvereinbarung und ihr Verhältnis zu der Bestimmung des anwendbaren Rechts

28

I. Die Rechtsnatur der Schiedsvereinbarung

29

1. Der Streit über die Rechtsnatur der Schiedsvereinbarung

29

2. Die Folgen der Rechtsnatur für das anzuwendende Recht

30

a) Die kollisionsrechtlichen Auswirkungen

31

aa) Die Kollisionsnorm und der Qualifikationsbegriff

32

bb) Die Lex-​Fori-​Regel als Kollisionsnorm

34

(1) Der Tatbestand der Lex-​Fori-​Regel

35

(a) Die Begründung der Lex-​Fori-​Regel

35

(b) Schlussfolgerungen für den Anknüpfungsgegenstand

37

(2) Maßgeblichkeit der Lex-​Fori-​Regel für das Zustandekommen von Schiedsvereinbarungen

38

cc) Zwischenergebnis

42

b) Die Auswirkungen auf das maßgebliche Sachrecht

42

II. Das Verhältnis zwischen Schiedsvereinbarung, Hauptvertrag und Schiedsverfahrensrecht

44

III. Die Bestimmung des für die Schiedsvereinbarung maßgeblichen Rechts

46

1. Die objektive Bestimmung des Schiedsvereinbarungsstatuts

47

a) Das Kollisionsrecht der Schiedsvereinbarung

47

aa) Das Genfer Protokoll von 1923

47

bb) Das Genfer Abkommen von 1927

49

cc) Das UN-​Übereinkommen von 1958

50

(1) Der Anwendungsbereich des UN-​Übereinkommens

51

(2) Die Kollisionsregel des Art. 5 Abs. I lit. a UN-​Ü

53

dd) Das europäische Übereinkommen von 1961

54

(1) Der Anwendungsbereich des EU-​Ü

55

(2) Die Kollisionsregel des Art. 6 Abs. II EU-​Ü

56

(3) Das Verhältnis zum UN-​Übereinkommen

57

ee) Die Rom I-​Verordnung

59

ff) Das autonome Kollisionsrecht

61

(1) Die Zivilprozessordnung

61

(a) Ausländische Schiedssprüche

62

(b) Inländische Schiedssprüche

62

(c) Die Kollisionsregel des § 1059 Abs. II Nr. 1 lit. a ZPO

63

(2) Exkurs: Das englische common law

64

gg) Die Lex-​Fori-​Regel

66

hh) Zwischenergebnis

66

b) Die Regelungslücken des Kollisionsrechts der Schiedsvereinbarung

67

aa) Die entsprechende Anwendung des bestehenden Kollisionsrechts zur Bestimmung des Schiedsvereinbarungsstatuts

69

(1) Die entsprechende Anwendung der Rom I-​VO

69

(a) Die Anknüpfung an den Schiedsort

70

(b) Die unselbstständige Anknüpfung an den Hauptvertrag

71

(2) Die entsprechende Anwendung des UN-​Übereinkommens

72

(3) Die Schwierigkeiten eines unbestimmten oder wechselnden Schiedsortes

73

bb) Das Gültigkeitsprinzip

75

cc) Stellungnahme

77

2. Der Abschluss einer Rechtswahlvereinbarung

79

a) Die konkludent abgeschlossene Rechtswahlvereinbarung

80

aa) Die Indizien zur Feststellung einer eindeutigen Rechtswahlvereinbarung

81

(1) Die Wahl des Hauptvertragsstatuts

83

(2) Die Wahl des Schiedsortes

87

(3) Zwischenergebnis

89

bb) Exkurs: Die offene Rechtswahl zur Begründung des Gültigkeitsprinzips

91

b) Der Abschluss einer mittelbaren Rechtswahlvereinbarung

92

aa) Die Wahl eines nichtstaatlichen Schiedsverfahrensrechts

92

bb) Die Wahl eines staatlichen Schiedsverfahrensrechts

93

c) Das Statut der Rechtswahlvereinbarung

96

IV. Zusammenfassung des ersten Kapitels

96

2. Kapitel: Die subjektive Reichweite der Schiedsvereinbarung

98

I. Die Drittwirkung der Schiedsvereinbarung bei Zession

99

1. Die Bindung des Zessionars an die Schiedsvereinbarung

99

a) Die kraft Gesetz eintretende Bindung

99

aa) Der Übergang als Recht nach § 401 BGB

100

bb) Der Übergang als Pflicht nach § 404 BGB

102

cc) Der Übergang kraft Gesamtanalogie der §§ 398 S. 2, 401, 404 BGB

103

dd) Der unmittelbare Übergang gemäß § 398 BGB

104

ee) Stellungnahme

104

b) Die Vereinbarkeit mit der Doctrine of Separability

107

c) Die Abhängigkeit vom Inhalt der Schiedsvereinbarung

109

aa) Der Einfluss relativer Abtretungsverbote

110

bb) Der Einfluss von Geheimhaltungsverpflichtungen

111

d) Die Bindung bildet keinen Vertrag zulasten Dritter

112

e) Zwischenergebnis

114

f) Das Wiederaufleben der Bindungswirkung bei einer Kettenabtretung

115

g) Exkurs: Die Bindung des Zessionars in weiteren Rechtsordnungen

117

2. Die Bestimmung des anwendbaren Rechts

118

a) Die Interessen der betroffenen Personen

118

b) Die Anknüpfung an das Schiedsvereinbarungsstatut

119

aa) Die Vorhersehbarkeit der Sitzanknüpfung für die Schiedsparteien

120

bb) Die Nachteile einer Sitzanknüpfung

121

c) Die Anknüpfung an das Zessionsgrundstatut

125

d) Die Anknüpfung an das Forderungsstatut

126

e) Die Bildung einer maßgeblichen Kollisionsregel

127

aa) Die entsprechende Anwendung des Art. 14 Abs. II Rom I-​VO

128

bb) Das Verhältnis zum Schiedsvereinbarungsstatut

128

3. Zwischenergebnis

129

II. Die Reichweite der Schiedsvereinbarung innerhalb einer Vertragskette

130

1. Die Direktansprüche gegen den Hersteller

131

a) Das Delikts-​ und Produkthaftungsrecht

131

b) Das Gewährleistungsrecht und der Unternehmerregress

133

c) Die vertragliche Dritthaftung

135

aa) Die Haftung aus Garantieverträgen

135

(1) Der selbstständige Garantievertrag

136

(2) Der unselbstständige Garantievertrag als Vertrag zugunsten Dritter

137

(a) Die Bindung nach § 328 Abs. I BGB

140

(b) Die Schiedsvereinbarung als Einwendung gemäß § 334 BGB

140

(c) Stellungnahme

141

(d) Die Abhängigkeit vom Inhalt der Schiedsvereinbarung

144

bb) Der Vertrag mit Schutzwirkung zugunsten Dritter

145

(1) Die Haftungsvoraussetzungen

146

(a) Die Leistungsnähe

147

(b) Die Gläubigernähe und das Einbeziehungsinteresse

148

(c) Zwischenergebnis

153

(d) Exkurs: Die Rechtsprechung in Österreich

153

(2) Folgerungen für die subjektive Reichweite der Schiedsvereinbarung

154

(a) Die Bindung mittels ergänzender Vertragsauslegung

154

(b) Die entsprechende Anwendung der §§ 328 Abs. I, 334 BGB

155

cc) Exkurs: Die französische Action Directe

156

(1) Die Action Directe als kaufrechtlicher Direktanspruch

158

(2) Die Bindung des Anspruchsgläubigers an die Schiedsvereinbarung

160

(a) Die Bindung im Verhältnis zum Hersteller

160

(b) Die Bindung im Verhältnis zum Zwischenhändler

161

d) Zwischenergebnis

162

2. Die Ermittlung des maßgeblichen Rechts

163

a) Die Interessen der betroffenen Personen

164

b) Die Anknüpfung an das Schiedsvereinbarungsstatut

164

c) Die Anknüpfung an das Rechtsverhältnis des Herstellers mit dem Zwischenhändler

165

aa) Der Vertrag zugunsten Dritter

167

bb) Der Vertrag mit Schutzwirkung zugunsten Dritter

168

(1) Die vertragliche Qualifikation

169

(2) Die außervertragliche Qualifikation

170

cc) Exkurs: Die Action Directe

172

(1) Die außervertragliche Qualifikation

172

(2) Die vertragliche Qualifikation

173

d) Die Anknüpfung an das Rechtsverhältnis des Endkunden zum Zwischenhändler

174

e) Stellungnahme

174

aa) Die Vorteile einer Anknüpfung an den Erstvertrag

176

bb) Die Vereinbarkeit mit der Rechtsprechung zur Gerichtsstandsvereinbarung

178

cc) Die Bildung einer maßgeblichen Kollisionsregel

181

f) Zwischenergebnis

182

III. Die Bindung des Gesellschafters an eine Schiedsvereinbarung

183

1. Die Wirkung der Schiedsvereinbarung einer Personenhandelsgesellschaft gegenüber ihren persönlich haftenden Gesellschaftern

184

a) Das Zustandekommen einer vertraglichen Sonderverbindung zwischen den persönlich haftenden Gesellschaftern und dem Dritten

186

b) Die Bindung der Gesellschafter an eine zwischen der Gesellschaft und dem Dritten abgeschlossene Schiedsvereinbarung

188

aa) Die nach § 128 S. 1 HGB kraft Gesetz eintretende Bindung

188

bb) Die Kritik an der Bindung des persönlich haftenden Gesellschafters

191

cc) Stellungnahme

193

(1) Die Wertungen des § 128 S. 1 HGB als Grundlage der Bindung

193

(2) Die Abwägung der betroffenen Interessen

195

(3) Die Vereinbarkeit der Bindung mit § 129 HGB

197

c) Die Abhängigkeit vom Inhalt der Schiedsvereinbarung

198

2. Die Auswirkungen der Durchgriffshaftung auf die Schiedsvereinbarung

199

a) Die rechtsdogmatische Rechtfertigung der Durchgriffshaftung

200

aa) Die Missbrauchslehre

201

bb) Die Normzwecklehre

202

cc) Die Entwicklungen in der Rechtsprechung

203

dd) Stellungnahme

205

b) Die Bindung an die Schiedsvereinbarung

208

c) Exkurs: Das englische Recht

210

aa) Die Entwicklung der Durchgriffshaftung im common law

211

(1) Die Prest-​Entscheidung

212

(2) Die Notwendigkeit eines bestehenden Direktanspruchs

216

bb) Die Bindung an die Schiedsvereinbarung

217

(1) Die Antonio-​Gramsci-​Entscheidung

217

(2) Folgerungen für die Schiedsvereinbarung

220

cc) Zwischenergebnis

220

d) Exkurs: Der Gerichtsstand der Durchgriffshaftung im europäischen Zuständigkeitsrecht

221

3. Die Ermittlung des maßgeblichen Rechts

222

a) Die Interessen der betroffenen Personen

223

b) Die Anknüpfung an das Gesellschaftsstatut

224

aa) Die Sitztheorie

226

bb) Die Gründungstheorie

228

c) Die Anknüpfung an das Wirkungsstatut

229

d) Die Differenzierungslehre und das Günstigkeitsprinzip

230

e) Die Anknüpfung an das Schiedsvereinbarungsstatut

232

f) Die Maßgeblichkeit der lex fori

232

g) Stellungnahme

233

aa) Die Vorteile der Anknüpfung an das Gesellschaftsstatut

234

bb) Kritik an der Anknüpfung an das Wirkungsstatut

234

cc) Kritik am Günstigkeitsprinzip

236

dd) Kritik an der Anknüpfung an das Rechts am Gerichtsort

237

ee) Die Vorteile einer Anknüpfung an das Recht am Gründungsort

238

ff) Die Bildung einer maßgeblichen Kollisionsregel

240

h) Zwischenergebnis

241

IV. Zusammenfassung des zweiten Kapitels

241

3. Kapitel: Die Entscheidung über die Drittbindung im Rahmen der Zuständigkeitsprüfung

244

I. Die Entscheidung über das Bestehen einer wirksamen Schiedsvereinbarung

245

II. Das Verhältnis zwischen der schiedsgerichtlichen und der staatlichen Zuständigkeitsentscheidung

247

1. Der "überholende" Schiedsspruch

247

a) Das Überprüfungs-​ und Feststellungsverfahren

248

b) Das Einredeverfahren

250

2. Die gerichtliche Zuständigkeitsentscheidung nach Schiedshängigkeit

251

3. Die Bindungswirkung der staatlichen Gerichtsentscheidung

252

III. Die Berücksichtigung der materiellen Rechtslage im Rahmen der Zuständigkeitsprüfung

253

1. Die Lehre der doppelrelevanten Tatsachen

254

2. Die Anwendung der Lehre der doppelrelevanten Tatsachen im Rahmen der Prüfung einer wirksamen Schiedsvereinbarung

256

a) Die Zuständigkeitsentscheidung des Schiedsgerichts

257

aa) Die prozessökonomischen Folgen

257

bb) Die Folgen für den Schiedsbeklagten

258

cc) Das Argument der prozessualen Gerechtigkeit

259

dd) Zwischenergebnis

260

b) Die Zuständigkeitsentscheidung staatlicher Gerichte

261

aa) Der Umfang der Zuständigkeitsprüfung staatlicher Gerichte

261

bb) Die Vereinbarkeit einer Schlüssigkeitsprüfung mit Art. 101 Abs. I GG

261

cc) Die Gefahr einer Kompetenzüberschreitung staatlicher Gerichte

262

dd) Die Rechtskraft-​ und Bindungswirkung der Zuständigkeitsentscheidung

263

ee) Die Konsequenzen für den Prüfungsumfang

264

ff) Das Einredeverfahren

264

gg) Die auf die Zuständigkeitsprüfung ausgerichteten Verfahren

265

c) Zwischenergebnis

267

IV. Zusammenfassung des dritten Kapitels

267

Zusammenfassung der Ergebnisse

269

Literaturverzeichnis

273

Sachwortverzeichnis

291