Criminal justice law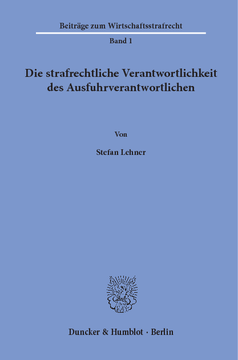 Additional Information
Book Details
ISBN

978-3-428-55996-1
978-3-428-15996-3 (print edition)

DOI

https://doi.org/10.3790/978-3-428-55996-1

Edition

1

Language

German

Pages

480

Collections

Subjects
Pricing
Institution

€ 126.00 (incl. local VAT if applicable)

Individual

€ 98.90 (incl. local VAT if applicable)
About The Author
Stefan Lehner studierte von Oktober 2011 bis Juli 2016 Rechtswissenschaften mit Schwerpunkt Wirtschafts-, Medizin- und Steuerstrafrecht an der Universität Bayreuth. Im Anschluss daran arbeitet er seit September 2016 am Lehrstuhl für Strafrecht und Strafprozessrecht, Wirtschaftsstrafrecht und internationales Strafrecht der Universität Bayreuth. Dort erfolgte auch seine Promotion unter der Betreuung von Frau Prof. Dr. Nina Nestler im November 2019.
Stefan Lehner studied law from October 2011 to July 2016 with a focus on commercial, medical and tax criminal law at the University of Bayreuth. Subsequently, he has been working at the Chair for Criminal Law and Criminal Procedure Law, Commercial Criminal Law and International Criminal Law of the University of Bayreuth since September 2016. There he also received his doctorate under the supervision of Prof. Dr. Nina Nestler in November 2019.
Abstract
Stefan Lehner untersucht, ob bzw. inwieweit Bundesregierung und BAFA als Ausfuhrbehörden durch den sog. Ausfuhrverantwortlichen eine strafrechtliche Sonderverantwortlichkeit geschaffen haben. Da der Ausfuhrverantwortliche im Außenwirtschaftsrecht nicht unmittelbar zum Gegenstand von Haftungsnormen gemacht worden ist, stellen sich grundlegende Fragen strafrechtlicher Zurechnung. Die Arbeit behandelt insoweit die täterschaftliche Verantwortung des Ausfuhrverantwortlichen bei aktiver Begehung im Rahmen funktional-sozialer Täterschaftsermittlung, dessen Garantenstellung und -pflichten im Rahmen der Unterlassungshaftung, die spezielle Verantwortlichkeit für Compliance-Organisationsmaßnahmen im Unternehmen sowie insbesondere den Einfluss von Verwaltungsvorschriften als Sondernormen auf die Ausfuhrdelikte und den Pflichtenkreis des Ausfuhrverantwortlichen. »Criminal Liability of the ›Ausfuhrverantwortlicher‹ (Person Responsible for Export Control)«

In 2019, executive board members of well-known German defence companies had to face criminal charges for illegal arms exports. Under the impression of such »export scandals«, the German export authorities regularly issue administrative regulations in which they define the due diligence duties of the so-called Ausfuhrverantwortlicher (person responsible for export control). Stefan Lehner therefore investigates whether a special criminal liability was created in this way.
Table of Contents
Section Title
Page
Action
Price

Vorwort

5

Inhaltsverzeichnis

7

Abkürzungsverzeichnis

13

Teil 1: Einleitung

19

A. Anlass der Untersuchung

19

B. Gang der Untersuchung

24

Teil 2: Rechtliches Fundament

26

A. Außenwirtschaftsfreiheit und ihre Grenzen

27

B. Zuverlässigkeit des Antragstellers

30

C. Zuverlässigkeitsgrundsätze

33

I. Erschließung und Bewertung des Regelungsgehalts

35

1. Präambel

35

2. Zuverlässigkeitsgrundsätze

37

a) Anwendungsbereich (Nr. 1)

37

b) Ausfuhrverantwortlicher (Nr. 2)

39

c) Aussetzung des Genehmigungsverfahrens (Nr. 3)

42

d) Ablehnung von Anträgen (Nr. 4)

43

e) Absehen von Maßnahmen nach Nr. 3, 4 (Nr. 5)

44

f) Widerruf von Genehmigungen (Nr. 6)

45

g) Versehen mit Nebenbestimmungen (Nr. 7)

45

3. Analyse und Bewertung

46

II. Rechtliche Verbindlichkeit

47

1. Zuverlässigkeitsgrundsätze als normkonkretisierende Verwaltungsvorschriften

47

a) Norminterpretierender Bestandteil der Zuverlässigkeitsgrundsätze

52

aa) Überwiegende Auffassung im Schrifttum

53

bb) Auffassung der Genehmigungspraxis

54

cc) Differenzierender Ansatz Hinders

55

dd) Analyse und Bewertung

56

b) Kriterien der Normkonkretisierung

59

aa) Explizite Ermächtigung zur Konkretisierung

61

bb) Umfangreiches Beteiligungsverfahren

63

cc) Sicherstellung einer einheitlichen Verwaltungspraxis

65

dd) Implizite Ermächtigung zur Konkretisierung

67

c) Zwischenergebnis

76

2. Zuverlässigkeitsgrundsätze als Rechtsverordnung

77

a) Formelle Kriterien

78

b) Materielle Kriterien

82

c) Fehlende rechtliche Verbindlichkeit

86

d) Zwischenergebnis

87

D. Zertifizierungskriterien gemäß § 2 Abs. 2 AWV

88

I. Erschließung und Bewertung des Regelungsgehalts

89

II. Rechtliche Verbindlichkeit

92

E. ICP-Merkblatt

94

I. Erschließung und Bewertung des Regelungsgehalts

94

II. Rechtliche Verbindlichkeit

97

1. ICP-Merkblatt als Rechtsverordnung

97

2. ICP-Merkblatt als Verwaltungsakt bzw. Allgemeinverfügung

98

3. ICP-Merkblatt als informelles Verwaltungshandeln bzw. Verwaltungsvorschrift

99

F. Ergebnisse – Teil 2

103

Teil 3: Allgemeine Ausfuhrverantwortlichkeit

106

A. Verantwortlichkeit für Begehungsdelikte

106

I. Zurechnungsdefizite innerhalb illegaler Ausfuhrvorgänge

108

1. Ausfuhr und Handlungsverantwortung

112

a) "Ausfuhr" und "Verbringung" nach dem AWG, der AWV und dem KWKG

113

b) "Ausfuhr" nach der Dual-Use-VO

115

c) Zwischenergebnis

117

2. Ausfuhr und Entscheidungsverantwortung

117

a) Fehlende Eigenhändigkeit der Tathandlung

118

b) Mittelbarer Täterschaft bei Ausfuhr und Verbringung

120

aa) Wissensherrschaft

121

bb) Willensherrschaft

125

cc) Organisationsherrschaft

126

c) Mittäterschaft bei Ausfuhr und Verbringung

131

aa) Tatherrschaft aufgrund von Vorbereitungshandlungen

131

bb) Gemeinsamer Tatplan bei vertikalen Organisationsstrukturen

139

d) Anstiftung zu Ausfuhr und Verbringung

140

3. Zwischenergebnis

142

II. Bewältigung der Zurechnungsdefizite

143

1. Ausfuhrdelikte als Sonderdelikte

144

a) Befürworter des Sonderdeliktscharakters

145

b) Auffassung des BGH

146

c) Analyse und Bewertung

147

2. Ausfuhrdelikte als Organisationsdelikte

149

a) Organisationsdelikte nach Schünemann

150

aa) Beschreibung einer besonderen Regelungstechnik

150

bb) Unerlaubte Ausfuhr als "Musterbeispiel"

153

b) Organisationsdelikte nach Auffassung des BGH

155

aa) Lederspray-Fall

155

bb) Rabta-Fall

158

cc) Geländewagen-Fall

159

dd) Nuklearprogramm-Fall

160

ee) Analyse und Bewertung

161

c) "Ausführer" als faktischer Zurechnungsmotor

165

aa) Grammatikalische Auslegung

167

bb) Systematische Auslegung

169

cc) Historische Auslegung

171

dd) Teleologische Auslegung

173

ee) Zwischenergebnis

179

3. Fördertatbestände des KWKG

180

4. Zwischenergebnis

182

B. Verantwortlichkeit für Unterlassungsdelikte

183

I. Schutzpflicht zugunsten der Schutzgüter des Außenwirtschaftsrechts

189

1. Originäre Schutzpflicht des Ausfuhrverantwortlichen

191

a) Enge persönliche Verbundenheit

191

b) Organ- bzw. Gesellschafterstellung

192

c) Rechtsstellung aufgrund des Außenwirtschaftsrechts

193

aa) Ausfuhrdelikte

194

bb) Ausfuhrgenehmigungsrecht

195

cc) Zwischenergebnis

198

2. Derivative Schutzpflicht der Ausfuhrbehörden

198

a) Schutzpflicht der Ausfuhrbehörden

199

aa) Öffentlich-rechtlicher Schutzauftrag

199

bb) Strafrechtliche Einstandspflicht

200

cc) Zwischenergebnis

204

b) Tatsächliche, freiwillige Übernahme durch den Ausfuhrverantwortlichen

205

c) Zwischenergebnis

207

3. Derivative Schutzpflicht des Exportunternehmens

207

4. Zwischenergebnis

211

II. Überwachungspflicht hinsichtlich des eigenen Unternehmens

211

1. Verantwortlichkeit für Sachgefahren

213

2. Verantwortlichkeit für Personalgefahren

215

a) Auffassung der Rechtsprechung

216

aa) Auffassung des RG

217

bb) Auffassung des BGH

217

b) Auffassungen im Schrifttum

221

aa) Befehlsgewalt und Herrschaftswissen

222

bb) Erweiterung des eigenen Verkehrskreises

225

cc) Ingerenz

226

dd) Überwachung von Gefahrenquellen im übernommenen Organisationskreis

229

ee) Analyse und Bewertung

232

c) Zwischenergebnis

235

III. Delegation und Restverantwortung

235

1. Freizeichnung der übrigen Geschäftsleitung durch horizontale Delegation?

236

a) Grundsatz der Generalverantwortung und Allzuständigkeit

237

b) Vertrauensgrundsatz und Restverantwortung

239

c) "Aufleben" der Generalverantwortung und Allzuständigkeit

243

d) Zwischenergebnis

245

2. Garantiehaftung des Ausfuhrverantwortlichen infolge vertikaler Delegation?

245

a) Gestaltungsmöglichkeiten

246

aa) Delegation von Verantwortung an den Exportkontrollbeauftragten

248

bb) Übereinstimmung mit der Delegation an den Compliance-Beauftragten

251

b) Anwendbarkeit des Vertrauensgrundsatzes

253

c) Umfang der Restverantwortung

258

d) Zwischenergebnis

263

C. Ergebnisse – Teil 3

264

Teil 4: Besondere Ausfuhrverantwortlichkeit

266

A. Besonderes Pflichtenprogramm

268

I. Organisationspflicht

273

1. Aufbauorganisation

273

a) Ausweisung der Exportkontrolle und Kompetenzverteilung

273

aa) Pflicht zur Kompetenzverteilung

274

bb) Anforderungen an die Kompetenzverteilung

277

b) Durchsetzungskraft

279

2. Ablauforganisation

281

a) Information

281

b) Instruktion

284

c) Dokumentation

287

3. Zwischenergebnis

291

II. Überwachungspflicht

292

1. Prozessbezogene Überwachung

292

2. Systembezogene Überwachung

294

3. Zwischenergebnis

296

III. Personalauswahlpflicht

297

IV. Weiterbildungspflicht

299

V. Zwischenergebnis

301

B. Strafrechtlicher Sorgfaltsmaßstab

303

I. Einfallstore für das besondere Pflichtenprogramm

304

1. Blankettausfüllende Vorschriften

305

2. Normative Tatbestandsmerkmale

310

a) Einstandspflicht, § 13 Abs. 1 StGB

311

b) Fahrlässigkeitsvorwurf

313

aa) Objektiver Fahrlässigkeitsvorwurf

314

bb) Subjektiver Fahrlässigkeitsvorwurf

316

c) Vermeidbarkeit des Verbotsirrtums

318

d) Umfang der gehörigen Aufsicht gemäß § 130 OWiG

320

3. Strafzumessung

321

4. Zwischenergebnis

324

II. Wirkungsweise des besonderen Pflichtenprogramms

325

1. Verbindlichkeit

326

2. Irrelevanz

329

3. Indizwirkung

330

a) Beweisregeln

332

b) "Antizipiertes Sachverständigengutachten"

337

aa) Beweisgegenstand

339

bb) Beweisverfahren

343

cc) Zwischenergebnis

347

c) System der Beweiserleichterung

348

d) Zwischenergebnis

351

III. Berücksichtigung des besonderen Pflichtenprogramms

352

1. Neutralität des Normsetzers

354

2. Ausdruck besonderen Sachverstands und hohe Richtigkeitsgewähr

356

3. Hoher Verbreitungsgrad und Vertrauensschutz

360

4. Einheitliches Schutzgutkonzept

365

a) Schutzzweckidentität von Ausfuhrdelikten und Zuverlässigkeitsgrundsätzen

368

aa) "Ursprüngliche Trias"

369

bb) Genehmigungsvorbehalt

372

cc) "Restriktive Rüstungspolitik"

374

(1) Inhalt der Politischen Grundsätze

375

(2) Bewertung des Inhalts

377

(3) Menschenrechte im Schutzgefüge des Außenwirtschafts(straf)rechts

378

dd) Zwischenergebnis

388

b) Schutzzweckidentität zwischen Ausfuhrdelikten und ICP-Merkblatt

389

c) Zwischenergebnis

392

5. Verfassungsmäßigkeit

393

a) Befürworter der Verfassungswidrigkeit

395

b) Befürworter der Verfassungsmäßigkeit

399

c) Analyse und Bewertung

400

aa) Teilrechtswidrigkeit und Gesamtrechtswidrigkeit

401

bb) Kompetenzkonflikt

404

d) Zwischenergebnis

409

6. Zusammenfassung

410

C. Ergebnisse – Teil 4

410

Teil 5: Zusammenfassung, Bewertung und Ausblick

414

A. Zusammenfassung der Ergebnisse

414

B. Bewertung und Ausblick

419

Anlage I

422

Anlage II

426

Literaturverzeichnis

429

Stichwortverzeichnis

477