Politics & government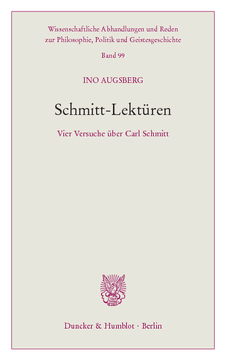 Additional Information
Book Details
ISBN

978-3-428-55912-1
978-3-428-15912-3 (print edition)

DOI

https://doi.org/10.3790/978-3-428-55912-1

Edition

1

Language

German

Pages

130

Collections

Subjects
Pricing
Institution

€ 46.00 (incl. local VAT if applicable)

Individual

€ 35.90 (incl. local VAT if applicable)
About The Author
Ino Augsberg studierte Philosophie, Kunstgeschichte, Literatur- und Rechtswissenschaft an den Universitäten in Freiburg i.Br. und Heidelberg. 2001 erfolgte in Freiburg die Promotion zum Dr. phil. Nach den 2004 und 2006 abgelegten juristischen Staatsexamina wurde Augsberg 2008 durch die Fakultät für Rechtswissenschaft der Universität Hamburg zum Dr. iur. promoviert. Anschließend war er als Akad. Rat a.Z. am Lehrstuhl für Öffentliches Recht und Kirchenrecht der LMU München tätig. Dort erfolgte 2013 die Habilitation. Seit dem WS 2013/14 ist Augsberg Inhaber des Lehrstuhls für Rechtsphilosophie und Öffentliches Recht und Co-Direktor des Hermann Kantorowicz-Instituts für juristische Grundlagenforschung an der CAU zu Kiel.
Ino Augsberg studied philosophy, history of art, literature and law at the universities of Freiburg and Heidelberg. He received a Ph.D. in philosophy from Freiburg university (2001) and a Ph.D. in jurisprudence from Hamburg university (2008). In 2013 he finished his »Habilitation« (post-doc thesis) at the Ludwig-Maximilians-University in Munich and received the authorisation to teach public law and legal theory. Since October 2013 he has been Professor of Legal Philosophy and Public Law and Co-Director of the Hermann Kantorowicz-Institute for Fundamental Research in Law at the Christian-Albrechts-University Kiel.
Abstract
Die hier zusammengestellten Schmitt-Lektüren sind Lektüren Carl Schmitts im doppelten Sinn des Genitivus subiectivus und des Genitivus obiectivus: Es geht ihnen darum, nicht nur die Schmitt'schen Texte wieder zu lesen, sondern zugleich mitzulesen, was, also welche Autoren, welche Texte, Carl Schmitt selbst gelesen hat – und vor allem, wie er sie gelesen hat. Die Untersuchungen lesen Schmitts Schriften nicht primär, wie man eine Spur liest, die zu einem bestimmten Ziel hinführen soll. Im Vordergrund ihres Interesses stehen nicht die inhaltlichen Aussagen. Die Untersuchungen interessieren sich vielmehr vor allem für die dahinterstehenden Verfahren, mit denen sich Carl Schmitt selbst erst seine eigenen, inhaltlich hochumstrittenen »Positionen und Begriffe« erarbeitet. »Reading Schmitt Reading«

The four essays compiled in this volume are readings of Carl Schmitt in the double sense of the genitivus subiectivus and the genitivus obiectivus. Their aim is not only to re-read Schmitt's texts, but at the same time to read what, i.e. which authors, which texts, Carl Schmitt himself read – and above all how he read them.
Table of Contents
Section Title
Page
Action
Price

Inhaltsverzeichnis

5

Schmitt-Lektüren

7

Von einem, der auszog, das Fürchten zu lehren

14

I. Einleitung

14

II. Nomos und Norm

17

III. Recht als textuales Netzwerk

26

IV. Ein vierter Nomos der Erde?

33

V. Vom Netzwerk zum Rhizom

37

VI. Die Ambivalenz des Politischen

41

Über die Grenzen des Rechts

49

I. Einleitung

49

II. Übertragen, Übersetzen, Überschreiten

54

III. Metapher und Begriff

57

IV. Schmitts Sprachverständnis

60

1. Ra‍(um) – Reim – Rom

61

2. Nomos

68

3. Kein Anfang und kein Ende

70

V. Fazit

71

Kreuzstiche

73

I. Einleitung

73

II. Helsingör

77

III. Karlsruhe

82

IV. Exit Ghost?

84

V. Complexio oppositorum

86

VI. Chiasmus

91

VII. Die Wunde der Politischen Theologie

94

Im Namen des Volkes

98

I. Einleitung

98

II. "Volk" als juristische Kategorie

100

III. Der Begriff des Volkes bei Carl Schmitt

102

IV. Zur Unterscheidung von populus und vulgus bei Kant und Hegel

116

V. Im Namen des Namens

124

Drucknachweise

126

Personen- und Sachregister

127