Public international law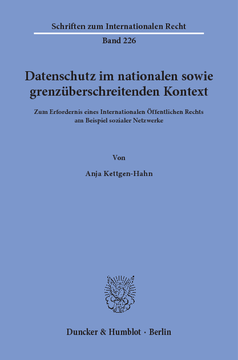 BOOK
Datenschutz im nationalen sowie grenzüberschreitenden Kontext
Zum Erfordernis eines Internationalen Öffentlichen Rechts am Beispiel sozialer Netzwerke
Schriften zum Internationalen Recht, Vol. 226
(2020)
Additional Information
Book Details
ISBN

978-3-428-58000-2
978-3-428-18000-4 (print edition)

DOI

https://doi.org/10.3790/978-3-428-58000-2

Edition

1

Language

German

Pages

277

Collections

Subjects
Pricing
Institution

€ 104.00 (incl. local VAT if applicable)

Individual

€ 79.90 (incl. local VAT if applicable)
About The Author
Anja Kettgen-Hahn studierte Rechtswissenschaften an der Eberhard Karls Universität Tübingen. Im Anschluss absolvierte sie ihr Rechtsreferendariat am Landgericht Stuttgart, gefolgt von einem Studium der Verwaltungswissenschaften an der Deutschen Universität für Verwaltungswissenschaften Speyer. Von diesem Studium und der diesem zu Grunde liegenden interdisziplinären Herangehensweise inspiriert, entstand die Idee, an derselben Universität auch ein Doktorandenstudium aufzunehmen. Zeitweise parallel hierzu, erwarb Anja Kettgen-Hahn den Master of Laws (LL.M.) an der Boston University School of Law sowie die Anwaltszulassung für den Staat New York, USA.
Anja Kettgen-Hahn studied law at the Eberhard Karls University Tübingen, Germany. After having passed the first State Examination she clerked for two years at the District Court Stuttgart (Rechtsreferendariat) and also passed the Second State Examination. Subsequently she studied public administration at the German University for Public Administration Speyer where she also received her doctoral degree in law (Dr. iur.) from. In part at the same time she graduated from Boston University School of Law with a Master's Degree (LL.M.) and was admitted to the New York State Bar after passing the bar exam. She is currently working at the German Research Institute for Public Administration.
Abstract
Die Nutzung weltweit zugänglicher sozialer Netzwerke birgt das Risiko einer Datenpreisgabe zu nicht transparenten rechtlichen und tatsächlichen Bedingungen. Dies ist insbesondere im Hinblick auf das Recht auf informationelle Selbstbestimmung kritisch. Darüber hinaus ist fraglich, ob ein Anknüpfen digitaler Sachverhalte an analoge Räume oder die Ausrichtung auf solche in Zeiten virtueller Welten und globaler Datenflüsse überhaupt noch opportun ist, da dies erhebliche Rechtsunsicherheiten im Hinblick auf die Ermittlung der anwendbaren Rechtsordnung mit sich bringt. Um diese Problematik aufzulösen wird die Ausbildung eines Internationalen Öffentlichen Rechts vorgeschlagen. Dieses stellt sicher, dass ein auf nationaler oder staatenverbundlicher Grundlage gewährter Schutz bei einem grenzüberschreitenden Sachverhalt nicht an der jeweiligen Gebietsgrenze der Ungewissheit überlassen wird. Damit trägt es zur Maximierung der Rechtssicherheit und -klarheit im grenzüberschreitenden Kontext bei. »Data Protection in a National as Well as International Context. An Analysis of the Requirement for an International Public Law Based on the Example of Social Networks«

It is getting more and more difficult to ensure legal clarity and certainty in an increasingly globalized and digitized society. This particularly applies to the usage of worldwide accessible social networks. The creation of an International Public Law can resolve resulting legal questions around the respectively applicable law. Thereby, this legal system provides protection beyond territorial borders.
Table of Contents
Section Title
Page
Action
Price

Vorwort

5

Inhaltsverzeichnis

7

1. Teil: Einleitung und Vorgehensweise

17

2. Teil: Ermittlung des anwendbaren Rechts

20

A. Anwendbarkeit europäischen Datenschutzrechts auf deutsches facebook-Angebot

20

I. Sachlicher Anwendungsbereich, Art. 2 DSGVO

20

II. Räumlicher Anwendungsbereich, Art. 3 DSGVO

21

1. Art. 3 Abs. 1 DSGVO: Sitzlandprinzip

21

a) Niederlassung

21

aa) Facebook Germany GmbH

21

bb) Facebook Ireland Limited

22

b) Verantwortlicher

22

aa) Bedeutung der Anbieterstellung

23

bb) Entscheidungskompetenz

23

cc) Zwischenergebnis

25

2. Art. 3 Abs. 2 lit. a DSGVO: Marktortprinzip

25

III. Zwischenergebnis

27

B. Analyse und Kritik

27

C. Dimensionen der Unsicherheit: Resümee und weitere Vorgehensweise

30

3. Teil: Ermittlung des anwendbaren Rechts mittels Internationalen Öffentlichen Rechts

34

A. Erfordernis der Schaffung eines dem IPR vergleichbaren Regelungsgefüges für das Öffentliche Recht

34

I. Das Grundproblem

34

1. Nationale Regelungen als Ausfluss räumlich begrenzter Herrschaftssphäre

35

2. Der Cyberspace: Kein Substitut für ein konkretes Staatsgebiet

35

3. Rechtliche Regelung des Cyberspace

36

II. Der Faktor "technischer Fortschritt"

37

III. Bedeutung für soziale Netzwerke und Zwischenergebnis

38

IV. Zwischenergebnis

39

V. Erfordernis gemeinsamer, internationaler Regelungen

39

VI. Zwischenergebnis

40

B. Möglichkeit kollisionsrechtlicher Regelungen im Öffentlichen Recht

41

I. Forschungsstand

41

1. Natur und Funktion des IPR

41

2. Existenz öffentlich-rechtlicher Kollisionsnormen

42

3. Einseitigkeit öffentlich-rechtlicher Kollisionsnormen

43

4. Allseitig- bzw. Zweiseitigkeit öffentlich-rechtlicher Kollisionsnormen

45

5. Stellungnahme

47

a) Zur Ablehnung eines Kollisionsrechts

47

b) Zur Einseitigkeit

47

c) Zwischenergebnis

51

d) Zur All- bzw. Zweiseitigkeit

51

e) Zwischenergebnis

53

6. Zwischenergebnis und weiteres Vorgehen

53

7. Kollisionslage

54

a) Kollisionslage im Öffentlichen Recht

54

b) Unterschiede zum IPR und Konsequenzen

55

c) Zwischenergebnis

56

8. Zwischenergebnis

56

II. Zwischenergebnis

56

C. Internationales Öffentliches Recht (IÖR)

56

I. Begrifflichkeit

57

II. Definition

58

1. Zweck und Funktion des IÖR

58

2. Zwischenergebnis

59

III. Die rechtliche Einkleidung des IÖR: Möglichkeiten der Gestaltung

60

1. Kollisionsrecht

60

2. Völkerrechtliche Verträge

60

a) Funktionaler Anwendungsbereich völkerrechtlicher Verträge

61

b) Eignung des Instruments völkerrechtlicher Vertrag

61

3. Zwischenergebnis und weiteres Vorgehen

62

D. Herausforderungen und Grenzen der vorgeschlagenen Gestaltungsansätze für ein IÖR

62

I. IÖR in Gestalt kollisionsrechtlicher Regelungen

62

1. Grenzen der Leistungsfähigkeit

62

2. Erfordernis ausländischer Sachnormen

62

3. Erfordernis einer ausdrücklichen kollisionsrechtlichen Regelung

64

4. Zwischenergebnis

65

5. Vereinbarkeit mit Ziel der Harmonisierung der Rechtslage

65

6. Auffang- bzw. Basisfunktion des Kollisionsrechts

66

7. Zwischenergebnis

67

II. IÖR in Gestalt von völkerrechtlichen Verträgen

67

1. Verhältnis zu nationalen Regelungen

67

2. Wirkungsgrad

68

3. Umfang der Verträge

68

4. Stellungnahme und Zwischenergebnis

69

III. Herausforderungen bei der Ausgestaltung des IÖR

69

1. Rechtspolitische Grenzen und Akzeptanz

69

2. Ordre public-Vorbehalt

70

a) Bei Ausgestaltung als Kollisionsrecht

70

b) Bei Ausgestaltung mittels völkerrechtlicher Verträge

71

3. Clausula rebus sic stantibus: Anpassungsvorbehalt

73

IV. Zwischenergebnis

74

E. Konkrete Anforderungen an die möglichen Gestaltungsansätze des IÖR

74

I. Ausgestaltung als Kollisionsrecht

74

1. Regelungsmaterie

74

2. Anknüpfungspunkte und Territorialitätsprinzip

75

a) Anknüpfungspunkte des IPR

75

b) Übertragbarkeit auf IÖR

76

c) Territoriale Anknüpfung

76

aa) Territorialitätsprinzip

76

bb) Territoriale Anknüpfung im IÖR

77

3. Erfordernis weiterer Anknüpfungspunkte

77

4. Staatsangehörigkeit

78

a) Das passive Personalitätsprinzip

78

b) Das aktive Personalitätsprinzip

79

c) Eingeschränktes aktives Personalitätsprinzip

82

d) Zwischenergebnis

83

5. Domizilprinzip

84

a) Aktives Domizilprinzip

84

b) Passives Domizilprinzip

85

6. Rechtswahl

86

7. Auswirkungsprinzip

86

8. Schutzprinzip

88

9. Universalitäts- bzw. Weltrechtsprinzip

88

a) Klassisches Verständnis

88

b) Begrenztes Weltrechtsprinzip

89

c) Zwischenergebnis

90

10. Zwischenergebnis

90

11. Kollisionsrechtliche Anknüpfung von Online-Sachverhalten

90

a) Kombination klassischer und Schaffung internetspezifischer Anknüpfungspunkte

91

b) Kombination der Anknüpfungspunkte Auswirkungs- und Schutzprinzip

92

aa) Einzelfallspezifische Prüfung

92

bb) Zwischenergebnis

93

cc) Grenzen und Probleme dieses Ansatzes

94

12. Internetspezifische Anknüpfungspunkte

94

a) Sendelandprinzip und Internet: Abstellen auf Serverstandort?

94

b) Empfangslandtheorie bzw. "Bogsch-Theorie"

98

c) Zwischenergebnis zu internetspezifischen Anknüpfungspunkten

99

13. Anknüpfungspunkte: Zwischenergebnis und Stellungnahme

100

14. Rechtsstaatliche Geeignetheit eines Anknüpfungspunktes

100

a) Problem: Entstehen von Zuständigkeitskonkurrenzen

101

b) Vermeidung und Auflösung der Zuständigkeitskonkurrenz

101

c) Zwischenergebnis

102

d) Folgeproblem: Durchsetzung von Hoheitsakten

103

e) Zwischenergebnis

104

15. Weitere Besonderheiten der rechtlichen Ausgestaltung: Vorbehalt des Gesetzes und Demokratieprinzip

104

a) Demokratieprinzip

104

b) Vorbehalt des Gesetzes

105

16. Zwischenergebnis zur kollisionsrechtlichen Ausgestaltung

106

17. Für und Wider eines IÖR in kollisionsrechtlicher Gestalt

106

18. Ergebnis zum kollisionsrechtlichen Ansatz

107

II. Ausgestaltung mittels völkerrechtlicher Verträge

107

1. Ausrichtung und Vorteile der völkervertraglichen Gestaltung

108

a) Regelungsweite der Verträge

108

b) Bestimmtheit

109

2. Vorteile völkervertraglicher Anknüpfungspunkte

110

3. Zwischenergebnis

111

4. Rechtliche Rahmenbedingungen

111

5. Zwischenergebnis

112

III. Kombinierte Variante

112

1. Schwächen und Ausgleich bei rein völkerrechtlicher Regelung

112

2. Schwächen und Ausgleich bei rein kollisionsrechtlicher Regelung

112

3. Kombination und Wechselspiel der Gestaltungsansätze

114

4. Die Kombinierte Variante: Dreistufiges System aus zwei Grundkomponenten

114

a) Bedeutung der Einteilung in Stufen

115

b) Erste Prioritätsstufe

116

aa) Umfassende gemeinsame Regelungen

116

bb) Völkervertragliche Kollisionsregeln gegenüber Nichtvertragsstaaten

116

c) Zweite Prioritätsstufe

117

aa) Völkervertragliche Kollisionsnormen mit inter partes-Wirkung

117

bb) Völkervertragliche Kollisionsnormen mit Drittwirkung

117

cc) Folgen kollisionsrechtlicher Vereinbarungen

118

d) Dritte Prioritätsstufe

118

aa) Auffangfunktion

118

bb) Basisfunktion

119

cc) Zwischenergebnis

119

dd) Buch ähnlich dem IPR-Teil des EGBGB

120

(1) Herausforderungen und Vorteile

120

(2) Stellungnahme

120

5. Die Kombinierte Variante: Konflikte und systemorientierte Lösung

121

a) Problemaufriss

121

aa) Zulässigkeit eines Treaty Override

122

bb) Abwägungsentscheidung zur verfassungsrechtlichen Einordnung eines Treaty Overrides

127

cc) Stellungnahme

129

(1) Gewichtung von Demokratie- und Rechtsstaatsprinzip

129

(2) Nichtanwendbarkeit des lex-posterior-Satzes?

130

(3) Zusammenfassende Betrachtung des Beschlusses

131

b) Zwischenergebnis

131

c) Bedeutung der Ergebnisse für das System der Kombinierten Variante

132

IV. Zwischenergebnis

133

4. Teil: Das IÖR in Form der Kombinierten Variante

134

A. Ein Allgemeiner Teil für das "System IÖR"

134

I. Abschluss eines völkerrechtlichen Grundlagenvertrages

134

II. Festlegung der Struktur

135

III. Bestimmtheitsgebot

136

IV. Ordre public

136

V. Inhaltlicher Teil des AT: Regelungsbereich des IÖR

137

1. Staats- und Verfassungsrecht

137

a) (Internationales) Staatsrecht

137

b) Grundrechtskollisionsrecht

138

aa) Möglichkeit und Grenzen

139

bb) Vorteile

140

cc) Filter der Völkerrechtskonformität und Wirkungsgrad der Grundrechte

141

dd) Besonderheiten und Funktion eines Grundrechtskollisionsrechts

142

c) Zwischenergebnis zum Grundrechtkollisionsrecht

143

2. Zwischenergebnis

143

3. Verwaltungsrecht

143

a) Erforderlichkeit eines Internationalen Verwaltungsrechts

144

aa) Bereichsausnahmen und Konsequenzen

144

bb) Staatliche Schutzfunktion und Bereichsausnahmen: Ein Beispiel.

145

(1) Völkervertragliche Berücksichtigung des Schutzauftrages

146

(2) Zwischenergebnis

147

(3) Kollisionsrechtliche Berücksichtigung des Schutzauftrages

147

(4) Zwischenergebnis

148

cc) Regelungsgestaltung

148

(1) Nationales öffentlich-rechtliches Kollisionsrecht

148

(2) Völkerrechtliche Verträge

149

(3) Zwischenergebnis

150

b) Zwischenergebnis

150

B. Geltungsbereich des IÖR

150

C. Durchführung: Neue Verwaltungsstrukturen

151

D. Ergebnis zum System der Kombinierten Variante

151

E. IÖR und Soziale Online-Netzwerke – Aufgabenbewältigung mittels kombinierter Variante des IÖR

152

I. Völkervertragliche Regelung und Recht auf informationelle Selbstbestimmung

153

II. Zwischenergebnis

154

F. Ergebnis

154

5. Teil: Verfassungsrechtliche sowie politische Dimensionen der Umsetzung des IÖR

156

A. Erfordernis neuer Verwaltungsstrukturen für grenzüberschreitende Rechtsräume

157

B. Ausgestaltung der neuen Verwaltungsstrukturen und Rechtsweg

158

I. Behörden: Nationale und Gemeinsame?

158

II. Zwischenergebnis

159

III. Inter-/nationale behördliche Kompetenzen und Zusammenarbeit

159

1. Umsetzung gemeinsamer Regelungen

160

a) Gemeinsame, internationale Behörde

160

aa) Verwaltungshandeln

160

(1) Grundsätzliche verfassungsrechtliche Möglichkeit der Kompetenzübertragung

160

(2) Übertragung von Hoheitsrechten auf eine zwischenstaatliche Einrichtung gem. Art. 24 Abs. 1 GG und Möglichkeit der vertikalen Öffnung des deutschen Rechtsraumes

161

(a) Anwendbarkeit des Art. 24 GG

161

(b) Kompetenzübertragung und Mitwirkungsberechtigung

162

(3) Öffnung des Staates und Bedeutungsverlust der nationalen Parlamente

164

(a) Ausgangslage

164

(b) Legitimation der Regierungsvertreter in supranationalen Einheiten

166

(4) Bedeutung der Lissabon-Entscheidung für die Installation einer supranationalen, gemeinsamen Behörde im System der Kombinierten Variante

168

(5) Zwischenergebnis

169

bb) Vorteile einer gemeinsamen Sachentscheidungsbehörde

169

cc) Vollstreckung

170

dd) Kooperationsverhältnis

173

b) Zwischenergebnis

174

c) Alternative: Nationale Sachentscheidungs- und Vollstreckungsbehörde

174

2. Zwischenergebnis

175

IV. Rechtsweg

175

1. Nationale oder Internationale Beschwerdestelle?

176

2. Internationale Beschwerdebehörde und internationales Gericht

176

3. Internationales Gericht: "International Court of Public Law"

177

4. Verfahrensrechtlicher Rahmen für das IÖR

179

5. Bedeutung für den Datenschutz im Internet: Der Cybercourt

180

V. Nutzer-Partizipation und ergänzende nichtstaatliche Aufsicht

180

C. Ergebnis

183

6. Teil: Anwendbares Recht bei aus Deutschland abrufbaren Web-Angeboten und dessen Durchsetzung nach aktueller Rechtslage

185

A. Anwendbarkeit der DSGVO nach geltendem Recht: Die Ausgangslage

185

B. Unabdingbarkeit datenschutzrechtlicher Vorschriften, Art. 3, 6, 9 Rom-I-VO

186

I. Verbrauchervertrag gem. Art. 6 Rom-I-VO

186

II. Eingriffsnormen gem. Art. 9 Abs. 1 Rom-I-VO

187

C. Zwischenergebnis

188

D. Probleme der Durchsetzbarkeit der DSGVO nach aktueller Rechtslage

189

I. Zuständigkeit der Aufsichtsbehörde

189

II. Durchsetzung von Anordnungen gegen nicht-EU Unternehmen im Ausland

190

1. Vertreter gem. Art. 27 DSGVO

190

2. Rechtshilfeersuchen

191

3. "Naming and Shaming" – Ausübung politischen oder öffentlichen Drucks

192

4. Zwischenergebnis

193

E. Ergebnis

194

7. Teil: Wirksamkeit der Einwilligung

195

A. Nutzungsbedingungen und Datenrichtlinien: Wirksamkeit der Einwilligung

195

I. Einwilligung und Recht auf informationelle Selbstbestimmung

195

II. Freiwillige und informierte Einwilligung, Art. 4 Nr. 11, Art. 6 Abs. 1 S. 1 lit. a und Art. 7 DSGVO

195

1. Freiwillig

196

2. Informiert

196

3. Zwischenergebnis

197

III. Zwischenergebnis

197

IV. Einwilligung Minderjähriger

198

B. Ergebnis

198

8. Teil: Konsequenzen der Unwirksamkeit der Einwilligung

199

A. Rechtliche Folgen

199

I. Ordnungsrechtliche Maßnahmen und ihre Grenzen

199

II. Abhilfe durch Überarbeitung der Nutzungsbedingungen?

200

B. Alternativen zu auf Nutzungsbedingungen basierender Einwilligung

200

I. Ziel

200

II. EURRA als Alternative zu Nutzungsbedingungen

202

III. Zwischenergebnis

204

IV. IÖR und EURRA

204

V. Zwischenergebnis

206

VI. Umsetzung des nutzerorientierten Ansatzes

206

C. Ergebnis

207

9. Teil: Ausblick und Entwicklungen

208

10. Teil: Ergebnis

211

Anhang I

215

Anhang II

216

Anhang III

217

Anhang IV

218

Anhang V

219

Anhang VI

220

Anhang VII

221

Anhang VIII

223

Anhang IX

226

Literaturverzeichnis

232

I. Literatur

232

II. Internetquellenverzeichnis

268

III. Internetquellen ohne Verfasserangabe (o.V.)

272

IV. Dokumente von EU-Organen und internationalen Organisationen und Gerichten

273

V. Anhänge

274

Stichwortverzeichnis

275