Private or civil law: general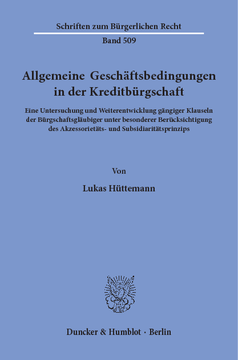 BOOK
Allgemeine Geschäftsbedingungen in der Kreditbürgschaft
Eine Untersuchung und Weiterentwicklung gängiger Klauseln der Bürgschaftsgläubiger unter besonderer Berücksichtigung des Akzessorietäts- und Subsidiaritätsprinzips
Schriften zum Bürgerlichen Recht, Vol. 509
(2020)
Additional Information
Book Details
ISBN

978-3-428-58041-5
978-3-428-18041-7 (print edition)

DOI

https://doi.org/10.3790/978-3-428-58041-5

Edition

1

Language

German

Pages

239

Collections

Subjects
Pricing
Institution

€ 92.00 (incl. local VAT if applicable)

Individual

€ 71.90 (incl. local VAT if applicable)
About The Author
Lukas Hüttemann studierte von 2007 bis 2013 Rechtswissenschaften an der Universität zu Köln. Anschließend promovierte er bei Frau Professor Dr. Dr. h.c. Dauner-Lieb an der Universität zu Köln und war promotionsbegleitend in der international tätigen Kanzlei Linklaters tätig. Im Rahmen der Promotion war er 2015 zudem Gastwissenschaftler an der University of California in Berkeley (Boalt Hall), USA. Den Juristischen Vorbereitungsdienst absolvierte er zwischen 2016 und 2018 mit Stationen u. a. in der Verwaltung des Deutschen Bundestages (Finanzausschuss) in Berlin sowie der Kanzlei Noerr in London. Seit 2018 ist Lukas Hüttemann Rechtsanwalt in der Kanzlei Linklaters im Bereich Investmentfonds.
Lukas Hüttemann studied law at the University of Cologne between 2007 and 2013. Afterwards he wrote his PhD thesis at the University of Cologne (supervising professor: Mrs. Professor Dr. Dr. h.c. Dauner-Lieb). For the purposes of his PhD thesis, Lukas was Visiting Scholar at the University of California in Berkeley (Boalt Hall), USA in 2015. Accompanying his work on the PhD thesis, Lukas worked with the international law firm Linklaters between 2013 and 2015. He undertook his legal clerkship with stages at, inter alia, the German Parliament in Berlin and the law firm Noerr in London between 2016 and 2018. In 2018, Lukas joined Linklaters as lawyer in the practice group investment funds.
Abstract
Die Arbeit leistet einen Beitrag zur Verdeutlichung, wo das AGB-Recht die Grenze für die Klauselgestaltung von Kreditbürgschaftsgläubigern zieht. Herzstück ist die Diskussion der gängigsten Klauseln hinsichtlich ihrer Wirksamkeit. Maßgeblichen Beitrag zur verlässlichen Ergebnisfindung leistet hier eine Analyse der bereits gesetzlich angeordneten Abweichungen vom strengen Akzessorietäts und Subsidiaritätsprinzip. So ist für die Beurteilung der Wirksamkeit einzelner Klauseln von Gewicht, ob die formularvertragliche Abweichung auf eine der Wertungen zurückzuführen ist, die bereits der Gesetzgeber bei der Formulierung gesetzlicher Abweichungen vom jeweiligen Rechtsprinzip berücksichtigen wollte. Darüber hinaus werden an unwirksame Klauseln – soweit möglich – wirksame Regelungsvorschläge angeschlossen, die die hinter der unwirksamen Ausgangsklausel stehenden Interessen des Kreditgebers möglichst effektiv umsetzen. Die Arbeit schließt mit abstrakten Leitlinien zum Formulieren wirksamer AGB. »General Terms and Conditions in a Contract of Surety. An Examination and Further Development of Obligees' Common Clauses with a Special Focus on the Principle of Accessoriness (Akzessorietätsprinzip) and the Principle of Subsidiarity (Subsidiaritätsprinzip)«

The thesis deals with restrictions on general terms and conditions in contracts of surety. Its main part covers the examination of the validity of the most common clauses in practice. Where clauses are considered invalid, some proposals for a valid draft are made which realise the rationale of the invalid clause in an appropriate way. The thesis ends with abstract guidelines for the valid draft of general terms and conditions in contracts of surety.
Table of Contents
Section Title
Page
Action
Price

Vorwort

7

Inhaltsverzeichnis

9

A. Einführung

17

I. Problemdarstellung

17

II. Zielsetzung der Arbeit und Gang der Untersuchung

18

B. Grundlagen

21

I. Grundlagen des Bürgschaftsrechts

21

1. Die Akzessorietät

21

a) Die Akzessorietät im Allgemeinen

21

b) Die Akzessorietät im Bürgschaftsrecht

23

aa) Funktionen der Akzessorietät

23

bb) Gesetzliche Ausprägung im Bürgschaftsrecht

26

(1) Akzessorietät in der Entstehung

26

(2) Akzessorietät im Umfang

26

(3) Akzessorietät in der Zuordnung

27

(4) Akzessorietät in der Durchsetzung

28

(5) Akzessorietät im Fortbestand

29

cc) Gesetzliche Ausnahmen von der Akzessorietät der Bürgschaft

29

(1) Akzessorietät in der Entstehung

30

(2) Akzessorietät im Umfang

31

(3) Akzessorietät in der Zuordnung

31

(4) Akzessorietät in der Durchsetzung

32

(5) Akzessorietät im Fortbestand

32

(6) Analyse der Gründe für die gesetzlichen Ausnahmen

33

2. Die Subsidiarität der Bürgschaft

35

a) Gesetzliche Ausprägungen der Subsidiarität

35

b) Gesetzliche Ausnahmen der Subsidiarität

36

c) Analyse der Gründe für gesetzliche Einschränkungen der Subsidiarität

36

3. Die Akzessorietät und Subsidiarität als allgemeine Rechtsprinzipien

38

a) Die Bedeutung eines allgemeinen Rechtsprinzips

38

b) Die Akzessorietät als allgemeines Rechtsprinzip

39

c) Die Subsidiarität als allgemeines Rechtsprinzip

40

d) Auswirkung auf die Rechtsfindung in dieser Arbeit

41

II. Grundlagen des AGB-Rechts

42

1. Schutzzwecke

42

a) Zum Schutzzweck der Einbeziehungskontrolle

42

b) Zum Schutzzweck der Inhaltskontrolle

43

aa) Allgemeines zum Schutzzweck

43

bb) Realisierung des Schutzzwecks

51

2. Für diese Arbeit relevante Tatbestände hinsichtlich Einbeziehung und Inhaltskontrolle von AGB in Bürgschaftsverträgen

56

a) Überraschende Klauseln i.S.d. § 305c Abs. 1 BGB

56

aa) Ungewöhnlichkeit der Klausel

56

bb) Überraschung des Kunden

57

b) Die "Generalklausel" § 307 Abs. 1 S. 1 BGB

58

aa) Funktion und Anwendungsbereich des § 307 Abs. 1 S. 1 BGB

58

bb) Der Tatbestand des § 307 Abs. 1 S. 1 BGB

59

c) Die Regelung des § 307 Abs. 2 BGB

62

aa) Dogmatische Einordnung des § 307 Abs. 2 BGB

62

bb) Der Tatbestand des § 307 Abs. 2 Nr. 1 BGB

64

(1) Wesentliche Grundgedanken der gesetzlichen Regelung

65

(2) Die Unvereinbarkeit

66

cc) Die Regelung des § 307 Abs. 2 Nr. 2 BGB

67

(1) Die Natur des Vertrages

68

(2) Einschränkung wesentlicher Rechte oder Pflichten

70

(3) Gefährdung des Vertragszwecks

71

dd) Das Verhältnis von § 307 Abs. 2 Nr. 1 BGB zu § 307 Abs. 2 Nr. 2 BGB

72

ee) Der ökonomische Maßstab im Rahmen der Inhaltskontrolle

73

C. AGB-Kontrolle gängiger Klauseln im Kreditbürgschaftsvertrag

75

I. Vorbemerkung

75

II. AGB zum Sicherungsumfang

76

1. Globalbürgschaft

76

a) Inhalt und Zweck der globalen Sicherungsabrede

76

b) Die sogenannte "Anlassrechtsprechung"

76

aa) Inhalt

76

bb) Kritik: Keine Unterscheidung zwischen Sicherungsgegenstand und Bürgenhaftung

77

c) Einbeziehung der globalen Sicherungsabrede in den Bürgschaftsvertrag

78

aa) Grundsatz: Nichteinbeziehung

78

bb) Ausnahme vom Grundsatz: Einbeziehung wegen fehlender Überraschung des Bürgen

80

(1) Fehlende Diskrepanz zwischen globaler Sicherungsabrede und subjektiver Vorstellung des Bürgen

80

(2) Individueller Hinweis auf die globale Sicherungsabrede

80

(3) Besondere Personenkreise

81

d) Wirksamkeit der ausnahmsweise in den Bürgschaftsvertrag einbezogenen globalen Sicherungsabrede

82

aa) Grundsatz: Unwirksamkeit der globalen Sicherungsabrede

82

(1) Haftung für alle künftigen Forderungen

82

(2) Haftung für alle gegenwärtigen Forderungen

86

(3) Haftung für alle in Entstehung begriffenen Forderungen

88

bb) Ausnahmen

89

(1) Wirksamkeit der Haftung für alle künftigen Forderungen

89

(a) Minderheitsgesellschafter, Handlungsbevollmächtigte und Geschäftsführer als Bürgen für "ihre" Gesellschaft

90

(b) Allein- und Mehrheitsgesellschafter als Bürgen für "ihre" Gesellschaft

91

(2) Wirksamkeit der Haftung für alle gegenwärtigen Forderungen

91

(3) Wirksamkeit der Haftung für alle in Entstehung begriffenen Forderungen

92

e) Rechtsfolge der grundsätzlich nicht in den Bürgschaftsvertrag einbezogenen bzw. unwirksamen globalen Sicherungsabrede

92

aa) Notwendigkeit einer ergänzenden Vertragsauslegung

92

bb) Ergebnisse der ergänzenden Vertragsauslegung im Einzelnen

95

(1) Sicherung eines Tilgungsdarlehens

95

(a) Unbegrenzte Sicherung

95

(b) Auf einen Höchstbetrag begrenzte Sicherung

95

(2) Sicherung eines Kontokorrent- und Dispositionskredites

95

(a) Vorab: Die gesicherte "Verbindlichkeit" i.S.d. § 765 Abs. 1 BGB

95

(b) Limitierter Kontokorrent- oder Dispositionskredit

96

(aa) Unbegrenzte Sicherung

96

(bb) Auf einen Höchstbetrag begrenzte Sicherung

96

(c) Unlimitierter Kontokorrent- oder Dispositionskredit

97

(aa) Unbegrenzte Sicherung

97

(bb) Auf einen Höchstbetrag begrenzte Sicherung

99

cc) Sicherung von Vertragszinsen der grundsätzlich allein wirksam gesicherten "Anlassforderung"

100

dd) Wirksamkeit der Sicherung von Abänderungen oder Ersetzungen der "Anlassforderung"

103

(1) Umschuldung

103

(2) Novation zur Ablösung der "Anlassforderung"

104

2. Haftung des Bürgen für Vertragszinsen

105

a) Inhalt und Zweck der Klausel

105

b) Einbeziehung der Klausel

106

aa) Fester Zinssatz

106

bb) Variabler Zinssatz

106

c) Wirksamkeit der Klausel

107

aa) Fester Zinssatz

107

bb) Variabler Zinssatz

108

3. Haftung des Bürgen für Zinsen, Provisionen und Kosten über den Betrag einer Höchstbetragsbürgschaft hinaus

109

a) Inhalt und Zweck der Klausel

109

b) Einbeziehung der Klausel

110

c) Wirksamkeit der Klausel

111

4. Haftung des Bürgen für die an die Stelle der Hauptverbindlichkeit getretenen Ansprüche aus Bereicherungsrecht und Rückgewährschuldverhältnis

113

a) Inhalt und Zweck der Klausel

113

b) Einbeziehung der Klausel

114

c) Wirksamkeit der Klausel

116

III. AGB zur Sicherheitsleistung

117

1. Zahlung des Bürgen als Sicherheitsleistung

117

a) Inhalt und Zweck der Klausel

117

b) Einbeziehung der Klausel

123

c) Wirksamkeit der Klausel

124

d) Eigener Regelungsvorschlag

125

2. Verpflichtung des Bürgen zu einer weiteren Sicherheitsleistung

128

a) Inhalt und Zweck der Klausel

128

b) Einbeziehung der Klausel

129

c) Wirksamkeit der Klausel

130

d) Eigener Regelungsvorschlag: Teilzweckerreichung

132

IV. Abbedingung von Einreden des Bürgen

133

1. § 768 Abs. 1 S. 1 BGB

133

a) Gänzlicher Ausschluss des § 768 Abs. 1 S. 1 BGB

133

aa) Inhalt und Zweck der Klausel

133

bb) Einbeziehung der Klausel

134

cc) Wirksamkeit der Klausel

134

b) Ausschluss einzelner abgeleiteter Einreden i.S.d. § 768 Abs. 1 S. 1 BGB

135

aa) Grundsatz: Nichteinbeziehung und Unwirksamkeit eines Ausschlusses

135

bb) Ausnahme: Stundung wegen Vermögenslosigkeit

136

cc) Im Besonderen: Ausschluss der abgeleiteten Verjährungseinrede i.S.d. § 768 Abs. 1 S. 1 BGB

137

(1) Inhalt und Zweck der Klausel

138

(2) Einbeziehung der Klausel

141

(3) Wirksamkeit der Klausel

141

(4) Eigener Regelungsvorschlag und zugleich eine Antwort auf BGHZ 76, 222; 139, 214 und BGH, NJW 1999, 278

143

2. Ausschluss des § 770 Abs. 1 BGB sowie die Erfüllungspflicht des Bürgen trotz einer durch den Hauptschuldner tatsächlich erklärten Anfechtung

145

a) Inhalt und Zweck der Klausel

145

b) Ausschluss des § 770 Abs. 1 BGB

148

aa) Einbeziehung der Klausel

148

bb) Wirksamkeit der Klausel

148

c) Erfüllungspflicht des Bürgen trotz einer durch den Hauptschuldner tatsächlich erklärten Anfechtung (Klauselzusatz)

150

aa) Einbeziehung des Klauselzusatzes

150

bb) Wirksamkeit des Klauselzusatzes

151

cc) Eigener Regelungsvorschlag

151

3. Ausschluss des § 770 Abs. 2 BGB

152

a) Inhalt und Zweck der Klausel

152

b) Einbeziehung der Klausel

153

c) Wirksamkeit der Klausel

155

4. Ausschluss der Einrede der Vorausklage

158

a) Inhalt und Zweck der Klausel

158

b) Einbeziehung der Klausel

158

c) Wirksamkeit der Klausel

159

5. Zur Verjährung der Bürgenschuld

162

a) Verlängerung der Verjährungsfrist der Bürgenschuld

162

aa) Inhalt und Zweck der Klausel

162

bb) Einbeziehung der Klausel

163

cc) Wirksamkeit der Klausel

164

dd) Eigener Regelungsvorschlag

167

b) Ausschluss der Einrede der Verjährung der Bürgenschuld

167

aa) Inhalt und Zweck der Klausel

167

bb) Einbeziehung der Klausel

168

cc) Wirksamkeit der Klausel

169

dd) Eigener Regelungsvorschlag

170

c) Vereinbarung der Fälligkeit der Bürgenschuld ab Inanspruchnahme des Hauptschuldners

170

aa) Inhalt und Zweck der Klausel

170

bb) Einbeziehung der Klausel

171

cc) Wirksamkeit der Klausel

172

dd) Eigener Regelungsvorschlag

174

d) Vereinbarung der Geltung eines Anerkenntnisses des Hauptschuldners auch gegenüber dem Bürgen

175

aa) Inhalt und Zweck der Klausel

175

bb) Einbeziehung der Klausel

176

cc) Wirksamkeit der Klausel

178

V. Klauseln besonderer Bürgschaftsarten

179

1. Bürgschaft auf erstes Anfordern

179

a) Inhalt und Zweck einer Bürgschaft auf erstes Anfordern

179

b) Einbeziehung der Klausel

181

c) Wirksamkeit der Klausel

182

d) Eigener Regelungsvorschlag für gewerbsmäßige Bürgen, die für einen Hauptschuldner einstehen, der selbst nicht gewerbsmäßig bürgt

186

2. Vermutungsklauseln in einer Ausfallbürgschaft

187

a) Inhalte und Zweck von Vermutungsklauseln

187

b) Einbeziehung einer Vermutungsklausel

188

c) Wirksamkeit der Vermutungsklauseln

190

3. Ausschluss des § 777 Abs. 1 S. 2 BGB

192

a) Inhalt und Zweck der Klausel

192

b) Vorrang der Individualabrede

193

c) Einbeziehung der Klausel

194

d) Wirksamkeit der Klausel

194

VI. Einzelne Klauseln

196

1. Einschränkung der Verpflichtung zur Übertragung von Sicherheiten

196

a) Inhalt und Zweck der Klausel

196

b) Einbeziehung der Klausel

198

c) Wirksamkeit der Klausel

201

2. Ausschluss des § 776

202

a) Inhalt und Zweck der Klausel

202

b) Einbeziehung der Klausel

203

c) Wirksamkeit der Klausel

203

d) Eigener Regelungsvorschlag

204

3. Ausschluss des § 769 BGB (Nebenbürgschaftsklausel)

206

a) Inhalt und Zweck der Klausel

206

b) Einbeziehung der Klausel

210

c) Wirksamkeit der Klausel

210

D. Ergebnisse und Ausblick

212

I. Ergebnisse

212

II. Ausblick für die Klauselpraxis

218

Literaturverzeichnis

220

Sachwortverzeichnis

236

Lebenslauf

238