Criminal law: procedure & offences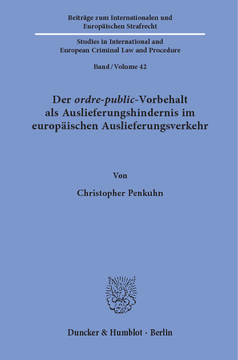 Additional Information
Book Details
ISBN

978-3-428-55954-1
978-3-428-15954-3 (print edition)

DOI

https://doi.org/10.3790/978-3-428-55954-1

Edition

1

Language

German

Pages

432

Collections

Subjects
Pricing
Institution

€ 126.00 (incl. local VAT if applicable)

Individual

€ 98.90 (incl. local VAT if applicable)
About The Author
Christopher Penkuhn studierte Rechtswissenschaften mit dem Schwerpunkt Kriminalwissenschaften an der Georg-August-Universität Göttingen. Im Anschluss war er als wissenschaftlicher Mitarbeiter am Lehrstuhl für Straf- und Strafprozessrecht, Rechtsvergleichung, Internationales Strafrecht und Völkerrecht von Prof. Dr. Dr. h.c. Kai Ambos in Göttingen tätig. Die Promotion erfolgte 2019. Der Tätigkeit als wissenschaftlicher Mitarbeiter schloss sich der juristische Vorbereitungsdienst im Bezirk des Oberlandesgerichts Braunschweig, u.a. beim Niedersächsischen Ministerium für Inneres und Sport, an, den Christopher Penkuhn mit der Zweiten Juristischen Staatsprüfung im März 2020 beendete. Seit Mai 2020 ist Christopher Penkuhn Staatsanwalt bei der Staatsanwaltschaft Braunschweig.
Christopher Penkuhn studied law with a particular focus on criminal science at the University of Göttingen, Germany. After his first examination, he started his Ph.D. studies and held a position as a research and teaching associate at the chair of Prof. Dr. Dr. h.c. Kai Ambos for Criminal Law, Criminal Procedure, Comparative Law, International Criminal and International Law at the University of Göttingen. In 2019, he finished his Ph.D. He then completed his legal clerkship at the Higher Regional Court of Braunschweig, amongst others, at the Ministry of the Interior of Lower Saxony and graduated with the second state examination in March 2020. He has been a prosecutor at the public prosecutor's office in Braunschweig since May 2020.
Abstract
Die zunehmende Effektivierung grenzüberschreitender Strafverfolgung im europäischen Rechtsraum verlangt eine parallele Absicherung der Beschuldigtenrechte. Die Untersuchung geht der Frage nach, inwieweit eine Auslieferung im Fall drohender Rechtsverletzungen unter den immer enger kooperierenden europäischen Staaten verweigert werden darf. Im Kern wird ein sog. Wesentlichkeitsvorbehalt (ordre public-Einwand) und seine auslieferungshindernde Wirkung gegenüber der Auslieferungspflicht im Rahmen der EU und des Europarats beleuchtet. Hierbei lassen sich den verschiedenen Rechtsebenen – nationales, Unionsrecht und das Recht des Europarats – Anknüpfungspunkte für die Zulässigkeit und inhaltliche Ausgestaltung eines solchen Vorbehalts entnehmen. Für eine bedenkenlose Auslieferung besteht – auch in der EU – noch keine hinreichende Grundlage. Die Arbeit zeigt bestehende Defizite auf, um im Interesse einer effektiven Strafverfolgung ein »quasi-bundesstaatliches« Rechtsniveau zu initiieren. »The Public Order Reservation as an Obstacle to Extradition in European Extradition Law«

The study examines the so-called fundamentality reservation (public order reservation) and its extradition-preventing effect in relation to the extradition obligation within the framework of the EU and the Council of Europe. The admissibility and content of this reservation is presented on the basis of the different legal levels – national law, Union law and the law of the Council of Europe. Finally, a transfer of the results to other and enforcement legal assistance is examined.
Table of Contents
Section Title
Page
Action
Price

Vowort

7

Inhaltsverzeichnis

11

Abkürzungsverzeichnis

19

Einleitung

27

A. Gegenstand der Untersuchung

27

B. Verlauf der Untersuchung

29

Kapitel 1: Der internationale Rechtshilfeverkehr in Strafsachen

30

A. Begriff der internationalen Rechtshilfe in Strafsachen

30

I. Erfordernis und Ziel internationaler Unterstützung im Rahmen transstaatlicher Strafverfahren

30

II. Europarechtliche Grundlagen für den Gegenstand der Untersuchung

33

III. Begriff der internationalen Rechtshilfe in Strafsachen

37

IV. Internationale Strafrechtshilfe im dreidimensionalen Verhältnis

40

B. Erscheinungsformen der Rechtshilfe

43

C. Die Rechtshilfequellen

49

D. Von der klassischen Auslieferung zur haftbefehlsbasierten Übergabe

57

I. Das klassische Auslieferungsverfahren im Überblick

57

II. Auslieferungsgegenrechte

65

III. Die reformierten Auslieferungsverfahren im Rechtsraum des Europarats und der Europäischen Union

73

1. Das Auslieferungsverfahren im Rahmen des Europarats

74

2. Das Übergabeverfahren nach dem Rahmenbeschluss über den Europäischen Haftbefehl

78

a) Genese und Bedeutung der gegenseitigen Anerkennung

80

b) Die Grundlage der gegenseitigen Anerkennung im gegenseitigen Vertrauen

84

c) Der Europäische Haftbefehl als Basismodell der EU

95

Kapitel 2: Der ordre-public-Vorbehalt

105

A. Begriff des ordre public

106

I. Vorbemerkungen

106

II. Beschränkung auf die Korrektur unerträglicher Ergebnisse durch die Abwehr ordre-public-widriger Rechtssätze

108

III. Erstreckung des ordre-public-Einwands auf die Anerkennung ausländischer Entscheidungen

113

1. Verbot der Fremdrechtsanwendung im Strafrecht und darauf beruhendes Erfordernis eines anerkennungsrechtlichen ordre public

113

2. § 328 Abs. 1 Nr. 4 ZPO als normiertes Beispiel und die effet atténué

115

IV. Insbesondere: Berücksichtigung der Grundrechte

117

V. Ergebnis: Allgemeingültige Aussagen zum ordre-public-Vorbehalt

118

B. Begriff des "europäischen" ordre public

119

I. Ordre public interne und ordre public international

119

II. Originär nationaler Charakter des ordre public

120

III. Internationaler, internationalisierter, europäischer und europäisierter ordre public

121

1. Gemeinsames europäisches Wertefundament

126

2. Echter europäischer ordre public und nationaler europäisierter ordre public

128

a) Echter europäischer ordre public des Unionsrechts im Anwendungsbereich der unmittelbaren Rechtswirkung

129

b) Keine unmittelbare Wirkung der Europäischen Menschenrechtskonvention

133

c) Europäisierter nationaler ordre-public-Vorbehalt im Zusammenhang mit unionsrechtlich determiniertem nationalen Recht und dem Vertragsrecht des Europarats

141

IV. Ergebnis

144

Kapitel 3: Die Zulässigkeit eines ordre-public-Einwands im europäischen Auslieferungsverkehr

146

A. Die ordre-public-Klausel des § 73 IRG

147

I. Keine Anwendbarkeit des § 73 S. 1 IRG im europäischen Auslieferungsverkehr

149

II. Der "europäische" ordre public nach § 73 S. 2 IRG

151

B. Keine ordre-public-Vorbehalte im europäischen Auslieferungsverkehr

152

I. Fehlende Regelungen im EuAuslÜbk und SDÜ

152

II. Art. 1 Abs. 3 RbEuHb

152

C. Kann es einen ordre-public-Einwand im europäischen Auslieferungsverkehr geben?

158

I. Zulässigkeit einer ordre-public-gestützten Verweigerung der Vollstreckung eines Europäischen Haftbefehls

158

1. Vereinbarkeit eines ordre-public-Vorbehalts mit dem Grundsatz gegenseitiger Anerkennung und dem "Grundsatz gegenseitigen Vertrauens"

159

a) Normenhierarchisch übergeordnete Grundrechtsbindung der Mitgliedstaaten

164

aa) Bindung der Mitgliedstaaten an die nationalen Grundrechte am Bespiel des Art. 1 Abs. 3 i. V. m. Art. 20 Abs. 3 GG

164

bb) Anwendungsvorrang des Unionsrechts und "Solange"-Rechtsprechung des Bundesverfassungsgerichts

165

cc) (Übergeordnete) primärrechtliche Grundrechtsbindung der Mitgliedstaaten

168

dd) Zwischenergebnis

175

b) Individualschützende Zielsetzung des Rahmenbeschlusses über den Europäischen Haftbefehl

176

aa) Verweigerung und Bedingung der Vollstreckung im Interesse des Betroffenen

176

bb) Grundrechtsbekennende, aber normativ unverbindliche Erwägungsgründe

179

cc) Weitere individualschützende Vorschriften des Rahmenbeschlusses

181

dd) Zwischenergebnis

182

c) Die Mitgliedstaaten als Herren der Verträge im Staatenverbund der Europäischen Union und die Bedeutung ihrer indisponiblen Verfassungsidentität

184

aa) Die Verfassungsidentität gem. Art. 23 Abs. 1 S. 3 i. V. m. Art. 79 Abs. 3 GG

185

bb) Die Aktivierung der Identitätskontrolle im Beschluss des Bundesverfassungsgerichts vom 15.12.2015 (2 BvR 2735/14)

189

cc) Die verfassungsrechtliche Identitätskontrolle als Ausdruck ordre-public-gestützter Vollstreckungsverweigerung

194

dd) Die Pflicht zur Achtung der nationalen Identität gem. Art. 4 Abs. 2 S. 1 EUV

198

ee) Beschränkung der Identitätskontrolle auf Bereiche effektiven Anwendungsvorrangs

209

ff) Zwischenergebnis

211

d) Der Gedanke des "Notbremseverfahrens" der Art. 82 Abs. 3 und Art. 83 Abs. 3 AEUV

213

aa) Exkurs: Das Rechtsetzungsverfahren der Art. 82 und 83 AEUV und der sogenannte "Notbremsemechanismus"

213

bb) Der Begriff der "grundlegenden Aspekte seiner Strafrechtsordnung"

215

cc) Verallgemeinerung der hinter dem "Notbremsemechanismus" stehenden Wertungen?

218

dd) Zwischenergebnis

220

2. Primärrechtlicher Einwand der Pflicht zur loyalen Zusammenarbeit (Art. 4 Abs. 3 EUV)

220

3. Ergebnis

230

II. Zulässigkeit einer ordre-public-gestützten Verweigerung der Auslieferung auf Grundlage des Europäischen Auslieferungsübereinkommens

232

1. Kein genereller Ausschluss eines ordre-public-Einwands gem. Art. 27 S. 1 WÜRV

233

a) Vorgaben der Art. 27 S. 1 und Art. 53 S. 1 WÜRV

233

b) Möglichkeit eines Vorbehalts gegenüber der Vollstreckungspflicht gem. Art. 26 Abs. 1 EuAuslÜbk

234

c) Kein "identitätsgeleiteter national-verfassungsrechtlicher" ordre-public-Einwand im Bereich des Europäischen Auslieferungsübereinkommens

238

d) Zwischenergebnis

244

2. Keine grundsätzliche Vorrangwirkung der Konventionsgewährleistungen und die Rechtsfigur des "flagrant denial of justice"

244

3. Ergebnis

247

III. Ergebnis

248

Kapitel 4: Inhaltliche Ausgestaltung eines auslieferungsrelevanten ordre-public-Einwands

249

A. Zweigliedrige Schutzrichtung: Individualschützende und souveränitätsorientierte Besetzung des ordre-public-Begriffs

249

B. Der Inhalt des ordre-public-Einwands gegenüber der Vollstreckungspflicht des Art. 1 Abs. 2 RbEuHb

252

I. Der auslieferungsrelevante Inhalt des echten europäischen ordre public

253

1. Schutzbereichsdifferenzierte Berücksichtigung im Fall individualschützender Rechtssätze

253

a) Erste Beschränkung auf absolut gewährleiste Garantien

254

b) Zweite Beschränkung auf den Wesensgehalt eines Grundrechts

256

2. Berücksichtigung der fehlenden Verhältnismäßigkeit als weiteres ordre-public-immanentes Mindestkriterium

259

3. Der Kernbestand der mitgliedstaatlichen Identität gem. Art. 4 Abs. 2 S. 1 EUV als Bestandteil des unionsrechtlichen ordre public

262

a) Schnittmenge des europäischen ordre public und des nationalen ordre public international

264

b) Die Pflicht zur loyalen Zusammenarbeit als nicht ordre-public-fähiges fundamentales Strukturprinzip der Europäischen Union

265

c) Grundsätzlicher Ausschluss des souveränitätsorientierten ordre public international im Verhältnis der EU-Mitgliedstaaten zueinander

268

d) Zwischenergebnis

272

4. Der Grundsatz gegenseitiger Anerkennung als Anwartschaft auf einen vollgültigen Bestandteil des unionsrechtlichen ordre public

273

a) Grundlegende Bedeutung der gegenseitigen Anerkennung für den Raum der Freiheit, der Sicherheit und des Rechts

273

b) Gegenseitige Anerkennung als im Ursprung beschränkter Bestandteil des ordre public

277

c) Gegenwärtige ordre-public-interne Nachordnung der gegenseitigen Anerkennung gegenüber der individualrechtlichen Aufladung

278

d) Gegenseitige Anerkennung als Anwartschaft auf einen vollgültigen Bestandteil des ordre public

279

e) Zwischenergebnis

281

5. Ergebnis

282

II. Der Inhalt des europäisierten nationalen ordre public international

282

1. Vorrang der Gewährleistungen der EMRK vor dem Grundsatz gegenseitiger Anerkennung

284

2. Schutz durch den ordre-public-Einwand zugunsten notstandsfester, absolut gewährleisteter und im Wesensgehalt betroffener Konventionsgarantien

285

a) Keine generelle Beschränkbarkeit der Konventionsgarantien gem. Art. 15 Abs. 1 EMRK

286

b) Differenzierung in beschränkbare, "bloß" absolut gewährleistete und notstandsfeste Konventionsgarantien

287

c) Grundsätzliches Erfordernis der Entscheidung der Vertragsstaatengesamtheit zugunsten eines ordre-public-fähigen Schutzgutes

289

d) Keine Berücksichtigung konventionsimmanenter Schranken

293

e) "The very essence of the right" als Wesensgehaltsgarantie der Europäischen Menschenrechtskonvention und die "flagrant denial of justice"-Doktrin

294

3. Ergebnis

296

III. Der Inhalt des "identitätsgeleiteten national-verfassungsrechtlichen" ordre public

296

1. Begrenzung auf die "in Art. 1 und 20 GG niedergelegten Grundsätze"

298

2. Menschenwürdekern eines jeden Grundrechts gem. Art. 1 Abs. 1 GG

299

3. Änderungsfeste Ausprägungen des Rechtsstaatsprinzips

311

IV. Ergebnis

317

C. Der Inhalt des ordre-public-Einwands gegenüber der Auslieferungspflicht des Art. 1 ­EuAuslÜbk

318

I. Der Inhalt des europäisierten nationalen ordre public i. w. S.

318

II. Der Inhalt des zulässigen rein nationalen ordre public international

319

III. Ergebnis

322

D. Konkretisierung anhand ausgewählter aktueller Problemfälle

322

I. Abwesenheitsverurteilungen

323

1. Im Anwendungsbereich des Rahmenbeschlusses über den Europäischen Haftbefehl

323

2. Im Anwendungsbereich des Europäischen Auslieferungsübereinkommens

328

II. Menschenrechtswidrige Haftbedingungen im Ausstellungs- resp. ersuchten Staat

333

III. Verstoß gegen ein faires Verfahren

343

E. Zusammenfassung

348

Kapitel 5: Die Bedeutung des ordre-public-Vorbehalts im sonstigen europäischen Rechts- und Vollstreckungshilfeverkehr

351

A. Vorüberlegungen

351

B. Der gegenwärtige sonstige Rechts- und Vollstreckungshilfeverkehr im Raum der Europäischen Union

352

I. Der ordre-public-Einwand im unionsrechtlichen sonstigen Rechtshilfeverkehr in Strafsachen am Beispiel der Europäischen Ermittlungsanordnung

354

1. Die Vollstreckung einer Europäischen Ermittlungsanordnung und ihre Verweigerung

354

2. Individualschützende Zielsetzung der Richtlinie über die Europäische Ermittlungsanordnung

357

3. Art. 11 Abs. 1 li. f) RlEEA als nicht ausreichender und nicht abschließender ordre public

361

4. Ergebnis

366

II. Der ordre-public-Einwand im unionsrechtlichen Vollstreckungshilfeverkehr

366

1. Die Vollstreckungshilfe und ihre Verweigerung nach Maßgabe des Rahmenbeschlusses über die Europäische Vollstreckungsanordnung

367

2. Die Vollstreckungshilfe und ihre Verweigerung nach Maßgabe des Rahmenbeschlusses Bewährungsmaßnahmen

369

3. Die Vollstreckungshilfe und ihre Verweigerung nach Maßgabe des Rahmenbeschlusses Geldstrafen

373

4. Die Vollstreckungshilfe und ihre Verweigerung nach Maßgabe des Rahmenbeschlusses über die Europäische Überwachungsanordnung

376

5. Die Vollstreckungshilfe und ihre Verweigerung nach Maßgabe des Rahmenbeschlusses Einziehungsentscheidungen

379

III. Ergebnis

380

C. Der gegenwärtige sonstige Rechts- und Vollstreckungshilfeverkehr im Raum des Europarats

381

I. Der sonstige Rechtshilfeverkehr in Strafsachen im Rechtsraum des Europarats nach Maßgabe des Europäischen Rechtshilfeübereinkommens

382

II. Der Vollstreckungshilfeverkehr in Strafsachen im Rechtsraum des Europarats nach Maßgabe des Europäischen Überstellungsübereinkommens

385

D. Ergebnis

387

Zusammenfassung der wesentlichen Untersuchungsergebnisse

388

Literaturverzeichnis

393

Sachverzeichnis

429