Administrative law, general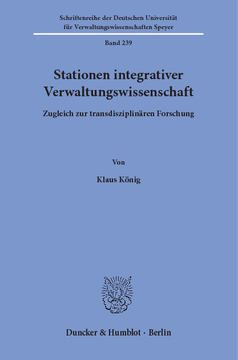 BOOK
Cite BOOK
Style
---
König, K. (2020). Stationen integrativer Verwaltungswissenschaft. Zugleich zur transdisziplinären Forschung. Duncker & Humblot. https://doi.org/10.3790/978-3-428-58042-2
König, Klaus. Stationen integrativer Verwaltungswissenschaft: Zugleich zur transdisziplinären Forschung. Duncker & Humblot, 2020. Book. https://doi.org/10.3790/978-3-428-58042-2
König, K, (2020): Stationen integrativer Verwaltungswissenschaft: Zugleich zur transdisziplinären Forschung, Duncker & Humblot, [online] https://doi.org/10.3790/978-3-428-58042-2
---
Format
---
Stationen integrativer Verwaltungswissenschaft
Zugleich zur transdisziplinären Forschung
Schriftenreihe der Hochschule Speyer, Vol. 239
(2020)
Additional Information
Book Details
ISBN

978-3-428-58042-2
978-3-428-18042-4 (print edition)

DOI

https://doi.org/10.3790/978-3-428-58042-2

Edition

1

Language

German

Pages

210

Collections

Subjects
Pricing
Institution

€ 126.00 (incl. local VAT if applicable)

Individual

€ 98.90 (incl. local VAT if applicable)
About The Author
Klaus König, em. Universitätsprofessor an der Deutschen Universität für Verwaltungswissenschaften Speyer, Ministerialdirektor a. D.; Studium der Rechts- und Staatswissenschaften, Dr.jur., Dr.rer.pol, Assessor jur., Habilitation für Öffentliches Recht und Verwaltungslehre. Forschungsreferent, Regierungsdirektor, Lehrstuhl Verwaltungswissenschaft, Regierungslehre und Öffentliches Recht, Studienleiter, Richter, Hochschulrektor, Ministerialdirektor im Bundeskanzleramt, Direktor Forschungsinstitut, Vizepräsident Internationales Institut für Verwaltungswissenschaften. Lehr-, Forschungs- und Beratungstätigkeiten bei deutschen, ausländischen und internationalen Institutionen. Arbeitsschwerpunkte und Publikationen: Regierung und öffentliche Verwaltung allgemein; Modernisierung, Entwicklung, Transformation von Verwaltungen; Planung und Gesetzgebung; öffentliche Aufgaben; Regierungs- und Verwaltungsorganisation; öffentlicher Dienst; supranationale und internationale Kooperation. Entpflichtung 2002. Ehrenvorstandsmitglied der Deutschen Sektion IIAS, Honorary Member der National Academy of Public Administration/USA, Ehrensenator der Hochschule des Bundes für Öffentliche Verwaltung, Träger des Großen Bundesverdienstkreuzes.
Klaus König, Professor (retired) of Administrative Science, Government, and Public Law at the German University of Administrative Sciences Speyer; Director general (retired), Federal Chancellery. Studied law, economics, politics; Dr.jur., Dr.rer.pol., Ass.iur., habilitation for public law and administration. Held different academic and practical positions as research associate, professor, director of studies, senior principal, judge, President of the Speyer University, Director general, Director of the Speyer Research Institute, Vicepresident IIAS. Advisory, lecturing, research activities at German, foreign, international institutions. Interests and Publications: Government and public administration in general; modernization, transformation, development; public functions; legislation, planning, organization, civil service; supranational and international cooperation. Retired 2002. Honorary Member of the Board German Section of IIAS and of the National Academy of Public Administration/USA; Honorary Senator of the Federal School (Hochschule) of Public Administration; Great Federal Order of Merit.
Abstract
Die Verwaltungswissenschaft ist 2018 als »kleines Fach« des deutschen Wissenschaftssystems kartiert worden. Dazu beschreibt die vorliegende Schrift den Weg einer integrativen Verwaltungswissenschaft, wie ihn der Autor seit Mitte der 1960er Jahre beschritten hat. In Stationen werden Sachthemen öffentlicher Verwaltung veranschaulicht. Vor allem interessieren hier indessen die erkenntnistheoretischen, methodologischen, begrifflichen und auch didaktischen Aspekte einer Verwaltungswissenschaft und die Erweiterung ihres Fragehorizonts in Erfahrung und Erkenntnis. Der Ansatz der integrativen Verwaltungswissenschaft folgt in der Multidisziplinarität verwaltungsrelevanter Fächer dem Grundgedanken einer »Discipline-carrefour «, einer »Public Administration: A Synthesis«, freilich mit Wurzeln in der deutschen Wissenschaftsgeschichte und im klassischen Verwaltungssystem. Im Wege der transdisziplinären Forschung soll die wissenschaftliche Wahrnehmungsfähigkeit und Problemlösungskompetenz verbreitert werden. »Stations of Integrative Administrative Science«

Administrative Science – in international terms: Public Administration – is chartered in 2018 as a »small discipline« in the German system of sciences. The presented book is a contribution to the development of Administrative Science in Germany based on the history of relevant sciences and the tradition of the classical administrative system. The concept of integration follows the approach of a »Discipline-carrefour«, »Public Administration: A Synthesis«. The field of public administration is analysed in different stations of practice, advice, lecturing,and research with emphasis upon epistemological and methodological aspects.
Table of Contents
Section Title
Page
Action
Price

Vorwort

5

Inhaltsverzeichnis

7

A. Verwaltungslehre und Verwaltungswissenschaft

9

I. Verwaltungslehre

9

II. Verwaltungswissenschaft

13

III. Integrative Verwaltungswissenschaft

16

B. Verwaltungswissenschaftliche Lehre

27

I. Verwaltungswissenschaftliche Theorie

27

II. Verwaltungswissenschaftlicher Pragmatismus

31

III. Verwaltungswissenschaftlicher Fragehorizont

35

C. Public Administration

40

I. US-amerikanische Verwaltung

40

II. Verwaltungsstudium in den USA

44

III. Institutionentransfer und Theorierezeption

51

D. Verwaltungsentwicklung

57

I. Theoretische Aspekte

57

II. Verwaltungszusammenarbeit

62

III. Aus- und Weiterbildung

66

E. Verwaltete Regierung

74

I. Status und Funktion

74

II. Operativität

82

III. Regierungslehre

93

F. Verwaltungstransformation

97

I. Organisation und Personal

97

II. Aufgaben und Vermögen

102

III. Institutionentransfer

106

G. Verwaltungsmodernisierung

110

I. Verwaltungspolitik

110

II. Systemrationalität und Kohärenz

115

III. Management

121

H. Supranationale und internationale Verwaltung

126

I. Europäische Integration

126

II. Globalisierung

132

III. Governance

139

I. Verwaltungswissenschaftliche Forschung

144

I. Vorverständnis

144

II. Methodenwahl

149

III. Gegenstandsbereich

160

Literaturverzeichnis

172

Veröffentlichungen Klaus König

191

I. Verwaltungssystem und Verwaltungsumwelt

191

II. Verwaltungswissenschaft und Regierungslehre

194

III. Öffentliche Aufgaben und Aufgabenkritik

196

IV. Organisation von Regierung und Verwaltung

198

V. Öffentliche Entscheidung und Verwaltungskontrolle

199

VI. Öffentlicher Dienst und Regierungspersonal

201

VII. Verwaltungsentwicklung und Verwaltungstransformation

203

VIII. Modernisierung und Internationalisierung der Verwaltung

207