Historical research: source documents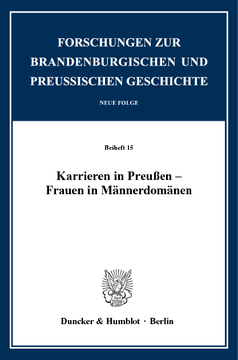 Additional Information
Book Details
ISBN

978-3-428-58035-4
978-3-428-18035-6 (print edition)

DOI

https://doi.org/10.3790/978-3-428-58035-4

Edition

1

Language

German

Pages

353

Collections

Subjects
Pricing
Institution

€ 138.00 (incl. local VAT if applicable)

Individual

€ 107.90 (incl. local VAT if applicable)
About The Author
Susanne Brockfeld promovierte nach einem Studium der Neueren Geschichte, Germanistik und Romanistik an der Westfälischen Willhelms-Universität Münster im Fach Neuere Geschichte. Nach ihrer Ausbildung für den Höheren Archivdienst an der Archivschule Marburg und im Geheimen Staatsarchiv Preußischer Kulturbesitz ist sie an diesem Archiv vor allem zuständig für die frühe Zentral- und Territorialüberlieferung (Brandenburg-)Preußens bis 1815. Ingeborg Schnelling-Reinicke studierte an der Universität Bonn die Fächer Geschichte, Sozialwissenschaften, Theologie, promovierte im Fach Historische Hilfswissenschaften und Archivkunde und absolvierte anschließend die Ausbildung für den Höheren Archivdienst am NW Staatsarchiv Münster und der Archivschule Marburg. Nach mehrjähriger Tätigkeit am NW Hauptstaatsarchiv Düsseldorf wechselte sie an das GStA PK. Hier ist sie für die jüngere preußische Geschichte, aber auch für Familienarchive und Nachlässe zuständig.
Abstract
Preußische Geschichte wird in erster Linie als maskulin wahrgenommen. Die gemeinsame Tagung der Preußischen Historischen Kommission und des Geheimen Staatsarchivs Preußischer Kulturbesitz des Jahres 2018 untersuchte, unter Berücksichtigung der aktuellen Forschungsdiskussion in der Frauen- und Gender-, aber auch der Sozialgeschichtsforschung, lange Zeit männlich dominierte Räume auf ihre Öffnung oder Verschlossenheit für Frauen in Preußen. Beispielhaft wurden dazu die Themen Arbeit, Kunst, Militär und Politik / Diplomatie herangezogen, um an diesen Beispielen, und eben nicht den klassischen oder aufgrund von Jahrestagen naheliegenden Themen, nach »Karrieren in Preußen - Frauen in Männerdomänen« zu fragen. Der Band präsentiert v.a. die zu den einzelnen Sektionen gehaltenen Referate sowie den öffentlichen Abendvortrag der namhaften Wissenschaftlerinnen und Wissenschaftler. In der Schriftfassung wurden die Beiträge um die zahlreichen Anregungen und neuen Gedanken der lebhaften Diskussion ergänzt. »Careers in Prussia – Women in Male Domains«

Prussian history is primarily perceived as male. The conference in 2018, which was organised by the Prussian Historical Commission and the Secret State Archives Prussian Cultural Heritage, examined how long-time male dominated spaces were opening up –or continuing to stay closed– to women in Prussia, in regard to labour, art, military, and politics/diplomacy. This publication contains chiefly the presentations from the different sessions and the open evening lectures held by well-known researchers.
Table of Contents
Section Title
Page
Action
Price

Vorwort

5

Inhaltsverzeichnis

11

Gunilla Budde: Drei Frauen in Männerdomänen in drei Jahrhunderten: Charlotte Sophie von Bentinck, Gertrude Bell und Jutta Limbach

13

I. Arbeit

47

Monika Wienfort: Gesindeordnung, Kleiderordnung, Moralordnung: Ländliche Frauenarbeit in Preußen vom Kaiserreich bis in die 1920er Jahre

49

Claudia Strieter: Handlungsspielräume und Gewerberechte von Frauen in Soester und Lippstädter Zünften während der Frühen Neuzeit

69

Susanne Knoblich: Frauenproteste in Berlin und Preußen um 1900

91

II. Kunst

113

Angelika Schaser: Quellen der Kreativität in geschlechtergeschichtlicher Perspektive

115

Birgit Verwiebe: Werke von Malerinnen des späten 18. und des 19. Jahrhunderts an der Alten Nationalgalerie

131

Carola Muysers: Der "Kunstverein der Schwestern". Der Verein der Berliner Künstlerinnen als erster Berufsverband bildender Künstlerinnen in Preußen und im deutschsprachigen Raum

169

III. Militär

187

Marian Füssel: Unsichtbare Zeuginnen? Frauen im Siebenjährigen Krieg

189

Preußische Soldatenfrauen in der ländlichen Familienökonomie des 18. Jahrhunderts – Regesten zur familiären Arbeitsorganisation

211

Thomas Weißbrich: Frauen in Uniform. Militärische und mediale Karrieren im Königreich Preußen 1813–1918

229

Sophie Häusner: Ein halber Soldat – Die Rotkreuz-Krankenschwester und das Militär

251

IV. Politik/Diplomatie

269

Birgit Aschmann: Königin Augusta als "political player" in Preußens Politik

271

Hillard von Thiessen: Die Gender-Perspektive in der Geschichte der frühneuzeitlichen Außenbeziehungen: Frauen in einer Männerdomäne?

291

Pauline Puppel: Diplomaten und Damen. Ehefrauen von Diplomaten am Beispiel der Johanna von Puttkamer

305

Die Autorinnen/Autoren und Herausgeberinnen des Bandes

351