Environment law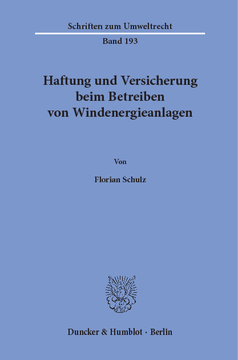 Additional Information
Book Details
ISBN

978-3-428-58052-1
978-3-428-18052-3 (print edition)

DOI

https://doi.org/10.3790/978-3-428-58052-1

Edition

1

Language

German

Pages

415

Collections

Subjects
Pricing
Institution

€ 126.00 (incl. local VAT if applicable)

Individual

€ 98.90 (incl. local VAT if applicable)
About The Author
Florian Schulz studierte Rechtswissenschaft an der Universität Trier. Anschließend war er promotionsbegleitend von 2015 bis 2018 am Institut für Umwelt- und Technikrecht der Universität Trier als wissenschaftlicher Mitarbeiter tätig. Im Jahr 2020 schloss er den juristischen Vorbereitungsdienst im Bezirk des Oberlandesgerichts Koblenz, mit Stationen in Trier, Bonn und Luxemburg, mit dem Zweiten Staatsexamen ab. Seit 2020 ist er als Richter in der Verwaltungsgerichtsbarkeit tätig.
Florian Schulz studied law at Trier University. While writing his dissertation, he worked as a research assistant at the Institute for Environmental and Technology Law at Trier University from 2015 to 2018. In 2018, he began his legal clerkship in the district of the Higher Regional Court of Koblenz, with stations in Trier, Bonn and Luxembourg, and concluded it in 2020 with the Second State Examination. Since 2020 he has been serving as an administrative court judge.
Abstract
Als fester Bestandteil der Energiewende haben Windenergieanlagen auf dem Festland wie auf See große Verbreitung gefunden und werden fortwährend in den gesellschaftlichen Lebensraum und in die Natur integriert. Infolgedessen unterscheiden sich die von ihrem Betrieb herrührenden Einwirkungen auf ihr Umfeld fundamental von denen konventioneller, zumeist isoliert betriebener Kraftwerke. Hinzukommt, dass der Betrieb von Windenergieanlagen regelmäßig nur unter Beteiligung einer Vielzahl von Personen möglich ist, was zu einer Erweiterung des für die Haftung relevanten Personenkreises führt. In dieser Arbeit werden die aus dem Betrieb von Windenergieanlagen erwachsenden Haftungsrisiken unter Berücksichtigung haftungsrelevanter Fragen aus dem internationalen Privatrecht im Zusammenhang mit Offshore-Windenergieanlagen und dem Sachenrecht hinsichtlich auf fremden Grund und Boden installierter Windenergieanlagen umfassend aufgearbeitet und auf ihre haftungs- und versicherungsrechtliche Relevanz hin untersucht. »Liability and Insurance for the Operation of Wind Turbines«

Unlike conventional power plants, wind turbines have become firmly integrated into residential and natural spaces. As a result of this proximity, the effects of wind turbines on their surrounding environment differ from those of conventional power plants. The extent to which and for whom a liability risk arises from these effects will be examined and comprehensively reviewed, taking into account liability-related questions from insurance contract law and international private law.
Table of Contents
Section Title
Page
Action
Price

Vorwort

8

Inhaltsübersicht

10

Inhaltsverzeichnis

12

Abkürzungsverzeichnis

22

Einleitung

30

1. Kapitel: Das anwendbare Recht

33

A. Der Offshore Begriff

33

B. Der völkerrechtliche Rahmen

34

I. Basislinie und innere Gewässer

34

II. Küstenmeer

35

III. Ausschließliche Wirtschaftszone und Festlandsockel

36

IV. Hohe See

37

C. Grundlagen zum Bau und der Installation von Offshore-Windenergieanlagen

37

D. Anwendbarkeit deutschen Privatrechts im Küstenmeer Deutschlands

39

E. Anwendbarkeit deutschen Privatrechts in der ausschließlichen Wirtschaftszone Deutschlands

39

I. Meinungsstand

40

II. Stellungnahme: Rechtsbestimmung durch das Kollisionsrecht

42

III. Ergebnis

44

F. Sachenrechtliche Anknüpfung

45

I. Überblick über den Meinungsstand

45

II. Kritische Analyse

46

1. Keine Anwendbarkeit des Art. 45 Abs. 1 S. 2 Nr. 2 EGBGB auf Offshore-Windenergieanlagen

46

2. Anwendung des Art. 43 Abs. 1 EGBGB

49

a) Der Staatsbegriff des Art. 43 Abs. 1 EGBGB

49

aa) Gesetzesgenese

50

bb) Sprachgebrauch

50

cc) Systematik

51

dd) Sinn und Zweck

52

ee) Zwischenergebnis: Analogie oder Auslegung?

54

b) Ergebnis

55

3. Unzweckmäßigkeit sonstiger Ersatzanknüpfungen

55

4. Ersatzanknüpfung bei Windenergieanlagen auf Hoher See

57

5. Zusammenfassung

58

G. Deliktische Anknüpfung

59

I. Internationale Übereinkommen

59

1. Schiffseigenschaft von Offshore-Windenergieanlagen

59

2. Anwendungsbereich internationaler Übereinkommen im Einzelnen

61

a) Übereinkommen zur einheitlichen Feststellung von Regeln über den Zusammenstoß von Schiffen vom 23.09.1910

61

b) Internationales Übereinkommen von 1969 über die zivilrechtliche Haftung für Ölverschmutzungsschäden

62

c) Übereinkommen über die Beschränkung der Haftung für Seeforderungen vom 19.11.1976

63

d) Straßburger Übereinkommen über die Beschränkung der Haftung in der Binnenschifffahrt

65

3. Ergebnis

65

II. Rechtsbestimmung durch die Rom II-VO

66

1. Rechtswahl und gemeinsamer gewöhnlicher Aufenthalt

66

2. Erfolgsort nach Art. 4 Abs. 1 Rom II-VO

67

3. Umweltschädigung nach Art. 7 Rom II-VO

69

4. Sicherheits- und Verhaltensregeln nach Art. 17 Rom II-VO

71

5. Zwischenergebnis

71

III. Windenergieanlagen auf Hoher See

71

IV. Zusammenfassung

73

H. Vertragliche Anknüpfung

74

I. Das anwendbare Versicherungsvertragsrecht

75

1. Windenergieanlagen in der ausschließlichen Wirtschaftszone

76

2. Windenergieanlagen auf Hoher See

80

II. Auf das Einspeiseverhältnis anzuwendende Recht

81

1. Anwendbarkeit der Rom I-VO auf das gesetzliche Schuldverhältnis aus § 7 EEG

81

2. Maßgebliche Kollisionsnorm

83

3. Zwingende Regelungen des EEG

87

III. Zusammenfassung

87

2. Kapitel: Eigentumsverhältnisse an Windenergieanlagen

88

A. Eigentumsverhältnisse an Windenergieanlagen auf dem Festland

89

I. Grundlagen zum Bau und der Befestigung von Windenergieanlagen auf dem Festland

89

1. Fundament

90

2. Turmaufbau

91

II. Eigentumsverhältnisse an installierten Windenergieanlagen nach den §§ 946, 93 ff. BGB

91

1. Windenergieanlagen als wesentlicher Bestandteil des Grundstücks

93

a) Bestandteilseigenschaft

94

aa) Kein Fall des § 95 BGB

96

(1) Vorübergehender Zweck nach § 95 Abs. 1 S. 1, Abs. 2 BGB

97

(a) Nutzungsdauer und vorübergehender Zweck

99

(b) Umqualifizierung zum Scheinbestandteil

102

(2) Rechtsausübung nach § 95 Abs. 1 S. 2 BGB

107

(3) Zwischenergebnis

109

(4) Exkurs: Scheinbestandteilseigenschaft von Anlagen auf betreibereigenen Grundstücken

109

bb) Zusammenfassung

110

b) Wesentlichkeit

111

aa) Meinungsstand in der Rechtswissenschaft

111

bb) Inkongruenz der Rechtsprechung

112

cc) Windenergieanlagen als mit dem Boden fest verbundene Sachen nach § 94 Abs. 1 BGB

113

(1) Windenergieanlagen als Gebäude

114

(2) Windenergieanlagen als mit dem Boden fest verbundene Sachen

115

(3) Zwischenergebnis

118

dd) Windenergieanlagen als zur Fertigstellung eingefügte Sachen nach § 94 Abs. 2 BGB

118

ee) Zwischenergebnis

120

2. Ergebnis

121

B. Eigentumsverhältnisse an \nOffshore-Windenergieanlagen

122

I. Grundstückseigentum im Küstenmeer

122

II. Grundstückeigentum in der ausschließlichen \nWirtschaftszone Deutschlands

123

III. Auswirkung auf die Eigentumsverhältnisse

123

IV. Ergebnis

125

3. Kapitel: Haftungsrisiken

126

A. Dauereinwirkungen im Nachbarverhältnis

127

I. Zentrale Regelungen

128

1. Eigentumsfreiheitsanspruch aus § 1004 Abs. 1 BGB

128

a) Anspruchsinhaber

129

b) Eigentumsbeeinträchtigung

129

c) Störereigenschaft

130

aa) Betreiber und Betriebsführer

131

bb) Grundstückseigentümer

133

cc) Sicherungsnehmer

135

dd) Mehrheit von Störern

137

d) Wiederholungsgefahr

137

e) Rechtswidrigkeit

137

aa) § 906 Abs. 1 S. 1, Abs. 2 S. 1 BGB

138

(1) Unwesentliche Beeinträchtigung

138

(2) Ortsübliche Benutzung

139

(3) Erwägungen des Umweltschutzes und § 906 Abs. 1 S. 1, Abs. 2 S. 1 BGB

141

bb) § 14 S. 1 BImSchG

142

2. Quasinegatorischer Schutz aus analog § 1004 Abs. 1 BGB i. V. m. § 823 Abs. 1 BGB

144

3. Weitere Beseitigungs- und Unterlassungsansprüche

145

4. Nachbarrechtliche Ausgleichsansprüche

145

5. Keine Anwendbarkeit des Umwelthaftungsgesetzes

147

II. Geräuschimmissionen

148

1. Anspruch aus § 1004 Abs. 1 BGB

149

a) Geräuschimmission als Eigentumsbeeinträchtigung

149

b) Störereigenschaft

150

c) Rechtswidrigkeit

150

aa) Gemengelage

152

bb) Vorbelastung

154

d) Ergebnis

156

2. Finanzieller Ausgleich für Geräuschimmissionen

156

3. Zusammenfassung

157

III. Schattenwurf

157

1. Anspruch aus § 1004 Abs. 1 BGB

159

a) Beschattung als Eigentumsbeeinträchtigung

159

aa) Landesrechtliches Lichtrecht

159

bb) Negative Immissionen als Eigentumsbeeinträchtigung

161

(1) Meinungsstand

162

(2) Stellungnahme

163

(a) Begriff der Einwirkung

163

(b) Systematik

164

(c) Gesetzesmaterialien

165

(d) Gesetzeszweck

166

(e) Zwischenergebnis

167

(3) Ergebnis

168

b) Störereigenschaft

169

c) Rechtswidrigkeit

170

aa) Anwendbarkeit des § 906 BGB auf negative Immissionen

170

bb) Duldungspflicht aus § 906 BGB

172

cc) Duldungspflicht aus § 14 S. 1 BImSchG

174

d) Ergebnis

174

2. Anspruch aus analog § 1004 Abs. 1 BGB i. V. m. § 823 Abs. 1 BGB bei Gesundheitsbeeinträchtigung

175

3. Finanzieller Ausgleich für Beschattung

177

4. Zusammenfassung

179

IV. Ästhetische Immissionen

179

1. Rechtserhebliche Beeinträchtigung

180

2. Ergebnis

182

V. Lichtimmissionen

182

1. Anspruch aus § 1004 Abs. 1 BGB

183

a) Lichtimmission als Eigentumsbeeinträchtigung

183

aa) Sonnenlichtreflexion

183

bb) Hinderniskennzeichnung

185

b) Störereigenschaft

185

c) Rechtswidrigkeit

186

aa) Lichtimmission als ähnliche Einwirkung nach § 906 Abs. 1 S. 1 BGB

187

bb) Wesentlichkeit der Lichtimmission nach § 906 Abs. 1 S. 1 BGB

187

(1) Zivilgerichtliche Beurteilung

188

(2) Verwaltungsgerichtliche Beurteilung

189

(3) Behandlung von Lichtimmissionen in den LAI

190

(4) Bewertung der Anforderungen an die Wesentlichkeit

191

(5) Zwischenergebnis

193

cc) Ortsüblichkeit der Lichtimmission nach § 906 Abs. 2 S. 1 BGB

194

d) Ergebnis

196

2. Anspruch aus analog § 1004 Abs. 1 BGB i. V. m. § 823 Abs. 1 BGB bei Gesundheitsbeeinträchtigung

196

3. Finanzieller Ausgleich für Lichteinwirkungen

197

4. Zusammenfassung

197

VI. Elektromagnetische Interferenzen

197

VII. Windentzug

201

1. Anspruch aus § 1004 Abs. 1 BGB

203

a) Anspruchsinhaber

203

b) Windentzug als Eigentumsbeeinträchtigung

203

c) Störereigenschaft

204

d) Rechtswidrigkeit

205

aa) Duldungspflicht des Fahrniseigentümers aus § 906 BGB

205

bb) Wesentlichkeit des Windentzugs nach § 906 Abs. 1 S. 1 BGB

206

cc) Ortsüblichkeit des Windentzugs nach § 906 Abs. 2 S. 1 BGB

207

dd) Duldungspflicht aus § 14 S. 1 BImSchG

208

e) Ergebnis

210

2. Finanzieller Ausgleich für Windentzug

210

a) Nachbarrechtliche Ausgleichsansprüche

211

b) Deliktische Ersatzansprüche

212

aa) Ersatzanspruch aus § 823 Abs. 1 BGB

212

bb) Ersatzanspruch aus § 823 Abs. 1 BGB i. V. m. dem Rechtsinstitut des eingerichteten und ausgeübten Gewerbebetriebs

214

cc) Ergebnis

217

3. Zusammenfassung

217

VIII. Nachlaufströmung

217

1. Anspruch aus § 1004 Abs. 1 BGB

219

a) Nachlaufströmung als Eigentumsbeeinträchtigung

219

b) Störereigenschaft

220

c) Rechtswidrigkeit

221

aa) Besonderheiten der Wesentlichkeit nach § 906 Abs. 1 S. 1 BGB

221

bb) Besonderheiten der Ortsüblichkeit nach § 906 Abs. 2 S. 1 BGB

223

d) Ergebnis

223

2. Finanzieller Ausgleich für Turbulenzeinwirkungen

224

a) Ersatzanspruch aus § 823 Abs. 1 BGB

224

b) Ersatzanspruch aus § 823 Abs. 1 BGB i. V. m. dem Rechtsinstitut des eingerichteten und ausgeübten Gewerbebetriebs

226

3. Zusammenfassung

227

IX. Zwischenfazit

227

B. Außergewöhnliche Schadensereignisse

229

I. Bruchschäden

229

1. Anspruch aus § 1004 Abs. 1 BGB

231

a) Anspruchsinhaber

232

b) Belastung durch Anlagenteile als Eigentumsbeeinträchtigung

232

c) Störereigenschaft

232

d) Rechtswidrigkeit

234

e) Ergebnis

235

2. Anspruch aus Art. 10 Abs. 1 WBÜ, § 2 WBKostDG i. V. m. §§ 683, 670 BGB in Betracht auf havarierte Offshore-Windenergieanlagen

235

a) Haftungsvoraussetzungen

236

b) Ergebnis

237

c) Verhältnis zu anderen Ansprüchen

238

3. Anspruch aus § 2 Abs. 1 S. 2 HPflG

238

4. Anspruch aus den §§ 836–838 BGB

239

a) Anspruchsgegner

239

aa) Verantwortlichkeit nach § 836 BGB

240

bb) Verantwortlichkeit nach § 837 BGB

240

(1) Besitzverhältnisse und Haftung in Grundkonstellation

241

(2) Besitzverhältnisse und Haftung bei Sicherungsübereignung

242

(a) Eigenbesitzwille des Sicherungsnehmers

243

(b) Besitz in Ausübung eines Rechts

245

(c) Teleologische Extension des § 837 BGB

246

(d) Ergebnis

247

cc) Verantwortlichkeit nach § 838 BGB

247

dd) Mehrere Verantwortliche

248

b) Windenergieanlage als Gebäude oder Werk

248

aa) Erfüllen des Gebäude- und Werksbegriffs durch Windenergieanlagen

248

bb) Besonderheiten bei Offshore-Windenergieanlagen

249

c) Einsturz oder Ablösen von Teilen

251

d) Rechts- bzw. Rechtsgutsverletzung aufgrund fehlerhafter Errichtung oder mangelhafter Unterhaltung und haftungsbegründende Kausalität

252

e) Keine Entlastung nach § 836 Abs. 1 S. 2 BGB

253

aa) Einschränkung der Verkehrssicherungspflicht

254

(1) Windenergieanlagen auf dem Festland

254

(2) Offshore-Windenergieanlagen

255

bb) Außergewöhnliche Wetterlagen

256

f) Ergebnis

256

5. Anspruch aus §§ 823 Abs. 1, 2, 831 Abs. 1 S. 1 BGB

257

a) Haftung des Betreibers, Betriebsführers, Grundstückseigentümers und Sicherungsnehmers nach § 823 Abs. 1 BGB

257

aa) Rechtswidrigkeit und Verkehrssicherungspflicht

258

(1) Windenergieanlagen auf dem Festland

258

(2) Offshore-Windenergieanlagen

259

bb) Erfüllung der Verkehrssicherungspflicht

259

cc) Verkehrssicherungspflichtige Personengruppen

260

dd) Verschulden

261

ee) Ergebnis

261

b) Haftung des Betreibers und Betriebsführers nach § 823 Abs. 2 BGB

262

aa) Keine Schutzgesetzqualität des § 55 S. 1 Nr. 2 lit. a, d WindSeeG

262

bb) § 5 Abs. 1 Nr. 1 BImSchG als Schutzgesetz

263

c) Haftung des Betreibers und Sicherungsnehmers nach § 831 Abs. 1 S. 1 BGB

264

6. Zusammenfassung

266

II. Schäden durch Eisfall und Eiswurf

267

1. Keine Haftung nach §§ 836–838 BGB

267

2. Haftung nach § 823 Abs. 1, 2 BGB

268

3. Zusammenfassung

270

III. Schäden durch Brand und Ölaustritt

271

1. Brandschäden

272

2. Schädigungen durch Ölaustritt

275

3. Zusammenfassung

276

IV. Kollisionsschäden

276

1. Kollision von Schiffen mit Offshore-Windenergieanlagen

277

a) Anspruch aus den §§ 836 ff. BGB

278

b) Anspruch aus §§ 823 Abs. 1, 831 Abs. 1 S. 1 BGB

279

2. Kollision von Luftfahrzeugen mit Windenergieanlagen

281

3. Zusammenfassung

282

V. Spannungsschäden

283

1. Die Haftung des (Übertragungs-)Netzbetreibers bei Unterbrechung der Netzanbindung und Sachschäden

284

a) Haftung bei Offshore-Netzanbindung

285

aa) Vermögensschäden

285

bb) Sachschäden

287

b) Haftung bei Onshore-Netzanbindung

289

c) Ergebnis

290

2. Haftung des Windparkbetreibers

291

a) Anspruch aus § 280 Abs. 1 BGB

292

aa) Schuldverhältnis

292

bb) Pflichtverletzung und Verschulden

294

cc) Schaden und Haftungsbegrenzung

296

(1) § 10 Abs. 3 EEG als Rechtsfolgenverweisung

297

(2) Anwendbarkeit des § 18 Abs. 2 S. 2 NAV

298

(3) Keine Anwendung der §§ 10 Abs. 3 EEG, 18 Abs. 2 NAV auf geschädigte Dritte

300

dd) Ergebnis

301

b) Anspruch aus § 906 Abs. 2 S. 2 BGB

302

c) Anspruch aus § 32 Abs. 3 S. 1, Abs. 1 S. 1 EnWG

303

d) Anspruch aus §§ 823 Abs. 1, 831 Abs. 1 S. 1 BGB

304

e) Anspruch aus § 2 Abs. 1 S. 1 HPflG und § 1 Abs. 1 S. 1 ProdHaftG

307

f) Ergebnis

308

3. Zusammenfassung

308

VI. Zwischenfazit

309

C. Ökologische Schäden

311

I. Räumliche und zeitliche Anwendbarkeit des USchadG

312

II. Haftungsvoraussetzungen

313

1. Berufliche Tätigkeit

314

2. Verantwortlichkeit i. S. d. § 3 Abs. 1 Nr. 2 USchadG \ni. V. m. § 2 Nr. 3 USchadG

314

a) Verantwortlichkeit aufgrund Ausübens der beruflichen Tätigkeit

315

b) Verantwortlichkeit aufgrund Bestimmens der beruflichen Tätigkeit

316

3. Verschulden nach § 3 Abs. 1 Nr. 2 USchadG

318

a) Kein Biodiversitätsschaden im Fall des § 19 Abs. 1 S. 2 BNatSchG

319

b) Öffentlich-rechtliche Genehmigung als Verschuldenshindernis

320

aa) Rechtswidrigkeit als Bezugspunkt öffentlich-rechtlicher Genehmigungen

320

bb) Meinungsstand zur legalisierenden Wirkung \nvon Genehmigungen im USchadG

321

cc) Stellungnahme

322

dd) Indizielle Wirkung öffentlich-rechtlicher Genehmigungen

324

c) Verschuldenszurechnung

325

III. Zwischenfazit

327

4. Kapitel: Versicherung

329

A. Allgemeine Versicherungsbedingungen

330

B. Betriebshaftpflichtversicherung

331

I. Versicherungsfall

332

II. Mitversicherte Personen

334

III. Versichertes Risiko und Risikoausschlüsse

336

1. Reichweite des im Versicherungsschein angegeben Risikos

336

2. Versicherungsschutz nur für inländische Betriebsstätten

337

3. Haftpflichtrisiko aus Sachbesitz

339

4. Schäden an Mietsachen

340

5. Tätigkeitsschäden

341

6. Vermögensschäden

343

7. Erhöhung und Erweiterung des versicherten Risikos

344

8. Risikoausschlüsse

346

IV. Zusammenfassung

348

C. Umwelthaftpflichtversicherung

349

I. Versicherungsfall

349

II. Versichertes Risiko und Risikoausschlüsse

351

1. Erweiterte Deckung für Schäden im Ausland

353

2. Schäden an gepachteten Sachen

354

3. Erhöhung und Erweiterung des versicherten Risikos

354

4. Risikoausschlüsse

354

III. Aufwendungsersatz

355

IV. Zusammenfassung

359

D. Umweltschadensversicherung

360

I. Versicherungsfall

361

II. Versichertes Risiko und Risikoausschlüsse

361

1. Erfordernis einer Betriebsstörung

362

2. Erweiterte Deckung für Schäden im Ausland

363

3. Erhöhung und Erweiterung des versicherten Risikos

364

4. Risikoausschlüsse

364

III. Aufwendungsersatz

365

IV. Zusammenfassung

366

E. Zwischenfazit

366

Fazit

368

Literaturverzeichnis

374

Entscheidungsregister

397

Stichwortverzeichnis

411