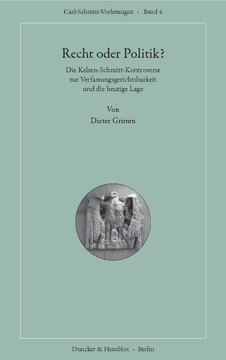 BOOK
Cite BOOK
Style
---
Grimm, D. (2020). Recht oder Politik?. Die Kelsen-Schmitt-Kontroverse zur Verfassungsgerichtsbarkeit und die heutige Lage. Duncker & Humblot. https://doi.org/10.3790/978-3-428-58099-6
Grimm, Dieter. Recht oder Politik?: Die Kelsen-Schmitt-Kontroverse zur Verfassungsgerichtsbarkeit und die heutige Lage. Duncker & Humblot, 2020. Book. https://doi.org/10.3790/978-3-428-58099-6
Grimm, D (2020): Recht oder Politik?: Die Kelsen-Schmitt-Kontroverse zur Verfassungsgerichtsbarkeit und die heutige Lage, Duncker & Humblot, [online] https://doi.org/10.3790/978-3-428-58099-6
---
Format
---
Recht oder Politik?
Die Kelsen-Schmitt-Kontroverse zur Verfassungsgerichtsbarkeit und die heutige Lage
Carl-Schmitt-Vorlesungen, Vol. 4
(2020)
Additional Information
Book Details
Publisher Name

Duncker & Humblot

ISBN

978-3-428-58099-6
978-3-428-18099-8 (print edition)

DOI

https://doi.org/10.3790/978-3-428-58099-6

Edition

1

Language

German

Pages

52

Collections

Subjects
Pricing
Institution

€ 34.00 (incl. local VAT if applicable)

Individual

€ 24.90 (incl. local VAT if applicable)
About The Author
Dieter Grimm lehrt Öffentliches Recht an der Humboldt-Universität zu Berlin. Von 2002 bis 2017 unterrichtete er ebenfalls an der Yale Law School. Er ist Permanent Fellow des Wissenschaftskollegs zu Berlin, dessen Rektor er von 2001 bis 2007 war. Von 1987 bis 1999 war er Richter des Bundesverfassungsgerichts. Er ist Mitglied der Berlin-Brandenburgischen Akademie der Wissenschaften, der Academia Europaea, der British Academy und der American Academy of Arts and Sciences.
Abstract
Dass zum Staat eine Verfassung gehört, ist heute nicht mehr strittig, ob zur Verfassung ein Verfassungsgericht gehört, dagegen sehr wohl. Paradigmatisch ist der Streit zwischen zwei der bedeutendsten Juristen der ersten Hälfte des 20. Jahrhunderts ausgetragen worden, Hans Kelsen und Carl Schmitt. Kelsen sah in der Verfassungsgerichtsbarkeit eine logische Folge der Verfassung, Schmitt verwarf sie, weil er einen anderen »Hüter« der Verfassung im Sinn hatte. Die zweite Hälfte des 20. Jahrhunderts gab Kelsen recht. Allenthalben wurden Verfassungsgerichte gegründet. Im beginnenden 21. Jahrhundert regt sich wieder verstärkt die Kritik. Letztlich geht es dabei immer um das Verhältnis von Recht und Politik. So auch in dieser kleinen Schrift.Law or Politics? The Controversy between Kelsen and Schmitt on Constitutional Adjudication and the Current State of AffairsWhile it is no longer contested that a state goes hand in hand with a constitution, it is less clear whether a constitution entails a constitutional court. In a paradigmatic way, this question was discussed among two of the most eminent jurists of the first half of the 20th century, Hans Kelsen and Carl Schmitt. Kelsen regarded constitutional adjudication as a logical consequence of constitutionalism. Schmitt rejected it because he had a different guardian of the constitution in mind. In the second half of the 20th century, Kelsen's view prevailed. Constitutional courts were established all over the world. In the beginning of the 21st century, criticism of judicial review gains ground. Ultimately, it is always about the relationship between law and politics, so as well in this essay.
Table of Contents
Section Title
Page
Action
Price

Vorwort

5

Inhaltsverzeichnis

7

I. Die historische Kontroverse

9

II. Die heutige Lage

29

Namenregister

50