Arbitration, mediation & alternative dispute resolution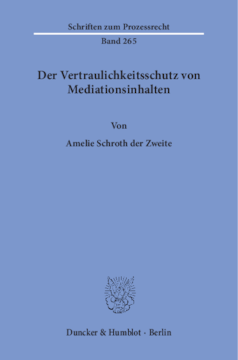 BOOK
Cite BOOK
Style
---
Schroth der Zweite, A. (2020). Der Vertraulichkeitsschutz von Mediationsinhalten. Duncker & Humblot. https://doi.org/10.3790/978-3-428-58003-3
Schroth der Zweite, Amelie. Der Vertraulichkeitsschutz von Mediationsinhalten. Duncker & Humblot, 2020. Book. https://doi.org/10.3790/978-3-428-58003-3
Schroth der Zweite, A, (2020): Der Vertraulichkeitsschutz von Mediationsinhalten, Duncker & Humblot, [online] https://doi.org/10.3790/978-3-428-58003-3
---
Format
---
Der Vertraulichkeitsschutz von Mediationsinhalten
Schriften zum Prozessrecht, Vol. 265
(2020)
Additional Information
Book Details
ISBN

978-3-428-58003-3
978-3-428-18003-5 (print edition)

DOI

https://doi.org/10.3790/978-3-428-58003-3

Edition

1

Language

German

Pages

215

Collections

Subjects
Pricing
Institution

€ 80.00 (incl. local VAT if applicable)

Individual

€ 62.90 (incl. local VAT if applicable)
About The Author
Nach dem Jurastudium an der Humboldt-Universität zu Berlin und der Absolvierung des Referendariats am Berliner Kammergericht, wurde Amelie Schroth der Zweite im September 2017 als Rechtsanwältin zugelassen. Von Oktober 2017 bis Mai 2019 promovierte sie an der Universität Potsdam. Seit August 2019 arbeitet Amelie Schroth der Zweite in einer Wirtschaftskanzlei in München als Rechtsanwältin und zertifizierte Mediatorin mit Spezialisierung im Familien- und Erbrecht.
After studying law at the Humboldt University in Berlin and completing her legal clerkship at the Berlin Court of Appeal, Amelie Schroth der Zweite was admitted to the bar in September 2017. From October 2017 to May 2019 she received her doctorate at the University of Potsdam. Since August 2019, Amelie Schroth der Zweite has been working in a law firm in Munich as a lawyer and certified mediator specializing in family and inheritance law.
Abstract
Nach einer Analyse des materiell- und prozessrechtlichen Istzustandes des Vertraulichkeitsschutzes von Mediationsinhalten kommt die Arbeit zu dem Schluss, dass das Schutzniveau auf personeller Ebene derzeit unzureichend gewährleistet und in der Praxis ohne einen einheitlichen Mindeststandard umgesetzt wird. Ein allein an den Interessen der Medianden ausgerichteter Vertraulichkeitsschutz verkennt, dass Vertraulichkeit auch als verfahrenssystematische Grundlage von Mediation schützenswert ist. Es sollten daher u.a. alle Beteiligten einer Mediation zur Wahrung der Vertraulichkeit derjenigen Informationen verpflichtet werden, von denen sie nur aufgrund der Durchführung des Mediationsverfahrens Kenntnis erlangt haben. Zur Umsetzung dieser Erweiterung und der weiteren Ergebnisse der Erörterung des Sollzustandes, schließt die Arbeit mit einem Formulierungsvorschlag zur Umgestaltung von § 4 MediationsG sowie einer Mustervereinbarung für die Mediationsbeteiligten als privatautonome Schutzergänzung. »The Confidentiality Protection of Mediation Content«

This paper examines the current state of protection of confidentiality of information obtained by parties to a mediation process as a result of the mediation procedure, both in substantive law and in civil procedure, and then discusses the desired state of this protection. The results of the investigation are implemented in a proposed wording for the amendment of § 4 MediationsG and in a model agreement as an autonomous private supplement.
Table of Contents
Section Title
Page
Action
Price

Danksagung

7

Inhaltsübersicht

9

Inhaltsverzeichnis

11

Abkuerzungsverzeichnis

18

Erster Teil: Einführung in Gegenstand und Gang der Untersuchung

21

Zweiter Teil: Untersuchung des Vertraulichkeitsschutzes

26

Kapitel 1: Vertraulichkeitsschutz im Mediationskontext

26

A. Vertraulichkeitsbegriff

26

I. Überblick zu Ursprung und Entwicklung des Begriffs im Allgemeinen

26

II. Horizontale Vertraulichkeitsbereiche im Mediationskontext

27

1. Interne Vertraulichkeit

27

2. Extern-außerprozessuale Vertraulichkeit

28

3. Extern-prozessuale Vertraulichkeit

28

III. Vertikale Schutzebenen im Mediationskontext

29

B. Bedeutung von Vertraulichkeitsschutz für die Mediationspraxis

29

I. Bedeutung für die Mediation als Institution

29

II. Bedeutung für den Mediator

31

III. Bedeutung für die Medianden

31

IV. Bedeutung für beteiligte Dritte

33

C. Zwischenergebnis zu Kapitel 1

34

Kapitel 2: Vertraulichkeitsschutz de lege lata

35

A. § 4 MediationsG und das gesetzgeberische Verständnis von Vertraulichkeitsschutz im Mediationskontext

35

I. Rechtslage vor Inkrafttreten des MediationsG

35

1. Recht der Europäischen Union

35

2. Bundesrecht

36

II. Anwendungsbereich des MediationsG

37

1. Gesetzentwurf der Bundesregierung

38

2. Stellungnahme des Bundesrates

39

3. Beschlussempfehlung und Bericht des Rechtsausschusses

40

4. Beschlussempfehlung des Vermittlungsausschusses

41

5. Ergebnis des Gesetzgebungsverfahrens

43

6. Diskussionsstand und Zwischenergebnis

44

III. Materiell rechtlicher Regelungsinhalt von § 4 MediationsG

47

1. § 4 S. 1 MediationsG (Regelungsadressaten)

47

a) Mediator

48

aa) Kritik an Legaldefinition des Mediators

48

bb) Abhilfe durch Definition von Mediation

48

cc) Definition des Mediators

50

dd) Rollenverständnis des Mediators

50

(1) Grundannahmen

51

(2) Verschiedenheit

52

ee) Quasi-Berufsrecht des Mediators

54

ff) Begriffliche Verortung des Anwaltsmediators

56

gg) § 4 MediationsG als lex specialis

62

b) Hilfspersonen

62

aa) Restriktive Auslegung des Personenkreises

62

bb) Der vom Mediator beauftragte Rechtsanwalt

63

c) Anwaltliche Verschwiegenheitspflicht

64

2. § 4 S. 2 MediationsG (inhaltliche Reichweite)

66

3. § 4 S. 3 MediationsG (Ausnahmen)

67

a) § 4 S. 3 Nr. 1 MediationsG (Umsetzung und Durchsetzung)

67

aa) Anwendungsfälle von Nr. 1

68

bb) Voraussetzungen von Nr. 1

68

(1) Vollstreckung einer Mediationsvereinbarung

68

(2) Offenlegung durch den Mediator gegenüber Dritten

69

(3) Erforderlichkeit

69

cc) Erweiternde Auslegung von Nr. 1

70

dd) Stellungnahme und Ergebnis

70

b) § 4 S. 3 Nr. 2 MediationsG (vorrangige Gründe)

71

c) § 4 S. 3 Nr. 3 MediationsG (keine Geheimhaltungsbedürftigkeit)

72

aa) Offenkundiges

72

bb) Bedeutungsloses

73

cc) Fehlende Geheimhaltungsbedürftigkeit anonymisierter Tatsachen

74

dd) Ergebnis

74

4. § 4 S. 4 MediationsG

74

5. Zwischenergebnis

75

IV. Disponibilität von § 4 MediationsG

76

V. § 4 MediationsG im Spannungsverhältnis mit Informationsinteressen

77

1. Schutz vorrangiger Interessen des Mediators

77

a) Ausnahmsweise Offenlegung

77

b) Grenze der Verschwiegenheitspflicht

78

2. Informationspflichten gegenüber Dritten

79

VI. § 4 MediationsG im verfahrensrechtlichen Kontext

80

1. Zeugnispflicht

80

2. Zeugnisverweigerungsrechte als Ausnahmeregelung

81

3. Zeugnisverweigerungsrecht des Mediators aus § 383 Abs. 1 Nr. 6 ZPO (berufliche Funktion)

82

a) Geltungsbereich von § 383 Abs. 1 Nr. 6 ZPO

82

aa) Kraft ihres Amtes, Standes oder Gewerbes

83

bb) § 383 Abs. 1 Nr. 6 Fall 2 ZPO

84

cc) § 383 Abs. 1 Nr. 6 Fall 1 ZPO

84

dd) Sonderproblem: Zeugnisverweigerungsrecht des ehrenamtlichen Mediators

85

(1) Ablehnung

85

(2) Befürwortung

85

(3) Stellungnahme und Ergebnis

86

b) Persönlicher Schutzbereich des § 383 Abs. 1 Nr. 6 ZPO

87

c) Rücksichtnahmepflicht des Gerichts aus § 383 Abs. 3 ZPO

88

d) Zusammenfassendes Ergebnis

88

4. Zeugnisverweigerungsrecht des Rechtsanwalts

88

5. Rückausnahme vom Zeugnisverweigerungsrecht

89

a) Problematik: Nichtentbindung des Zeugen

89

b) Behandlung der Problematik

90

aa) In der Rechtsprechung

90

(1) Vorwurf der Beweisvereitelung

90

(2) Folgen einer Beweisvereitelung

92

bb) In der Literatur

93

(1) Regelmäßig kein Vorwurf der Beweisvereitelung

93

(2) Vorwurf der Beweisvereitelung wegen Nichtentbindung des Zeugen abhängig von der Person des Verweigernden

94

(3) Kritik an der Entbindungsmöglichkeit gem. § 385 Abs. 2 ZPO

94

cc) Stellungnahme

95

(1) Zum Vorwurf der Beweisvereitelung

95

(2) Zu den Folgen einer Beweisvereitelung

98

(3) Zur Kritik an der Entbindungsmöglichkeit gem. § 385 Abs. 2 ZPO

99

(4) Zusammenfassung

99

c) Einschätzung zur Tragweite der Thematik

99

6. Ergebnis zu § 4 MediationsG im verfahrensrechtlichen Kontext

100

VII. Zusammenfassendes Ergebnis zum Vertraulichkeitsschutz von § 4 MediationsG

100

B. Folgen von Verletzungen der Verschwiegenheitspflicht aus § 4 MediationsG

101

I. Haftung des Mediators

102

II. Haftung der Hilfspersonen

105

III. Weitere Haftung aus Berufsrecht des Grundberufs

105

IV. Überblick zur Haftung des Rechtsanwalts

106

V. Zusammenfassendes Ergebnis

109

C. Zwischenergebnis zu Kapitel 2

109

Kapitel 3: Vertraulichkeitsschutz de facto

109

A. Extern-außerprozessuale Vertraulichkeit

111

I. Personelle Ebene

111

II. Inhaltliche und gegenständliche Ebene

112

B. Extern-prozessuale Vertraulichkeit

113

I. Prozessvertrag

113

1. Zulässigkeitsgrenze und Rechtsfolgenwirkung privatrechtlicher Gestaltungsfreiheit

114

2. Reichweite von Individualvereinbarungen im Licht prozessualer Mitwirkungspflichten der Parteien

116

II. Inhaltliche, gegenständliche und personelle Ebene

117

C. Zwischenergebnis zu Kapitel 3

118

D. Ergebnis zum Istzustand des Vertraulichkeitsschutzes

118

Kapitel 4: Erforderlichkeit einer Vertraulichkeitsschutzerweiterung

119

A. Ausgangsfrage

120

I. Sollzustand

121

1. Grenzen der Gestaltungsfreiheit

121

2. Bedürfnisorientierter Umfang

122

3. Ergebnis

124

II. Erforderlichkeit der Schutzerweiterung

125

B. Blickwinkel der Mediation als Institution

126

I. Schutz der Integrität des Verfahrens

126

II. Schutz einer verfahrenssystematischen Grundlage

127

III. Verhinderung der Zweckentfremdung

128

IV. Ergebnis

128

C. Blickwinkel des Mediators

128

I. Schutz des Mediators vor Aussagezwang

128

1. Schutz des Mediators vor Aussagezwang de lege lata

129

a) Zeugnisverweigerungsrecht aus § 384 ZPO (persönliche Beziehung)

129

aa) § 384 Nr. 2 Alt. 1 ZPO

130

bb) § 384 Nr. 2 Alt. 2 ZPO

131

cc) § 384 Nr. 3 ZPO

131

b) Zeugnisverweigerungsrecht aus Art. 12 GG (Berufsfreiheit)

132

aa) Schutzbereichseröffnung

133

bb) Unzulässiger Eingriff

133

cc) Ergebnis

136

c) Ergebnis

136

2. Gesamtgesellschaftliche Bedeutung des Schutzes

137

3. Bedeutung des Schutzes aus ethischen Gründen

138

4. Ergebnis

139

II. Arbeitserleichterung

139

III. Ergebnis

140

D. Blickwinkel der Medianden

140

I. Justiziable Verschwiegenheitsverpflichtung der Medianden

140

II. Behebung des Informationsdefizits der Medianden

141

III. Schutz vor Informationsmissbrauch

142

IV. Mittelbarer Schutz vor Vorwurf der Beweisvereitelung

143

V. Ergebnis

143

E. Blickwinkel beteiligter Dritter

143

I. Arbeitserleichterung und vorteilhafte Auswirkung in Haftungsfragen

144

II. Beteiligung an Gerichtsverfahren

144

III. Ergebnis

146

F. Zwischenergebnis zu Kapitel 4

146

Kapitel 5: Vertraulichkeitsschutz de lege ferenda

148

A. Vorgehensweise: Prüfen und Einordnen

148

I. Heteronomer versus autonomen Regelungscharakter

150

1. Diskussionsstand vor und nach Inkrafttreten des MediationsG

150

2. Diskussionsstand nach Evaluationsbericht

152

3. Zusammenfassung und Stellungnahme

154

II. Personenbezogener versus gegenstandsbezogenen Ansatz

155

1. Abwägung

157

2. Ergebnis

158

III. Ergebnis

159

B. Extern-außerprozessuale Vertraulichkeit

159

I. Heteronome Regelungsmöglichkeiten

160

1. Erweiterung des Adressatenkreises von § 4 MediationsG

160

2. Normierung einer Mustervereinbarung als Anhang zum MediationsG

161

3. Normierung von Hinweis oder Empfehlung zum Vertraulichkeitsschutzumfang

162

4. Ausweitung der Informationspflicht aus § 4 S. 4 MediationsG

163

II. Autonome Regelungsmöglichkeiten

163

1. Staatliche Anerkennung ausgewählter privater Repräsentanten

164

2. Individualvereinbarung (mit Bezugnahme-Klausel)

165

3. Erarbeitung einer Mustervereinbarung

166

III. Ergebnis

168

C. Extern-prozessuale Vertraulichkeit

169

I. Heteronome Regelungsmöglichkeiten

170

1. Verfahrensrecht

170

a) Einschränkung des prozessualen Verhandlungsinhalts

170

aa) Aktuelle Rechtslage

170

bb) Normierung eines Katalogs zulässiger Beweise

173

cc) Normierung einer prozessualen Einrede

174

dd) Praxistauglichkeit einer Einschränkung des prozessualen Verhandlungsinhalts

176

b) Normierung eines Vernehmungsverbots

177

c) Erweiterung der ZPO um ein Buch zum Mediationsverfahren

178

2. Materielles Recht

179

a) Normierung eines Verschwiegenheitsrechts des Mediators

179

aa) Referenzpunkt: Rechtslage in Österreich

180

bb) Referenzpunkt: Rechtsanwaltschaft

181

cc) Ergebnis

182

b) Normierung einer materiell rechtlichen Einrede

183

c) Erweiterung der anwaltlichen Verschwiegenheitspflicht

184

II. Autonome Regelungsmöglichkeiten

185

1. Individualvereinbarung mit Prozessvertrag (und Bezugnahme-Klausel)

185

2. Erarbeitung einer Mustervereinbarung mit Prozessvertrag

186

III. Ergebnis

189

Dritter Teil: Gesamtergebnis

192

Literaturverzeichnis

195

A. Aufsätze, Monographien, Lehr- und Praxishandbücher

195

B. Kommentare

206

C. Online-Ressourcen

208

Sachverzeichnis

213