Sport & the law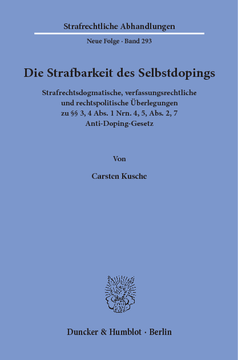 BOOK
Die Strafbarkeit des Selbstdopings
Strafrechtsdogmatische, verfassungsrechtliche und rechtspolitische Überlegungen zu §§ 3, 4 Abs. 1 Nrn. 4, 5, Abs. 2, 7 Anti-Doping-Gesetz
Strafrechtliche Abhandlungen. Neue Folge, Vol. 293
(2020)
Additional Information
Book Details
ISBN

978-3-428-55942-8
978-3-428-15942-0 (print edition)

DOI

https://doi.org/10.3790/978-3-428-55942-8

Edition

1

Language

German

Pages

309

Collections

Subjects
Pricing
Institution

€ 104.00 (incl. local VAT if applicable)

Individual

€ 79.90 (incl. local VAT if applicable)
About The Author
Carsten Kusche studierte Rechtswissenschaften in Würzburg und absolvierte sein Rechtsreferendariat im OLG-Bezirk Bamberg und bei einer Wirtschaftskanzlei in Hamburg. Er ist wissenschaftlicher Mitarbeiter am Lehrstuhl für Strafrecht, Strafprozessrecht, Rechtstheorie, Informationsrecht und Rechtsinformatik (Prof. Dr. Dr. Eric Hilgendorf) an der Julius-Maximilians-Universität Würzburg und wurde dort 2019 unter Betreuung von Prof. Dr. Dr. Eric Hilgendorf promoviert.
Carsten Kusche studied law in Würzburg and completed his legal training in the OLG district Bamberg and a corporate law firm in Hamburg. He is a research assistent at the chair of Criminal Law, Criminal Justice, Legal Theory, Information and Computer Science Law (Prof. Dr. Dr. Eric Hilgendorf) at the Julius-Maximilians-University Würzburg. There he received his doctoral degree in 2019 under the supervision of Prof. Dr. Dr. Eric Hilgendorf.
Abstract
Die Arbeit unterzieht die 2015 vollzogene Neuausrichtung der staatlichen Dopingbekämpfung auf den dopenden Sportler einer eingehenden Analyse. Erstmal herausgearbeitet wird dabei u.a., dass die »Einnahmeklausel« des § 4 Abs. 7 Nr. 2 AntiDopG als Auffangklausel für Mängel im Kontrollsystem des Spitzensports dient und, dass die Verfassungskonformität der Testpool-Klausel des § 4 Abs. 7 Nr. 2 davon abhängt, dass man sie mit der hier vertretenen Auffassung als normatives und nicht etwa als Blanketttatbestandsmerkmal einstuft. Außerdem verzahnt die Arbeit die strafrechtsdogmatische Rechtsgutsdiskussion mit der verfassungsrechtlichen Verhältnismäßigkeitsprüfung und bezieht dabei auch die Bedeutung der Abgrenzung des Rechtsguts vom Schutzreflex ein. Sie kommt insoweit zu dem Schluss, dass die Selbstdopingdelikte verfassungskonform sind. Aus einem rechtspolitischen Blickwinkel betrachtet erscheint deren Schaffung indes eher als staatliche Symbolpolitik denn als ernsthaftes Bekenntnis gegen Doping im Spitzensport. »Criminal liability for self-doping. Dogmatic, constitutional and legal policy perspectives on §§ 3; 4 Abs. 1 Nrn. 4, 5, Abs. 2, 7 Anti-Doping Act«

The thesis evaluates the realignment of the state's anti-doping campaign towards the athlete as a result of the creation of the Anti-Doping Act. From a criminal law perspective, the focus is on the personal scope of the self-doping offences, from a constitutional law perspective on the determination and proportionality of the punishment, and from a legal policy perspective on the seriousness of the state's commitment against doping in top-level sport.
Table of Contents
Section Title
Page
Action
Price

Vorwort

5

Inhaltsverzeichnis

7

Teil 1: Einführung

17

Kapitel 1

19

Grundlagen der sportrechtlichen Dopingbekämpfung und Vollzugsdefizit

19

A. Das sportrechtliche Anti-Doping-Regelwerk

20

B. Ineffizienz des Dopingkontrollsystems als Auslöser staatlicher Einmischung

23

Kapitel 2

23

Die bisherige Straflosigkeit des Selbstdopings

23

A. Arzneimittelrecht

24

B. Kernstrafrecht

24

I. Körperverletzungsdelikte

24

II. Tötungsdelikte

27

III. Betrugsstrafbarkeit des Sportlers

27

1. Täuschung

28

2. Irrtum

29

3. Vermögensverfügung, Schaden und subjektiver Tatbestand

31

C. Fazit: Nur lückenhafter Strafrechtsschutz gegen Doping vor Geltung des AntiDopG

32

Kapitel 3

33

Schließung der "Strafbarkeitslücke" durch das AntiDopG

33

A. Entstehungsgeschichte des AntiDopG

33

I. Vorgängerentwürfe

33

II. Die Schaffung des AntiDopG

37

B. Der Regelungsgehalt des AntiDopG

38

I. Überblick über das AntiDopG

38

II. Übernahme und Erweiterung der Verbote des AMG durch §§ 2, 4 AntiDopG

39

1. Die Verhaltensnorm des § 2 AntiDopG

39

2. Die Sanktionsebene des § 4 AntiDopG

41

3. Fazit: Keine wesentlichen Neuerungen im Dopingstrafrecht

42

III. Das Verbot des Selbstdopings aus §§ 3, 4 AntiDopG

43

1. § 3 AntiDopG als Verhaltens-‍, § 4 AntiDopG als Sanktionsnorm

43

2. Die Verbote des § 3 AntiDopG im Überblick

43

a) Das Anwendungsverbot nach § 3 Abs. 1 AntiDopG

43

b) Die Teilnahme- und Besitzverbote des § 3 Abs. 2, 4 AntiDopG

44

c) Der Wettbewerb des organisierten Sports i.S.d. § 3 Abs. 3 AntiDopG

44

Kapitel 4

45

Gang der Untersuchung – Auflösung methodischer Zirkelschlüsse bei Tatbestands- und Rechtsgutsanalyse

45

A. Problemaufriss: Unklarheiten auf Rechtsguts- und Tatbestandsebene

45

B. Gesetzesanalyse als Mittel der Rechtsgutsbestimmung

46

I. Genetisch-historische Rechtsgutsbestimmung

47

II. Systematische Überlegungen

47

III. Tatbestandsanalyse als wichtigstes Mittel der Rechtsgutsbestimmung

48

C. Auswirkungen auf den Gang der Untersuchung

49

I. Tatbestandsanalyse vor Rechtsgutsdiskussion

49

II. Zirkelschlussgefahren

49

1. Gefahren bei der Tatbestandsanalyse

49

2. Auflösung des Zirkelschlusses

51

a) Abschichtung des Kerngehalts vom problematischen Einzelfall

51

b) Vorrang genetisch-historischer Auslegungsmethodik

52

III. Differenzierung zwischen Rechtsgutsermittlung und -bewertung

52

Teil 2: Der Regelungsgehalt der Selbstdopingverbote

53

Kapitel 1

53

Gesetzessystematik

53

Kapitel 2

54

Der Tatbestand der Verbotsnorm des § 3 AntiDopG

54

A. Das Anwendungsverbot, § 3 Abs. 1, Abs. 3 AntiDopG

54

I. Der objektive Tatbestand

54

1. Tathandlung

54

a) Mittelbare Bezugnahme der staatlichen Doping-Definition auf die WADA-Verbotsliste

54

b) Dopingmittel i.S.d. Nr. 1

55

aa) Umfassend verbotene Substanzen

56

bb) In allen Sportarten lediglich im Wettkampf verbotene Substanzen

58

cc) Vom staatlichen Dopingverbot ausgenommene Substanzen

59

c) Dopingmethoden i.S.d. Nr. 2

59

aa) Manipulation von Blut und Blutbestandteilen

60

bb) Chemische und physikalische Manipulation

61

cc) Gen- und Zelldoping

62

d) Anwenden oder Anwenden-Lassen

64

2. Keine medizinische Indikation

65

II. Der subjektive Tatbestand

67

1. Vorsatz

67

a) Allgemeines

67

b) Irrtum über die Verbotenheit angewendeter Mittel als Verbotsirrtum i.S.d. § 17 StGB

67

2. Absicht der Verschaffung eines Vorteils in einem Wettbewerb des organisierten Sports

72

a) Allgemeines

72

b) Die Wettbewerbe i.S.d. Abs. 3

73

aa) Voraussetzungen der Nr. 1

73

(1) Indizien für eine Beschränkung auf Verbandssport unter dem Dach von DOSB und IOC

73

(2) Organisation und Beauftragung

75

(3) Ausweitung des Anwendungsbereichs der Verbotsnorm durch Anerkennung

75

(4) Systematische Unstimmigkeiten zwischen AntiDopG und §§ 265c, d StGB

76

bb) Voraussetzungen der Nr. 2

79

B. Die Wettkampfteilnahme in gedoptem Zustand, § 3 Abs. 2 AntiDopG

79

I. Der objektive Tatbestand

80

II. Der subjektive Tatbestand

81

C. Das Erwerbs- und Besitzverbot, § 3 Abs. 4 AntiDopG

82

I. Der objektive Tatbestand

82

II. Der subjektive Tatbestand

82

Kapitel 3

83

Die Sanktionsnorm des § 4 AntiDopG – Täterkreisbeschränkungen

83

A. Überblick über die Sanktionsnorm

83

B. Selbstdoping als Sonderdelikt – § 4 Abs. 7 AntiDopG

84

I. Die Verortung der Täterkreisbeschränkung im Deliktsaufbau

84

1. Die Gesetzestechnik als Indiz für eine objektive Strafbarkeitsbedingung

85

2. Strafrechtsdogmatische Argumente für eine Einordnung als Tatbestandsmerkmal

86

a) Vorsatzrelevanz

87

b) Unrechtsrelevanz

87

3. Schlussfolgerungen

90

II. Der Testpool-Athlet, § 4 Abs. 7 Nr. 1 AntiDopG

91

1. Der NADA-Testpool

92

2. Testpools ausländischer nationaler Anti-Doping-Agenturen

95

3. Kein Verweis auf Testpools nationaler Sportverbände

95

III. Einnahmen von erheblichem Umfang, Nr. 2 – Ein versteckter Auffangtatbestand

96

1. Erzielen von Einnahmen

96

2. Bezug der Einnahme zur sportlichen Betätigung

97

3. Erheblichkeit der Einnahme

99

a) Auffassungen in der Literatur

100

b) Eigene Auffassung – Auffangtatbestand für Mängel im Kontrollsystem

101

aa) Unergiebigkeit des Wortlauts

102

bb) Systematische Überlegungen

102

(1) Die Systematik des § 4 Abs. 7 AntiDopG als Indiz für die Erfassung des Breitensports

102

(2) Die Systematik der Sanktionsnorm des § 4 AntiDopG

102

(3) Einnahmen erheblichen Umfangs und berufssportlicher Wettbewerb in § 265d StGB

105

(4) Der Begriff der "Erheblichkeit" und des "bedeutenden Werts" im StGB

107

(5) Das Mindestlohngesetz als Indiz für eine hohe Einkommensgrenze

110

(6) Zwischenergebnis

113

cc) Genetisch-historische Auslegung

114

(1) Die Formel von der "maßgeblichen Leistung" als Indiz für eine Kriminalisierung des Breitensports

114

(2) Strafwürdigkeitsüberlegungen als Indiz für eine restriktive Auslegung

115

(a) Der finanzielle Anreiz des Dopings als Indiz für eine hohe Einkommensschwelle

115

(b) Die öffentliche Wahrnehmung als Indiz für die Relevanz des sportlichen Niveaus auch bei Nr. 2

117

(3) Zwischenergebnis

120

dd) Bestätigung genetisch-historischer Andeutungen zum Leistungsgedanken durch objektiv-teleologische Betrachtung

121

(1) Weitgehendes Leerlaufen der Einnahmeklausel bei Irrelevanz des sportlichen Niveaus

121

(a) Sozioökonomische Merkmale deutscher Spitzensportler

122

(b) Folgerungen für die Einnahmeklausel: Kein symbolisches Sonderstrafrecht für Amateurfußballer

126

(2) Schlussfolgerung: Nr. 2 als Auffangtatbestand für Mängel im Kontrollsystem

128

ee) Ergebnis

131

Teil 3: Das Rechtsgut der Selbstdopingdelikte

133

Kapitel 1

133

Das geschützte Rechtsgut

133

A. Methodik

133

I. Grundlagen

133

II. Rechtsgüterpluralismus und Schutzreflex

134

B. Rechtsgutsbezogene Tatbestandsanalyse

135

I. Die Verbotsnorm des § 3 AntiDopG

135

1. Tathandlung

135

a) Weitgehende Sportrechtsakzessorietät des Verbots

135

b) Partieller Gesundheitsschutz

135

2. Indizwirkung des subjektiven Tatbestands zugunsten eines Sportrechtsguts

136

3. Zwischenergebnis: Andeutung eines Rechtsguts der rechtlichen Chancengleichheit im sportlichen Wettbewerb durch § 3 AntiDopG

137

II. Die Sanktionsvorschrift des § 4 AntiDopG: Einnahmeklausel als schwaches Indiz für vorgelagerten Vermögensschutz

138

C. Systematische Auslegung

140

I. Die Systematik des AntiDopG

140

1. Hinweise aus § 1 AntiDopG

140

a) Entkräftung wirtschaftlicher Schutzzwecküberlegungen

140

b) Normative Absicherung eines Sportrechtsguts durch § 1 AntiDopG

140

c) Konkretisierungshemmnis durch Schutzbündelkonstruktion

141

d) Systematik der Norm als Indiz für hierarchisches Stufenverhältnis

142

2. Ausklammerung des "Zwischenziels" des Gesundheitsschutzes

143

3. Zwischenergebnis: Integrität des Sports als Rechtsgut, Verzerrung der rechtlichen Chancengleichheit als Angriffsrichtung?

144

II. Nebengesetzliche Verortung und §§ 265c, d StGB als Bestätigung der Systematik des AntiDopG

146

D. Genetisch-historische Auslegung

146

I. Ausdrückliches und zugleich unklares Bekenntnis zum Schutz der Integrität des organisierten Sports

146

II. Finanzielle Begleitinteressen

148

E. Objektiv-teleologische Überlegungen zum Vermögensschutz: Profitgier als strukturelle Ursache des Dopingproblems?

150

I. Dunkelfeldproblematik als Grundmangel rechtstatsächlicher Überlegungen

151

II. Schlüssigkeit maßgeblichen Einflusses finanzieller Motive

152

III. Empirisches

152

1. Kein Nachweis für mit finanziellen Gewinnen steigende Dopingaffinität

152

2. Mittelbare Erkenntnisse aus Athletenbefragungen

155

3. Zwischenergebnis

158

F. Fazit

159

Kapitel 2

161

Auswirkungen auf die Rechtsanwendung

161

A. Die Verbotsnorm des § 3 AntiDopG

161

I. Anpassung der Tathandlung an das sportrechtliche Reglement

161

II. Die medizinische Indikation bei leistungssteigernder "Nebenwirkung"

162

III. Bestätigung der Beschränkung auf beabsichtigte Manipulationen von Wettbewerben des Verbandssports

163

IV. Unmittelbarkeitszusammenhang zwischen Doping und angestrebtem Vorteil?

164

B. Die Sanktionsnorm des § 4 Abs. 7 Nr. 2 AntiDopG

165

C. Rechtswidrigkeit und Konkurrenzverhältnis zu § 2 AntiDopG

167

Teil 4: Bewertung der Selbstdopingdelikte

169

Kapitel 1

169

Verfassungsmäßigkeit der Selbstdopingdelikte

169

A. Gesetzgebungskompetenz des Bundes trotz Ausstrahlungen des Selbstdopingverbots in den Breitensport

169

B. Vereinbarkeit mit Art. 103 Abs. 2 GG

172

I. Grundlagen

172

1. Gesetzlichkeit und Bestimmtheit als Garantiegehalt des Art. 103 Abs. 2 GG

172

2. Auslegungsfähigkeit als praktischer Maßstab der Bestimmtheit von Strafgesetzen

174

3. Die parlamentarische Grundentscheidung als Wahrung des Gesetzlichkeitsgrundsatzes

176

II. Verfassungskonformität der Bestimmung von Dopingmitteln und -methoden durch § 3 AntiDopG

178

1. Gesetzlichkeit der Tatmittelbestimmung bei Inkrafttreten des AntiDopG

178

2. Zweifel an der Verfassungskonformität der Listenaktualisierung

179

a) Zulässigkeit außerparlamentarischer Listenaktualisierung nur bei weiten Spezifizierungskompetenzen

179

b) Wahrung innerstaatlicher Entscheidungsbefugnis nur bei formalistischem Verständnis

182

3. Bestimmbarkeit der Öffnungsklauseln

185

4. Ergebnis

187

III. Die Spitzensportlereigenschaft des § 4 Abs. 7 Nr. 1 AntiDopG

188

1. Zentrale Bedeutung der Rechtsnatur der Spitzensportlereigenschaft für die Reichweite von Art. 103 Abs. 2 GG

188

2. Verfassungswidrigkeit bei Einstufung als Blankettmerkmal

191

a) Hinreichende Bestimmbarkeit des Testpoolverweises

192

b) Verfassungswidrigkeit mangels Erforderlichkeit gesetzgeberischen "Outsourcings"

193

c) Verfassungsverstöße durch Änderungen auf Ebene des Verweisungsobjekts

196

aa) Neustrukturierung der Kadersystematik im DOSB

196

bb) Unzulässige dynamische Verweisung auf privates Regelwerk

197

cc) Verfassungsverstoß durch Leerlaufen des Verweisungsobjekts

199

d) Zwischenergebnis

200

3. Spitzensportlereigenschaft als verfassungskonformes rechtsnormatives Merkmal

200

a) § 4 Abs. 7 Nr. 1 AntiDopG als rechtsnormatives Merkmal

200

b) Geltung des Art. 103 Abs. 2 GG nur für das formelle Gesetz

202

c) Vereinbarkeit des § 4 Abs. 7 Nr. 1 AntiDopG mit Art. 103 Abs. 2 GG

203

IV. Auslegungsfähigkeit des § 4 Abs. 7 Nr. 2 AntiDopG

204

C. Vereinbarkeit mit den Grundrechten

205

I. Die strafbewehrte Verhaltensnorm als Beurteilungsmaßstab

206

II. Kein Eingriff in Art. 9 GG

208

1. Schutzbereich: Rechtsetzungs- und Disziplinargewalt der Sportverbände

208

2. Kein Eingriff in den Schutzbereich

209

a) Kein Eingriff in Rechtsetzungskompetenz bei sportrechtsakzessorischer Auslegung

209

b) Künftige Beeinträchtigungen der Verbandsstrafgewalt als nicht rechtfertigungsbedürftige Grundrechtsgefährdungen

210

III. Eingriffe in die allgemeine Handlungsfreiheit, das allgemeine Persönlichkeitsrecht und die Freiheit der Person

213

IV. Rechtfertigung

213

1. Schrankenvorbehalte

214

2. Schranken-Schranke der Verhältnismäßigkeit

214

a) Die legitimen Zwecke der strafbewehrten Selbstdopingverbote

214

aa) Problemaufriss: Werthaltigkeit, Bestimmtheit und Abstraktionsgrad des Schutzzwecks als verfassungsrechtliche Kategorien?

214

bb) Keine rechtsverbindliche Wirkung strafbarkeitsbegrenzender Rechtsgutskonzepte

216

cc) Kein unzulässiger Paternalismus

220

dd) Kein unzulässiger Moralschutz

222

ee) Abstrahierendes Rechtsgutsverständnis auf verfassungsrechtlicher Ebene

223

(1) Rechtliche Chancengleichheit als hinreichende Zweckabstraktion

225

(2) Grundsätzliche Berücksichtigungsfähigkeit gesamtgesellschaftlicher Auswirkungen des Dopings

226

(a) Das Gebot empirisch gestützter Schutzkonzepte

227

(b) Plausibilität als harte verfassungsrechtliche Grenze

228

(c) Subsumtion

229

ff) Rechtsgutsakzessorische Berücksichtigungsfähigkeit von Schutzreflexen

230

gg) Ergebnis

234

b) Die Geeignetheit der Maßnahme zur Zweckerreichung

235

aa) Erwiesene Untauglichkeit als praktischer Maßstab

235

bb) Subsumtion

235

c) Die Erforderlichkeit der Maßnahme zur Zweckerreichung

237

aa) Weitgehendes Leerlaufen der Prüfungsstufe

238

bb) Argumentationslinien

238

(1) Ineffektivität sportinterner Dopingbekämpfung

238

(2) Prioritätenverschiebung in der Sportförderpolitik und Aufklärung als kriminalpolitische Forderungen

240

d) Verhältnismäßigkeit im engeren Sinne

241

aa) Das abstrakte Gewicht der legitimierenden Zwecke

242

bb) Die Intensität ihrer Betroffenheit

244

(1) Massive Beeinträchtigung der Chancengleichheit

244

(2) Keine nennenswerten gesamtgesellschaftlichen Schäden

244

(3) Eingeschränkte Bedeutung des Autonomiegedankens

246

(4) Vermögensinteressen

252

cc) Der erreichbare Zuwachs an Rechtsgüterschutz

252

(1) Limitierte Abschreckungswirkung

253

(2) Zweifel an der moralischen Verbindlichkeit der Norm

255

dd) Abstraktes Gewicht und (geringe) Intensität der Betroffenheit der entgegenstehenden Grundrechte

256

ee) Überschreiten der Zumutbarkeitsgrenze

257

(1) (Versuchte) Teilnahme, §§ 3 Abs. 2, 4 Abs. 1 Nr. 5, Abs. 3 AntiDopG

258

(2) (Versuchte) Anwendung, §§ 3 Abs. 1, 4 Abs. 1 Nr. 4, Abs. 3 AntiDopG

259

(3) Erwerb und Besitz

260

3. Zwischenergebnis

262

V. Ergebnis

262

Kapitel 2

263

Rechtspolitische Bewertung der Kriminalisierung

263

A. Ablehnung der Schutzwürdigkeit überindividueller, gesamtgesellschaftlicher Interessen

263

I. Sportbegeisterung in der Bevölkerung als Auslöser des Folgeinteresses von Wirtschaft, Medien und Politik

265

II. Befriedigung der Folgeinteressen vornehmlich durch sportlichen Erfolg

266

III. Weitergabe mittelbaren Erfolgsdrucks an den und innerhalb des Sport‍(s)

267

IV. Wertekollision mangels formaler Akzeptanz des Dopings in der Gesellschaft

268

V. Auflösung des Spannungsfelds durch symbolische Dopingbekämpfung

270

VI. Ergebnis: Keine Strafschutzwürdigkeit überindividueller Schutzinteressen

273

B. Der Ausspruch des sozialethischen Vorwurfs durch den "Zweckveranlasser"

273

I. Normative Verabsolutierung des Leistungsgedankens in der staatlichen Spitzensportförderung

273

II. Der Stellenwert des Anti-Doping-Kampfs im Bundeshaushalt

276

III. Ergebnis: Das AntiDopG als staatliche Symbolpolitik

277

C. Individual‍(vermögens)‌schutz zugunsten der sauberen Konkurrenz

278

Teil 5: Fazit

280

Literaturverzeichnis

286

Stichwortverzeichnis

307