Law: wills, probate, succession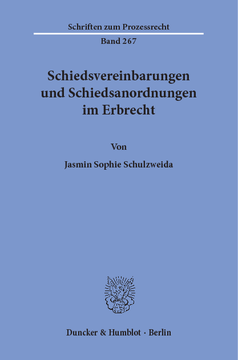 Additional Information
Book Details
ISBN

978-3-428-58082-8
978-3-428-18082-0 (print edition)

DOI

https://doi.org/10.3790/978-3-428-58082-8

Edition

1

Language

German

Pages

239

Collections

Subjects
Pricing
Institution

€ 92.00 (incl. local VAT if applicable)

Individual

€ 71.90 (incl. local VAT if applicable)
About The Author
Jasmin Schulzweida studierte Rechtswissenschaften an der Ruprecht-Karls-Universität Heidelberg und der Université de Genève. Nach der ersten juristischen Staatsprüfung im Jahr 2014 absolvierte sie ihr Referendariat am Oberlandesgericht Frankfurt am Main, mit Stationen bei der Deutschen Botschaft in Rom, einer internationalen Wirtschaftskanzlei im Bereich Litigation und dem Hanseatischen Oberlandesgericht. Anschließend promovierte sie bei Professor Dr. Rudolf Meyer-Pritzl an der Christian-Albrechts-Universität zu Kiel. Derzeit ist Jasmin Schulzweida Rechtsanwältin im Hamburger Büro einer führenden europäischen Wirtschaftssozietät.
Jasmin Schulzweida studied law at the Ruprecht-Karls-University Heidelberg and the Université de Genève. After her first state examination in 2014, she completed her legal clerkship at the Higher Regional Court of Frankfurt am Main with stages at the German Embassy in Rome, an international law firm in the area of litigation and the Hanseatic Higher Regional Court. Afterwards she received her PhD under Professor Dr. Rudolf Meyer-Pritzl at the Christian-Albrechts-University of Kiel. Jasmin Schulzweida is currently an attorney at law in the Hamburg office of a leading European law firm.
Abstract
Jasmin Schulzweida untersucht in ihrer Arbeit erstmals sowohl die Schiedsvereinbarung der Nachlassbeteiligten als auch die Schiedsanordnung des Erblassers und stellt beide Rechtsinstitute vergleichend gegenüber. Anlass für die Untersuchung gaben mehrere Gerichtsentscheidungen staatlicher Gerichte – darunter drei grundlegende Beschlüsse des BGH aus dem Jahr 2017, welche sich mit der Reichweite und den Grenzen der Schiedsanordnung des Erblassers befassten. Der BGH stellte unter anderem fest, dass die objektive Schiedsfähigkeit der Schiedsvereinbarung der Nachlassbeteiligten anders zu bestimmen sei als die objektive Schiedsfähigkeit der Schiedsanordnung des Erblassers. In ihrer Arbeit analysiert Jasmin Schulzweida, ob sich eine Ungleichbehandlung der Rechtsinstitute hinsichtlich Reichweite und Grenzen rechtfertigen lässt. Im Ergebnis spricht sie sich für eine im Wesentlichen gleiche rechtliche Behandlung aus und favorisiert eine einheitliche prozessuale Betrachtung im Bereich des Erbrechts. »Arbitration Agreements and Arbitration Orders in the field of Inheritance Law«

The author examines both the arbitration agreement of the testator's estate and the testator's arbitration order and analyses whether unequal treatment of the legal institutions can be justified in terms of scope and limits. The investigation was prompted by three decisions of the Federal Court of Justice (BGH) from 2017, which supported unequal treatment. In conclusion, the author pleads for equal legal treatment and favors a uniform procedural approach in the field of inheritance law.
Table of Contents
Section Title
Page
Action
Price

Vorwort

8

Inhaltsverzeichnis

12

Abkürzungsverzeichnis

18

1. Teil: Einleitung und Gang der Untersuchung

22

A. Einleitung

22

B. Gang der Untersuchung

25

2. Teil: Schiedsvereinbarungen der Nachlassbeteiligten

27

A. Begriffsbestimmung

27

B. Rechtsnatur

29

I. Vertrag

30

II. Vertragstyp

30

1. Materiell-rechtlicher Vertrag

31

2. Gemischter Vertrag

33

3. Prozessvertrag

35

4. Stellungnahme

36

III. Zusammenfassung

38

C. Zulässigkeit und Vereinbarkeit mit dem Grundgesetz

39

I. Zulässigkeit

39

1. Zulässigkeit folgt aus der Vertragsfreiheit

40

2. Zulässigkeit folgt aus prozessrechtlichen Normen

41

3. Stellungnahme

42

II. Vereinbarkeit mit dem Grundgesetz

43

1. Vereinbarkeit mit Art. 92 GG

44

2. Vereinbarkeit mit Art. 101 Abs. 1 S. 2 GG

45

3. Vereinbarkeit mit Art. 19 Abs. 4 S. 1 GG

46

III. Zusammenfassung

46

D. Objektive Schiedsfähigkeit

46

I. Regelung in § 1025 ZPO a.F. und § 1030 ZPO zur objektiven Schiedsfähigkeit

47

1. Regelung in § 1025 ZPO a.F.

48

a) Theorie der materiell-rechtlichen Vergleichsberechtigung

48

b) Theorie der verfahrensrechtlichen Vergleichsberechtigung

50

c) Theorie der objektiven Verfügbarkeit des Rechtsverhältnisses

51

d) Stellungnahme

52

2. Regelung in § 1030 ZPO

55

a) Schiedsfähigkeit von vermögensrechtlichen Ansprüchen

56

aa) Hintergrund der Regelung

56

bb) Der vermögensrechtliche Anspruch

57

cc) Kritik an der Neuregelung

57

b) Schiedsfähigkeit von nicht vermögensrechtlichen Ansprüchen

60

3. Zusammenfassung

61

II. Rechtsfolge fehlender objektiver Schiedsfähigkeit

61

E. Wirksamer Vertragsschluss

62

I. Anwendbares Recht

63

II. Wirksames Zustandekommen

65

III. Formanforderungen

66

IV. Zusammenfassung

71

F. Bindungswirkung

71

I. Subjektive Schiedsbindung

72

II. Schiedseinrede

74

III. Aufhebung der Schiedsvereinbarung

75

G. Entscheidungsbefugnis des Schiedsgerichts für ausgewählte Streitigkeiten

75

I. Bestehen und Gültigkeit der Schiedsvereinbarung

76

II. Materiell-rechtliche Ansprüche unmittelbar am Nachlass Beteiligter, welche der Zuständigkeit des Prozessgerichts unterliegen

77

1. Materiell-rechtliche Ansprüche der Nachlassbeteiligten

77

2. Materiell-rechtliche Grenzen

79

3. Billigkeitsentscheidung

80

III. Materiell-rechtliche Ansprüche Dritter, welche der Zuständigkeit des Prozessgerichts unterliegen

82

IV. Ansprüche, welche der Nachlassgerichtsbarkeit unterliegen

83

1. Grundsätzliche Anwendbarkeit der §§ 1025 ff. ZPO auf Verfahren der freiwilligen Gerichtsbarkeit

83

2. Streitigkeiten um die Erteilung eines Erbscheins

85

a) Antrag auf Erteilung und Entziehung des Erbscheins

86

b) Bindungswirkung der Entscheidung über Erbenstellung durch das Schiedsgericht für das Nachlassgericht

87

c) Bindungswirkung des Schiedsgerichts an Entscheidungen des Nachlassgerichts über die Erteilung des Erbscheins

88

3. Streitigkeiten um das Amt des Testamentsvollstreckers

89

a) Annahme und Ablehnung des Amts als Testamentsvollstrecker

89

b) Streitigkeiten um das Verfahren zur Erlangung eines Testamentsvollstreckerzeugnisses

90

c) Entlassung des Testamentsvollstreckers

90

d) Streitigkeiten zwischen mehreren Testamentsvollstreckern

92

H. Ergebnis

92

3. Teil: Schiedsanordnungen des Erblassers

95

A. Begriffsbestimmung und Abgrenzung zum Begriff der Schiedsvereinbarung

95

I. Begriffsbestimmung

96

II. Abgrenzung zum Begriff der Schiedsvereinbarung

96

B. Rechtsnatur

98

I. Einseitiges Rechtsgeschäft in Form einer letztwilligen Verfügung

98

II. Verfügungstyp

100

1. Materiell-rechtliche letztwillige Verfügung

100

a) Letztwillige Verfügung in Form einer Auflage oder Teilungsanordnung

102

b) Letztwillige Verfügung eigener Art

103

2. Typengemischte letztwillige Verfügung

103

3. Prozessuale letztwillige Verfügung

104

4. Stellungnahme

105

a) Keine Auflage, keine Teilungsanordnung und kein Vermächtnis

105

b) Keine typengemischte letztwillige Verfügung

107

c) Materiell-rechtliche letztwillige Verfügung eigener Art oder prozessrechtliche letztwillige Verfügung?

107

III. Zusammenfassung

109

C. Zulässigkeit und Vereinbarkeit mit dem Grundgesetz

109

I. Zulässigkeit

109

1. Zulässigkeit folgt aus dem materiellen Recht

110

a) Zulässigkeit folgt aus landesrechtlichen Regelungen

110

b) Zulässigkeit folgt aus den §§ 1937–1940 BGB

111

c) Zulässigkeit folgt aus Gesamtschau der erbrechtlichen Regelung im BGB

112

2. Zulässigkeit folgt aus der Testierfreiheit

114

3. Zulässigkeit folgt aus § 1066 ZPO

115

4. Stellungnahme

117

II. Vereinbarkeit mit dem Grundgesetz

121

III. Zusammenfassung

121

D. Objektive Schiedsfähigkeit

121

I. Rechtsgrundlage der objektiven Schiedsfähigkeit

122

1. Objektive Schiedsfähigkeit folgt aus materiellem Recht

122

2. Objektive Schiedsfähigkeit folgt aus § 1030 ZPO

125

a) Strikte Anwendung von § 1030 ZPO

125

b) Entsprechende Anwendung von § 1030 ZPO

126

c) Materiell-rechtliche Vorprüfung vor Anwendung des § 1030 ZPO

127

3. Objektive Schiedsfähigkeit folgt aus § 1025 ZPO a.F.

128

4. Objektive Schiedsfähigkeit folgt aus § 1066 ZPO

128

5. Objektive Schiedsfähigkeit folgt aus der Testierfreiheit des Erblassers

129

6. Stellungnahme

129

a) Bedeutung "in gesetzlich statthafter Weise"

130

b) Bedeutung "durch letztwillige Verfügung"

134

c) Bedeutung "entsprechende Anwendung des 10. Buchs der ZPO"

134

d) Fazit

137

II. Schiedsfähigkeit nach § 1025 ZPO a.F. und § 1030 ZPO

138

1. Schiedsfähigkeit nach § 1025 ZPO a.F.

138

2. Schiedsfähigkeit nach § 1030 ZPO

140

III. Zusammenfassung

140

E. Wirksame Anordnung

141

I. Anwendbares Recht

141

II. Wirksame Anordnung

142

III. Formanforderungen

143

1. Schiedsanordnung in einem Testament

144

2. Schiedsanordnung in einem gemeinschaftlichen Testament

146

3. Heilungsmöglichkeit nach § 1031 Abs. 6 ZPO

147

IV. Zusammenfassung

148

F. Bindungswirkung

148

I. Subjektive Schiedsbindung

149

II. Schiedseinrede

151

III. Aufhebung

154

IV. Zusammenfassung

155

G. Entscheidungsbefugnis des Schiedsgerichts für ausgewählte Streitigkeiten

156

I. Bestehen und Gültigkeit der Schiedsanordnung

156

II. Materiell-rechtliche Ansprüche unmittelbar am Nachlass Beteiligter, welche der Zuständigkeit des Prozessgerichts unterliegen

158

1. Materiell-rechtliche Ansprüche der Nachlassbeteiligten

158

a) Entscheidungen über die Erbfolge

158

b) Auslegung

160

c) Anfechtung der letztwilligen Verfügung

162

d) Auseinandersetzung des Nachlasses

164

e) Zusammenfassung

164

2. Materiell-rechtliche Grenze

164

3. Billigkeitsentscheidung

166

a) Ermächtigung durch den Erblasser

167

b) Ermächtigung durch die Parteien des Schiedsverfahrens

170

III. Materiell-rechtliche Ansprüche Dritter, welche der Zuständigkeit des Prozessgerichts unterliegen

172

1. Nachlassgläubiger

172

2. Pflichtteilsberechtigter

173

a) Mangelnde objektive Schiedsfähigkeit

174

b) Objektive Schiedsfähigkeit

179

aa) Ansicht von Geimer und Pawlytta

180

bb) Ansicht von Harder und Dawirs

181

cc) Ansichten, nach denen die objektive Schiedsfähigkeit aus § 1030 ZPO folgt

182

c) Mangelnde Schiedsbindung der Pflichtteilsberechtigten

182

d) Stellungnahme

184

aa) Objektive Schiedsfähigkeit

185

bb) Keine Schiedsbindung

186

e) Zusammenfassung

188

IV. Ansprüche, welche der Nachlassgerichtsbarkeit unterliegen

189

1. Streitigkeiten um die Erteilung eines Erbscheins

189

a) Antrag auf Erteilung und Entziehung des Erbscheins

189

b) Verfahren um die Erteilung und Entziehung des Erbscheins

192

2. Streitigkeiten um das Amt des Testamentsvollstreckers

195

a) Annahme und Ablehnung des Amts als Testamentsvollstrecker

195

b) Streitigkeiten um das Verfahren zur Erlangung eines Testamentsvollstreckerzeugnisses

196

c) Streitigkeiten um die Entlassung des Testamentsvollstreckers

197

aa) Mangelnde objektive Schiedsfähigkeit

198

bb) Objektive Schiedsfähigkeit

201

cc) Stellungnahme

203

d) Streitigkeiten über Meinungsverschiedenheiten zwischen mehreren Testamentsvollstreckern

205

H. Ergebnis

206

4. Teil: Schiedsanordnungen in Verträgen mit dem Erblasser

208

A. Schiedsanordnung im Erbvertrag

208

I. Schiedsvereinbarung oder Schiedsanordnung

209

1. Ansichten, nach denen es sich um eine Schiedsanordnung handelt

209

2. Ansichten, nach denen es sich um eine Schiedsvereinbarung handelt

210

3. Differenzierende Ansicht

210

4. Stellungnahme

211

II. Besonderheiten der Schiedsanordnung im Erbvertrag

213

1. Beeinträchtigende Verfügung nach § 2289 BGB

213

a) Ansichten, nach denen eine Beeinträchtigung vorliegt

214

b) Ansichten, nach denen keine Beeinträchtigung vorliegt

214

c) Stellungnahme

215

2. Formanforderung

216

3. Bindungswirkung

217

B. Schiedsvereinbarung in sonstigen Verträgen

217

C. Ergebnis

218

5. Teil: Zusammenfassung der Ergebnisse

219

Literaturverzeichnis

224

Sachwortverzeichnis

238