Employment & labour law: general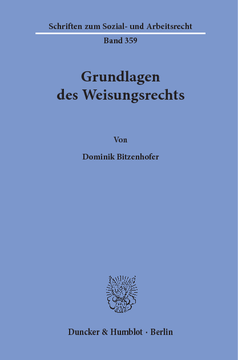 Additional Information
Book Details
ISBN

978-3-428-58019-4
978-3-428-18019-6 (print edition)

DOI

https://doi.org/10.3790/978-3-428-58019-4

Edition

1

Language

German

Pages

307

Collections

Subjects
Pricing
Institution

€ 104.00 (incl. local VAT if applicable)

Individual

€ 79.90 (incl. local VAT if applicable)
About The Author
Dominik Bitzenhofer studierte Rechtswissenschaften an der Rheinischen Friedrich-Wilhelms-Universität Bonn und der University of Sussex (UK). Von August 2016 bis Januar 2019 arbeitete er als wissenschaftlicher Mitarbeiter am Lehrstuhl von Prof. Dr. Stefan Greiner am Institut für Arbeitsrecht und Recht der Sozialen Sicherheit der Rheinischen Friedrich-Wilhelms-Universität Bonn. Sein Referendariat absolviert er beim Land Nordrhein-Westfalen im OLG-Bezirk Köln (Landgericht Köln).
Dominik Bitzenhofer studied law at the University of Bonn and the University of Sussex (UK). He is preparing for his second state examination in the federal state North Rhine-Wesphalia. From August 2016 to January 2019 he worked as a research assistant at the Universty of Bonn (Prof. Dr. Stefan Greiner).
Abstract
Der Autor zeichnet ein rechtsdogmatisches Panorama des Weisungsrechts des Arbeitgebers. Weil die Weisungsgebundenheit das Hauptkriterium für den Grad der persönlichen Abhängigkeit und damit für die Arbeitnehmereigenschaft ist, bildet das Weisungsrecht den Schlüssel zum Arbeitsrecht. Es ist der Transmissionsriemen von der abstrakten Arbeitspflicht zur konkreten Arbeitsleistung. Der Autor untersucht sowohl die Rechtsgrundlage des Weisungsrechts als auch seine Rechtsnatur und die der Einzelweisungen. Ferner analysiert er die Zentralnorm des § 106 GewO und widmet sich Grundfragen vertraglicher Vereinbarungen über das Weisungsrecht. Es folgt eine Untersuchung der Weisungsrechtserweiterung, der AGB-Kontrolle solcher Weisungsklauseln und der Wechselwirkungen mit dem Kündigungsschutz. Einen weiteren Themenkomplex bilden die Rechtsfolgen unbilliger Weisungen. Die Arbeit schließt mit einer Untersuchung des Verhältnisses von der allgemeinen Vorschrift zu Leistungsbestimmungsrechten (§ 315 BGB) und § 106 GewO.

Die Arbeit wurde ausgezeichnet mit dem Wissenschaftspreis 2020 der Stiftung Theorie und Praxis des Arbeitsrechts. »The Right to Give Instructions«

The author draws a legal-dogmatic panorama of the employer's right to give instructions. He examines its legal basis as well as its legal nature and that of individual instructions. This is followed by an examination of the extension of the right to issue instructions, the legal control of such extension clauses and the interactions with protection against dismissal. The legal consequences of unfair instructions are also examined. The thesis concludes with a clarification of the relationship between § 106 GewO and § 315 BGB.
Table of Contents
Section Title
Page
Action
Price

Vowort

7

Inhaltsübersicht

9

Inhaltsverzeichnis

11

Erster Teil: Einführung

19

A. Der Untersuchungsgegenstand

19

B. Gang der Untersuchung

23

Zweiter Teil: Rechtsgrundlage des Weisungsrechts

25

A. Einleitung

25

B. Uneinheitliche Rechtsprechung

28

C. Arbeitsteilung als Grund für das Weisungsrecht

32

I. Adam Smith als Vordenker der Arbeitsteilung

32

II. Aus Arbeitsteilung folgt Weisungsrecht

34

III. Vermengung von Grund und Rechtsgrund

36

IV. Beispiele aus Literatur und Rechtsprechung

36

V. Zwischenfazit

39

D. Weisungsbefugnis aus Eigentum

39

I. Eigentumstheorie als Kristallisationspunkt des strukturellen Ungleichgewichts

39

II. Eigentumstheorie am Beispiel Sinzheimers

40

III. Rezeption und Kritik

41

IV. Spielart der Eigentumstheorie: Weisung kraft Hausrechts

43

E. Wesen, Natur der Sache, Institutionen und NS-Arbeitsrecht

44

I. Aus der Natur bzw. aus dem Wesen

44

II. Institution und institutionelles Rechtsdenken

45

III. Das Denken in konkreten Ordnungen im Nationalsozialismus

46

IV. Das Gesetz zur Ordnung der nationalen Arbeit (AOG)

49

V. Relevanz des AOG für das Arbeitsvertragsrecht und für das Weisungsrecht

50

VI. Die Wandlung des Weisungsrechts

51

1. Durch das Führerprinzip

51

2. Durch eine Ausweitung der Treuepflicht

52

VII. Fazit

55

F. Begründung aus Gesetz und Vertrag

56

I. Gesetzestheorie

56

1. Wortlaut

60

2. Systematik

61

3. Gesetzesbegründung

65

4. Vorgeschichte der Regelung: Rechtszustand vor dem 1.1.2003

67

5. Regelungsgehalt des § 106 GewO

68

6. Fazit zur Begründungswirkung des § 106 GewO

70

II. Vertragstheorie

71

1. Vorbemerkungen

72

a) Untersuchungsfrage als Problem der Rechtsgeschäftslehre

72

b) Abgrenzung vom besonderen Weisungsrecht

73

c) Entscheidungsfreiheit über das Weisungsrecht

74

2. Eigenständiger Weisungsvertrag

76

3. Mitvereinbarung im Arbeitsvertrag

79

a) Ausdrückliche Mitvereinbarung

81

b) Konkludente Mitvereinbarung

83

c) Spielart der Mitvereinbarung: Essentiale-Begründung

86

4. Hier vertretener Ansatz: Mittelbar-vertraglicher Ursprung

87

a) Arbeitsverhältnisse ohne Arbeitsvertrag

90

b) Kein Widerspruch zu generellen Weisungen

93

5. Fazit zur Vertragstheorie

96

III. Vereinzelt: Doppelte Rechtsgrundlage

96

G. Summa

97

Dritter Teil: Rechtsnatur von Weisungsrecht und Weisung

98

A. Differenzierung zwischen Weisungsrecht und Weisung

98

B. Rechtsnatur des Weisungsrechts

100

I. Seckel als Ausgangspunkt, Bötticher als prägender Einfluss

100

II. Enriquez: Gestaltungsrechtsdefinition als Ausgangspunkt

103

1. Unterscheidung zwischen Rechtsänderungs- und Rechtswirkungsdefinition

103

2. Enriquez: Rechtsänderung versus Rechtskonkretisierung

105

3. Neue dogmatische Kategorie der Konkretisierungsrechte

106

4. Einordnung und Bewertung

106

a) Altbekanntes neu formuliert?

106

b) Rechtswirkungsdefinition nicht von Söllner

107

c) Konsequenz dieser Definitionsdivergenz schon bekannt

108

d) Rechtswirkung als Oberbegriff zu verstehen

108

III. Ansatzpunkt: Begriff der Rechtsänderung

110

1. Rechtswirkungsdefinition besonders beim Weisungsrecht

110

2. Verständnis der Rechtsänderung

110

C. Rechtsnatur der Einzelweisung

112

I. Reine Faktizität und Realakt

113

II. Willenserklärung

115

III. Differenzierung nach Regelungsgegenstand

116

IV. (Rechts)geschäftsähnliche Handlung

120

V. Zwischenfazit: Rechtsnatur der Einzelweisung

123

D. Das Weisungsrecht und seine Neuausübbarkeit

123

I. Begriff der Neuausübbarkeit

123

II. Interessenlage beim Gestaltungsrecht

124

III. Grundsatz des Verbrauchs

126

1. Formulierung des Grundsatzes

126

2. Ausnahme bei Dauerschuldverhältnissen

126

3. Abzulehnender Erklärungsversuch: Das Muttergestaltungsrecht

127

4. Weisungsrecht und ständige Pflichtanspannung

129

IV. Grundsatz der Unwiderruflichkeit

131

1. Rechtsverhältnislösung

132

2. Starke – Schutzzwecklösung

133

3. Vertragslösung

134

4. Derogationslösung

135

5. Melange aus den unterschiedlichen Begründungsansätzen

137

E. Bewertung beim erweiterten Weisungsrecht

137

Vierter Teil: Erweiterung des Weisungsrechts

139

A. Relevanz arbeitsvertraglicher Flexibilisierung

139

B. Arten der Weisungsrechtserweiterung

141

I. Die echte Weisungsrechtserweiterung

141

II. Die unechte Weisungsrechtserweiterung

142

III. Umfang des Weisungsrechts aus § 106 GewO?

143

1. Überwiegende Auffassung: § 106 GewO vermittelt weiten Umfang

143

2. A. A. (insbes. Hromadka): § 106 GewO vermittelt keinen Umfang

144

3. Ergebnis: Umfang folgt aus § 106 GewO

146

IV. Deklaratorische Weisungsklausel

146

V. Weisungsrechtserweiterung in Notfällen und bei mutterschutzrechtlichem Beschäftigungsverbot

147

1. Weisungsrechtserweiterung in Notfällen

147

2. Das "mutterschutzrechtliche Umsetzungsrecht"

148

3. Abzulehnende Ansicht: Gesetzliche Erweiterung in solchen Fällen

150

VI. Keine Erweiterung durch § 164 Abs. 4 S. 1 Nr. 1 SGB IX

151

VII. Zusammenfassung

153

C. Rechtsgrundlage bei Erweiterung des Weisungsrechts

154

D. Allgemeine Anforderungen an Weisungsklauseln

155

I. Zwei-Ebenen-Prüfung im Rahmen des Weisungsrechts

155

II. Von der Kernbereichs-Rechtsprechung zur AGB-Prüfung

155

III. Übergreifende AGB-rechtliche Hinweise

157

1. § 310 Abs. 4 S. 2 BGB – die im Arbeitsrecht geltenden Besonderheiten

157

2. § 305c Abs. 1 BGB – überraschende Klauseln

158

3. § 305c Abs. 2 BGB – Unklarheitsregel

158

4. Tarifliche Weisungsklauseln: Keine AGB-Kontrolle, aber § 2 KSchG

159

5. Bloße Beschreibung der Hauptleistungspflicht?

160

E. Konkrete Anforderungen an die Weisungsrechtserweiterung

161

I. Anforderungen an die unechte Weisungsrechtserweiterung

161

1. Keine Inhaltskontrolle bei unechter Weisungsrechtserweiterung

161

2. Anforderungen an die Transparenz

162

II. Anforderungen an die echte Weisungsrechtserweiterung

164

1. Unanwendbarkeit des § 308 Nr. 4 BGB

165

2. Unangemessene Benachteiligung

165

3. Konkretisierung durch Abwägungskriterien

166

a) Art der zu flexibilisierenden Leistung

167

b) Spezifisches Anpassung- und Flexibilisierungsbedürfnis

167

c) Dauer der Vertragsdurchführung

168

d) Kompensatorische Effekte

168

e) Bestand des Arbeitsverhältnisses an sich nicht gefährdet

169

f) Verlagerung des unternehmerischen Risikos

170

g) Stellung des Arbeitnehmers

170

h) Weite der Tätigkeitsvereinbarung

170

i) Unternehmensgröße

171

4. Inhalt der Arbeitsleistung: Zuweisung geringerwertiger Tätigkeit

171

a) Relevanz von Weisungsklauseln bzgl. des Inhalts der Tätigkeit

171

b) Zentrale Judikate (Neunter und Zehnter Senat)

173

c) Bestimmung der Arbeitswertigkeit

174

d) Zuweisung geringerwertiger Tätigkeit mit Vergütungsabsenkung

177

e) Geringerwertige Tätigkeit bei gleicher Vergütung

180

aa) Vergleich zu Widerrufs- Abrufklauseln

180

bb) Fazit: weitere materielle Anforderungen an die Angemessenheit

182

(1) Harmonisierung der Maßstäbe für Flexibilisierungsklauseln

182

(2) Weitere materielle Zulässigkeitsvoraussetzungen

183

III. Rechtsfolgen der AGB-rechtlichen Unwirksamkeit

184

F. Summa

186

G. Unwirksame Weisungsklauseln und Sozialauswahl

188

I. Erste Vorbemerkung: Weisungsrecht und Sozialauswahl

189

II. Zweite Vorbemerkung: Betriebsbezogenheit der Sozialauswahl

191

III. Keine klare Positionierung der Rechtsprechung

192

IV. Argumentation im Schrifttum

195

1. Objektive Rechtslage

195

2. Komplettsperrung der betriebsbedingten Kündigung

195

3. Verteilung des Prozessrisikos

196

4. Sanktionswirkungen

197

5. Unklarheitenregel des § 305c Abs. 2 BGB

198

6. Argumentationstopos Vertrag zu Lasten Dritter

198

7. AGB-rechtliche Grundsätze: Kein Berufen des Verwenders auf die Unwirksamkeit seiner AGB

199

a) Nutzens- bzw. Belastungsargument

200

b) Argument aus dem Drittbezug der Sozialauswahl

201

V. Fazit

202

Fünfter Teil: Die Verbindlichkeit unbilliger Weisungen

204

A. Entscheidung des Großen Senats abgewendet

204

I. Die wesentlichen Argumente des Zehnten Senats

207

II. Vereinzelte Kritik an der Entscheidung des Zehnten Senats

209

1. Betriebsorganisatorische Bedenken

209

2. Vergleichbarkeit mit der Änderungskündigung

210

B. Vermittelnde Lösungsansätze

212

I. Differenzierung zwischen Arten der Unbilligkeit

212

II. Differenzierung zwischen normalen / untergeordneten Weisungen

214

III. Zeitlicher Ansatz: Vorläufige Bindung bis zur ersten Entscheidung

215

IV. Differenzierung nach Intensität der Betroffenheit und Zeit

217

V. Prozessual: Stärkung des einstweiligen Rechtsschutzes?

220

1. Mögliche Hauptsacheverfahren

220

2. Bedeutung des einstweiligen Rechtsschutzes

221

a) Verfügungsanspruch

222

b) Verfügungsgrund

223

C. Fazit und Stellschrauben für ausgewogene Risikoverteilung

225

I. Klassisches Dilemma

225

1. Schwierigkeiten für den Arbeitgeber

225

2. Aber hohe Hemmschwelle der Nichtbefolgung

226

3. Weitere einzubeziehende Faktoren

228

4. Ergebnis der Abwägung

228

II. Folgen für die Beratungspraxis

229

III. Gleiche Rechtsfolge für rechtswidrige und unbillige Weisungen?

230

1. Für differenzierende Rechtsfolge

231

2. Gegen differenzierende Rechtsfolge (Einheitslösung)

231

IV. Hinweispflicht des Arbeitnehmers mit Fristbindung

233

V. Annahmeverzugslohn für Arbeitnehmer nur bei Hinweis

237

VI. Auskunftsanspruch des Arbeitnehmers auf Billigkeitsaspekte?

238

Sechster Teil: Verhältnis von § 106 GewO zu § 315 BGB

240

A. Regelungsübergreifende Argumente

243

I. Wortlaut des § 106 GewO: Verweis auf § 315 BGB?

243

II. Gesetzesbegründung: Gesetzgeber zu § 106 GewO

244

III. Historischer Gesetzgeber zu § 315 BGB

245

IV. Früher Anwendung des § 315 BGB wegen "billigen Ermessens"

248

V. Klammerprinzip für Anwendung des § 315 BGB

250

VI. Klammerprinzip gegen Anwendung des § 315 BGB

250

VII. Weisungsrecht als Leistungsbestimmungsrecht

251

VIII. Komplementierung vs. Konkretisierung

252

IX. Sachlicher Regelungsgegenstand

253

X. Dauercharakter des Weisungsrechts

253

XI. Inhaberschaft des Rechts

254

B. Regelungsinterne Argumente

255

I. Weitere Anwendung von § 315 Abs. 1 BGB?

255

II. Weitere Anwendung von § 315 Abs. 2 BGB?

255

III. Weitere Anwendung von § 315 Abs. 3 S. 1 BGB?

256

1. Rechtsfolge des § 315 Abs. 3 S. 1 BGB verführt zur Anwendung

256

2. Ablehnung von Bindung mit § 106 S. 1 GewO

257

3. Ablehnung von Bindung mit § 134 BGB i. V. m. § 106 S. 1 GewO

258

a) Weisungserteilung als Rechtsgeschäft

258

b) § 106 S. 1 GewO als Verbotsgesetz

259

aa) Wortlaut des § 106 S. 1 GewO

260

bb) Abdingbarkeit des § 106 S. 1 GewO

261

cc) Sinn und Zweck des § 106 S. 1 GewO

261

c) Telos des § 106 S. 1 GewO ergibt "nichts anderes"

261

d) Fazit

262

4. Anschlussfrage: Erforderlichkeit von Leistungsverweigerungsrechten?

263

IV. § 315 Abs. 3 S. 2 BGB

263

1. Hauptargument: Unzulässiger Eingriff in Art. 12 Abs. 1 GG

264

2. Weitere Nuancierungen in der Literatur

265

3. Fazit: Keine Anwendung außer bei Ermessensreduzierung

266

C. Fazit: Was bleibt von § 315 BGB?

268

Siebenter Teil: Zusammenfassung

270

Literaturverzeichnis

279

Sachverzeichnis

303