Civil Servants law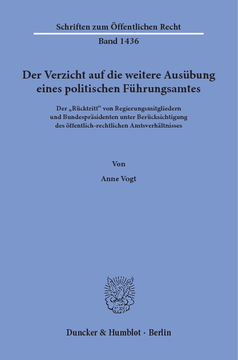 BOOK
Der Verzicht auf die weitere Ausübung eines politischen Führungsamtes
Der »Rücktritt« von Regierungsmitgliedern und Bundespräsidenten unter Berücksichtigung des öffentlich-rechtlichen Amtsverhältnisses
Schriften zum Öffentlichen Recht, Vol. 1436
(2020)
Additional Information
Book Details
ISBN

978-3-428-55827-8
978-3-428-15827-0 (print edition)

DOI

https://doi.org/10.3790/978-3-428-55827-8

Edition

1

Language

German

Pages

238

Collections

Subjects
Pricing
Institution

€ 92.00 (incl. local VAT if applicable)

Individual

€ 71.90 (incl. local VAT if applicable)
About The Author
Anne Vogt studierte Rechtswissenschaften an der Heinrich-Heine-Universität Düsseldorf. Nach ihrem Ersten Staatsexamen 2014 arbeitete sie dort an der Professur für Öffentliches Recht bei Prof. Dr. Lothar Michael als wissenschaftliche Mitarbeiterin. 2018 nahm sie im Bezirk des Kammergerichts (Berlin) ihren Vorbereitungsdienst mit Stationen am Amtsgericht Charlottenburg, der Staatsanwaltschaft Berlin (Abteilung Organisierte Kriminalität) und im Verfassungsreferat des Bundespräsidialamts auf. Nach einer Station bei einer Wirtschaftskanzlei im Verfassungs- und Wirtschaftsverwaltungsrecht schloss sie das Referendariat im Deutsch-Chinesischen Programm Rechtskooperation der GIZ in Peking ab.
Anne Vogt studied law at Heinrich-Heine-University Düsseldorf (Germany). After the first legal state examination in 2014 she worked as a research fellow at the university's Chair for Public Law with Prof. Lothar Michael while completing her doctoral thesis. In 2018 she began her legal traineeship at the Berlin Higher Regional Court, working for the District Court, the Public Prosecutor's Office (Department for Organised Crime), the Office of the Federal President, the law firm Noerr LLP in the department of regulation and governmental affairs and the Sino-German Legal Cooperation Programme in Beijing.
Abstract
Die Arbeit behandelt ein verfassungsrechtliches Thema, das zugleich einen starken rechtspolitischen Einschlag aufweist. Der Amtsverzicht von Spitzenpolitikern – auch medial regelmäßig als »Rücktritt« bezeichnet – wirft Kernfragen des Staatsorganisationsrechts auf. Dabei sollte das Prozedere möglichst klar sein, damit sich die Betroffenen und die Staatspraxis darauf einrichten können. Auch wenn eine umfassende Durchnormierung der Ausübung politischer Führungsämter deren Wesen widerspräche, überrascht es, dass ausgerechnet für die beiden bundespolitisch bedeutendsten Ämter, Bundeskanzler und Bundespräsident, keine nennenswerten Regelungen existieren. Die Arbeit bemüht sich um die Erschließung des Wesens des jeweiligen Amtes, um die etwaigen rechtlichen und politischen Folgen einer Verzichtserklärung beantworten zu können. Dazu nimmt sie einen prozeduralen Ansatz zur Gewährleistung eines adäquaten Amtsübergangs in den Blick. »The Resignation by German Government Officials and Federal Presidents in Consideration of Public Law Regulations Governing Public Office«

The thesis investigates a topic of both constitutional law and legal policy. The resignation of senior politicians raises key questions of German constitutional law. Since few specific relevant norms exist, the dissertation tries to capture the nature and essence of different public offices, in order to answer the consequences of a declared resignation. It envisages a procedural approach to ensure an adequate transition of office.
Table of Contents
Section Title
Page
Action
Price

Vorwort

5

Inhalt

7

A. Einleitung

13

B. Die Ausgestaltung politischer Führungsämter durch das ihnen zugrundeliegende Rechtsverhältnis und die unpräzise Verwendung des Terminus' "Rücktritt"

15

I. Ausgangspunkt der Untersuchung: Das öffentliche Amt

16

1. Das öffentliche Amt im deutschen Recht

16

a) Die strafrechtliche Definition von Amtsträgern

16

b) Amtsträger des öffentlichen Dienstes

17

c) Der Amtsbegriff unter dem Grundgesetz

18

aa) Der Zugang zu öffentlichen Ämtern nach Art. 33 Abs. 2 GG

18

bb) Das anvertraute öffentliche Amt nach Art. 34 S. 1 GG

19

cc) Unterschiedliche Verwendung des Amtsbegriffs im Grundgesetz

21

2. Ursprung des öffentlichen Amtes

22

3. Inhaber politischer Führungsämter als Kreationsbeauftragte

26

II. Das öffentlich-rechtliche Amtsverhältnis politischer Führungsämter

27

1. Das Amtsverhältnis

28

2. Freiwilligkeit bei politischen Ämtern

32

a) Notwendige Voraussetzung für den Beginn des Amtsverhältnisses

32

b) Fehlende Aussagekraft der Freiwilligkeit der Übernahme eines Amtes für die Beendigung des Amtsverhältnisses

34

III. Der Begriff "Rücktritt" im Zusammenhang mit der Beendigung des Amtsverhältnisses

36

1. Der Rücktritt im Strafrecht als Grund zur Aufhebung der Strafbarkeit

37

2. Der Rücktritt im Zivilrecht als Instrument zur gegenseitigen Rückgewähr

37

3. Die Beendigung öffentlicher Rechtsverhältnisse

39

C. Der Amtsverzicht des Bundeskanzlers

41

I. Das öffentlich-rechtliche Amtsverhältnis des Bundeskanzlers

41

1. Wahl und Ernennung des Bundeskanzlers

41

a) Die Wahl des Bundeskanzlers durch den Bundestag als Ausdruck des parlamentarischen Regierungssystems

42

b) Die Ernennung des Bundeskanzlers durch den Bundespräsidenten

44

2. Die Verantwortlichkeit des Bundeskanzlers

45

a) Die Bedeutung des Amtes des Bundeskanzlers im Staatsaufbau

45

b) Das Verantwortlichkeitsverhältnis des Bundeskanzlers

47

aa) Zusammenhang von Verantwortlichkeit und Zuständigkeit

48

bb) Zusammenhang von Vertrauen bei der Entscheidungsfindung und Kontroll- und Sanktionsrechten

50

cc) Die verschiedenen Dimensionen von Verantwortlichkeit

52

3. Beendigung des Amtsverhältnisses des Bundeskanzlers nach dem Grundgesetz

54

a) Zusammentritt eines neuen Bundestages, Art. 69 Abs. 2 Hs. 1 GG

55

b) Konstruktives Misstrauensvotum, Art. 67 Abs. 1 GG

56

c) Amtsbeendigung nach Versagung des Vertrauens, Art. 68 Abs. 1 GG

58

aa) Mögliche Folgen einer Versagung des Vertrauens

58

bb) Die Wahl eines neuen Bundeskanzlers nach Art. 68 Abs. 1 S. 2 GG

59

cc) Die auflösungsgerichtete Vertrauensfrage

60

d) Sonstige – nicht ausdrücklich im Grundgesetz geregelte – Fälle der Amtsbeendigung

62

II. Verfahren und Voraussetzungen für den Amtsverzicht des Bundeskanzlers

64

1. Das bei einem Amtsverzicht verfassungsrechtlich und politisch aufgeladene Spannungsfeld

65

a) Die fehlende Regelung des Verzichtsrechts

65

b) Die Verantwortlichkeit des Bundeskanzlers

66

aa) Amtsverzicht aus persönlichen Gründen

66

bb) Amtsverzicht als Übernahme von Verantwortung für Fehlverhalten

67

c) Die politische Bedeutung der Amtsperson

69

d) Die Sinnhaftigkeit, einen unwilligen Bundeskanzler zur Weiterführung des Amtes zu zwingen

71

e) Grundrechte des Amtsinhabers

73

f) Die Handlungsfähigkeit der Bundesregierung

74

aa) Die verfassungsrechtlich abgesicherte Regierungsstabilität

75

(1) Die Bedeutung des Art. 67 GG für den Stabilitätscharakter des Grundgesetzes

75

(2) Die Systematik der Stabilitätssicherung

77

(3) Die Bedeutung der Stabilität

79

bb) Das Konzept der Geschäftsregierung

81

(1) Die personelle Besetzung des geschäftsführenden Bundeskanzlers

82

(a) Mögliche Adressaten eines Ersuchens des Bundespräsidenten

83

(b) Die Verpflichtung des Bundeskanzlers aus Art. 69 Abs. 3 GG

86

(aa) Freiwilligkeit des Amtes

86

(bb) Kein Weigerungsrecht für den Bundeskanzler

89

(cc) Lösung über einen Entscheidungsspielraum des Bundespräsidenten

91

(2) Kompetenzen des geschäftsführenden Regierungschefs

95

(3) Das Legitimationsdefizit der Geschäftsregierung

99

g) Der Abwägungsvorgang bei einem Amtsverzicht des Bundeskanzlers

103

2. Anerkennung eines bedingten Verzichtsrechts

104

3. Das Verfahren des Amtsverzichts des Bundeskanzlers im Detail

107

a) Die konkreten Anforderungen an einen Amtsverzicht

107

aa) Vermutung für den Verzicht – kein Erfordernis eines besonderen Grundes

107

bb) Gewährleistung eines adäquaten Übergangs durch Verfahrensanforderungen

110

(1) Probleme des aktuellen Meinungsstandes hinsichtlich des Amtsverzichts des Bundeskanzlers

111

(2) Ausgleichende Einbindung aller Verfassungsorgane

113

(a) Frühzeitige nichtöffentliche Einbindung des Bundespräsidenten mit zusätzlicher Einführung einer Verfahrensfrist

113

(b) Verzichtserklärung an den Bundestag

118

(c) Formale Entlassung durch den Bundespräsidenten

119

b) Regelungsvorschlag

120

4. Folgenbetrachtung

120

a) Auswirkungen der Beendigung des Amtsverhältnisses

121

b) Folgen bei verfahrenswidrigem Verhalten des Bundeskanzlers

123

aa) Fehler in Bezug auf das Vorgespräch mit dem Bundespräsidenten

125

(1) Nichtbeachtung der Gefährdung der Handlungsfähigkeit der Regierung

125

(2) Persönliche Gründe des Bundeskanzlers

128

bb) Auswahl des falschen Adressaten

128

cc) Nichteinhaltung der Frist

130

dd) Kontrollinstanz für die Überprüfung der Auswirkung von Verfahrensfehlern

130

c) Konsequenz der regellosen Situation

131

5. Einzelprobleme

131

a) Amtsverzicht nach negativem Ausgang der Vertrauensfrage

131

b) Amtsbeendigung, um einem konstruktiven Misstrauensvotum zuvorzukommen

133

c) Misstrauensantrag zwischen Verzichtserklärung und Entlassung

134

d) Entstehen einer Verzichtspflicht

135

e) Amtsverzicht zur Nachfolgeregelung

136

f) Amtsverzicht als Arbeitsplatzwechsel

137

g) Frühzeitige Ankündigung des Verzichts zu einem bestimmten Zeitpunkt

138

III. Resümee für den Amtsverzicht des Bundeskanzlers

140

D. Der Amtsverzicht des Bundespräsidenten

142

I. Das Amtsverhältnis des Bundespräsidenten

142

1. Die Wahl des Bundespräsidenten

143

a) Schwächung der Machtposition des Bundespräsidenten durch eine nicht-plebiszitäre Wahl

143

b) Die Prägung der Wahl durch die Parteien

144

c) Das Wahlorgan Bundesversammlung

145

d) Der Beginn des Amtsverhältnisses des Bundespräsidenten

146

2. Die Verantwortlichkeit des Bundespräsidenten

147

a) Die Mannigfaltigkeit des Amtes des Bundespräsidenten

148

aa) Die verfassungsrechtlichen Befugnisse des Bundespräsidenten

148

bb) Die repräsentative und integrative Funktion des Amtes

150

b) Die konkreten Verantwortlichkeitsverhältnisse

153

3. Die Beendigung des Amtsverhältnisses des Bundespräsidenten

156

a) Amtsbeendigung durch Ablauf der Amtszeit

156

b) Amtsbeendigung wegen Verlustigerklärung durch das Bundesverfassungsgericht, Art. 61 Abs. 2 S. 1 GG

156

c) Sonstige Fälle der vorzeitigen Beendigung des Amtsverhältnisses

157

aa) Verlust der Fähigkeit zur Bekleidung öffentlicher Ämter

158

bb) Schwere Krankheit ohne Möglichkeit zum Verzicht

158

II. Das Verfahren für den Amtsverzicht des Bundespräsidenten

160

1. Vergleichbarkeit und Unterschiede zum Kanzlerverzicht

160

a) Kein Ernennungs- und Entlassungsakt

160

b) Potenzial des Amtsträgers

161

aa) Verringertes aktives Gestaltungspotenzial

161

bb) Erhöhte Anforderungen an das Autoritätspotenzial des Amtsträgers

164

c) Der schwach legitimierte und kaum repräsentative Zufallsstellvertreter

166

aa) Die Auswahl und der Status des Stellvertreters des Bundespräsidenten

166

bb) Die Stellung des Bundesratspräsidenten im Vertretungsfall nach Art. 57 GG

167

(1) Die Repräsentationsfunktion als höchstpersönliche Aufgabe des Bundespräsidenten

168

(2) Die Ausübung verfassungsrechtlicher Befugnisse des Bundespräsidenten durch den Präsidenten des Bundesrates

169

(3) Eingeschränkte Vertretungsbefugnis des Bundesratspräsidenten

173

cc) Die Entscheidung über das Eintreten des Verhinderungsfalls nach Art. 57 GG

173

d) Bedeutung von Kontinuität im Amt des Bundespräsidenten

175

2. Die vom Bundespräsidenten zu beachtenden Anforderungen für den Amtsverzicht

176

a) Grundsätzliche Möglichkeit des vorzeitigen Verzichts

176

b) Die Modalitäten des Verzichts des Bundespräsidenten

178

aa) Kein Erfordernis besonderer Gründe

178

bb) Einschränkung des Verzichtsrechts

180

(1) Unzulässigkeit des Amtsverzichts

180

(2) Der angekündigte Amtsverzicht

181

(a) Vorteile des angekündigten Amtsverzichts

182

(b) Notwendigkeit eines angekündigten Verzichts

183

cc) Die Verzichtserklärung

185

(1) Die Erklärungsadressaten

185

(2) Das konkrete Verfahren

187

dd) Versäumnis der Kodifizierung des Rechtsverhältnisses des Bundespräsidenten

188

3. Die Wirkungen des Verzichts

189

a) Fehlerfolgen

189

b) Ruhebezüge eines demissionierten Bundespräsidenten

191

III. Resümee für den Amtsverzicht des Bundespräsidenten

195

E. Die Amtsverzichte der Regierungschefs der Bundesländer

197

I. Elemente des Amtsverhältnisses und daraus sich entwickelnde Vorgaben für den Amtsverzicht

197

1. Kodifikation des Verzichts

198

2. Die sich aus der Stellung des Regierungschefs ergebende Reichweite des Verzichtsrechts

198

a) Die Abhängigkeit des Regierungschefs vom Parlament – das Parlament als Verantwortlichkeitsadressat

198

b) Die Befugnisse als Regierungschef

200

aa) Die Personalhoheit über die Regierungszusammensetzung

200

bb) Die Richtlinienkompetenz

201

c) Die Geschäftsführungspflicht

202

d) Die zusätzlichen Befugnisse als Landesoberhaupt

203

e) Keine Einschränkungsmöglichkeit des jederzeitigen Rechts

206

3. Der Beginn des Amtsverhältnisses als zur Beendigung konträrer Moment

208

a) Die Wahl durch das Parlament

208

b) Die Momente des Beginns und der Beendigung des Amtsverhältnisses

209

II. Die Pflichten zur Niederlegung des Amtes durch den Regierungschef in den Landesverfassungen, insbesondere in der bayerischen Verfassung

211

F. Der Amtsverzicht der Minister

214

I. Das Amtsverhältnis der Bundesminister

214

1. Die Ernennung und die Entlassung der Bundesminister

214

2. Die Verantwortlichkeit der Bundesminister: Eigenständigkeit und Abhängigkeit

215

3. Der Verzicht

217

a) Die verfahrensrechtlichen Anforderungen an einen wirksamen Amtsverzicht

217

b) Jederzeitiges Recht zum Verzicht mit Pflicht zur Geschäftsführung

218

II. Unterschiede bei den Landesministern

220

G. Abschließende Zusammenführung der Anforderungen an den Verzicht auf die weitere Ausübung eines politischen Führungsamtes

221

I. Der "Rücktritt von einem Amt" als Beendigung des dem Amt zugrunde liegenden öffentlich-rechtlichen Amtsverhältnisses

221

II. Fehlende Aussagekraft allgemeiner Regelungen über die Beendigung der Amtsverhältnisse

222

III. Beschränkte Aussagekraft von Geschäftsführungsverpflichtungen nach Beendigung des Amtsverhältnisses

223

IV. Die Freiwilligkeit bei der Übernahme öffentlicher Ämter – keine Freiwilligkeit zur Beendigung

225

V. Bedeutung der Verantwortlichkeit beim Verzicht auf ein politisches Führungsamt

225

VI. Der Beendigungsakt für das öffentlich-rechtliche Amtsverhältnis als actus contrarius zum Begründungsakt

226

VII. Ausgleichslösung: Regel-Ausnahme-System zur Gewährung eines vernünftigen Übergangs

226

Literaturverzeichnis

228

Sachwortverzeichnis

236