Legal history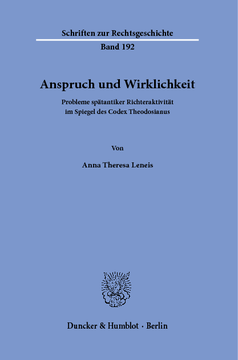 BOOK
Anspruch und Wirklichkeit
Probleme spätantiker Richteraktivität im Spiegel des Codex Theodosianus
Schriften zur Rechtsgeschichte, Vol. 192
(2020)
Additional Information
Book Details
ISBN

978-3-428-58120-7
978-3-428-18120-9 (print edition)

DOI

https://doi.org/10.3790/978-3-428-58120-7

Edition

1

Language

German

Pages

229

Collections

Subjects
Pricing
Institution

€ 86.00 (incl. local VAT if applicable)

Individual

€ 67.90 (incl. local VAT if applicable)
About The Author
Anna Theresa Leneis studierte von 2007 bis 2014 Rechtswissenschaften sowie von 2008 bis 2014 Mittelalterliche und Alte Geschichte an der Ludwig-Maximilians-Universität München. Den juristischen Vorbereitungsdienst absolvierte sie zwischen 2014 und 2016 am Oberlandesgericht München u.a. mit einer Station in Melbourne, Australien. Anschließend promovierte sie bei Prof. Dr. Rudolf Haensch an der Ludwig-Maximilians-Universität München und war promotionsbegleitend als Anwältin im Bereich Immobilien- und Baurecht tätig. Seit 2020 ist Anna Theresa Leneis Regierungsrätin im Bayerischen Staatsministerium für Wissenschaft und Kunst.
Anna Theresa Leneis studied law, medieval and ancient history at the Ludwig Maximilian University of Munich between 2007 and 2014. Following her legal clerkship at the Higher Regional Court of Munich, which included an assignment in Melbourne, Australia, she wrote her doctoral thesis under the guidance of Prof. Dr. Rudolf Haensch at the Ludwig Maximilian University of Munich. Whilst completing her doctorate, she worked as a lawyer in the fields of real estate and construction law. Since 2020 she is working at the Bavarian State Ministery for Science and the Arts.
Abstract
Die Rechtsprechung stellte in der vormodernen Herrschaftsorganisation des Imperium Romanum die zentrale öffentliche Aufgabe dar. Herrschaftsausübung und Jurisdiktion waren dabei in der römischen Antike eng verknüpft – eine Gewaltenteilung war dem römischen Staat fremd. Effizienz und Funktionalität des spätantiken Gerichtswesens hingen mithin entscheidend von den Amtsträgern in den Provinzen ab, die sich in dem Versuch, all ihren Verpflichtungen nachzukommen, in einem Spannungsfeld zwischen Anspruch und Wirklichkeit wiederfanden. Die der Untersuchung zugrundeliegenden, ausgewählten Kaiserkonstitutionen aus der Zeit von Konstantin bis zum Ende der Theodosianischen Dynastie betreffen allesamt unrechtmäßige Handlungspraktiken bei Gericht, formulieren teils Vorwürfe an den direkt angesprochenen, zuständigen Richter oder allgemein, gerichtet an iudices ordinarii und greifen »Missstände« auf, die schlussendlich alle in den breiten Kontext der »Verfahrensverzögerung und -umgehung« und fehlenden »Richteraktivität« zu stellen sind. »Theory and Reality. Difficulties of Late Antique Administration of Justice as Mirrored by the Theodosian Code«

The efficiency and functionality of the late antique judicial system depended to a large extent on the governors in the provinces. The emperor's constitutions examined in this study contain unlawful practices in court, contain, among other things, accusations against the governors and their officia, and address different types of maladministration, all of which must ultimately be placed in the broad context of »procedural delay and circumvention of procedure«.
Table of Contents
Section Title
Page
Action
Price

Vorwort

7

Inhaltsverzeichnis

9

Abkürzungsverzeichnis

11

A. Einleitung

13

I. Jurisdiktion, Herrschaftspraxis und "Missbrauch" in der Spätantike?

13

II. Zeitraum, Quellen und Zielsetzung

20

B. Von Macht und Zeit: Umgehung des Erkenntnis- und Vollstreckungsverfahrens

25

I. Die neglegentia iudicum

25

1. Terminologie und jurisdiktiver Kontext

25

a) Culpa, neglegentia et diligentia

26

2. Die neglegentia iudicum im Codex Theodosianus

33

a) Fragestellung

34

b) Kontrolle durch das officium

40

II. Die gratia iudicum

43

1. Terminologie und jurisdiktiver Kontext

43

2. Die gratia iudicum im Codex Theodosianus

57

a) Fragestellung

57

b) Die gratia iudicum und die Störung des ordentlichen Verfahrensablaufs

59

c) Gratia und pecunia

63

d) Iudices und honorati

67

e) Die gratia iudicum und die Desertion

69

f) Die gratia iudicum und die Strafvollstreckung

73

g) Die gratia iudicum im Kontext der "Religionsgesetzgebung"

77

III. "Aus den Augen, aus dem Sinn" – Inhaftierung als Alternative zu Verfahrensführung und -vollstreckung?

84

1. Fragestellung

84

2. Zur Untersuchungs- und Strafhaft in der Spätantike

88

a) Zu den verschiedenen Funktionen der Gefängnishaft

90

b) Das Gefängnis als empfundene poena

92

3. Die Inhaftierung als Mittel der "Verfahrensumgehung" im Codex Theodosianus

97

a) Kontrolle durch regelmäßigen Bericht

97

b) Kontrolle durch "Haftprüfung"

106

C. Von Gewalt und Unterdrückung: Die Umgehung der Rechtsmittelinstanz

114

I. Inhaftierung und Anwendung von Gewalt zur Unterbindung der Rechtsmitteleinlegung

114

1. Die erstmalige Inhaftierung vor/bei Rechtsmitteleinlegung im Codex Theodosianus

115

a) Die Inhaftierung als Ausübung magistraler Koerzitionsgewalt

115

b) Custodia militaris und custodia libera

117

c) Inhaftierung bei Rechtsmitteleinlegung im Codex Theodosianus

120

d) Bürgschaft oder Inhaftierung

121

e) Carcer und custodia

124

2. Die Gewaltanwendung bei Rechtsmitteleinlegung im Codex Theodosianus

126

a) Officium und iniuria

126

b) Öffentlichkeit als Korrektiv

133

c) Furcht vor contumelia

137

II. Iudex appellatio non recipitur

140

1. Das Rechtsmittel der appellatio in der Spätantike

140

2. Die Nichtannahme von Appellationen im Codex Theodosianus

147

a) Zulässigkeit von Appellationen in (Zivil- und) Strafverfahren

147

b) Entwicklung der Strafhöhe

152

III. Die transmissio suppressa

157

1. Zur Bedeutung der Schriftlichkeit im Rechtsmittelverfahren

157

2. Die Unterdrückung entscheidungsrelevanter Gerichtsakten im Codex Theodosianus

160

a) Zur Vollständigkeit der zu übersendenden Gerichtsakten

160

b) Consultatio (ante sententiam)

161

c) Relatio, supplicatio und appellatio

166

d) Nachbesserungsmöglichkeit bei Unvollständigkeit?

171

e) Imperiale Gegenmaßnahme: Fristen

177

D. Zusammenfassung und Ausblick

187

Literaturverzeichnis

195

Stichwortverzeichnis

223