Philosophy: epistemology & theory of knowledge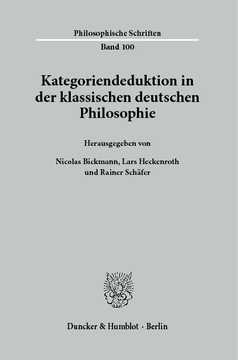 Additional Information
Book Details
ISBN

978-3-428-55925-1
978-3-428-15925-3 (print edition)

DOI

https://doi.org/10.3790/978-3-428-55925-1

Edition

1

Language

German

Pages

164

Collections

Subjects
Pricing
Institution

€ 80.00 (incl. local VAT if applicable)

Individual

€ 62.90 (incl. local VAT if applicable)
About The Author
Nicolas Bickmann studierte Geschichte und Philosophie an den Universitäten Köln, Paris-Sorbonne IV und Bonn. 2018-2019 absolvierte er einen Forschungsaufenthalt an der University of Chicago. Gegenwärtig arbeitet er an der Universität Bonn an einer Dissertation zum Verhältnis von theoretischen und praktischen Vernunftvermögen bei Johann Gottlieb Fichte.

Lars Heckenroth studierte Philosophie, Anglistik und Erziehungswissenschaft an der Universität zu Köln und promovierte 2020 an der Rheinischen Friedrich-Wilhelms-Universität Bonn mit einer Studie zur teleologischen Entwicklung der Dialektik in Hegels Logik. Er arbeitet als Wissenschaftlicher Mitarbeiter am Bonner Lehrstuhl für Philosophie, insbesondere des Mittelalters.

Rainer Schäfer promoviert 2000 in Köln über Hegels Dialektik in der Logik, habilitiert 2006 in Heidelberg über Selbstbewusstsein bei Fichte und Descartes; 2013 Ruf als »Distinguished Chair Professor for Foreign Philosophy« an die Peking University/Beijing China, seit 2016 Ruf an die Universität Bonn, Professur für klassische deutsche Philosophie.
Nicolas Bickmann studied history and philosophy at the universities of Cologne, Paris-Sorbonne IV and Bonn. 2018-2019 he completed a research stay at the University of Chicago. He works as a PhD student at the University of Bonn. In his dissertation he explores the relationship between theoretical and practical reason in the early works of Johann Gottlieb Fichte.

Lars Heckenroth studied philosophy, English language and literature as well as pedagogics at the University of Cologne. In 2020, he finished his doctoral studies at the Rheinische Friedrich-Wilhelms-Universität Bonn with a work on the teleological development of the dialectical method in Hegel's logic. He currently works as a postdoctoral researcher at the chair of medieval philosophy in Bonn.

Rainer Schäfer, PhD 2000 at the University Cologne on Hegel's dialectical logic, »Habilitation« 2006 at the University of Heidelberg on subjectivity in Fichte and Descartes; 2013 appointment as »Distinguished Chair Professor for Foreign Philosophy« at Peking University/Beijing China, since 2016 appointment at University Bonn, Professor for classical German philosophy.
Abstract
Dieser Band versammelt Beiträge von namhaften Philosophinnen und Philosophen zu einem der zentralen Probleme der sog. klassischen deutschen Philosophie von Kant bis Hegel: Das Problem der Deduktion der Kategorien. Unter diesem Begriff versteht Kant zunächst die apriorische Rechtfertigung der objektiven Gültigkeit gewisser Grundbestimmungen unseres Denkens. Der Band liefert einen Einblick in die komplexe Entwicklung von Aneignung und produktiver Fortführung dieses Problems – zunächst vor allem durch die Philosophen Fichte, Schelling und Hegel, aber auch in den erkenntnistheoretischen Debatten der Gegenwart. Es zeigt sich vor allem die bleibende Relevanz jener Fragen, die sich im Anschluss an Kant stellten: Lassen sich die Grundbestimmungen des Denkens genetisch aus der Grundstruktur des Selbstbewusstseins entwickeln? Gibt es eine systematische Ordnung der Kategorien? Ist eine Entwicklung der Kategorien aus der trennenden Gegenüberstellung von Denken und Sein überhaupt möglich? »The Deduction of Categories in Classical German Philosophy«

This anthology assembles contributions by renowned philosophers on one of the central problems in the period of Classical German philosophy from Kant to Hegel: the problem of the deduction of categories. The volume thus provides an insight into the complex history of appropriation and productive transformation of this problem - first and foremost by the philosophers Fichte, Schelling and Hegel, but also in debates of contemporary epistemology.
Table of Contents
Section Title
Page
Action
Price

Rainer Schäfer: Vorwort

5

Inhaltsverzeichnis

15

Elena Ficara: Was ist die transzendentale Deduktion der Kategorien?

17

I. Die Idee der Kantischen Deduktion

19

II. Die Idee der Hegelschen Deduktion

23

1. Hegel über die Idee der Kantischen Deduktion

23

2. Die Idee der Hegelschen Deduktion

24

III. Schlussbemerkungen

27

Klaus Düsing: Gibt es eine Kantische Kategorienentwicklung aus der Einheit des 'Ich denke'?

29

I. Einfache Bestimmungen des 'Ich denke' als Grundlage für Urteilsformen und Kategorien

30

II. Das 'Ich denke', bestimmt durch reine Kategorien

33

III. Skizze eines genetischen Aufweisesontologischer Grundbestimmungenaus der Einheit des 'Ich denke'

39

Reinhard Hiltscher: Funktionale Reflexivität, Apperzeption und Selbstbewusstsein in Kants Transzendentaler Deduktion der Kategorien

43

I. Apperzeption als Selbstbewusstsein. Das konkrete Subjekt, das als das erkennende Subjekt fungiert

43

1. Das bewusstseinstheoretische Argument

46

2. Die Funktionalität 'des erkennenden Subjekts'

47

3. Parasitäre Prinzipiation im Wahrnehmungsurteil

53

II. Apperzeption als funktionale Reflexivität

55

1. Das "Vermögen" der Apperzeption als ursprüngliche Reflexivität des reinen Denkens

55

2. Der elementare Urteilstheoretische Sinn der Apperzeption

56

3. Funktionale Reflexivität qua Apperzeption als Garantin der Regelkonstanz von Begriffen

57

4. Das 'Ich' als Vorstellung der Differenz zwischen ursprünglich synthetischer Einheit der Apperzeption und ihren einzelnen Instantiierungen

59

5. Transzendentales Selbstbewusstsein und funktionale Reflexivität

60

Nicolas Bickmann: Kategoriendeduktion bei Fichte.Zu den ersten drei Grundsätzen der Grundlage der gesamten Wissenschaftslehre

70

I. Deduktion durch Abstraktion: Die Kategorien der Realität und der Negation

71

II. Deduktion durch Limitation

80

III. Die methodische Bedeutung der drei Grundsätze

84

Gaetano Basileo: Die Geschichte des Selbstbewusstseins in der Phänomenologie des Geistes von 1807 als Deduktion des Begriffs der Wissenschaft?

87

I. Idealistische Geschichte des Selbstbewusstseins in Hegels 'Phänomenologie' von 1807

88

II. Absolutes Wissen und Phänomenologie des Geistes

92

III. Gestaltenfolge, Geschichte des Selbstbewusstseins und Kategorien der Logik

94

IV. Schluss

98

Markus Gabriel: Hegels Kategorienkritik

100

I. Das Kategorienproblem

100

II. Hegels Kategorienkritik

103

III. Der Begriff des Begriffs und der logische Raum

109

Lars Heckenroth: Methodische Dimensionen des Anfangs von Hegels Logik

112

Vorbemerkungen

112

I. Die Negation der Negation

113

II. Die Kategorien der Reflexionslogik als methodische Dimensionen des Anfangs der Logik

117

III. Die 'Wissenschaft der Logik' als spekulative Kategoriendeduktion

120

Klaus Erich Kaehler: 'Transzendentale Deduktion der Kategorien': Kant und Hegel

127

I. Kant: Zur systematischen Bedeutung der transzendentalen Deduktion

127

II. Hegel: Begründung, Kritik und Aufhebung des transzendentalen Wissens in der Wirklichkeit des Geistes

133

1. Bewusstsein und erscheinendes Wissen

133

2. Spekulative Begründung des transzendentalen Wissens

134

3. Begründung als Kritik

135

4. Aufhebung als Transformation

136

5. Ausblick

138

Wilhelm Metz: Der Streit um das 'Subjekt'. Luhmann versus Kant

140

I. 'Der Verstand schreibt der Natur das Gesetz vor'

140

II. Das 'transzendentale Subjekt' bei Kant

146

III. Luhmanns Verabschiedung der Subjekt-Philosophie ins alteuropäische Denken

148

Literatur

152

Autorinnen und Autoren

160

Perosnenregister

162