Private or civil law: general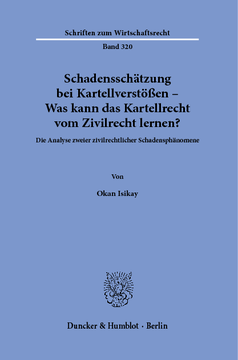 BOOK
Schadensschätzung bei Kartellverstößen – Was kann das Kartellrecht vom Zivilrecht lernen?
Die Analyse zweier zivilrechtlicher Schadensphänomene
Schriften zum Wirtschaftsrecht, Vol. 320
(2020)
Additional Information
Book Details
ISBN

978-3-428-58103-0
978-3-428-18103-2 (print edition)

DOI

https://doi.org/10.3790/978-3-428-58103-0

Edition

1

Language

German

Pages

241

Collections

Subjects
Pricing
Institution

€ 92.00 (incl. local VAT if applicable)

Individual

€ 71.90 (incl. local VAT if applicable)
About The Author
Okan Isikay studierte Rechtswissenschaften an der Universität Bayreuth und schloss das Studium mit dem ersten Staatsexamen inklusive der wirtschaftswissenschaftlichen Zusatzausbildung ab. Darauf folgte die Promotion am kartellrechtlichen Lehrstuhl von Professor Podszun in Düsseldorf. Nebenbei absolvierte der Autor mehrere Stationen in verschiedenen Großkanzleien als wissenschaftlicher Mitarbeiter und Referendar. Er ist Rechtsanwalt in Düsseldorf in einer internationalen Wirtschaftskanzlei.
Okan Isikay studied law at the University of Bayreuth and completed his studies including additional training in economics. This was followed by a doctorate at the antitrust law chair of Professor Podszun in Düsseldorf. In addition, the author completed several stations in various large law firms as a research assistant and trainee lawyer. He is a lawyer in Düsseldorf in an international business law firm.
Abstract
Das Kartellschadensrecht hat in den letzten Jahren an Bedeutung gewonnen. Es dient dazu, den von Kartellen Geschädigten zu ihrem Recht zu verhelfen und Ausgleich ihrer Schäden zu verlangen. Die Schätzung von Kartellschäden stellt dabei jedoch die Wissenschaft wie auch die Gerichte, die eine solche Schätzung vornehmen müssten, vor erhebliche Schwierigkeiten. Dies geht neben der theoretischen Bestimmbarkeit auf die praktischen Umstände zurück, konkrete Anhaltspunkte für den Schaden zu liefern. Die Kartellschadensschätzung ist dabei die Achillesferse des Kartellschadensrechts. Gelingt diese nicht, gehen die Geschädigten leer aus. In verschiedenen zivilrechtlichen Bereichen gelingen anspruchsvolle Schätzungen von schwierigen Schadenskonstellationen allerdings weitestgehend zufriedenstellend. Die Arbeit analysiert diese Fälle und die dortigen Herangehensweisen. Dabei zeigt sich, dass das Kartellschadensrecht viel von der Handhabung dieser vergleichbaren Fälle lernen kann. »Estimating Damages in Case of Antitrust Violations - What Can Antitrust Law Learn From Civil Law?«

The author outlines the problems for the estimation of cartel damages in theory and practice and emphasises the importance of cartel damages law. He then analyzes civil law damage cases in which courts regularly succeed in estimating damages in a way that sufficiently protects the interests of the injured parties. The analysis of the procedures there shows that cartel damages law can learn a lot from this in order to improve the situation of the cartel victims in the future.
Table of Contents
Section Title
Page
Action
Price

Vorwort

5

Inhaltsverzeichnis

7

A. Grundlagen

13

I. Einführung

13

II. Forschungsfrage und Ziel der Arbeit

13

III. Problem der Schadensberechnung

14

1. Ökonomische Schwierigkeit der Vorhersage wettbewerblicher Entwicklungen

15

2. Rechtliches Bestimmungsdefizit

18

a) Ansatz beim Preiswettbewerb

19

aa) Preiserhöhung und Schadensweiterreichung

20

bb) Preisschirmeffekte

23

cc) Mengeneffekte

25

dd) Nachlaufeffekte

28

b) Ansatz beim Nichtpreiswettbewerb

29

c) Einfluss der Richtlinie

30

3. Zwischenfazit

31

IV. Relevanz

31

1. Praktische Bedeutung

31

a) Durch Kartelle verursachte Schäden

31

b) Rechtliche Relevanz

32

2. Anhaltender Diskurs

39

3. Rechtspolitik

41

4. Fazit

44

V. Methodik

44

1. Vergleichsgegenstand

45

a) Immaterielle Schäden

45

b) Entgangener Gewinn

48

2. Vergleichbarkeit

50

a) Immaterielle Schäden

50

b) Entgangener Gewinn

51

3. Gang der Untersuchung

52

VI. Stand der Forschung

52

B. Vergleichende Analyse zivilrechtlicher Schadensfälle

56

I. Die Schätzungsbefugnis nach § 287 ZPO als Kernelement der Schadensbestimmung?

56

1. Ausgangslage für die Schadensbestimmung

57

a) Bei der Geltendmachung von Kartellschäden

57

b) Bei der Geltendmachung immaterieller Schäden: Billigkeit

58

c) Bei der Geltendmachung von entgangenem Gewinn: § 252 S. 2 BGB

62

aa) Materiellrechtlicher Ansatz

62

bb) Prozessualer Ansatz

63

2. Anwendung des § 287 ZPO

64

a) Bei der Geltendmachung von Kartellschäden

65

b) Bei der Geltendmachung immaterieller Schäden

67

c) Bei der Geltendmachung von entgangenem Gewinn

68

II. Funktionen

69

1. Ersatz Kartellschäden

69

a) Ausgleich

70

aa) Systematisches Zusammenspiel

70

bb) Inhalt des Ausgleichs

71

cc) Entgang von Nutzungen als Schaden?

71

dd) Zwischenergebnis

72

b) Durchsetzung des Wettbewerbsrechts

72

aa) Grundgedanken

73

bb) Einordnung für die Schadensbestimmung

74

cc) Zwischenergebnis

74

2. Ersatz immaterieller Schaden

75

a) Ausgleich

75

aa) Subjektiver Ansatz

77

bb) Kritik am subjektiven Ansatz

79

cc) Objektiver Ansatz

80

dd) Kritik am objektiven Ansatz

81

ee) Kombinierter Ansatz

81

ff) Kritik an der kombinierten Herangehensweise

84

gg) Zwischenergebnis

85

b) Genugtuung

85

aa) Verbot der Berücksichtigung von Straffunktionen im Zivilrecht

86

(1) Historisch

86

(2) Funktionell

89

(3) Verfassungsrechtliche Vorbehalte

93

(4) Zwischenergebnis

96

bb) Einordnung der Genugtuung

96

(1) Genugtuung als Strafe?

96

(2) Wahrer Bedeutungsgehalt

97

(3) Fazit

99

c) Prävention

99

aa) Gründe für die Notwendigkeit eines Präventionszwecks

100

bb) Kritik

104

cc) Bedeutung der Prävention in ihrer Handhabung

108

dd) Zwischenergebnis

111

3. Ersatz entgangenen Gewinns

112

III. Hilfestellungen

112

1. Im Kartellrecht

112

a) Berücksichtigung des Verletzergewinns

112

b) Offenlegungsansprüche

115

aa) Zweck

115

bb) Aspekte bei der Geltendmachung dieser Ansprüche

116

cc) Sanktionen bei fehlender Offenlegung

117

dd) Unionskonformität des Ausschlusses von Kronzeugenerklärungen und Vergleichen

117

c) Durch die Gerichte

119

aa) Sekundäre Darlegungslast

119

bb) Für die Schadensabwälzung (passing-on)

119

cc) Kartellbetroffenheit

120

dd) Preissteigernde Wirkung von Kartellen und Kartellbefangenheit

121

ee) Einschränkungen durch den BGH für Preissteigerung und Kartellbefangenheit

123

ff) Starke Preisanstiege als Indiz und Durchschnittspreise

125

gg) Kartelldauer und Reichweite

125

hh) Schadenshöhe

126

ii) Bedeutung von kartellbehördlichen Entscheidungen

126

jj) Preisschirmeffekte

127

d) Ökonomische Hilfestellungen: Berechnungsmodelle

128

aa) Vergleichsmarktmodelle

129

bb) Simulationsmodelle

134

cc) Kostenmethode

135

dd) Finanzgestützte Methoden

136

ee) Kritische Anmerkungen zu ökonomischen Modellen

137

ff) Zwischenergebnis

140

2. Bei immateriellen Schäden

141

a) Bezifferung

141

b) Festsetzungsmöglichkeiten

142

c) Schmerzensgeldtabellen

143

d) Zu berücksichtigende (Bemessungs-)‌Kriterien

146

aa) Art und Intensität der Schädigung

147

bb) Ausgangslage und Besonderheiten des Geschädigten

148

cc) Verschulden

149

dd) Vermögensverhältnisse der Beteiligten

151

ee) Berücksichtigung von Haftpflichtversicherungen und Prozessverhalten

154

(1) Bestehen einer Haftpflichtversicherung

155

(2) Prozessverhalten

156

ff) Präventionsgesichtspunkte

156

gg) Zwischenergebnis

157

3. Beim entgangenen Gewinn

157

a) Hilfestellungen durch die Gerichte

157

aa) Grundvorgaben

158

bb) Risikoverteilung bei Beweisarmut

159

cc) Durchschnitts- und Mindestschadensschätzung

159

dd) Rechtfertigung für die Vereinfachungen (Verursachergedanke)

160

ee) Anmahnung der Tatgerichte

161

ff) Eingrenzungen durch die Rechtsprechung

162

gg) Verschiedene Erfahrungssätze

162

b) Doppelte Möglichkeit der Schadensberechnung

163

aa) Herleitung und Bedeutung der abstrakten Schadensberechnung

164

bb) Anwendung der abstrakten Schadensberechnung/ Schadenspauschalisierung

168

cc) Kritik an der abstrakten Schadensberechnung/Schadenspauschalisierung

170

dd) Zwischenergebnis

172

IV. Schlussfolgerungen

172

1. Prozessuale Ausgangslage

172

a) Unterschiedliche Wirkungen des § 287 ZPO

173

b) Potential für das Kartellschadensrecht

174

2. Funktionen

175

a) Ausgleich in der Masse als Ziel

175

b) Genugtuung für das Kartellrecht

175

c) Prävention als bemessungsrelevanter Faktor?

175

3. Hilfestellungen

177

a) Orientierung an schadensrelevanten Kriterien

177

b) Schaffung kartellspezifischer Präjudizsammlungen

178

c) Prozessuale Bezifferungs- und Festsetzungsmöglichkeiten

178

d) Erfahrungssätze für das Kartellrecht

179

e) Geringere Anforderungen an eine Prognose

179

f) Mindestschadensschätzung

180

g) Die Betonung des Verursachergedankens bei der Lösungsfindung

180

h) Anderer Umgang mit ökonomischen Gutachten

181

i) Geringere Exaktheit bei der Schadensbestimmung

181

C. Umzusetzende Vorschläge für die Zukunft

183

I. Übernahme und Ausbau von Erfahrungssätzen

183

1. Für den positiven Schaden

184

2. Für die stärkere Berücksichtigung des Mengeneffekts

185

3. Für die Schadensweiterreichung

186

4. Für mittelbar Geschädigte

186

5. Zwischenfazit

186

II. Erweiterung von Vermutungen für den Prozess

187

1. Quantitative Schadensvermutung

187

a) Mehrwert einer solchen Vermutung

190

b) Schädliche Anreize

191

c) Komplikationen mit der Kompensation

193

d) Prozessrisiko zu Lasten der Schädiger und Handhabung durch Richter

195

e) Entgegenstehen der Richtlinie

196

f) Ausreichende Typizität?

197

g) Zwischenfazit

200

2. Schadensvermutung für entgangenen Gewinn bei Weiterreichung

200

3. Vermutung für die Dauer von Nachlaufeffekten

201

4. Vermutung für den Beginn von Preisschirmeffekten

202

III. Orientierung an kartellschadensspezifischen Kriterien

204

IV. Schaffung kartellspezifischer Präjudiz-/ Schätzungssammlungen

210

V. Exkurs: Einführung von hot-tubbing-Verfahren und pre-trial-Verfahren

212

D. Ausblick

217

I. Einschätzung der aktuellen Situation im Kartellschadensrecht

217

II. Aufgaben für die Zukunft

218

E. Thesenartige Zusammenfassung der Ergebnisse

220

Literaturverzeichnis

222

Stichwortverzeichnis

237