Private or civil law: general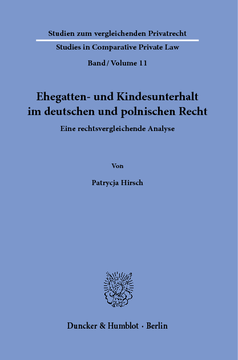 Additional Information
Book Details
ISBN

978-3-428-55936-7
978-3-428-15936-9 (print edition)

DOI

https://doi.org/10.3790/978-3-428-55936-7

Edition

1

Language

German

Pages

204

Collections

Subjects
Pricing
Institution

€ 80.00 (incl. local VAT if applicable)

Individual

€ 62.90 (incl. local VAT if applicable)
About The Author
Patrycja Hirsch studierte Rechtswissenschaften und Germanische Philologie an der Universität in Gdańsk (Uniwersytet Gdański). 2012/13 absolvierte sie ein Auslandssemester an der Rechtswissenschaftlichen Fakultät der Universität zu Köln. Von 2014 bis 2016 war sie wissenschaftliche Hilfskraft an der Professur für Polnisches und Europäisches Privatrecht sowie Rechtsvergleichung der Europa-Universität Viadrina in Frankfurt (Oder). 2020 legte sie die Rechtsanwaltsprüfung in Polen erfolgreich ab. Derzeit ist sie im polnischen öffentlichen Dienst tätig.
Patrycja Hirsch studied Law and Germanic Philology at the University of Gdańsk (Uniwersytet Gdański). In 2012/13, she completed an abroad semester at the Law Faculty of the University of Cologne (Universität zu Köln). From 2014 to 2016, she was a graduate assistant at the Professorship for Polish and European Private Law and Comparative Law of the European University Viadrina Frankfurt (Oder). In 2020, she took the bar exam in Poland with success. Currently, she works as a public employee in Poland.
Abstract
Im Zentrum der rechtvergleichend angelegten Arbeit steht die Frage, ob das deutsche Recht Impulse für eine mögliche Reform des polnischen Unterhaltsrechts setzen kann. Das polnische Unterhaltsrecht wählt nämlich in wesentlichen Bereichen einen anderen Ansatz als das deutsche Recht. Während sich die Praxis in Deutschland an obergerichtlichen Leitlinien orientiert, bleibt das Verfahren in Polen weitgehend intransparent.
Ausgehend von der Rechtslage in Polen wird der Frage nachgegangen, ob die polnischen Regelungen des Unterhaltsrechts wie auch ihre Umsetzung in der Rechtsprechung verfassungsrechtlichen Vorgaben genügen. Die Arbeit zeigt die Unterschiede im polnischen und deutschen Unterhaltsrecht auf und unterzieht die betreffenden Regelungen mit Blick auf das Rechtsstaatsprinzip einer kritischen Analyse. »Spousal and Child Support in the German and Polish Law. A Comparative Law Analysis«

The thesis, considering the comparative law aspects, focuses on the question whether the German law may give impulses to a possible reform of the Polish maintenance law. In essential areas, the Polish maintenance law chooses namely a different approach as the German law. While the practice in Germany concentrates on guidelines from higher courts, the process in Poland remains largely non-transparent.
On the basis of the legal situation in Poland, we go into the issue whether the Polish regulations of the maintenance law as well as its implementation in the case law comply with constitutional guidelines. In the thesis, differences in the Polish and the German maintenance law are shown on the one hand and the relative regulations with a view to the rule of law are critically analysed on the other hand.
Table of Contents
Section Title
Page
Action
Price

Vorwort

7

Inhaltsverzeichnis

9

Abkürzungsverzeichnis

18

Einleitung

21

A. Problemstellung

21

B. Gang der Untersuchung

22

C. Methoden

23

§ 1 Ehegattenunterhalt nach der Zerrüttung der Ehe

28

A. Einleitende Bemerkungen

28

B. Die Trennung der Ehe und Trennungsunterhalt

29

I. Die Trennung als Vorbedingung des Trennungsunterhalts

29

1. Voraussetzungen der Trennung in Polen

30

a) Gerichtliche und faktische Trennung

30

aa) Gerichtliche Trennung

30

bb) Faktische Trennung

30

b) Die völlige Ehezerrüttung als Voraussetzung der gerichtlichen Trennung

31

aa) Allgemeine Regel

31

bb) Emotionale Zerrüttung

31

cc) Wirtschaftliche Zerrüttung

31

dd) Geschlechtliche Zerrüttung

32

2. Voraussetzungen der Trennung in Deutschland

32

a) Grundsätzliches

33

b) Das Getrenntleben innerhalb einer Wohnung

34

II. Gestaltungsspielraum der Ehegatten

34

1. Polen

34

2. Deutschland

35

III. Unterhaltsleistungen als Rechtsfolge der Trennung

36

1. Polen

36

a) Verschuldensprinzip

36

b) Anspruch auf Trennungsunterhalt

38

aa) Unterhaltsanspruch während faktischer Trennung

38

bb) Unterhaltsanspruch nach gerichtlicher Trennung

39

(1) Das Verhältnis zwischen der Hilfe- und Unterstützungspflicht und Unterhaltspflicht der Ehegatten

40

(2) Entsprechende Anwendung der Regelungen über die nacheheliche Unterhaltspflicht auf den Trennungsunterhalt

41

(a) Allgemeines

41

(b) Einfache Unterhaltspflicht

43

(aa) Mitverschulden oder Schuldlosigkeit beider Ehegatten

43

(bb) Bedürftigkeit des unterhaltsberechtigten Ehegatten

43

(c) Erweiterte Unterhaltspflicht

44

(aa) Alleinschuld des einen Ehegatten

45

(bb) Die wesentliche Verschlechterung der materiellen Lage des unschuldigen Ehegatten

46

(cc) Kausalzusammenhang zwischen gerichtlicher Trennung (Scheidung) und wesentlicher Verschlechterung der materiellen Lage

48

2. Deutschland

50

IV. Maßstäbe für die Höhe des Trennungsunterhalts

51

1. Polen

51

a) Bedürftigkeit und die begründeten Bedürfnisse des unterhaltsberechtigten Ehegatten

52

aa) Kein eigenes Einkommen

54

bb) Kein ausreichendes eigenes Einkommen

54

cc) Erwerbsobliegenheit und fiktive Einkünfte

54

dd) Verwertung des Vermögensstamms

55

ee) Privilegierte Unterhaltsansprüche

56

b) Die Erwerbsmöglichkeiten und die Vermögensverhältnisse des unterhaltsverpflichteten Ehegatten

57

aa) Einkünfte aus Erwerbstätigkeit

58

bb) Einkünfte aus Vermögen

59

cc) Verwertung des Vermögensstamms

59

dd) Selbstbehalt

60

ee) Fiktive Einkünfte

61

(1) Freiwillige Vermögensminderung i.S.v. Art. 136 FVGB

62

(2) Wichtiger Grund

62

(3) Dreijahresfrist

63

2. Deutschland

63

a) Bedürftigkeit und Bedarf des Unterhaltsberechtigten

63

aa) Zumutbarkeit eigener Erwerbstätigkeit des bedürftigen getrenntlebenden Ehegatten

64

(1) Erwerbsobliegenheit

64

(a) Während des Trennungsjahres

64

(b) Nach Ablauf des Trennungsjahres

64

(c) Erwerbsobliegenheit bei gleichzeitiger Kinderbetreuung

65

(2) Unzumutbare Erwerbstätigkeit

65

bb) Vermögen

65

(1) Vermögensverwertung des bedürftigen Ehegatten

65

(2) Vermögenseinkünfte des bedürftigen Ehegatten

66

cc) Der Bedarf nach den Lebensverhältnissen der Ehegatten

66

(1) Nach den Einkommensverhältnissen

67

(a) Die bedarfsprägenden Einkünfte

67

(b) Hausfrauen-‍, Hausmann- und Doppelverdienerehe

67

(aa) Hausfrauenehe/Hausmannehe

67

(bb) Doppelverdienerehe

68

(c) Einfluss sonstiger Einkünfte auf die Bedürftigkeit

68

(aa) Sozialleistungen

68

(bb) Wohnvorteil

68

(cc) Trennungsbedingter Mehrbedarf

69

(2) Nach den Vermögensverhältnissen

69

(a) Einkommen aus Vermögen

69

(b) Verwertung des Vermögensstamms

70

(3) Fiktive Einkünfte

70

b) Leistungsfähigkeit des unterhaltsverpflichteten Ehegatten

70

aa) Einkünfte aus Erwerbstätigkeit

71

(1) Arbeitseinkommen

71

(2) Einkommen aus selbstständiger Arbeit

73

bb) Vermögenserträge

73

cc) Selbstbehalt

73

dd) Fiktive Einkünfte

74

V. Prozessuales

74

1. Polen

74

a) Das Beweisverfahren in Trennungssachen (Scheidungssachen)

75

b) Bindung des Gerichts an die Anträge der Verfahrensparteien

76

2. Deutschland

77

VI. Trennungsunterhalt (Scheidungsunterhalt) in der gerichtlichen Rechtsprechung

78

1. Polen

79

a) Im Hinblick auf die Lebensstandardgarantie

79

b) Im Hinblick auf den Selbstbehalt des unterhaltsverpflichteten Ehegatten

79

c) Im Hinblick auf die wesentliche Verschlechterung der materiellen Lage des unschuldigen und unterhaltsberechtigten Ehegatten

80

aa) Trennungsunterhalt (Scheidungsunterhalt) in einer Hausfrauenehe

80

bb) Trennungsunterhalt (Scheidungsunterhalt) in einer Doppelverdienerehe

81

d) Im Hinblick auf die Unterhaltshöhe

82

aa) Gleiche Unterhaltshöhe bei unterschiedlicher Ausgangslage

82

(1) Unterhalt in Höhe von 400 Zloty

82

(a) Unterhalt i.H.v. 400 Zloty in einer Hausfrauenehe

82

(b) Unterhalt i.H.v. 400 Zloty in einer Doppelverdienerehe

82

(2) Unterhalt in Höhe von 1.000 Zloty

83

(a) Unterhalt i.H.v. 1.000 Zloty in einer Hausfrauenehe

83

(b) Unterhalt i.H.v. 1.000 Zloty in einer Doppelverdienerehe

83

bb) Unterschiedliche Unterhaltshöhe bei ähnlicher Ausgangslage

83

(1) Höhe des nachehelichen Unterhalts bei Arbeitsunfähigkeit des Unterhaltsberechtigten

84

(2) Unterschiedliche Unterhaltshöhen bei gleichgelagerten Sachverhalten

85

2. Deutschland

85

a) Düsseldorfer Tabelle

85

b) Mindestbedarfssätze des unterhaltsberechtigten Ehegatten

86

c) Selbstbehalt

86

d) Berechnungsmethoden

87

aa) Differenzmethode

87

bb) Anrechnungsmethode

87

C. Die Scheidung und der nacheheliche Unterhalt

88

I. Voraussetzungen der Scheidung

88

1. Polen

88

a) Völlige Zerrüttung der Ehe

88

b) Dauerhafte Zerrüttung der Ehe

89

aa) Allgemeiner Grundsatz

89

bb) Höchstrichterliche Auslegung

91

cc) Auslegung durch ordentliche Gerichte

91

2. Deutschland

93

a) Das Scheitern der Ehe

93

b) Unwiderlegliche Zerrüttungsvermutungen

93

aa) Einjahresfrist

93

bb) Dreijahresfrist

94

cc) Eine Scheidung aufgrund des Zerrüttungstatbestands

94

(1) Allgemeiner Zerrüttungstatbestand

94

(2) Der Istzustand

95

(3) Die Zukunftsprognose

96

dd) Vorzeitige Scheidung im Härtefall

97

II. Unterhaltsrechtliche Folgen der Scheidung einer Ehe

98

1. Der nacheheliche Unterhalt

98

a) Das Verhältnis des Trennungsunterhalts zum nachehelichen Unterhalt

98

b) Grundsatz der Eigenverantwortung

99

aa) Erwerbsobliegenheit

99

bb) Angemessene Erwerbstätigkeit

99

c) Grundsatz der Mitverantwortung

99

aa) Enumerationsprinzip

100

bb) Einsatzzeitpunkte

100

2. Die nachehelichen Unterhaltstatbestände

101

a) Unterhalt wegen Betreuung eines Kindes

101

aa) Besondere Voraussetzungen

102

(1) Rechtmäßige Pflege- oder Erziehungsmaßnahmen

102

(2) Gemeinsame Kinder

103

bb) Unterhaltsdauer

104

(1) Basisunterhalt

104

(2) Verlängerung des Unterhalts aus Billigkeitsgründen

105

(a) Kindbezogene Gründe

105

(aa) Betreuungsmöglichkeiten

106

(bb) Belange des Kindes

107

(b) Elternbezogene Gründe

107

b) Unterhalt wegen Alters

108

aa) Einsatzzeitpunkt

108

bb) Alter

109

c) Unterhalt wegen Krankheit oder Gebrechen

110

aa) Einsatzzeitpunkt

110

bb) Eine Krankheit, ein Gebrechen oder eine Schwäche

111

d) Unterhalt wegen Erwerbslosigkeit

112

aa) Erwerbsfähigkeit

113

bb) Ausschluss anderer Unterhaltsansprüche

113

cc) Erwerbslosigkeit trotz ausreichender Arbeitsbemühungen

114

dd) Einsatzzeitpunkt

115

ee) Angemessene Erwerbstätigkeit

115

e) Aufstockungsunterhalt

117

aa) Erwerbsfähigkeit und Ausschluss anderer Unterhaltstatbestände

117

bb) Unzureichende Einkünfte aus eigener angemessener Erwerbstätigkeit

118

f) Ausbildungsunterhalt

118

aa) Eine in Erwartung oder während der Ehe nicht aufgenommene oder abgebrochene Schul- oder Berufsausbildung

118

bb) Die Notwendigkeit der Aufnahme einer Ausbildung

119

cc) Die Obliegenheit eines erfolgreichen Abschlusses der Schul- oder Berufsbildung

119

g) Unterhalt aus Billigkeitsgründen

119

h) Zusammenfallen mehrerer Unterhaltstatbestände

120

III. Unterhaltsmaß

121

1. Die Bedürftigkeit und der Bedarf des Unterhaltsberechtigten

121

a) Bedürftigkeit

121

aa) Anrechenbare Einkünfte

122

(1) Vermögenserträge

122

(2) Wohnvorteile

122

(3) Einkünfte aus Vermietung und Verpachtung

123

(4) Versorgungsleistungen für Dritte

123

bb) Nichtanrechnung von Einkünften aus überobligationsmäßiger Tätigkeit

124

cc) Verwertung des Vermögensstamms

124

dd) Fiktives Einkommen

124

b) Bedarf

125

aa) Eheliche Lebensverhältnisse

125

bb) Bedarfsarten

125

(1) Laufender Lebensbedarf

125

(2) Mehrbedarf

126

(3) Sonderbedarf

127

2. Die Leistungsfähigkeit sowie die Erwerbs- und Vermögensverhältnisse des Verpflichteten

129

a) Der Selbstbehalt

129

b) Unterhaltspflichtiges Einkommen

130

aa) Einkünfte aus Erwerbstätigkeit

130

(1) Das Arbeitseinkommen

130

(2) Einkommen aus selbstständiger Arbeit und Privatentnahmen

131

(3) Entgelt für zusätzliche Arbeit

131

bb) Einkünfte aus Vermögen

132

(1) Vermögenserträgnisse

132

(2) Vermögensverwertung

132

cc) Fiktive Einkünfte

132

IV. Der nacheheliche Unterhalt in der gerichtlichen Praxis

133

1. Unterhaltsbemessung

133

2. Quoten zur Bestimmung des Ehegattenunterhalts

134

a) 3‍/‍7-Berechnung

134

b) Die Erhöhungen oder Ermäßigungen der Tabellensätze

134

D. Zwischenfazit

135

I. Voraussetzungen

135

II. Unterhaltsrechtliche Folgen

136

§ 2 Exkurs: Einfluss des Kindesunterhalts auf die Berechnung des Ehegattenunterhalts

138

A. Einleitende Bemerkungen

138

B. Voraussetzungen des Kindesunterhalts

139

I. Polen

139

1. Privilegierter Unterhaltsanspruch

139

2. Einfacher Unterhaltsanspruch

140

II. Deutschland

142

1. Unterhaltsberechtigung minderjähriger Kinder

142

2. Unterhaltsberechtigung volljähriger unverheirateter Kinder

142

C. Maßstäbe für die Höhe des Kindesunterhalts

143

I. Polen

143

1. Begründete Bedürfnisse des unterhaltsberechtigten Kindes

144

2. Erwerbsmöglichkeiten und Vermögensverhältnisse des unterhaltsverpflichteten Elternteils

146

a) Erwerbsobliegenheit des unterhaltsverpflichteten Elternteils

146

b) Fiktive Einkünfte

147

3. Gleichwertigkeit von Bar- und Naturalunterhalt

147

II. Deutschland

148

1. Bedürftigkeit und Bedarf des unterhaltsberechtigten Kindes

148

a) Einkünfte aus Erwerbstätigkeit

149

§ 3 Das polnische Unterhaltsrecht im Lichte des Rechtsstaatsprinzips und des Prinzips der gesellschaftlichen Gerechtigkeit

165

A. Einleitende Bemerkungen

165

I. Das Unterhaltsrecht in der bisherigen Rechtsprechung des polnischen Verfassungsgerichtshofs

165

II. Problemstellung

166

III. Begriffsbestimmungen

166

1. Das Rechtsstaatsprinzip

166

2. Der Grundsatz der gesellschaftlichen Gerechtigkeit

169

B. Das Rechtsstaatsprinzip als Gebot der Rechtssicherheit

169

I. Rechtssicherheit durch Normenklarheit

170

1. Gebot der Rechtsklarheit

171

2. Gebot der ordentlichen Gesetzgebung

172

a) Grundsatz der ordentlichen Gesetzgebung

172

b) Grundsätze der Gesetzgebungstechnik (Zasady techniki prawodawczej)

173

II. Rechtssicherheit durch den Vertrauensschutz

174

C. Der Grundsatz der sozialen Gerechtigkeit

176

I. Gerechtigkeit bei Gesetzgebung und Rechtsanwendung

176

II. Der Grundsatz der gesellschaftlichen Gerechtigkeit als Willkürverbot

176

D. Zwischenfazit

178

I. Die Voraussetzungen der Unterhaltstatbestände mit Blick auf das Rechtsstaatsprinzip

178

II. Die unterhaltsrechtlichen Folgen der gerichtlichen Trennung und Scheidung der Ehe mit Blick auf das Rechtsstaatsprinzip und das Prinzip der gesellschaftlichen Gerechtigkeit

180

§ 4 Ergebnisse

182

A. Bewertung

182

B. Vorschläge de lege ferenda

186

I. Voraussetzungen der Unterhaltstatbestände

186

II. Unterhaltsbemessung

187

Rechtsquellenverzeichnis

189

Literaturverzeichnis

191

Stichwortverzeichnis

197