Criminal law: procedure & offences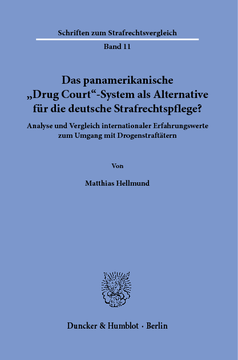 BOOK
Das panamerikanische »Drug Court«-System als Alternative für die deutsche Strafrechtspflege?
Analyse und Vergleich internationaler Erfahrungswerte zum Umgang mit Drogenstraftätern
Schriften zum Strafrechtsvergleich, Vol. 11
(2020)
Additional Information
Book Details
ISBN

978-3-428-58059-0
978-3-428-18059-2 (print edition)

DOI

https://doi.org/10.3790/978-3-428-58059-0

Edition

1

Language

German

Pages

284

Collections

Subjects
Pricing
Institution

€ 104.00 (incl. local VAT if applicable)

Individual

€ 79.90 (incl. local VAT if applicable)
About The Author
Matthias Hellmund studierte von 2005 bis 2010 Rechtswissenschaften an der Universität Leipzig. Im Anschluss an sein 1. Staatsexamen nahm er dort ein LL.M.-Studium zum »Recht der Europäischen Integration« auf, in dessen Rahmen er ein einjähriges Auslandsstudium an der Universidad de Alicante absolvierte. Nach dem Referendariat am Kammergericht Berlin wurde er im Jahr 2015 unter Betreuung von Prof. Dr. Dr. h.c. Jan Joerden Stipendiat an der Europa-Universität Viadrina. Zwei Auslandsstipendien des DAAD ermöglichten ihm Forschungsaufenthalte an der Universidad de Chile (Santiago) sowie der American University (Washington, D.C.). Seit 2020 ist er promoviert und als Justiziar in Berlin tätig.
Matthias Hellmund studied Law at the University of Leipzig between 2005 and 2010. After graduating he participated in a LL.M.-program on »Law of European Integration« that led him to a year-long exchange at the University of Alicante. Following to the completion of his legal clerkship at the superior Court of Justice Berlin, he became a stipendiary with the European University Viadrina Frankfurt (Oder) under the assistance of Prof. Dr. Dr. h.c. Jan Joerden in 2015. Funded by the DAAD, he conducted a research stay at the University of Chile (Santiago) and at the American University (Washington, D.C.). He received his doctor's degree in 2020 and is working as a corporate attorney in Berlin since then.
Abstract
Ausgehend von den USA begann im Jahr 1989 die weltweite Verbreitung eines gänzlich neuen Gerichtstypus, den sog. »Drug Courts«. Entwickelt zur Entlastung von Haftanstalten sehen diese ein speziell auf drogenabhängige Straftäter zugeschnittenes gerichtliches Verfahren vor. Dabei übernimmt ein Richter die Leitung eines gemischten »Drug Court«-Teams aus Justiz und Medizin, mittels dessen fachlicher Unterstützung er den Therapiefortschritt jedes Teilnehmers in regelmäßigen Abständen überwacht (court directed treatment). Erfolgreichen Absolventen bietet das Programm Zugang zu beruflichen Angeboten und die Möglichkeit, eine Einstellung ihres Verfahrens bzw. eine Strafreduzierung zu erlangen. In Deutschland wird von den an sich vorhandenen Verfahrensalternativen zum Umgang mit drogenabhängigen Straftätern (»Therapie statt Strafe«) gegenwärtig eher zurückhaltend Gebrauch gemacht. Ein Blick auf die »Drug Courts« soll daher neue Perspektiven und Impulse für die hiesige Strafrechtspflege eröffnen. »The Pan-American »Drug Court« Program – an Alternative for the German Criminal Justice System? Analysis and Evaluation of International Experiences in Treating Drug-Addicted Offenders«

Since the first »Drug Courts« started operating in the US in 1989, they have received increasing international attention. Based on the innovative concept of court directed treatment, the program foresees a procedure tailored to drug-addicted offenders. Judicial and medical stakeholders work hand in hand towards the common goals of healing and reducing recidivism. The text analyzes the elements of »Drug Courts« and sets them into comparison to existing alternatives within the German Criminal Justice system.
Table of Contents
Section Title
Page
Action
Price

Vorwort

3

Inhaltsverzeichnis

7

Abkürzungsverzeichnis

15

A. Einführung

17

B. Das panamerikanische "Drug Court"-System im Vergleich zur Behandlung drogenabhängiger Straftäter nach deutscher Rechtslage

23

I. Kriminologische und historische Grundlagen des "Drug-Court"-Systems

23

1. Die Kernelemente eines "Drug Court"

23

2. Zur Beziehung von Droge und Delikt ("Goldstein-Theorie")

24

a) Psychopharmakologisch bedingte Straftaten

25

b) Straftaten aus wirtschaftlichen Zwängen

26

c) Systembedingte Straftaten

26

3. Zur Entstehungsgeschichte und gegenwärtigen Verbreitung von "Drug Courts"

27

a) Der Ursprung der "Drug Court"-Bewegung

27

b) Die Ausbreitung über die Vereinigten Staaten

27

c) Die Internationalisierung im anglo-amerikanischen Rechtsraum

29

d) Die Expansion nach Lateinamerika

30

e) Auf dem europäischen "Festland"

31

4. Zur Kosteneffizienz von "Drug Courts"

32

a) Ansicht 1: Unwirtschaftlichkeit von "Drug Courts"

32

b) Ansicht 2: "Drug Courts" als effiziente Alternative

33

c) Studie des US-Rechnungshofs

35

d) Zwischenergebnis

36

II. "Drug Courts" in der Praxis

37

1. Zum allgemeinen Beurteilungsmaßstab

37

2. Das "Drug Court"-Programm der USA

40

a) Strafprozessuale Grundlage

41

aa) Allgemeine Vorbemerkung

41

bb) Beispiele aus den Bundesstaaten

42

b) Skizzierung der wesentlichen Elemente eines US-"Drug Court"

44

aa) Zum Standardisierungsprozess in den USA

44

bb) Beteiligte Akteure

45

(1) Richter

45

(2) Staatsanwaltschaft

46

(3) Strafverteidiger

46

(4) Case Manager

47

(5) Programmkoordinator

47

(6) Therapeuten

47

(7) Bewährungshelfer

48

(8) Polizeibeamter

48

cc) Typischer Teilnehmerkreis

48

dd) Allgemeiner Verfahrensablauf im US-"Drug Court"

49

(1) Urteil oder Abgabe eines Schuldeingeständnisses

49

(2) Aufnahme in das Programm

50

(3) Programmphasen und gerichtliche Überwachung

51

(4) Programmabschluss/-ausschluss

53

c) Praktische Umsetzung der UNODC-Erfolgsfaktoren für "Drug Courts"

54

aa) Wirkungsvolle richterliche Führung

54

bb) Starke interdisziplinäre Zusammenarbeit

55

cc) Guter Wissensstand und Verständnis über Abhängigkeit und Heilung

57

dd) Verfahrenshandbuch für Beständigkeit und Effizienz

58

ee) Klare Auswahlkriterien

58

ff) Detaillierte Bedarfsanalyse

59

gg) Vollumfänglich dokumentiertes Einverständnis

59

hh) Zügige Überweisung in Therapie und Rehabilitation

60

ii) Unmittelbare, bestimmte und widerspruchsfreie Sanktionierung

62

jj) Fortlaufende Evaluation

65

kk) Ausreichende, fortwährende und zweckbestimmte Finanzierung

66

ll) Änderungen der zugrundeliegenden Bestimmungen

66

d) Zwischenergebnis

67

e) Rechtliche Herausforderungen von US-"Drug Courts"

68

aa) Gleichberechtigter Zugang

68

(1) Recht auf einen "Drug Court"?

68

(2) Schutz von Minderheiten

69

bb) Due-process-Garantie

69

(1) Anforderungen an Drogentests

70

(2) Informationsweitergabe im "Drug Court"-Team

71

(3) Sanktionierung und Ausschluss vom "Drug Court"

72

cc) Straferhöhung nach Programmausschluss

73

f) Besonderheiten des Programms für Jugendliche ("Juvenile Drug Courts")

74

aa) Einführende Bemerkungen

74

bb) Die 16 "Strategien" für "Juvenile Drug Courts"

75

cc) Aktuelle Diskussion und Verbesserungsansätze

77

g) Weitere Arten von "Drug Courts"

79

h) Zusammenfassung

80

3. Funktionsweise der Tribunales de Tratamiento de Drogas y/o Alcohol in Chile

83

a) Gründungsprozess der TTD

83

b) Strafprozessuale Grundlagen

85

aa) Die Voraussetzungen der SCP (Art. 237 CPP)

86

bb) Gesetzliche "Brücke" zum TTD (Art. 238 CPP)

88

c) Besonderheiten der chilenischen TTD

89

aa) Zusammensetzung der Teams

89

(1) Organe der Rechtspflege

89

(2) Dupla psicosocial

91

bb) Teilnehmerprofil

92

cc) Koordination des Programms

92

d) Allgemeiner Verfahrensablauf im TTD

93

aa) Aufnahme zum Verfahren

93

(1) Festnahme bei Tatbegehung

94

(2) Polizeiliches Ermittlungsverfahren

95

(3) Weiteres Vorgehen und medizinische Bestätigung

95

(4) Sitzung zur Aufnahme in den TTD (audiencia de ingreso)

96

bb) Betreuung und Überwachung der TTD-Teilnehmer

97

(1) Regelmäßige Behandlung im Therapiezentrum

97

(2) Monatliche Kontrollsitzungen (audiencias de seguimiento)

99

(a) Nicht öffentliche Vorbesprechung (preaudiencia)

99

(b) Öffentliche Hauptverhandlung

100

cc) Beendigung des Programms

101

(1) Ausschluss aus dem TTD

101

(2) Erfolgreiche Absolvierung des TTD (audiencia de egreso)

102

e) Bewertung des Programms durch seine Teilnehmer

102

f) Praktische Umsetzung der UNODC-Erfolgsfaktoren für "Drug Courts"

103

aa) Wirkungsvolle richterliche Führung

103

bb) Starke interdisziplinäre Zusammenarbeit

104

cc) Guter Wissensstand über Abhängigkeit, Therapie und Heilung

107

dd) Verfahrenshandbuch für Beständigkeit und Effizienz

108

ee) Klare Auswahlkriterien

108

ff) Detaillierte Bedarfsanalyse

110

gg) Vollumfänglich dokumentiertes Einverständnis

110

hh) Zügige Überweisung in Therapie und Rehabilitation

110

ii) Unmittelbare, bestimmte und widerspruchsfreie Sanktionierung

111

jj) Fortlaufende Evaluation

112

kk) Ausreichende, fortwährende und zweckbestimmte Finanzierung

112

ll) Änderungen der zugrundeliegenden Bestimmungen

114

mm) Zwischenergebnis

115

g) Arbeitsweise der TTD für Jugendliche

116

h) Zusammenfassung

118

4. Der "Drug Treatment Court" von Gent (Belgien)

120

a) Überblick zur Entstehungsgeschichte

120

b) Rechtlicher Hintergrund des Programms

122

c) Akteure und Teilnehmer im Genter DTC

123

d) Zum grundlegenden Verfahrensablauf

124

aa) Optionaler Proefzorg

124

bb) Kernprinzipien des DTC-Programms

125

(1) Auswahlkriterien

125

(2) Abfolge gerichtlicher Sitzungen

125

(3) Elemente der (stationären) Therapierung

126

cc) Besonderheiten des "Gent-Modells"

127

e) Wesentliche Erkenntnisse zu Ertrag und Rückfällen im Rahmen des Programms

128

aa) Proefzorg-Studie (2008)

128

bb) 1. DTC-Studie (2011)

129

cc) 2. DTC-Studie (2013)

130

f) Praktische Umsetzung der UNODC-Erfolgsfaktoren für "Drug Courts"

131

aa) Wirkungsvolle richterliche Führung

132

bb) Starke interdisziplinäre Zusammenarbeit

133

cc) Guter Wissensstand über Abhängigkeit, Therapie und Heilung

133

dd) Verfahrenshandbuch für Beständigkeit und Effizienz

133

ee) Klare Auswahlkriterien

133

ff) Detaillierte Bedarfsanalyse

134

gg) Vollumfänglich dokumentiertes Einverständnis

134

hh) Zügige Überweisung in Therapie und Rehabilitation

134

ii) Unmittelbare, bestimmte und widerspruchsfreie Sanktionierung

135

jj) Fortlaufende Evaluation des DTC

135

kk) Ausreichende, fortwährende und zweckbestimmte Finanzierung

136

ll) Änderungen der zugrundeliegenden Bestimmungen

136

g) Zusammenfassung

136

5. Fazit zu den "Drug Courts" in der Praxis

138

III. Therapierung drogenabhängiger Straftäter in Deutschland

140

1. Ausgangslage in Deutschland

140

a) Zur Grundausrichtung der Drogenpolitik der Bundesregierung

140

b) Gesetzliche Zuständigkeiten und Koordination

141

c) Anteil von Drogenstraftätern in Strafverfolgung und Strafvollzug

142

d) Liberalisierungstendenzen bezüglich der Substanz Cannabis

143

aa) Initiativen in Deutschland

144

bb) Gesetzliche Reformen im globalen Kontext

145

e) Zur bundesweiten Therapiesituation

147

2. Strafprozessuale Vorbetrachtungen

148

a) Garantie des gesetzlichen Richters (Art. 101 GG)

148

b) Anspruch auf rechtliches Gehör (Art. 103 Abs. 1 GG)

150

c) Legalitäts- und Opportunitätsprinzip (§ 152 Abs. 2 StPO)

151

d) Verständigung im Strafverfahren (§ 257 c StPO)

151

e) Interinstitutionelle Zusammenarbeit

152

aa) Gerichtliches Verfahren nach JGG

152

bb) Kooperation zur Durchführung der Führungsaufsicht

153

cc) Reintegration nach Haftentlassung

153

f) Zwischenergebnis

154

3. Rechtliche Grundlagen zum Umgang mit Drogenstraftätern

154

a) Absehen von Strafe bei geringer Menge (§§ 29 Abs. 5, 31 a Abs. 1 BtMG)

155

b) Absehen von der Erhebung der öffentlichen Klage (§ 37 BtMG)

157

aa) Regelungsinhalt

157

bb) Erfahrungen aus der Praxis

158

c) Strafaussetzung zur Bewährung unter Weisung (§§ 56, 56 c StGB)

159

aa) Sachliche Voraussetzungen der Strafaussetzung

159

bb) Therapieweisung nach § 56 c Abs. 3 StGB

160

cc) Grenzen der Weisungserteilung

161

(1) Weisungen bezüglich Aufenthalt und Arbeit

162

(2) Abstinenzweisung

163

(3) Weisung zum Drogenscreening

164

(a) Abgabe von Urinproben

164

(b) Kontrolle mittels Haarproben

166

(c) Transdermale Überwachung

167

(4) Entbindung des behandelnden Arztes/Therapeuten von der Schweigepflicht

167

(a) Beschluss des BVerfG vom 06.06.2006

167

(b) Beschluss des Kammergerichts Berlin vom 02.11.2006

169

(c) Aktuelle Rechtslage

170

(5) Elektronische Aufenthaltsüberwachung

171

dd) Zur Arbeit der Bewährungshilfe

172

ee) Widerruf der Strafaussetzung

174

(1) Substitution nach § 56f Abs. 2 StGB

174

(2) Aussetzungswiderruf nach § 56f Abs. 1 StGB

175

ff) Strafaussetzung zur Bewährung in der Praxis

176

gg) Zwischenergebnis

177

d) Maßregeln der Besserung und Sicherung (§§ 61ff. StGB)

177

aa) Unterbringung in einer Entziehungsanstalt (§ 64 StGB)

178

(1) Hang zum übermäßigen Konsum

179

(2) Hang- oder rauschbedingte Anlasstat

180

(3) Erfolgsaussicht

180

(4) Vollstreckung der Maßregel

182

(5) Bedeutung in der Praxis

182

bb) Führungsaufsicht (§§ 68ff. StGB)

185

(1) Allgemeine Voraussetzungen

185

(2) Zusammenarbeit der beteiligten Behörden

186

(3) Offenbarungspflichten nach § 68 a Abs. 8 StGB

186

(4) Weisungskatalog

188

(5) Führungsaufsicht in der Praxis

188

cc) Zwischenergebnis

189

e) Zurückstellung der Strafvollstreckung (§§ 35, 36 BtMG)

190

aa) Zielrichtung und Abgrenzung

190

bb) Voraussetzungen des § 35 BtMG im Einzelnen

192

(1) Zusammenhang zwischen Tat und (Betäubungsmittel-)Abhängigkeit

192

(2) Behandlungszusage

193

(3) Grundsätzliche Anforderungen an die Therapie

194

cc) Zurückstellungsverfahren und -bescheid

195

dd) Voraussetzungen eines Widerrufs der Zurückstellung

197

ee) Anrechnung der Therapiezeit und Aussetzung des Strafrests gemäß § 36 BtMG

197

ff) Zurückstellungspraxis

198

(1) Aktuelle Zahlen zur Anwendung von § 35 BtMG

198

(2) Studie der Universität Hamburg

199

(a) Ergebnisse

199

(b) Hauptursachen

201

(c) Kosten-Nutzen-Analyse

202

gg) Zwischenergebnis

203

f) Therapie im Strafvollzug

204

g) Zwischenergebnis

205

4. Praxisbericht Berlin – Brandenburg

207

a) Berlin

207

aa) Spezialermittlungsabteilung "Allgemeine Betäubungsmittelkriminalität"

207

(1) Behördenstruktur und Zuständigkeit

208

(2) Allgemeines Täterprofil

208

(3) Wege in die Therapie

208

(4) Verbesserungspotenziale

209

bb) Hauptabteilung Vollstreckung

210

(1) Abteilungsstruktur

210

(2) Behandlung von Anträgen nach § 35 BtMG

210

(3) Therapieüberwachung und Widerrufskriterien

211

(4) Verbesserungspotenziale

212

cc) Amtsgericht Tiergarten

212

(1) Interne Struktur

212

(2) Ablauf des Hauptverfahrens

213

(3) Therapieaufnahme und -überwachung

214

(4) Verbesserungspotenziale

214

dd) Strafverteidiger

215

(1) Verfahren in der Praxis

215

(2) Therapieprozess

216

(3) Verbesserungspotenziale

216

ee) Drogenberatungsstellen

217

(1) Funktion und lokale Organisation der Drogenberatung

217

(2) Antragstellung nach § 35 BtMG und Zusammenarbeit mit der Justiz

218

(3) Verbesserungspotenziale

220

ff) Therapiezentren

221

(1) Therapieaufnahme nach § 35 BtMG und Therapieablauf

221

(2) Zusammenarbeit mit der Justiz

222

(3) Verbesserungspotenziale

223

gg) Senatsverwaltung für Justiz, Verbraucherschutz und Antidiskriminierung

223

(1) Soziale Dienste der Justiz

223

(2) Abteilung Justizvollzug

224

hh) Zwischenergebnis

225

(1) Aktueller Praxisstand

225

(2) Ansatzpunkte für Verbesserungen

228

b) Land Brandenburg

228

aa) Staatsanwaltschaften

229

(1) Behördenstruktur

229

(2) Allgemeines Täterprofil

229

(3) Wege in die Therapie und Erfahrungen mit Rückfällen

230

(4) Verbesserungspotenziale

232

bb) Strafgerichte

232

cc) Soziale Dienste der Justiz

234

dd) Zwischenergebnis

235

(1) Aktueller Praxisstand

235

(2) Ansatzpunkte für Verbesserungen

236

c) Zusammenfassung

237

5. Bewertung der Situation drogenabhängiger Straftäter in Deutschland

239

a) Wirkungsvolle richterliche Führung

239

b) Starke interdisziplinäre Zusammenarbeit

240

c) Guter Wissensstand über Abhängigkeit, Therapie und Heilung

241

d) Verfahrenshandbuch für Beständigkeit und Effizienz

242

e) Klare Auswahlkriterien

242

f) Detaillierte Bedarfsanalyse

243

g) Vollumfänglich dokumentiertes Einverständnis

243

h) Zügige Überweisung in Therapie und Rehabilitation

244

i) Unmittelbare, bestimmte und widerspruchsfreie Sanktionierung

244

j) Fortlaufende Evaluation

245

k) Ausreichende, fortwährende und zweckbestimmte Finanzierung

245

l) Änderungen der zugrundeliegenden Bestimmungen

246

C. Schlussbetrachtung

249

I. "Drug Courts" weltweit

249

II. Situation drogenabhängiger Straftäter in Deutschland

251

III. Eckpunkte eines deutschen "Drug Court"-Pilotprojekts

254

Gesetzestexte zum "Drug Court"-Verfahren

256

Interviewleitfäden (Themenschwerpunkte)

261

Internetquellen (letzter Zugriff jeweils am 15.07.2019)

264

Literaturverzeichnis

267

Stichwortverzeichnis

277