Employee-ownership & co-operatives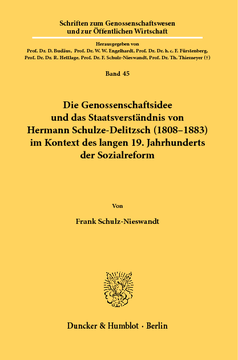 Additional Information
Book Details
ISBN

978-3-428-58076-7
978-3-428-18076-9 (print edition)

DOI

https://doi.org/10.3790/978-3-428-58076-7

Edition

1

Language

German

Pages

123

Collections

Subjects
Pricing
Institution

€ 70.00 (incl. local VAT if applicable)

Individual

€ 53.90 (incl. local VAT if applicable)
About The Author
Frank Schulz-Nieswandt, Sozialwissenschaftler; Univ.-Professur für Sozialpolitik, Methoden der qualitativen Sozialforschung und Genossenschaftswesen im Institut für Soziologie und Sozialpsychologie (ISS) an der Universität zu Köln, dort Erster Prodekan; Honorarprofessur für Sozialökonomie der Pflege an der Philosophisch-Theologischen Hochschule Vallendar, er war Vorstandsvorsitzender des Kuratoriums Deutsche Altershilfe. Herausgeber des KDA-Journals ProAlter. Er ist Ehrenvorsitzender der Gesellschaft für Sozialen Fortschritt, federführender Herausgeber der »Zeitschrift für öffentliche und gemeinwirtschaftliche Unternehmen«, nunmehr als Neue Folge »Zeitschrift für Gemeinwirtschaft und Gemeinwohl« Forschungsschwerpunkte: Ontologie und Anthropologie der Sozialpolitik und der genossenschaftlichen Form, Gemeinwirtschaftslehre, Altern/Gesundheit/Pflege.
Frank Schulz-Nieswandt holds the Professorship for Social Policy and Methods of qualitative Social Research at the Institute for Sociology and Social Psychology (ISS) and is executive Director of the Seminar for Corporative Research at the University of Cologne. He has been Dean of the Faculty of Management, Economy and Social Sciences at the University of Cologne and current first Vice Dean. He is Honorary Professor for Social Economy of Longtime-nursing care at the PTH Vallendar. Schulz-Nieswandt is among others Honorary Chairman of the Corporation for Social Progress. He is Chairman of the board of the Kuratorium Deutsche Altershilfe (KDA).
Abstract
Was verstand Hermann Schulze-Delitzsch im Zeitalter der großen sozialen Frage der kapitalistischen Form der industriellen Modernisierung unter Genossenschaft als Einzelwirtschaft? Was war und wie tiefgreifend war das orientierende Menschenbild und die leitende Wertestruktur – im Vergleich zu anderen Denkströmungen und sozialen Bewegungen – dieser Idee? Welches Staatsverständnis prägt im Hintergrund diese Genossenschaftsidee? Wie ist diese Idee vergleichend in der Sozialreformdiskussion seiner Zeit und rückblickend im Lichte der heutigen wirtschaftsordnungspolitischen Entwicklungen systematisch einzuschätzen? Das sind die grundlegenden und miteinander verknüpften Fragen, die analytisch diese inter-disziplinäre genealogische Verortungsarbeit systematisch leiten. Damit kristallisieren sich die Potenziale, aber auch die Grenzen dieser Variante der Genossenschaftsidee für die heute anstehenden politischen Ideenkämpfe heraus. The book is to be understood as a genealogical reconstruction of the thought of Hermann Schulze-Delitzsch. The guiding research questions are: What is the idea of cooperative economics in comparative perspective in the historical context of the different social movements? What is the understanding of the role of the state in this relation? What is the relevance of this tradition, what are the limits of relevance in relation of current discussion of regulation or transformation of capitalism?
Table of Contents
Section Title
Page
Action
Price

Vorwort

5

Inhaltsverzeichnis

11

Gegenstandsbezogene Einleitung und epistemologische Grundlegung der Forschungsfragestellung

13

Exkurs: Wahrheitsspiele optimaler Allokation

16

Exkurs: Corona und das globale Dorf als Externalitätsgemeinschaft

23

1. Das lange 19. Jahrhundert als Ursprung des Sozialreformdispositivs

33

2. Archäologie und Genealogie der Genossenschaft als Formprinzip als Hintergrundfolie für die mentalitätssoziologische Hypothesenbildung

35

3. Zeitgeschichtlicher Kontext industriegesellschaftlicher Genossenschaften im Lichte archäologischer Aspekte

38

Exkurs: Unternehmenstypenvielfalt in der sozialen Marktwirtschaft

41

4. Charakter und Architektur von "Die Entwicklung des Genossenschaftswesens in Deutschland"

47

Exkurs: "Die Entwicklung des Genossenschaftswesens in Deutschland" in etwas näherer Betrachtung

48

5. Sociale Pädagogik

52

6. Zur Einschätzung der Rezeptionsgeschichte und Relevanz

55

7. Schulze-Delitzsch: ein Ordoliberaler?

63

8. Genossenschaft im Lichte des freiheitlichen Sozialismus

67

9. Ontologie des Politischen

80

Fazit und Ausblick

83

Literaturverzeichnis

90