Criminal law: procedure & offences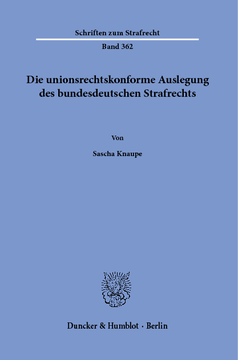 Additional Information
Book Details
ISBN

978-3-428-58070-5
978-3-428-18070-7 (print edition)

DOI

https://doi.org/10.3790/978-3-428-58070-5

Edition

1

Language

German

Pages

718

Collections

Subjects
Pricing
Institution

€ 138.00 (incl. local VAT if applicable)

Individual

€ 107.90 (incl. local VAT if applicable)
About The Author
Der Autor studierte von 2009 bis 2014 Rechtswissenschaften an der Universität Leipzig. Im Mai 2020 schloss er in Leipzig das zweijährige Rechtsreferendariat ab. Im Juni 2020 erfolgte die Promotion. Von August 2014 bis September 2020 arbeitete der Autor als wissenschaftlicher Mitarbeiter am Lehrstuhl für Strafrecht, Strafprozessrecht, Europäisches Strafrecht und Rechtsphilosophie, Herr Prof. Dr. D. Klesczewski, an der Juristenfakultät der Universität Leipzig. Seit Oktober 2020 ist er als Rechtsanwalt bei der Kanzlei ROXIN Rechtsanwälte LLP in Hamburg tätig.
The author studied law at the University of Leipzig from 2009 to 2014. In May 2020 he completed his two-year legal clerkship in Leipzig. In June 2020 he received his doctorate. From August 2014 to September 2020, the author worked as a research assistant at the Chair of Criminal Law, Criminal Procedure Law, European Criminal Law and Philosophy of Law, Prof. Dr. D. Klesczewski, at the Faculty of Law at the University of Leipzig. Since October 2020 he has been working as a lawyer at the law firm ROXIN Rechtsanwälte LLP in Hamburg.
Abstract
Die Arbeit befasst sich mit den methodologischen Aspekten der unionsrechtskonformen Auslegung bundesdeutschen Strafrechts. Dazu wird im Besonderen der Frage nachgegangen, ob dem Institut der unionsrechtskonformen Auslegung im Bereich des Kriminalstrafrechts rechtsstaatliche Prinzipien oder allgemeine Rechtsgrundsätze des Unionsrechts entgegenstehen. Dies ist im Ergebnis zu verneinen, sofern die Auslegungsgrundsätze methodisch sauber angewandt werden. Insoweit sind zur Sicherung des eingeschränkten Vorrangs des Unions-rechts gegenüber nationalstaatlichem Recht sämtliche Träger der öffentlichen Gewalt verpflichtet, bundesdeutsches Strafrecht unionsrechtskonform auszulegen. Dieser Aufgabe müssen insbesondere die bundesdeutschen Gerichte gerecht werden. Aufgrund des stetig zunehmenden Einflusses des Unionsrechts auf die Rechtsordnungen seiner Mitgliedstaaten wird die Relevanz der unionsrechtskonformen Auslegung zunehmen und das Institut zum unverzichtbaren Bestandteil der Jurisprudenz. »The Interpretation of Federal German Criminal Law in Conformity with Union Law«

The postulate of interpretation in conformity with Union law serves the limited primacy of Union law over national law. In the absence of a fundamental legislative power of the EU in the field of criminal law, the postulate represents an essential factor of Europeanization, especially in this area. It is subject to both national and Union law limits, which are stricter in the area of federal German criminal law than in other areas of law.
Table of Contents
Section Title
Page
Action
Price

Vorwort

5

Inhaltsübersicht

7

Inhaltsverzeichnis

9

Abkürzungsverzeichnis

20

Einleitung

43

A. Ziel der Arbeit

44

B. Relevanz des Themas

46

I. Bedeutung der Methodenlehre in der Jurisprudenz

47

II. Bedeutung des Unionsrechts und der unionsrechtskonformen Auslegung

48

III. Bisherige Bearbeitung

50

C. Gang der Arbeit

51

1. Teil: Die Europäischen Union und das Unionsrecht

53

A. Europäische Union

53

I. Struktur der Europäischen Union

55

1. Rechtsnatur der Europäischen Union

55

2. Abgrenzung der EU zu sonstigen (supranationalen) Institutionen

58

a) Europarechtliche Lösung

59

b) Völkerrechtliche Lösung

59

c) Eigene Stellungnahme

60

3. Zusammenfassung

62

II. Prinzipien der Europäischen Union

62

1. Prinzip der begrenzten Einzelermächtigung

62

2. Prinzip der Subsidiarität

64

3. Prinzip der Verhältnismäßigkeit

66

4. Strafrechtsspezifisches Schonungsgebot

67

5. Effizienzprinzip

69

6. Loyalitätsgebot

70

7. Prinzip der gegenseitigen Anerkennung

72

8. Zusammenfassung

73

III. Rechtsquellen der Unionsrechtsordnung

74

1. Primäres Unionsrecht

74

a) Gründungsverträge

75

aa) Exkurs: Die Bedeutung der Begriffe unmittelbarer Geltung, Anwendbarkeit und Wirksamkeit

75

bb) Schlussfolgerungen

79

b) Charta der Grundrechte der Europäischen Union

80

c) Die EMRK

80

d) Allgemeine Rechtsgrundsätze

81

e) Exkurs: Verhältnis der drei Absätze des Art. 6 EUV zueinander

83

2. Völkerrecht

84

3. Sekundäres Unionsrecht

86

a) Verordnung

87

aa) Umsetzungsfähigkeit

87

bb) Schlussfolgerungen

89

b) Richtlinie

89

aa) Hinreichende Bestimmtheit und inhaltliche Unbedingtheit als Voraussetzung richtlinienkonformer Auslegung?

92

bb) Schlussfolgerungen

93

c) Exkurs: Rahmenbeschluss

94

d) Beschluss

96

e) Empfehlung und Stellungnahme

97

f) Sonstige Rechtsakte

97

4. Zusammenfassung

98

B. Kompetenzen der Europäischen Union auf dem Gebiet des Strafrechts

99

I. Die verschiedenen Sanktionsarten des Unionsrechts

99

II. Begriffsbestimmung des Strafrechts im Sinne des Unionsrechts

100

1. Begriffsbestimmung anhand formaler Kriterien

101

2. Begriffsbestimmung anhand materieller Kriterien

101

3. Rechtsnatur der unionsrechtlichen Sanktionsarten

107

III. Gesetzgebungsbefugnis der EU \nauf dem Gebiet des Kriminalstrafrechts

110

1. Europarechtliche und bundesdeutsche Judikatur

110

2. Literaturansichten

112

3. Eigene Stellungnahme

113

a) Allgemein

113

b) Besonderheiten

115

aa) Art. 325 Abs. 4 AEUV

115

bb) Art. 33 AEUV

117

cc) Art. 79 Abs. 2 lit. c) und lit. d) AEUV

118

dd) Art. 86 AEUV

120

ee) Ergebnis

121

c) Zusammenfassung

121

IV. Kompetenz zur Strafrechtsharmonisierung

122

1. Harmonisierung des materiellen Strafrechts

122

a) Originäre Strafrechtsangleichungskompetenz

122

aa) Voraussetzungen

123

bb) Grenzen

124

cc) Erweiterungsmöglichkeit

126

dd) Wirkungen

126

ee) Ausstiegsklausel

127

b) Strafrechtliche Annexkompetenz

128

aa) Voraussetzungen

130

bb) Grenzen

130

cc) Sonstiges

131

c) Weitere Harmonisierungskompetenzen

131

aa) Strafrechtsetzungskompetenz

131

bb) Kompetenz nach Art. 352 AEUV

133

cc) Ergebnis

134

2. Zusammenfassung

134

V. Assimilierung

135

1. Primär- und sekundärrechtliche Verweisungen

136

2. Anforderungen

137

a) Wirksamkeit und Abschreckung

139

b) Verhältnismäßigkeit

139

3. Wirkungen

139

4. Harmonisierungseffekt

140

5. Zusammenfassung

141

VI. Zusammenfassung

142

C. Ergebnis

142

2. Teil: Der Vorrang des Unionsrechts und der Einflussfaktor der unionsrechtskonformen Auslegung

143

A. Verhältnis zwischen Unionsrecht und bundesdeutschem Recht

143

I. Vorrang des Unionsrechts

145

1. Rechtsprechung des EuGH

146

2. Rechtsprechung des BVerfG

148

3. Eigene Stellungnahme

151

II. Geltungs- oder Anwendungsvorrang

154

III. Reichweite des (Anwendungs-)Vorrangs

156

1. Kollisionskonstellationen

156

a) Echte und unechte Kollision

156

b) Direkte und indirekte Kollision

157

2. Auswirkungen auf das nationalstaatliche Strafrecht

159

a) Unanwendbarkeit innerstaatlicher Strafvorschriften

159

b) Kollisionen auf der Tatbestands- und Rechtsfolgenseite

161

c) Ausschluss einer derogierenden Wirkung

165

IV. Zusammenfassung

166

B. Die unionsrechtskonforme Auslegung (im Allgemeinen)

166

I. Begriff und Zweck der unionsrechtskonformen Auslegung

166

II. Pflicht und Begründung zur unionsrechtskonformen Auslegung

168

1. Meinungsstand

169

2. Eigene Stellungnahme

172

a) Rechtsgrundlagen im Unionsrecht

173

b) Rechtsgrundlagen im bundesdeutschen Recht

179

c) Sonstige Herleitungsmöglichkeiten

181

d) Zusammenfassung

183

C. Das Verhältnis vom (Anwendungs-)Vorrang und unionsrechtskonformer Auslegung zueinander

184

3. Teil: Prägende Entscheidungen und Ansichten \rvon Rechtsprechung und Literatur zur \runionsrechtskonformen Auslegung

189

A. Rechtsprechung

189

I. Im Allgemeinen

190

1. Entscheidungen des EuGH

190

a) Die Phase der Auslegung von Gemeinschaftsrechtsnormen

190

aa) Die Entscheidung "Mazzalai"

192

bb) Zwischenfazit

194

b) Die Phase der Ausdehnung und begrenzten Verpflichtung

194

aa) Die Entscheidungen "von Colson und Kamann" und "Harz"

195

bb) Die Entscheidung "Grimaldi"

198

cc) Die Entscheidung "Pfeiffer u. a."

200

dd) Die Entscheidung "Adeneler u. a."

202

ee) Zwischenfazit

208

2. Entscheidungen bundesdeutscher Gerichte

209

a) Der Bundesfinanzhof

209

aa) Das Urteil "Freigenussrecht"

210

bb) Der Vorlagebeschluss zur "Bemessungsgrundlage für Umsatzsteuer bei Ermittlung des Eigenverbrauchs"

212

cc) Zusammenfassung

214

b) Das Bundesarbeitsgericht

215

aa) Die Urteile zu "§ 611a BGB a. F."

215

bb) Das Urteil "Dienstaltersgrenze für Cockpitpersonal"

218

cc) Zusammenfassung

220

c) Die Zivilsenate des Bundesgerichtshofs

221

aa) Das Urteil zur "Unzulässigkeit einer "verdeckten Sacheinlage" bei Kapitalerhöhung einer AG"

222

bb) Das Urteil "Testpreis-Angebot"

224

cc) Das Urteil "Heininger II"

226

dd) Das Urteil "Quelle"

231

ee) Zusammenfassung

234

d) Sonstige bundesdeutsche Gerichte

236

e) Zwischenfazit

238

3. Allgemeiner Vergleich

240

II. Im Strafrecht

244

1. Entscheidungen des EuGH

244

a) Das Urteil "Kolpinghuis Nijmegen"

244

b) Das Urteil "Nijman"

249

c) Das Urteil "Arcaro"

250

d) Das Urteil "Strafverfahren gegen X" (Telecom Italia)

254

e) Das Urteil "Pupino"

258

f) Zwischenfazit

260

2. Entscheidungen bundesdeutscher Rechtsprechung

262

a) Das "Pyrolyse-Urteil"

262

b) Das Urteil "zum Verhältnis zwischen Geldwäsche und Hehlerei"

265

c) Das Urteil zur "Kameradschaft Sturm 34"

268

d) Das Urteil "Abo-Fallen im Internet"

271

e) Zwischenfazit

274

3. Strafrechtlicher Vergleich

275

III. Endgültiger Vergleich

278

B. Literaturmeinungen und eigene Stellungnahme

282

I. Grenzen

283

1. Nur im Rahmen ihrer Zuständigkeiten

284

a) Literaturauffassungen

284

b) Eigene Stellungnahme

285

2. Nur innerhalb des nationalstaatlichen Beurteilungsspielraums

286

a) Nationalstaatliche Grenzen

286

aa) Literaturauffassungen

286

bb) Eigene Stellungnahme

287

(1) Bundesdeutsche Auslegungsmethodik

288

(a) Die Gesetzesauslegung

288

(aa) Vorstellung der klassischen bundesdeutschen Auslegungsmethoden

288

(α) Der Wortlaut

289

(β) Die Systematik

289

(γ) Der historische Gesetzgeber

290

(δ) Die Teleologie

291

(αα) Subjektiv teleologische Auslegung

291

(ββ) Objektiv teleologische Auslegung

292

(γγ) Eigene Stellungnahme

292

(ε) Zusammenfassung

298

(bb) Die Rangfolge der Auslegungsmethoden

301

(α) Relativer Vorrang der teleologischen Auslegung innerhalb des zulässigen Wortlautes, Sperrwirkung des klar erkennbar entgegenstehenden Gesetzgeberwillens

302

(β) Zwischenergebnis

305

(b) Die richterliche Rechtsfortbildung

305

(aa) Verfassungsrechtliche Legitimation

307

(bb) Arten der richterlichen Rechtsfortbildung

308

(α) Gesetzesimmanente Rechtsfortbildung

309

(αα) Planwidrige Unvollständigkeit des Gesetzes

309

(ββ) Methoden der gesetzesimmanenten Rechtsfortbildung

312

(β) Gesetzesübersteigende Rechtsfortbildung

315

(γ) Rechtsfortbildung contra legem

317

(cc) Zwischenergebnis

318

(c) Exkurs: klar erkennbare Regelungsabsicht vs. (vermuteten) generellen Umsetzungswillen des Gesetzgebers bei Richtlinien

319

(2) Sonstige zu beachtende verfassungsrechtliche Prinzipien

321

(a) Das Rechtsstaatsprinzip

321

(b) Das Gesetzlichkeitsprinzip

323

(aa) Das Verbot von Gewohnheitsrecht

324

(bb) Das Bestimmtheitsgebot

326

(cc) Das Analogieverbot

331

(α) Exkurs: Analogieverbot auch innerhalb des Wortlautes?

333

(β) Verschleifung und Entgrenzung

336

(γ) Zwischenergebnis

341

(dd) Das Rückwirkungsverbot

341

(α) Exkurs: Änderungen höchstrichterlicher Rechtsprechung

342

(β) Zwischenergebnis

347

(ee) Zwischenergebnis

348

(c) Zusammenfassung

348

(3) Folgen für die unionsrechtskonforme Auslegung

349

b) Unionsrechtliche Grenzen

350

aa) Allgemeine Rechtsgrundsätze

351

bb) Sog. "strafbarkeitserweiternde" Auslegung

352

(1) Literaturauffassungen

353

(2) Eigene Stellungnahme

354

cc) Bestimmtheit der Unionsrechtsakte

355

dd) Exkurs: Gefahr einer sog. Normspaltung

358

ee) Zusammenfassung

362

c) Ergebnis

362

II. Umfang

364

1. Gesamtes Unionsrecht

365

a) Inhaltliche Vorgaben des Umsetzungsbefehls

368

aa) Begriffsbedeutung der Unionsrechtskonformität

371

bb) Schlussfolgerungen

373

b) Zusammenfassung

373

2. Gesamtes nationalstaatliches Recht

373

a) Überobligatorisch angeglichenes Recht

375

aa) Inhaltliche Konkretisierung

376

bb) Pflicht zur unionsrechtskonformen Auslegung?

377

b) Zusammenfassung

381

3. Zeitlicher Beginn des Postulats

382

a) Literaturauffassungen

383

b) Eigene Stellungnahme

385

aa) Richtlinienkonforme Auslegung = hinreichende Umsetzung?

385

bb) Bedeutung der Umsetzungsfrist

386

cc) Schlussfolgerungen

387

4. Rechtsfortbildung

396

a) Planwidrige Unvollständigkeit kraft Unionsrechts?

397

b) Schlussfolgerungen

399

5. Ergebnis

403

III. Zusammenfassung

404

C. Vergleich

405

4. Teil: Vorgehensweise und allgemeingültige Regelungen der unionsrechtskonformen Auslegung (im nationalstaatlichen Strafrecht)

409

A. Auslegung innerstaatlicher Vorschriften

409

I. Literaturauffassungen

410

II. Eigene Stellungnahme

410

B. Einbeziehung des Unionsrechts

413

I. Die Auslegungskompetenzen

414

II. Bestehen einer Rechtsgrundlage

416

1. Allgemein

416

2. Harmonisierungsintensität

416

a) Vollharmonisierung

417

b) Mindestharmonisierung

418

c) Bestimmung der Harmonisierungsintensität

419

d) Kompetenzrechtliche Schlussfolgerungen

421

III. Primäres Unionsrecht

422

1. Die Auslegung

422

a) Der Wortlaut

423

b) Die Systematik

424

c) Die Entstehungsgeschichte

425

d) Die Teleologie

426

e) Die Rechtsvergleichung

427

f) Das Rangverhältnis

429

2. Die Rechtsfortbildung

431

IV. Besonderheiten/Abweichungen im sekundären Unionsrecht

433

V. Ermessen

434

1. Die Entscheidung "Unger"

435

2. Die Entscheidung "Nederlandse"

437

3. Die Entscheidung "Felicitas"

440

4. Zusammenfassung

442

VI. Zusammenfassung

443

C. Rang der unionsrechtskonformen Auslegung

444

I. Verhältnis zwischen unionsrechtskonformer und nationalstaatlicher Auslegungsmethoden

445

1. Absoluter Vorrang

445

2. Relativer Vorrang

445

3. Eigene Stellungnahme

446

a) Die verfassungskonforme Auslegung

447

b) Die völkerrechtsfreundliche Auslegung

450

c) Vergleich

452

d) Schlussfolgerungen

453

II. Verbindlichkeitsgrad

457

1. Die richtlinien- und rahmenbeschlusskonforme Auslegung

458

2. Die empfehlungs- und stellungnahmenkonforme Auslegung

462

III. Besonderheiten im materiellen Strafrecht?

463

IV. Zusammenfassung

465

D. Ergebnis

466

I. Schlussfolgerungen zum Postulat unionsrechtskonformer Auslegung

467

II. Reihenfolge der unionsrechtskonformen Auslegung

468

III. Schaubild

471

5. Teil: Auslegung ausgewählter bundesdeutscher materieller Strafrechtsnormen unter Berücksichtigung der unionsrechtskonformen Auslegung

472

A. Schutz von EU-Rechtsgütern

472

I. Amtsanmaßung (132 StGB)

475

1. Auslegung gemäß den Kriterien des bundesdeutschen Rechts

477

a) Betrachtung des Unionsrechts

477

b) Einbeziehung des Unionsrechts im Auslegungsergebnis

478

c) Einbeziehung des Unionsrechts im Auslegungsvorgang

479

aa) Meinungsstand

479

bb) Eigene Stellungnahme

480

2. Ergebnis und weitere Anwendungsfälle

483

II. Urkundendelikte

485

1. Urkundenfälschung (§ 267 Abs. 1 StGB)

486

a) Auslegung gemäß den Kriterien des bundesdeutschen Rechts

487

aa) Betrachtung des Unionsrechts

487

bb) Einbeziehung des Unionsrechts im Auslegungsergebnis

488

cc) Zwischenergebnis

489

b) Ergebnis und weitere Anwendungsfälle

490

2. Falschbeurkundung im Amt (§ 348 StGB); mittelbare Falschbeurkundung (§ 271 StGB)

491

a) Auslegung gemäß den Kriterien des bundesdeutschen Rechts

492

aa) Betrachtung des Unionsrechts

492

bb) Einbeziehung des Unionsrechts im Auslegungsergebnis

493

cc) Einbeziehung des Unionsrechts im Auslegungsvorgang

495

(1) Meinungsstand

496

(2) Eigene Stellungnahme

496

b) Ergebnis

500

III. Zusammenfassung und Ergänzung

501

B. Tatbestände mit akzessorischen Merkmalen

502

I. Umweltdelikte

504

1. Gleichstellungsklausel in § 330d Abs. 2 S. 1 StGB

504

a) Auslegung gemäß den Kriterien des bundesdeutschen Rechts

505

aa) Betrachtung des Unionsrechts

506

bb) Einbeziehung des Unionsrechts im Auslegungsvorgang

507

(1) Meinungsstand

508

(2) Eigene Stellungnahme

508

b) Ergebnis

514

2. Abfallbegriff in § 326 StGB

514

a) Abfallbegriff bis einschließlich zum Pyrolyse-Urteil

514

b) Abfallbegriff nach dem Pyrolyse-Urteil

517

c) Ergebnis und Ergänzung

518

II. Vorenthalten von Arbeitsentgelt (§ 266a Abs. 1 StGB)

521

1. Auslegung der Sozialrechtsnormen gemäß den Kriterien des bundesdeutschen Rechts

523

a) Betrachtung des Unionsrechts

523

b) Einbeziehung des Unionsrechts im Auslegungsvorgang

524

aa) Europarechtliche Vorgaben

525

bb) Auslegung bundesdeutscher Sozialrechtsnormen

530

2. Auslegung des § 266a Abs. 1 StGB gemäß den Kriterien des bundesdeutschen Rechts

531

a) Pflicht zur unionsrechtskonformen Auslegung?

532

b) Einbeziehung des Unionsrechts im Auslegungsvorgang

533

3. Ergebnis

534

4. Ergänzungen

535

III. Betrug (§ 263 StGB) im Zusammenhang mit der strafbaren Werbung (§ 16 Abs. 1 UWG)

537

1. Auslegung des § 16 Abs. 1 UWG gemäß den Kriterien des bundesdeutschen Rechts

539

a) Betrachtung des Unionsrechts

539

aa) Rechtsgrundlage und Harmonisierungsintensität

540

bb) Verhältnis der Grundfreiheiten und der Richtlinie zueinander

541

b) Einbeziehung des Unionsrechts im Auslegungsvorgang

542

2. Auslegung des § 263 StGB gemäß den Kriterien des bundesdeutschen Rechts

546

a) Meinungsstand

546

b) Eigene Stellungnahme

547

aa) Bestehen eines Beachtungsgebots?

548

bb) Einbeziehung des Unionsrechts im Auslegungsergebnis

550

3. Ergebnis

555

4. Ergänzungen

555

IV. Fahrlässigkeitstatbestände

558

1. Auslegung der Fahrlässigkeitstatbestände gemäß den Kriterien des bundesdeutschen Rechts

561

a) Betrachtung des Unionsrechts

562

b) Reichweite der verpflichtenden unionsrechtskonformen Auslegung

564

c) Einbeziehung des Unionsrechts im Auslegungsvorgang

566

2. Ergebnis und Ergänzung

569

V. Zusammenfassung

569

C. Die Relevanz der unionsrechtlich umzusetzenden inhaltlichen Vorgaben

570

I. Geldwäsche (§ 261 StGB)

571

1. Auslegung des § 261 StGB gemäß den Kriterien des bundesdeutschen Rechts

573

a) Betrachtung des Unionsrechts

574

b) Pflicht zur richtlinienkonformen Auslegung?

575

2. Ergebnis und Ergänzungen

577

II. Vereinigungsdelikte (§§ 129 ff. StGB)

580

1. Vereinigungsbegriff

581

a) Meinungsstand

582

b) Eigene Stellungnahme

583

aa) Auslegung der §§ 129 ff. StGB a. F. gemäß den Kriterien des bundesdeutschen Rechts

583

(1) Betrachtung des Unionsrechts

584

(2) Pflicht zur rahmenbeschlusskonformen Auslegung?

585

bb) Ergebnis und Ergänzungen

586

2. Legaldefinition in § 129 Abs. 2 StGB n. F.

590

a) Abgrenzung zum Bandenbegriff

590

b) Ergebnis

592

3. Ergänzungen

594

III. Zusammenfassung

596

Zusammenfassung

597

A. Zusammenfassende Thesen

598

B. Ausblick

605

I. Aufgabe der nationalstaatlichen Gerichte

606

II. Zu bewältigende Probleme

607

Literaturverzeichnis

614

Rechtsprechungsverzeichnis

666

Rechtsquellenverzeichnis

694

Stichwortverzeichnis

713