Methods, theory & philosophy of law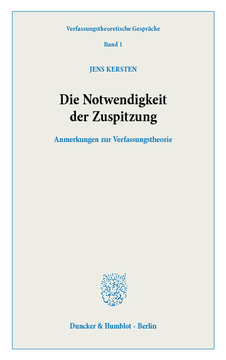 Additional Information
Book Details
ISBN

978-3-428-58046-0
978-3-428-18046-2 (print edition)

DOI

https://doi.org/10.3790/978-3-428-58046-0

Edition

1

Language

German

Pages

164

Collections

Subjects
Pricing
Institution

€ 70.00 (incl. local VAT if applicable)

Individual

€ 53.90 (incl. local VAT if applicable)
About The Author
Jens Kersten studierte Rechtswissenschaft an den Universitäten Heidelberg, Leeds (GB) und Bonn. Er promovierte und habilitierte sich an der Juristischen Fakultät der Humboldt-Universität zu Berlin. Jens Kersten bekleidet den Lehrstuhl für Öffentliches Recht und Verwaltungswissenschaften an der Ludwig-Maximilians-Universität München. Seine Forschungsschwerpunkte sind Biomedizin und Recht, Natur und Gesellschaft im Anthropozän, digitale Governance und Demokratie und demographischer Wandel und sozialer Zusammenhalt.
Jens Kersten studied law at the universities of Heidelberg, Leeds and Bonn. He worked as a postgraduate at the Faculty of Law, Humboldt University Berlin. Jens Kersten is professor for Public Law and Governance at the LMU Munich. His research focuses on bioethics and law, nature and society in the Anthropocene, digital governance and democracy, demographic change and social cohesion.
Abstract
Es ist Aufgabe der Verfassungstheorie, das Grundgesetz immer wieder neu und anders zu lesen. Gerade in Zeiten vermeintlicher Alternativlosigkeit ist es wichtig, verfassungsrechtlich zugespitzt zu argumentieren. Andernfalls werden wir nicht in der Lage sein, die sozialen und politischen, ökologischen und ökonomischen, technischen und kommunikativen Herausforderungen anzunehmen, vor denen wir heute stehen. Eine undogmatische und interdisziplinäre Verfassungstheorie versteht das Grundgesetz als eine Assemblage aus heterogenen Regelungen und diversen Regelungskomplexen, die zugespitzte Interpretationen und Erklärungen herausfordern. Es gibt daher keine Verfassungstheorie ohne Eigenschaften! Dies sollen die verfassungstheoretischen Diskussionen über die Verfassung der Natur, die Ästhetik der Verfassung, die Verteidigung unserer liberalen Verfassungsordnung gegen autoritäre Theorien und Politik sowie das Plädoyer für eine pluralistische Gesellschaft der Repräsentationen zeigen.
Table of Contents
Section Title
Page
Action
Price

Vorwort der Herausgeber

7

Vorwort

9

Inhaltsverzeichnis

11

I. Einleitung: Verfassungstheorien spitzen zu

13

II. Handwerk: Dogmatisches Locked-In-Syndrom

19

1. Dogmatikakzessorische Verfassungstheorie

19

2. Vier Fragen und vier Alternativen

22

a) Erkenntnis

23

b) Kopplung

26

c) Normativität

28

d) Interdisziplinarität

30

3. (Keine) Flucht von Alcatraz?

35

III. Assemblage: Keine Theorie ohne Eigenschaften

38

1. Assemblage

39

a) Diversität

41

b) Relationalität

42

c) Emergenz

43

2. Zuspitzungen

48

a) Methodische Relationen

49

b) Normative Relationen

50

c) Historische Relationen

56

3. Potenzial

59

a) Analyse

59

b) Konstruktion

60

c) Textsorten

63

IV. Kritik: Die Verfassung der Natur

64

1. Ancien Régime: Natur hat man zu haben

64

2. Vom "Rechtsstaat der Natur" zum "Verfassungsrecht der Erde"?

68

3. Ökologischer Liberalismus

73

V. Risiko: Die Ästhetik der Verfassung

81

1. Sprache, Stil, Design

81

2. Wo liegt das Risiko?

87

3. Ästhetische Kompositionen

94

VI. Streit: Du fährst zu oft nach Plettenberg

101

1. Anti-Theorie und ihre Praxis

103

2. Die Relativierung der Überspitzung?

111

3. Die Zuspitzung des Relativen

117

VII. Synthese: Die Gesellschaft der Repräsentationen

121

1. Identitätspolitik und Diversitätsprinzip

122

2. Repräsentation vs. Repräsentation

124

3. Diverse Repräsentationen

128

VIII. Schluss: Das Ende der Theorie?

134

Literaturverzeichnis

135

Personen- und Sachverzeichnis

158