Parliamentary & legislative practice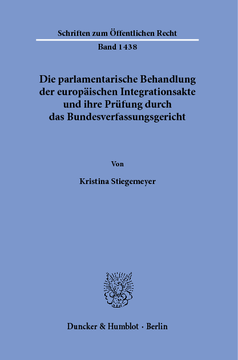 BOOK
Die parlamentarische Behandlung der europäischen Integrationsakte und ihre Prüfung durch das Bundesverfassungsgericht
Schriften zum Öffentlichen Recht, Vol. 1438
(2020)
Additional Information
Book Details
ISBN

978-3-428-58069-9
978-3-428-18069-1 (print edition)

DOI

https://doi.org/10.3790/978-3-428-58069-9

Edition

1

Language

German

Pages

326

Collections

Subjects
Pricing
Institution

€ 104.00 (incl. local VAT if applicable)

Individual

€ 79.90 (incl. local VAT if applicable)
About The Author
Kristina Stiegemeyer studierte Rechtswissenschaften an der Universität Osnabrück. Anschließend war sie als wissenschaftliche Mitarbeiterin am Institut für Kommunalrecht der Universität Osnabrück beschäftigt. Ihr Referendariat absolvierte sie am Hanseatischen Oberlandesgericht Hamburg. Sie ist derzeit als Richterin am Verwaltungsgericht tätig.
Kristina Stiegemeyer studied law at the University of Osnabrück. Afterwards, she worked as a research assistant at the University of Osnabrück's institute for municipal law and completed her legal traineeship at the Hanseatic Higher Regional Court of Hamburg. She is currently a judge at an administrative court.
Abstract
Die europäische Integration war und ist ein zentrales Thema in der deutschen Politik sowie der Verfassungsrechtsprechung. Während die europäischen Integrationsakte im Bundestag überwiegend positiv beurteilt wurden, betonte das Bundesverfassungsgericht vor allem die Grenzen der europäischen Integration. Die Arbeit untersucht daher das Verhältnis von Bundestag und Bundesverfassungsgericht auf dem Gebiet der europäischen Integration anhand der Bundestagsdebatten sowie der Entscheidungen des Bundesverfassungsgerichts zu den europäischen Integrationsakten. Sie stellt die unterschiedlichen Auffassungen der beiden Organe, u.a. zu einem europäischen Bundesstaat, dem europäischen Demokratiedefizit sowie den integrationssensiblen Bereichen, dar und überprüft diese kritisch auf ihre Vereinbarkeit mit dem Grundgesetz. Sie kommt zu dem Ergebnis, dass das Bundesverfassungsgericht den politischen Gestaltungsspielraum mit seiner Auslegung der Integrationsgrenzen teilweise zu stark eingeengt hat. »The Bundestag's Debates and the Federal Constitutional Court's Judgments on the European Integration Acts«

The thesis examines the relationship between the Bundestag and the Federal Constitutional Court in the field of European integration on the basis of the Bundestag's debates and the Federal Constitutional Court's judgments on the European integration acts. It outlines the different views these constitutional organs hold with regard to issues such as a European federal state and the European democratic deficit, and it scrutinizes these viewpoints' compatibility with the Grundgesetz.
Table of Contents
Section Title
Page
Action
Price

Vorwort

5

Inhaltsverzeichnis

7

Abkürzungsverzeichnis

13

1. Teil: Einleitung

19

2. Teil: Die Funktionen von Bundestag und Bundesverfassungsgericht bei der Zustimmung zu europäischen Integrationsakten

24

A. Die Beteiligung des Bundestages an der Zustimmung zu europäischen Integrationsakten

25

I. Gesetzesvorbehalt nach Art. 59 Abs. 2 GG

25

II. Art. 24 Abs. 1 GG als Integrationsgrundlage bis 1992

26

III. Art. 23 Abs. 1 GG als neue Integrationsgrundlage

28

1. Anwendungsbereich des Art. 23 Abs. 1 Satz 2 GG

31

2. Anwendungsbereich des Art. 23 Abs. 1 Satz 3 GG

32

3. Verfassungsänderung im Sinne des Art. 23 Abs. 1 Satz 3 GG

33

a) Hoheitsrechtsübertragung als Verfassungsänderung

33

b) Beispiele für weitere verfassungsändernde Integrationsakte

37

4. Zusammenfassung

38

IV. Rechtsgrundlagen für die Zustimmung zu den untersuchten europäischen Integrationsakten

38

B. Materiell-rechtlicher Rahmen für die Zustimmung zu europäischen Integrationsakten

42

I. Materielle Grenzen der Hoheitsrechtsübertragung nach Art. 24 Abs. 1 GG

43

II. Materielle Grenzen der europäischen Integration nach Art. 23 Abs. 1 GG

44

1. Struktursicherungsklausel

44

2. Art. 23 Abs. 1 Satz 3 GG i. V. m. Art. 79 Abs. 3 GG

47

III. Art. 79 Abs. 3 GG als absolute Schranke

47

C. Die Prüfungskompetenz des Bundesverfassungsgerichts im Zusammenhang mit europäischen Integrationsakten

48

I. Verfahrensarten

49

1. Normenkontrollverfahren

49

2. Organstreitverfahren

50

3. Verfassungsbeschwerde

50

II. Vorbeugender Rechtsschutz

52

III. Gutachten des Bundesverfassungsgerichts

53

D. Zusammenfassung

56

3. Teil: Die europäischen Integrationsakte, ihre Behandlung im Bundestag und durch das Bundesverfassungsgericht

58

A. Europäische Gemeinschaft für Kohle und Stahl

59

I. Inhalte des Vertrages

60

II. Parlamentarische Behandlung

61

B. Europäische Verteidigungsgemeinschaft

65

I. Inhalte des Vertrages

66

II. Parlamentarische Behandlung

67

III. Die Entscheidungen des Bundesverfassungsgerichts

72

IV. Das Scheitern der EVG

76

C. Europäische Wirtschaftsgemeinschaft

76

I. Inhalte der Verträge

77

II. Parlamentarische Behandlung

79

D. Europäische Integrationsakte der 1960er- bis 1980er-Jahre

82

E. Einheitliche Europäische Akte

84

I. Inhalte des Vertrages

84

II. Parlamentarische Behandlung

85

F. Vertrag von Maastricht

86

I. Inhalte des Vertrages

87

II. Parlamentarische Behandlung

89

III. Das Maastricht-Urteil des Bundesverfassungsgerichts

93

IV. Inkrafttreten

96

G. Vertrag von Amsterdam

96

I. Inhalte des Vertrages

97

II. Parlamentarische Behandlung

99

H. Vertrag von Nizza

101

I. Inhalte des Vertrages

102

II. Parlamentarische Behandlung

103

III. Inkrafttreten

104

I. Verfassungsvertrag

105

I. Inhalte des Vertrages

105

II. Parlamentarische Behandlung

107

III. Das Scheitern des Verfassungsvertrages

110

J. Vertrag von Lissabon

111

I. Inhalte des Vertrages

111

II. Parlamentarische Behandlung

112

III. Das Lissabon-Urteil des Bundesverfassungsgerichts

114

IV. Inkrafttreten des Vertrages

118

K. Die "Eurokrise"

119

I. Griechenland-Hilfe und Euro-Rettungsschirm

119

1. Währungsunion-Finanzstabilitätsgesetz

119

2. Euro-Rettungsschirm

121

3. Die Entscheidungen des Bundesverfassungsgerichts

122

II. Europäischer Stabilitätsmechanismus und Fiskalpakt

124

1. Parlamentarische Behandlung

126

2. Die Entscheidungen des Bundesverfassungsgerichts

129

III. Inkrafttreten des Europäischen Stabilitätsmechanismus

131

L. Zusammenfassung

132

4. Teil: Vergleich der Rechtsauffassungen von Bundestag und Bundesverfassungsgericht zur europäischen Integration

133

A. Europäischer Staat als Integrationsziel?

134

I. Rechtsnatur der Europäischen Union

135

II. Zielvorstellungen im Bundestag

138

III. Die Absage des Bundesverfassungsgerichts an den europäischen Bundesstaat

143

IV. Verfassungsrechtliche Zulässigkeit des Beitritts zu einem europäischen Bundesstaat

145

1. Art. 23 Abs. 1, 24 Abs. 1 GG als Rechtsgrundlage

145

2. Schutz der "Staatlichkeit" durch Art. 79 Abs. 3 GG?

146

a) Der Staat als Gewährleistungsgehalt des Art. 79 Abs. 3 GG

148

aa) Wortlaut des Art. 79 Abs. 3 GG

148

bb) Entstehungsgeschichte des Art. 79 Abs. 3 GG

149

cc) Der integrationsoffene Staat des Grundgesetzes

151

(1) Präambel

152

(a) Rechtliche Bedeutung der Präambel

152

(b) Auslegung der Präambel

152

(c) Zwischenergebnis

155

(2) Integrationsoffenheit nach Art. 24 GG

155

(3) Die Aufgeschlossenheit gegenüber einem europäischen Bundesstaat in den Nachkriegsjahren

156

(4) Zwischenergebnis

157

dd) Ergebnis

157

b) Souveräne Staatlichkeit als immanenter Gewährleistungsgehalt des Grundgesetzes?

158

aa) Überblick über das Meinungsspektrum

158

(1) Souveräne Staatlichkeit als Bestandteil der Identität des Grundgesetzes

158

(2) Staat als Voraussetzung und Gewährträger der Verfassung

159

(3) "Unverbrüchlichkeitsanspruch" der Verfassung

159

bb) Einwände gegen einen immanenten Staatlichkeitsschutz

160

(1) Problematik ungeschriebener Schranken

160

(2) Integrationsoffenheit als Bestandteil der deutschen Verfassung

161

(3) Souveräne Staatlichkeit als notwendige Voraussetzung einer Verfassung

162

(4) Europäischer Staat als Gewährträger

163

(5) "Unverbrüchlichkeitsanspruch" jeder Verfassung?

165

(6) Zeitlich und inhaltlich eingeschränkte Geltung des Grundgesetzes

166

cc) Zwischenergebnis

168

c) Fazit

168

3. Vereinbarkeit mit den einzelnen Gewährleistungen des Art. 79 Abs. 3 GG

168

V. Zusammenfassung

171

B. Demokratische Legitimation in der Europäischen Union

172

I. Überblick über die Anforderungen an die europäische Demokratie

172

II. Parlamentarische und bundesverfassungsgerichtliche Behandlung

174

1. Einschätzungen in den Bundestagsdebatten vor dem Maastricht-Urteil

174

2. Beurteilung des Bundesverfassungsgerichts

178

3. Änderungen in der parlamentarischen Behandlung nach dem Maastricht-Urteil

179

4. Zusammenfassung der Einschätzungen des demokratischen Defizits

180

III. Die Legitimationskraft des Europäischen Parlaments

180

1. Rechtsstellung des Europäischen Parlaments

181

2. Das Europäische Parlament als Volks- oder Völkervertretung?

182

a) Fehlen eines europäischen Volkes

182

b) Vertretung der Unionsbürgerinnen und Unionsbürger

185

c) Nationale Kontingente als Hindernis?

187

d) Zwischenergebnis

189

3. Die mangelnde Wahlrechtsgleichheit

190

a) Anforderungen an die Gleichheit der Wahl

191

b) Spielraum des Gesetzgebers hinsichtlich der Gleichheit der Wahl

193

c) Wahlgleichheit in föderalen Staaten

196

d) Rechtfertigungsgründe

198

e) Zwischenergebnis

200

4. Möglichkeiten der Kompensation der ungleichen Wahl

201

a) Ausgleich durch die doppelt-qualifizierte Mehrheit im Rat

202

b) Europäische Bürgerinitiative

206

c) Zwischenergebnis

207

5. Zusammenfassende Bewertung

208

C. Die Integrationsverantwortung des Bundestages

209

I. Die Bedeutung des Bundestages im europäischen Integrationsprozess

210

1. Die Einschätzung der eigenen Rechte im Bundestag

212

2. Integrationsverantwortung im Lissabon-Urteil

216

II. Integrationsverantwortung bei Vertragsänderungen

217

1. Das ordentliche Vertragsänderungsverfahren

218

2. Das vereinfachte Vertragsänderungsverfahren

219

3. Brückenklauseln

221

a) Parlamentarische Behandlung

222

b) Gesetzesvorbehalt des Bundesverfassungsgerichts

226

c) Brückenklauseln und deutsches Verfassungsrecht

226

III. Integrationsverantwortung bei Anwendung der Flexibilitätsklausel

230

IV. Zusammenfassung

234

D. Integrationssensible Sachbereiche

234

I. Integrationsvorbehalte im Bundestag

235

II. Die Bestimmung integrationssensibler Bereiche durch das Bundesverfassungsgericht

236

1. Demokratieprinzip als Integrationsgrenze

237

a) Öffentlichkeit als Voraussetzung von Demokratie

238

b) Europäische Öffentlichkeit

239

c) Unzureichende Öffentlichkeit als Integrationshindernis

241

2. Integrationsfeste und integrationssensible Bereiche

242

3. Die Auswahl der integrationssensiblen Bereiche

244

4. Zwischenergebnis

246

III. Im Besonderen: Einsatz der Streitkräfte

246

1. Standpunkte im Bundestag zu einer europäischen Verteidigungspolitik

247

2. Verfassungsgerichtliche Beurteilung einer gemeinsamen europäischen Verteidigung

252

3. Die Begründung des wehrverfassungsrechtlichen Parlamentsvorbehalts

254

a) Wehrverfassung und deutsche Verfassungstradition

255

b) Demokratieprinzip

257

4. Integrationsfestigkeit des Parlamentsvorbehalts

258

5. Zulässigkeit einer europäischen Armee

261

6. Zusammenfassung

264

IV. Im Besonderen: Budgetrecht

264

1. Die Bedeutung des Budgetrechts

264

2. Parlamentarische Behandlung

265

3. Die Beurteilung des Bundesverfassungsgerichts

266

4. Integrationsfestigkeit des Budgetrechts

267

5. Die haushaltspolitische Gesamtverantwortung

269

a) Integrationsbereitschaft des Bundestages

270

b) Bedeutung des Bundestages im Rahmen der Euro-Rettung

271

6. Ergebnis

274

E. Volksabstimmungen als Weg zu einer vertieften europäischen Integration

274

I. Die Stellungnahmen des Bundesverfassungsgerichts zu Volksabstimmungen

275

II. Standpunkte im Bundestag zu Volksabstimmungen über die europäische Integration

276

III. Legitimation europäischer Integrationsakte durch Volksentscheid

280

1. Der Meinungsstand zur Anwendbarkeit des Art. 146 GG

282

2. Art. 146 GG a. F. als Weg zu einer neuen Verfassung

284

3. Das Verhältnis von Art. 146 GG n. F. zu Art. 79 Abs. 3 GG

287

4. Fazit

291

5. Teil: Zusammenfassung und Fazit

292

Literaturverzeichnis

295

Sachwortverzeichnis

323