European history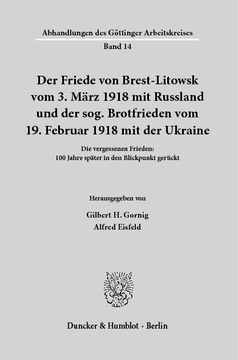 Additional Information
Book Details
ISBN

978-3-428-58067-5
978-3-428-18067-7 (print edition)

DOI

https://doi.org/10.3790/978-3-428-58067-5

Edition

1

Language

German

Pages

254

Collections

Subjects
Pricing
Institution

€ 80.00 (incl. local VAT if applicable)

Individual

€ 62.90 (incl. local VAT if applicable)
About The Author
Gilbert H. Gornig, Studium der Rechtswissenschaften und politischen Wissenschaften in Regensburg und Würzburg. Ab 1990 Professor für Öffentliches Recht, Völkerrecht und internationales Wirtschaftsrecht an der Georg-August-Universität zu Göttingen und ab 1994 Dekan. Von 1995 bis 2016 Professor für Öffentliches Recht, Völkerrecht und Europarecht an der Philipps-Universität Marburg, Dekan 2006 bis 2012. 1996 bis 2004 Richter am Hessischen Verwaltungsgerichtshof. Gastprofessor an vielen ausländischen Universitäten. Forschungsschwerpunkte: Völkerrecht, Europarecht, Verfassungsrecht, Verwaltungsrecht. Homepage: www.voelkerrecht.com.

Alfred Eisfeld, Studium der Geschichte Ost- und Südosteuropas, der Politischen Wissenschaften und der Zeitungswissenschaften in Bonn und München. Ab 1984 Wissenschaftlicher Mitarbeiter am Osteuropa-Institut München, ab 1987 bis heute beim Göttinger Arbeitskreis e. V., 1990-2001 Geschäftsführender Leiter des Instituts für Deutschland- und Osteuropaforschung des Göttinger Arbeitskreises e. V., 2002-2010 Stellvertretender Direktor, 2011-2016 Wissenschaftlicher Mitarbeiter des Instituts für Kultur und Geschichte der Deutschen in Nordost-Europa an der Universität Hamburg. Vorsitzender der Wissenschaftlichen Kommission für die Deut-schen in Russland und in der GUS e. V. Mitglied mehrerer internationaler wissenschaftlicher Gesellschaften. Forschungsschwerpunkte: Geschichte des Russischen Reiches und deren Nachfolgestaaten, Geschichte, Kultur und Gegenwart der Russlanddeutschen.
Gilbert H. Gornig studied law and political science in Regens-burg and Würzburg. From 1990 professor for public law, international law and international business law at the Georg-August University in Göttingen and from 1994 dean. From 1995 to 2016 professor for public law, international law and European law at the Philipps University Marburg, dean 2006 to 2012. 1996 to 2004 judge at the Hessian Administrative Court. Vi-siting professor at many foreign universities. Research focus: international law, European law, constitutional law, administrative law. Homepage: www.voelkerrecht.com.

Alfred Eisfeld studied the history of Eastern and South Eastern Europe, political science and newspaper science in Bonn and Munich. From 1984 research assistant at the Eastern Europe Institute in Munich, from 1987 until now at the Göttinger Arbeitskreis e. V., 1990-2001 Managing Direc-tor of the Institute for Germany and Eastern European Research of the Göttinger Arbeitskreis e. V., 2002-2010 Deputy Director, 2011-2016 Research Associate at the Institute for Culture and History of Germans in Northeast Europe at the University of Hamburg. Chairman of the Scientific Commission for the Germans in Russia and in the GUS e. V. Member of several international scientific societies. Main research: History of the Russian Empire and its succes-sor states, history, culture and present of the Russian Germans.
Abstract
Der Frieden von Brest-Litowsk vom 3. März 1918 beendete den Ersten Weltkrieg zwischen Sowjetrussland und den Mittelmächten. Die Regierung der Bolschewiki unterzeichnete den Vertrag angesichts der deutschen militärischen Drohung unter Protest, weil sie ansonsten den Erfolg der Oktoberrevolution zu gefährden fürchtete. Den Mittelmächten unter der Führung des Deutschen Reiches kam die Beendigung der Feindseligkeiten im Osten sehr gelegen, da damit der gefürchtete Zweifrontenkrieg beendet war. Die Ukraine schloss schon am 9. Februar 1918 in Brest-Litowsk mit den Mittelmächten einen Separatfrieden, der als »Brotfrieden« bezeichnet wurde. Sowjetrussland musste auf seine Hoheitsrechte in Polen, Litauen und Kurland verzichten. Estland und Livland sowie fast das gesamte Gebiet Weißrusslands blieben von deutschen Truppen besetzt. Die Ukraine und Finnland wurden als selbständige Staaten anerkannt. »The Brest-Litovsk Peace of March 3, 1918 with Russia and the so-called ›Bread Peace‹ of February 19, 1918 with Ukraine. The Forgotten Peace: Moved into Focus 100 Years later«

The Brest-Litovsk Peace of March 3, 1918 ended the First World War between Soviet Russia and the Central Powers. Ukraine already made a separate peace with the Central Powers on February 9, 1918, the so-called »bread peace«. Soviet Russia had to waive its sovereign rights in Poland, Lithuania and Courland. Estonia and Livonia as well as almost the entire area of Belarus remained occupied by German troops. Ukraine and Finland were recognized as inde-pendent states.
Table of Contents
Section Title
Page
Action
Price

Vorwort

5

Foreword

7

Inhaltsverzeichnis

9

Content

11

Abkürzungsverzeichnis/List of Abbreviations

13

Gilbert H. Gornig, Der Frieden von Brest-Litowsk und seine völkerrechtliche Würdigung

15

I. Friedensvertrag von Brest-Litowsk

15

1. Hintergrund

15

a) Februar-Revolution

15

b) Oktoberrevolution

17

2. Waffenstillstand

18

3. Ziele der Vertragsparteien

20

a) Deutschland

20

b) Sowjetrussland

22

4. Friedensvertragsverhandlungen

23

a) Allgemeine Eindrücke

23

b) Erste Verhandlungsrunde

24

c) Zweite Verhandlungsrunde

25

d) Wiederaufnahme der Kampfhandlungen

27

5. Vertragsabschluss

30

6. Inhalt

30

7. Ergänzungsabkommen

33

8. Frieden mit der Ukraine, mit Finnland und mit Rumänien

35

a) Ukraine

35

b) Finnland

36

c) Rumänien

36

9. Weiterer Verlauf des Krieges

37

10. Waffenstillstand von Compiègne und Versailler Friedensvertrag

38

II. Rechtsfragen

39

1. Allgemein

39

2. Gültigkeit

41

a) Verstoß gegen zwingendes Recht

42

b) Unvereinbarkeit mit sonstigen Normen

42

aa) Mängel in der Fähigkeit zum Vertragsabschluss

42

(1) Verfassungsmäßigkeit der Vertretung durch die Bolschewiki

43

(2) Beachtung landesrechtlicher Vorschriften durch die Bolschewiki

44

bb) Willensmängel

45

(1) Zwang gegen Staatsvertreter

45

(2) Zwang gegen einen Staat

45

c) "Ungleiche" Verträge

47

3. Konkurrenz zwischen Verträgen

49

III. Bewertung

50

Abstract

51

Alexander V. Salenko, Der Frieden von Brest-Litowsk und Russland

55

I. Einleitung: das historische Vorfeld für den Frieden von Brest-Litowsk

55

II. Die Friedensverhandlungen von Brest-Litowsk (22.12.1917–03.03.1918)

57

III. Der Friede von Brest-Litowsk (3.3.1918–13.11.1918): Die Bedingungen des Friedensvertrages für Russland

61

IV. Der Friede von Brest-Litowsk und die langfristigen politischen Konsequenzen

65

Abstract

71

Аннотация

71

Alfred Eisfeld, Der Frieden von Brest-Litowsk und die Deutschen Russlands und der Ukraine

73

Einführung

73

Interministerielle Beratungen

75

Auflösung des Russischen Reiches

79

Die Russlanddeutschen und die Friedensverhandlungen in Brest-Litowsk

80

Fürsorge für die Rückwanderer

82

Interministerielle Beratungen über die Rückwanderung und Ansiedlung von Deutschen

83

Die Wolgadeutschen und die Rückwanderungsfrage

87

Zukunftskonzeptionen im Schwarzmeergebiet

91

Die Wolhyniendeutschen und die Rückwanderungsfrage

95

Zusammenfassung und Ausblick

96

Abstract

98

Jurgita Baur, Der Frieden von Brest-Litowsk und Litauen

101

I. Einleitung

101

II. Vorgeschichte

101

III. Ziele des Friedenvertrages

104

1. Ziele aus deutscher Sicht

104

2. Ziele aus russischer Sicht

105

3. Bedingungen des Vertrags von Brest-Litowsk

106

IV. Langfristige Auswirkungen des Vertrags

106

V. Bedeutung für die territorialen Bestimmungen in Litauen

109

VI. Politische Folgen

110

VII. Zusammenfassung

111

Abstract

111

Hans-Dieter Handrack, Der Frieden von Brest-Litowsk und die baltische Frage

113

I. Die Situation der Deutschbalten

113

II. Das Baltikum und die Westmächte

120

III. Zusammenfassung

129

Abstract

130

Siegrid Krülle, Der Frieden von Brest-Litowsk und Polen

133

I. Einführung

133

II. Rückblick auf Polens Geschichte von der ersten Teilung bis zum Ausbruch des Ersten Weltkriegs

134

III. Das Schicksal Polens während des Ersten Weltkriegs

137

1. Kriegsziele der drei Kaiserreiche an der Ostfront

137

2. Besetzung und Verwaltung durch die Mittelmächte

139

3. Das "Regentschaftskönigreich Polen" – erste Schritte zu einem polnischen Staat

140

4. Druck durch internationale Ereignisse

143

IV. Der Friedensvertrag von Brest-Litowsk

144

1. Vorgespräche und Friedensziele

144

2. Verhandlungsverlauf

146

3. Die Vertragsbestimmungen

150

4. Vertragsfolgen für Polen

152

V. Polen nach dem Vertrag von Brest-Litowsk

153

1. Das Jahr 1918 – auf dem Weg zur Souveränität

153

2. Innenpolitische Konsolidierung und Krisen bis 1935

155

3. Die polnische Grenzziehung

156

VI. Nachwirkungen und Bewertungen des Friedensvertrags von Brest-Litowsk. Vertragsfolgen für die Mittelmächte

156

VII. Zusammenfassung

159

Abstract

159

Vadzim Samaryn, Die Besetzung von Belarus durch deutsche Truppen und der Frieden von Brest-Litowsk sowie seine Folgen für die Belarussen

161

I. Einleitung

161

II. Der Erste Weltkrieg und die belarussische Nationalbewegung

161

III. Besetzung des Territoriums von Belarus durch deutsche Truppen: Wie haben sie die moderne Staatlichkeit indirekt unterstützt?

164

IV. Abschluss des Friedensvertrages in Belarus ohne Belarussen

167

V. Auflösung des Friedensvertrages und weitere Folgen des Friedensvertrages für Belarus

171

VI. Schlussfolgerung

172

Abstract

173

Аннотация

174

Andrii Kudriachenko, Der Separatfrieden mit der Ukraine vom 9. Februar 1918

175

Abstract

191

Eva-Maria Auch, Brest-Litowsk und die erste Republik Aserbaidschan

193

Die Vorgeschichte‍(n)

195

Von der Oktoberrevolution zur Gründung der Aserbaidschanischen Republik (Oktober 1917 – Mai 1918)

199

Von Tiflis über Gjandza nach Baku: Wege zur Staatlichkeit (Mai – September/November 1918)

207

Zusammenfassung

211

Quellen

213

Quelleneditionen

214

Zeittafel: 1917 bis Mai 1919

214

Karten

227

Abstract

230

Autoren

233

Professor Dr. Dr. h.c. Eva-Maria Auch

233

Dr. Jurgita Baur, LL.M.

235

Dr. Dr. h.c. Alfred Eisfeld

237

Professor Dr. Dr. h. c. mult. Gilbert H. Gornig

238

Dr. Hans-Dieter Handrack

239

Dr. jur. Siegrid Krülle

240

Dr. Alexander Salenko, LL.M. (Göttingen)

241

Dr. Vadzim Samaryn

242

Personenverzeichnis

245

Sachverzeichnis

249