Capital markets & securities law & regulation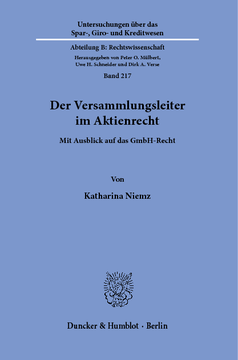 Additional Information
Book Details
ISBN

978-3-428-58002-6
978-3-428-18002-8 (print edition)

DOI

https://doi.org/10.3790/978-3-428-58002-6

Edition

1

Language

German

Pages

223

Collections

Subjects
Pricing
Institution

€ 80.00 (incl. local VAT if applicable)

Individual

€ 62.90 (incl. local VAT if applicable)
About The Author
Katharina Niemz studierte Rechtswissenschaften an der Johannes Gutenberg-Universität in Mainz mit den Schwerpunkten »Kapitalgesellschafts- und Kapitalmarktrecht« sowie »Steuerrecht«. Sie erwarb einen Master (LL.M. Business Law) an der De Montfort University in Leicester, UK. Ihr Rechtsreferendariat absolvierte sie am Oberlandesgericht Frankfurt a.M., u.a. mit Stationen beim Generalkonsulat der Bundesrepublik Deutschland in Los Angeles, USA, und beim Bundesministerium der Justiz und für Verbraucherschutz in Berlin. Sie ist derzeit als Rechtsanwältin in der Praxisgruppe Dispute Resolution in einer internationalen Wirtschaftskanzlei in Frankfurt a.M. tätig.
Katharina Niemz studied law at the Johannes Gutenberg University in Mainz with a focus on »Corporate and Capital Markets Law« and »Tax Law«. She obtained a Masters degree (LL.M. Business Law) at De Montfort University in Leicester, UK. She completed her legal clerkship at the Higher Regional Court of Frankfurt a.M., including stations at the Consulate General of the Federal Republic of Germany in Los Angeles, USA, and at the Federal Ministry of Justice and Consumer Protection in Berlin. She is currently an associate in the practice group Dispute Resolution in an international law firm in Frankfurt a.M.
Abstract
Der Versammlungsleiter ist die zentrale Figur der Hauptversammlung. Mit Blick auf die tatsächlichen und rechtlichen Unsicherheiten bei der Anordnung versammlungsleitender Maßnahmen ist er zwar immer wieder Gegenstand der Rechtsprechung, seine Rechtsstellung ist aber weitgehend ungeklärt. Um ein dogmatisches Fundament zu schaffen, widmet sich die Arbeit zunächst der verbandsrechtlichen Stellung des Versammlungsleiters. Es wird festgestellt, dass der Versammlungsleiter nicht bloßer »Funktionsgehilfe« der Hauptversammlung, sondern ein eigenständiges Organ der Aktiengesellschaft ist. Darauf aufbauend werden sämtliche Rechtsfragen rund um den Versammlungsleiter untersucht. Neben dem Versammlungsleiter als Amtsträger beschäftigt sich die Arbeit insbesondere mit den rechtlichen Grundlagen für Maßnahmen der Versammlungsleitung und dem Umgang mit einer fehlerhaften Versammlungsleitung. Darüber hinaus wird der praktisch bedeutsamen Frage der Haftung des Versammlungsleiters nachgegangen. »On the Chairperson of the Shareholders' Meeting under German Stock Corporation Law (with References to the Law on Limited Liability Companies)«

The thesis analyses the legal position of the chairperson of the shareholders' meeting within a German stock corporation. It finds that the chairperson is not merely a »functional assistant« of the shareholders' meeting, but rather an independent organ of the stock corporation. The thesis then examines all legal questions concerning the chairperson, including the legal basis for measures taken at the meeting, the consequences of improperly chairing a shareholders' meeting, and the liability of the chairperson.
Table of Contents
Section Title
Page
Action
Price

Vorwort

5

Inhaltsverzeichnis

7

Einleitung

15

Teil 1: Grundlagen

18

A. Die Hauptversammlung

18

I. Begriff der Hauptversammlung

18

II. Die Hauptversammlung als Mitgliederzusammenkunft

19

III. Die Hauptversammlung als Organ

21

B. Der Hauptversammlungsleiter

23

I. (Rechtliche) Notwendigkeit eines Hauptversammlungsleiters

23

II. Die Bedeutung einer rechtmäßigen Hauptversammlungsleitung

25

1. Bedeutung für die mitgliedschaftliche Stellung des einzelnen Aktionärs

26

2. Bedeutung für die Gesellschaft

27

a) Auswirkungen einer erfolgreichen Anfechtungs- oder Nichtigkeitsklage

28

b) Auswirkungen einer rechtshängigen Anfechtungs- oder Nichtigkeitsklage

29

c) Auswirkungen auf die Beschlussfähigkeit des Aufsichtsrats

30

d) Die Ausweitung der Hauptversammlungszuständigkeiten

31

C. Die versammlungsleitenden Maßnahmen im Überblick

32

I. Leitungsmaßnahmen

32

1. Von der Eröffnung zum Eintritt in die Tagesordnung

32

2. Erledigung der Tagesordnung

34

a) Die Aussprache

34

b) Die Behandlung von Beschlussanträgen

35

c) Das Abstimmungsverfahren

35

aa) Die Form der Abstimmung

36

bb) Die Ermittlung des Abstimmungsergebnisses

36

d) Die Beschlussfeststellung

36

e) Das Wiederaufgreifen von Tagesordnungspunkten

37

3. Die Schließung der Hauptversammlung

37

II. Ordnungsmaßnahmen

37

1. Ordnungsmaßnahmen gegen die Teilnehmergesamtheit

38

a) Beschränkung der Redezeit

38

b) Schließung der Rednerliste und Schluss der Debatte

38

2. Ordnungsmaßnahmen gegen einzelne Teilnehmer

39

a) Beschränkung der Redezeit und Wortentzug

39

b) Saalverweis

39

Teil 2: Die verbandsrechtliche Stellung des Hauptversammlungsleiters

41

A. Kritischer Überblick über den Meinungsstand

41

B. Die rechtliche Selbständigkeit des Hauptversammlungsleiters

43

I. Möglichkeit einer satzungsmäßigen Kompetenzübertragung

45

II. Konstruktion einer schuldvertraglichen Vereinbarung

45

III. Zwischenergebnis

48

C. Die Definition des Organbegriffs

49

I. Der funktionelle Organbegriff der Rechtsprechung

49

II. Die Konkretisierung des Organbegriffs im Schrifttum

50

1. Die Bedeutung des Verbandszwecks

50

2. Die Willensbildung und Willensumsetzung als spezifische Organtätigkeit

52

3. Stellungnahme

52

III. Der institutionell-funktionelle Organbegriff

53

1. Die institutionelle Komponente des Organbegriffs

54

2. Die funktionelle Komponente des Organbegriffs

55

3. Stellungnahme

55

IV. Die rechtsdogmatische Bedeutung des Organhandelns

57

1. Die Fiktionstheorie nach von Savigny

57

2. Die Theorie der realen Verbandspersönlichkeit nach von Gierke

58

3. Neuere Entwicklungen: Die Auflösung des Theorienstreits?

59

V. Die handlungsfähige Rechtsperson

62

1. Die Handlungsorganisation der juristischen Person

63

2. Die organisatorische Gewaltenteilung und -verschränkung

64

VI. Konsequenzen für den Organbegriff

65

1. Die notwendige Unterscheidung zwischen Organ und Organwalter

66

2. Die spezifische Aufgabe von Organen

67

VII. Zwischenergebnis

68

D. Folgerungen für die Rechtsstellung des Hauptversammlungsleiters

69

I. Eingliederung in die Verbandsverfassung

69

II. Der Hauptversammlungsleiter als selbständiger Kompetenzkomplex

70

1. Organisatorische Selbständigkeit

70

2. Rechtliche Selbständigkeit im Innenverhältnis

71

III. Die Tätigkeit des Hauptversammlungsleiters als Gegenstand organschaftlicher Kompetenz

72

1. Die Realisierung des Verbandswillens

72

2. Keine Tätigkeit für die Hauptversammlung

74

3. Die zweckdienliche Funktionenteilung

75

IV. Zwischenergebnis

76

E. Der Leiter der GmbH-Gesellschafterversammlung

77

I. Einführung

77

II. Der Versammlungsleiter als fakultatives Gesellschaftsorgan

78

1. Die Möglichkeit zur Einführung fakultativer Gesellschaftsorgane

79

2. Konsequenzen für den Versammlungsleiter in der GmbH

80

a) Eingliederung in die Verbandsverfassung

80

b) Organisatorische Selbständigkeit

82

3. Das Verhältnis des Versammlungsleiters zur Gesellschafterversammlung

83

III. Zwischenergebnis

85

Teil 3: Der Hauptversammlungsleiter als Amtsträger

86

A. Gesetzliche Anforderungen an den Hauptversammlungsleiter

86

I. Persönliche Anforderungen

86

1. Ausschluss von der Versammlungsleitung wegen Inkompatibilität

87

2. Zweckmäßigkeitserwägungen

89

II. Funktionale Anforderungen

91

B. Begründung der Amtsstellung

93

I. Bestimmung durch die Satzung oder Geschäftsordnung

93

1. Unmittelbare Bestimmung durch die Satzung

93

2. Bestimmung durch ein anderes Gremium

94

II. Bestimmung durch Wahl der Hauptversammlung

95

III. Bestimmung durch das Gericht

97

IV. Rechtslage im GmbH-Recht

98

C. Beendigung der Amtsstellung

99

I. Abberufung

100

1. Abberufung des durch die Satzung oder Geschäftsordnung bestimmten Hauptversammlungsleiters

100

a) Meinungsstand

100

b) Stellungnahme

103

c) Anforderungen an den Abwahlantrag und Wirkungen

103

2. Abberufung bei Wahl durch die Hauptversammlung

106

3. Abberufung des gerichtlich bestellten Hauptversammlungsleiters

107

II. Niederlegung des Amtes

107

D. Das Rechtsverhältnis des Hauptversammlungsleiters zur Gesellschaft

108

I. Das korporationsrechtliche Rechtsverhältnis und sein schuldrechtlicher Inhalt

108

1. Das Recht und die Pflicht zum Amt

110

2. Die Rechte und Pflichten im Amt

111

3. Die Rechte und Pflichten aus dem Amt

111

4. Zwischenergebnis

112

II. Die Rechtsbeziehungen des Hauptversammlungsleiters zur Gesellschaft

112

Teil 4: Das Amt des Hauptversammlungsleiters

114

A. Kompetenzabgrenzung zwischen Hauptversammlung und Versammlungsleiter

114

I. Dogmatische Grundlage der Kompetenzabgrenzung

114

II. Kompetenz der Hauptversammlung zu verfahrensleitenden Entscheidungen

115

III. Kompetenzregelungen in der Satzung oder einer Geschäftsordnung

118

B. Die rechtlichen Grundlagen für Maßnahmen der Versammlungsleitung

119

I. Meinungsstand in Rechtsprechung und Schrifttum

119

II. Die Erforderlichkeit eines Rechtsverhältnisses

121

1. Maßnahmen gegenüber den Aktionären

122

a) Neutralitätsgebot

125

b) Gleichbehandlungsgebot

125

c) Gebot der Sachdienlichkeit

126

d) Verhältnismäßigkeitsgebot

126

2. Maßnahmen gegenüber den Mitgliedern der Verwaltung

127

3. Maßnahmen gegenüber Dritten

127

III. Zwischenergebnis

129

C. Die Delegation von Aufgaben und Befugnissen

130

I. Die Entscheidungsverantwortung des Hauptversammlungsleiters

130

1. Delegation von Ordnungsmaßnahmen

130

2. Delegation von Leitungsmaßnahmen

131

II. Die Unterstützung durch Rechtsberater

133

Teil 5: Die fehlerhafte Versammlungsleitung

134

A. Rechtsschutz gegen Maßnahmen des Hauptversammlungsleiters

134

I. Grundsatz der inzidenten Rechtskontrolle

134

II. Abwehrklage des Aktionärs

135

III. Nachträgliche Feststellungsklage

138

IV. Positive Beschlussfeststellungsklage

141

V. Sonstige Rechtsschutzmöglichkeiten

142

B. Der "falsche" Hauptversammlungsleiter

143

I. Die Folgen einer fehlerhaften Besetzung des Amtes

143

II. Der Scheinaufsichtsratsvorsitzende leitet die Versammlung

145

III. Die fehlerhafte Organstellung des Hauptversammlungsleiters

147

1. Die Lehre von der fehlerhaften Organstellung

147

2. Übertragbarkeit des Rechtsgedankens auf den Hauptversammlungsleiter

148

3. Anwendungsvoraussetzungen der Lehre von der fehlerhaften Organstellung

150

IV. Fehlerhafte Abberufung

151

V. Der faktische Hauptversammlungsleiter

152

Teil 6: Die Haftung des Hauptversammlungsleiters

154

A. Die Haftung gegenüber der Gesellschaft

154

I. Überblick über den Meinungsstand

154

1. Die Entscheidung des LG Ravensburg

154

2. Kritischer Überblick über den Meinungsstand im Schrifttum

155

II. Haftungsgrundlage

158

III. Haftungsvoraussetzungen

160

1. Die Verletzung einer Sorgfaltspflicht

160

a) Die Legalitätspflicht

160

aa) Die Pflicht zur Rechtsbefolgung

160

bb) Die Pflicht zur Rechtsermittlung

162

cc) Die Überwachungspflicht

162

b) Die Pflicht des Hauptversammlungsleiters zur Rechtskontrolle

163

aa) Möglichkeit und Zumutbarkeit der Rechtskontrolle

163

bb) Vorrang des Beschlussmängelrechts

164

c) Die Treuepflicht

166

d) Die Sorgfaltspflicht im engeren Sinne

167

2. Das Verschulden des Hauptversammlungsleiters

167

a) Der allgemeine Verschuldensmaßstab der Organmitglieder

167

b) Einschränkung des Verschuldensmaßstabs

168

aa) Haftung nur für Abweichungen von der eigenüblichen Sorgfalt

168

bb) Haftungsbeschränkung wegen unentgeltlicher Tätigkeit

169

cc) Haftungsbeschränkung aufgrund der "gespannten und hektischen Atmosphäre einer Hauptversammlung"

170

dd) Zwischenergebnis

171

c) Keine Zurechnung fremden Verschuldens

171

3. Die Haftung unter Berücksichtigung rechtlicher Unsicherheiten

172

a) Anforderungen an die Rechtsermittlungspflicht

173

b) Anforderungen an die Entscheidungsfindung bei unsicherer Rechtslage

175

aa) Analoge Anwendung des § 93 Abs. 1 Satz 2 AktG

175

bb) Übertragbarkeit der zivilrechtlichen Anforderungen an das Vorliegen eines entschuldigenden Rechtsirrtums

176

cc) Die Kriterien der Entscheidungsfindung

179

dd) Ausschluss der Sorgfaltspflichtverletzung oder des Verschuldens?

180

4. Kausaler Schaden der Gesellschaft

182

IV. Beweislastverteilung

182

V. Die Verjährung des Schadensersatzanspruchs

183

VI. Die Durchsetzung des Schadensersatzanspruchs

184

VII. Möglichkeiten der Haftungsbegrenzung

185

1. Bedürfnis für eine Haftungsbegrenzung

185

2. Abschluss einer D&O-Versicherung

186

3. Vereinbarung einer Haftungsbeschränkung

187

4. Haftungsbeschränkung ohne Satzungsregelung

189

B. Die Haftung gegenüber den Aktionären

191

I. Anspruch aus Organhaftung

191

II. Anspruch aus allgemeinem Leistungsstörungsrecht

191

III. Deliktische Ansprüche

192

1. Eingriff in den Schutzbereich der Mitgliedschaft

192

2. Rechtswidrigkeit des Eingriffs

193

3. Ersatzfähiger Schaden des Aktionärs

193

C. Die Haftung für Schädigungen Dritter

195

D. Übertragbarkeit auf den Leiter der GmbH-Gesellschafterversammlung

196

Teil 7: Zusammenfassung der wesentlichen Ergebnisse

198

Literaturverzeichnis

207

Sachverzeichnis

218