Administrative procedure & courts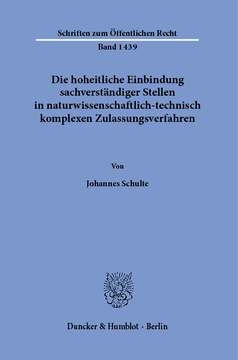 BOOK
Die hoheitliche Einbindung sachverständiger Stellen in naturwissenschaftlich-technisch komplexen Zulassungsverfahren
Schriften zum Öffentlichen Recht, Vol. 1439
(2020)
Additional Information
Book Details
ISBN

978-3-428-58127-6
978-3-428-18127-8 (print edition)

DOI

https://doi.org/10.3790/978-3-428-58127-6

Edition

1

Language

German

Pages

575

Collections

Subjects
Pricing
Institution

€ 126.00 (incl. local VAT if applicable)

Individual

€ 98.90 (incl. local VAT if applicable)
About The Author
Johannes Schulte studierte von 2009 bis 2014 an der Leibniz Universität Hannover Rechtswissenschaften. Nach dem ersten Staatsexamen nahm er parallel zum Referendariat bei Prof. Dr. Veith Mehde, mag. rer. publ. (Lehrstuhl für Öffentliches Recht und Verwaltungswissenschaft) ein Promotionsvorhaben auf. Seit Ende 2016 ist Johannes Schulte als Rechtsanwalt tätig.
Johannes Schulte studied law at the Leibniz Universität Hannover from 2009 to 2014. After his first state examination and parallel to his legal clerkship, he began a doctorate with Prof. Dr. Veith Mehde, mag. rer. publ. (Chair of public law and administrative science). Johannes Schulte works as a lawyer since 2016.
Abstract
In sämtlichen Bereichen der Naturwissenschaften, Technik und Medizin sind Entscheidungsträger in Staat und Zivilgesellschaft auf besondere Fachexpertise angewiesen. Um die Chancen und Risiken innovativer und gefährlicher Technologien, Anlagen oder Produkte adäquat prüfen und beurteilen zu können, sind vor Tätigkeitsaufnahme bzw. Marktzugang typischerweise gesetzlich implementierte Zulassungs- oder Genehmigungsverfahren zu absolvieren, in denen Verwaltungsbehörden oder vom Staat rekrutierte private Experten komplexe Prüfungen durchführen und Entscheidungen treffen müssen. Anhand von exemplarischen Referenzgebieten untersucht die Arbeit die regulatorischen Möglichkeiten und Grenzen von Gesetz- bzw. Normgeber bei der organisations- und verfahrensrechtlichen Ausgestaltung der Tätigkeit von hoheitlich in komplexen Zulassungsverfahren eingebundenen sachverständigen Stellen einschließlich der für ihre gerichtliche Überprüfung geltenden Grundsätze. »The Involvement of Expert Bodies by the State in Complex Scientific and Technical Approval Procedures«

In all areas of the natural sciences, technology and medicine, decision-makers in government and civil society are dependent on special expertise. Based on exemplary reference areas, the study examines the regulatory possibilities and limits legislators and standard setters face in relation to the organizational and procedural design of the activities of expert bodies officially involved by the state in complex approval procedures, including the principles applicable to their judicial review.
Table of Contents
Section Title
Page
Action
Price

Vorwort

5

Inhaltsverzeichnis

7

Abkürzungsverzeichnis

18

§ 1 Einleitung

25

A. Problemstellung

25

I. Wissensasymmetrien in naturwissenschaftlich-technisch komplexen Zulassungsverfahren

26

II. Legitimation und Legitimität sachverständiger Stellen

29

III. Funktionswandel der Verwaltungsgerichtsbarkeit und außerjuridische Expertise

30

B. Forschungsstand

31

C. Gang der Untersuchung

35

§ 2 Grundlegung

40

A. Naturwissenschaftlich-technisch komplexe Zulassungsverfahren

40

I. Begriff

40

II. Erfasste Verfahrenstypen

42

1. Anlagenzulassungsverfahren

42

2. Risikoverfahren

43

3. Qualitätssicherungsverfahren

44

III. Bedeutung der verschiedenen Verfahrenstypen im Rahmen der Untersuchung

45

B. Sachverständige Stellen

46

I. Begriff

47

II. Hoheitliche Einbindung

48

1. Verwaltungsseitige Tätigkeit

48

2. Verwaltungssubstituierende Tätigkeit

49

III. Aufgaben in naturwissenschaftlich-technisch komplexen Zulassungsverfahren

50

1. Beratung

52

2. Entscheidung

53

3. Belangwahrung

53

C. Antragsteller

54

D. Prüfungsraster für die Untersuchung der Referenzgebiete

55

I. Rechtlicher Rahmen

55

II. Einbindungsmodus

56

III. Abstrakt-organisatorische Anforderungen

58

1. Fachkompetenz

59

2. Unabhängigkeit

60

IV. Tätigkeit im Zulassungsverfahren

62

1. Erstellen des Entscheidungsbeitrags

62

a) Befugnisse

63

b) Pflichten

64

c) Kontrollmechanismen

66

2. Der Entscheidungsbeitrag

66

V. Gerichtliche Überprüfung

67

1. Kontrollzugang

68

2. Kontrolldichte

69

§ 3 Beratende sachverständige Stellen

71

A. Zur Auswahl der Referenzgebiete

71

B. Der Sachverständige i. S. d. § 20 S. 1 AtG im atomrechtlichen Genehmigungsverfahren

75

I. Rechtlicher Rahmen

75

II. Einbindungsmodus

76

III. Abstrakt-organisatorische Anforderungen

78

1. Fachkompetenz

79

2. Unabhängigkeit

84

IV. Tätigkeit des Sachverständigen i. S. d. § 20 S. 1 AtG im Genehmigungsverfahren

91

1. Prüfung des Antrags und Erstellung einer Stellungnahme

91

2. Behandlung der Stellungnahme durch die Genehmigungsbehörde

96

a) Rechtliche Bedeutung

96

b) Praktische Bedeutung

98

V. Gerichtliche Überprüfung

100

VI. Ergebnisse

103

C. Die Zentrale Kommission für die Biologische Sicherheit (ZKBS) in den gentechnikrechtlichen Genehmigungsverfahren

104

I. Rechtlicher Rahmen

105

II. Einbindungsmodus

106

III. Abstrakt-organisatorische Tätigkeitsanforderungen

111

1. Fachkompetenz

111

2. Unabhängigkeit

115

IV. Tätigkeit der ZKBS in den Genehmigungsverfahren

119

1. Prüfung des Antrags und Erstellung einer Stellungnahme

120

2. Behandlung der Stellungnahme durch die Genehmigungsbehörde

125

a) Rechtliche Bedeutung

125

b) Praktische Bedeutung

129

V. Gerichtliche Überprüfung

131

VI. Ergebnisse

134

D. Die Deutsche Flugsicherung GmbH (DFS) im Prüfverfahren nach § 18a Abs. 1 S. 2 LuftVG bei der Zulassung von Windenergievorhaben

136

I. Rechtlicher Rahmen

136

II. Einbindungsmodus

138

III. Abstrakt-organisatorische Anforderungen

141

1. Fachkompetenz

142

2. Unabhängigkeit

146

IV. Tätigkeit der DFS im Prüfverfahren

152

1. Prüfung des Antrags und Abgabe einer Stellungnahme

152

2. Behandlung der Stellungnahme durch das Bundesaufsichtsamt für Flugsicherung (BAF)

157

a) Rechtliche Bedeutung

157

b) Praktische Bedeutung

159

V. Gerichtliche Überprüfung

162

VI. Ergebnisse

165

E. Zusammenfassung der Ergebnisse zum Kapitel § 3

166

§ 4 Entscheidungsbefugte sachverständige Stellen

169

A. Zur Auswahl der Referenzgebiete

169

B. Die Bundesnetzagentur im Planfeststellungsverfahren für länderübergreifende und grenzüberschreitende Höchstspannungsleitungen

173

I. Rechtlicher Rahmen

174

II. Einbindungsmodus

175

III. Abstrakt-organisatorische Anforderungen

179

1. Fachkompetenz

180

2. Unabhängigkeit

183

IV. Tätigkeit der Bundesnetzagentur im Planfeststellungsverfahren

187

1. Durchführung des Planfeststellungsverfahrens

188

2. Entscheidung

194

V. Gerichtliche Überprüfung

196

VI. Ergebnisse

199

C. Der Gegensachverständige i. S. d. § 25 Abs. 5 S. 5 AMG\x03 im nationalen rzneimittelzulassungsverfahren

200

I. Rechtlicher Rahmen

201

II. Einbindungsmodus

203

III. Abstrakt-organisatorische Anforderungen

207

1. Fachkompetenz

207

2. Unabhängigkeit

210

IV. Tätigkeit des Gegensachverständigen im Zulassungsverfahren

216

1. Prüfung und Beurteilung des Zulassungsantrags

216

2. Entscheidung

221

V. Gerichtliche Überprüfung

225

VI. Ergebnisse

227

D. Die Benannten Stellen im Konformitätsbewertungsverfahren für Hochrisiko-Medizinprodukte

228

I. Rechtlicher Rahmen

229

II. Einbindungsmodus

231

III. Abstrakt-organisatorische Anforderungen

235

1. Fachkompetenz

236

2. Unabhängigkeit

240

IV. Tätigkeit der Benannten Stellen im Konformitätsbewertungsverfahren

243

1. Durchführung der Konformitätsbewertung

243

2. Entscheidung

250

V. Gerichtliche Überprüfung

252

VI. Ergebnisse

255

E. Zusammenfassung der Ergebnisse zum Kapitel § 4

256

§ 5 Belangwahrende sachverständige Stellen

260

A. Zur Auswahl der Referenzgebiete

260

B. Das Bundesaufsichtsamt für Flugsicherung (BAF) im Prüfverfahren nach § 18a Abs. 1 S. 2 LuftVG bei der Zulassung von Windenergievorhaben

264

I. Rechtlicher Rahmen

265

II. Einbindungsmodus

266

III. Abstrakt-organisatorische Anforderungen

268

1. Fachkompetenz

269

2. Unabhängigkeit

271

IV. Tätigkeit des BAF im Prüfverfahren

275

1. Prüfung des Antrags und Erstellung einer Stellungnahme

276

2. Behandlung der Stellungnahme durch die BImSchG-Genehmigungsbehörde

282

a) Rechtliche Bedeutung

282

b) Praktische Bedeutung

285

V. Gerichtliche Überprüfung

286

VI. Ergebnisse

287

C. Die anerkannten Umweltverbände bei der Planfeststellung von Fernstraßenvorhaben

288

I. Rechtlicher Rahmen

289

II. Einbindungsmodus

290

III. Abstrakt-organisatorische Anforderungen

294

1. Fachkompetenz

294

2. Unabhängigkeit

298

IV. Tätigkeit der anerkannten Umweltverbände im Planfeststellungsverfahren

303

1. Prüfung des Plans und Erstellung einer Stellungnahme

303

2. Behandlung der Stellungnahme durch die Planfeststellungsbehörde

306

a) Rechtliche Bedeutung

307

b) Praktische Bedeutung

308

V. Gerichtliche Überprüfung

310

VI. Ergebnisse

313

D. Die Ethik-Kommissionen bei der Genehmigung von klinischen Prüfungen von Arzneimitteln

314

I. Rechtlicher Rahmen

315

II. Einbindungsmodus

317

III. Abstrakt-organisatorische Anforderungen

322

1. Fachkompetenz

323

2. Unabhängigkeit

327

IV. Tätigkeit der Ethik-Kommissionen im Bewertungsverfahren

333

1. Prüfung des Antrags und Erstellung einer Stellungnahme

333

2. Entscheidung

338

V. Gerichtliche Überprüfung

340

VI. Ergebnisse

342

E. Zusammenfassung der Ergebnisse zum Kapitel § 5

343

§ 6 Vergleich und Analyse der Untersuchungsgruppen

346

A. Rechtlicher Rahmen

346

I. Überblick: Normbestand und Regelungsstrukturen

347

II. Analyseraster

348

1. Rechtliche Betrachtung

349

a) Reichweite und Grenzen der Prüf- und Entscheidungskompetenzen sachverständiger Stellen

349

b) Öffentlich-rechtlich oder privatrechtlich konzipierte Zulassungsverfahren

352

2. Kohärenz

353

3. Rechtspolitischer Ausblick

355

B. Einbindungsmodus

357

I. Überblick: Normbestand und Regelungsstrukturen

357

II. Analyseraster

362

1. Rechtliche Betrachtung

362

a) Einbindung sachverständiger Stellen als Verfassungsgebot

362

b) Primat des Rückgriffs auf verwaltungsinterne sachverständige Stellen

364

c) Demokratische Legitimation

367

aa) Herkömmliches Legitimationsverständnis

367

(1) Ausübung von Staatsgewalt als Legitimationsobjekt

368

(2) Legitimationsmodi und Legitimationsniveau

368

bb) Übertragbarkeit auf Private

370

(1) Legitimationsbedürftigkeit privater Entscheidungsbeiträge

370

(2) Dogmatischer Anknüpfungspunkt und Umsetzung des Legitimationserfordernisses

372

cc) Legitimation sachverständiger Stellen – Ansatz des "Legitimationsbeitrags"

374

dd) Legitimationsbeitrag der untersuchten Einbindungsmodi

376

(1) Bei verwaltungsinternen sachverständigen Stellen

376

(a) Mit Außenentscheidungskompetenzen

377

(b) Mit binnenrechtlich verbindlichen Entscheidungsbeiträgen

378

(c) Mit rechtlich unverbindlichen Entscheidungsbeiträgen

378

(2) Bei verwaltungsexternen sachverständigen Stellen

379

(a) Mit Außenentscheidungskompetenzen

379

(b) Mit binnenrechtlich verbindlichen Entscheidungsbeiträgen

382

(c) Mit rechtlich unverbindlichen Entscheidungsbeiträgen

382

d) Einbindungspublizität

385

aa) Verwirklichung bei obligatorischen Einbindungsmodi

386

bb) Offenlegungspflicht bei fakultativen Einbindungsmodi?

387

(1) Aussagen im Schrifttum

389

(2) Stellungnahme

390

2. Kohärenz

391

a) Obligatorische und fakultative Einbindungsmodi

392

b) Verwaltungsinterne und verwaltungsexterne sachverständige Stellen

393

c) Entscheidungsbefugte und entscheidungsvorbereitende sachverständige Stellen

395

3. Rechtspolitischer Ausblick

397

a) Aktuelle Entwicklungen

397

b) Nochmals: Publizität der fakultativen Einbindung externer sachverständiger Stellen

399

c) Vorstrukturierung des Besetzungsverfahrens von Kollegialgremien

400

C. Abstrakt-organisatorische Anforderungen

401

I. Fachkompetenz

401

1. Überblick: Normbestand und Regelungsstrukturen

401

2. Analyseraster

404

a) Rechtliche Betrachtung

404

aa) Fachkompetenz sachverständiger Stellen als rechtliches Gebot

404

(1) Verwaltungsinterne sachverständige Stellen

405

(2) Verwaltungsexterne sachverständige Stellen

406

bb) Mechanismen zur Gewährleistung von Fachkompetenz

407

(1) Bei verwaltungsinternen sachverständigen Stellen

407

(a) Durch Einrichtung und Organisation

407

(b) Durch gesetzliche bzw. untergesetzliche Vorgaben

409

(2) Bei verwaltungsexternen sachverständigen Stellen

411

(a) Durch gesetzliche bzw. untergesetzliche Vorgaben

412

(b) Durch Anerkennungs-, Benennungs-, Berufungs- und Registrierungsverfahren

418

(c) Durch Einzelfallprüfung

419

cc) Legitimationsbeitrag der untersuchten Mechanismen zur Gewährleistung von Fachkompetenz

420

(1) Bei verwaltungsinternen sachverständigen Stellen

420

(a) Mit Außenentscheidungskompetenzen

420

(b) Mit binnenrechtlich verbindlichen Entscheidungsbeiträgen

421

(c) Mit rechtlich unverbindlichen Entscheidungsbeiträgen

422

(2) Bei verwaltungsexternen sachverständigen Stellen

422

(a) Mit Außenentscheidungskompetenzen

423

(b) Mit binnenrechtlich verbindlichen Entscheidungsbeiträgen

424

(c) Mit rechtlich unverbindlichen Entscheidungsbeiträgen

424

b) Kohärenz

426

aa) Verwaltungsinterne und verwaltungsexterne sachverständige Stellen

426

bb) Entscheidungsbefugte und entscheidungsvorbereitende sachverständige Stellen

427

cc) Vergleich mit anderen naturwissenschaftlich-technisch geprägten Rechtsgebieten

428

c) Rechtspolitischer Ausblick

429

II. Unabhängigkeit

430

1. Überblick: Normbestand und Regelungsstrukturen

430

2. Analyseraster

433

a) Rechtliche Betrachtung

433

aa) Unabhängigkeit sachverständiger Stellen als rechtliches Gebot

433

(1) Verwaltungsinterne sachverständige Stellen

433

(2) Verwaltungsexterne sachverständige Stellen

434

bb) Mechanismen zur Gewährleistung von Unabhängigkeit

436

(1) Bei verwaltungsinternen sachverständigen Stellen

437

(a) Durch (Grund-)Rechts- und Gesetzesbindung

437

(b) Durch Vermeidung des "bösen Scheins"

438

(aa) Betätigungsverbote

439

(bb) Abstands- und Distanzgebote

440

(cc) Trennungsgebote?

443

§ 7 Ergebnisse und Fazit

539

Literaturverzeichnis

548

Auskunftsverzeichnis

571

Sachregister

572