Methods, theory & philosophy of law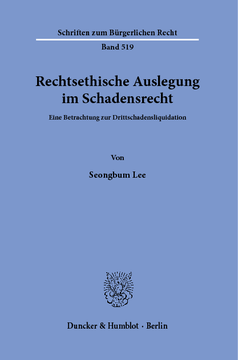 Additional Information
Book Details
ISBN

978-3-428-58140-5
978-3-428-18140-7 (print edition)

DOI

https://doi.org/10.3790/978-3-428-58140-5

Edition

1

Language

German

Pages

186

Collections

Subjects
Pricing
Institution

€ 80.00 (incl. local VAT if applicable)

Individual

€ 62.90 (incl. local VAT if applicable)
About The Author
Seongbum Lee hat Rechtswissenschaft an der Sungkyunkwan-Universität in Seoul studiert und wurde an der Universität Bremen promoviert.
Abstract
Was als Gesetzesinhalt zu verstehen ist, wird bestimmt durch das spannungsreiche Verhältnis zwischen dem, was wörtlich im Normtext steht, und dem, was damit gemeint ist. Um zu erfassen, was das Gesetz meint, bedarf es einer Auslegungsmethode, die sich mit rechtsethischen Wertungen innerhalb des Gesetzes befasst. Dazu beschäftigt sich der Autor mit der rechtsethischen Auslegung, nach welcher rechtsethische Argumente punktuell und interessengerecht in die Gesetzesauslegung einzubeziehen sind. Als Anwendungsbeispiel der rechtsethischen Auslegung wird die Drittschadensliquidation gewählt, die dem Dogma vom Gläubigerinteresse als rechtsdogmatischem Grundsatz des Schadensrechts zuwiderläuft. Dabei wird die Möglichkeit betrachtet, den rechtsdogmatischen Grundsatz zu flexibilisieren, indem rechtsethische Wertungen des Schadensrechts berücksichtigt werden, welche für den Ausgleich des Drittschadens relevant sind. Damit kann überprüft werden, ob sich die Drittschadensliquidation auf dieses Auslegungsergebnis stützen lässt. »The Interpretation by Juridico-Moral Standards on the Law of Damages«

The author explores the interpretation by juridico-moral standards (Rechtsethische Auslegung) on the law of damages, which embraces juridico-moral arguments selectively and properly with the interpretation of law. An Example of this interpretation method can be found in the theory of »transferred loss« (Drittschadensliquidation). In this dissertation, it is considered that juridico-moral values in the law of damages can justify the compensation for the third-party damages. Based on this premise, possibilities to justify the theory of »transferred loss« will be examined.
Table of Contents
Section Title
Page
Action
Price

Vorwort

5

Inhaltsverzeichnis

7

Einleitung

13

Erster Teil: Rechtsethische Auslegung als Gesetzesauslegungsmethode

18

A. Savignys Verständnis der Gesetzesauslegung

21

I. Grundlinien der Gesetzesauslegungslehre Savignys

21

II. Savignys Grundidee in der Gesetzesauslegungslehre

25

III. Vergleich der Gesetzesauslegungslehre Savignys mit der heutigen Rechtsmethodenlehre

28

1. Vergleich mit der objektiv-teleologischen Auslegung

29

2. Vergleich mit der folgenorientierten Auslegung

32

B. Notwendigkeit der rechtsethischen Auslegung

34

I. Ausgangspunkt: Unterschied zwischen der Auslegungslehre Savignys und der modernen Auslegungslehre

35

II. Kritik an der Methodenunklarheit der objektiv-teleologischen Auslegung

36

III. Rechtsmethodische Bedeutung der Kategorisierung der Hilfsmittel Savignys für die Gesetzesauslegung

39

C. Begriff und Inhalt der rechtsethischen Auslegung

43

I. Grundposition der rechtsethischen Auslegung

44

II. Vergleich mit der juristischen Hermeneutik

46

1. Gefahr beim hermeneutischen Zirkel

46

2. Abstandnahme vom hermeneutischen Zirkel in der rechtsethischen Auslegung

53

III. Vergleich mit der juristischen Argumentationslehre: Rechtsethischer Minimalismus in der rechtsethischen Auslegung

56

1. Prozedurales Konzept der juristischen Argumentationslehre

57

2. Rechtsethischer Minimalismus für inhaltliche Begründung

59

3. Rechtsethische Auslegung mit dem rechtsethischen Minimalismus

62

IV. Vergleich mit der Normkonkretisierung

65

1. Verständnisse der Normkonkretisierung

65

2. Kritik an Müllers Vorstellung der Normerzeugung

68

3. Verhältnis zwischen der Normkonkretisierung und der rechtsethischen Auslegung

69

D. Verhältnis der rechtsethischen Auslegung zur Rechtsfortbildung

71

I. Bedeutung der Lücke im Gesetz

72

1. Planwidrigkeit

72

2. Unvollständigkeit

74

II. Kriterium des möglichen Wortsinns

74

III. Verhältnis zwischen der Lückenfeststellung und der Lückenausfüllung

77

IV. Verhältnis zwischen der rechtsethischen Auslegung und der Rechtsfortbildung

79

E. Schlussbemerkung zum ersten Teil

83

Zweiter Teil: Anwendung der rechtsethischen Auslegung am Beispiel der Drittschadensliquidation

87

A. Rechtsdogmatische Dimension der Drittschadensliquidation

90

I. Allgemeine Problematik des Drittschadens

90

II. Begriff der Drittschadensliquidation

92

III. Fälle der Drittschadensliquidation

94

1. Obligatorische Gefahrentlastung

95

2. Mittelbare Stellvertretung

96

IV. Besonderheit der Drittschadensliquidation

97

1. Kriterium der zufälligen Schadensverlagerung

98

a) Zufälligkeit

98

b) Schadensverlagerung

99

aa) Differenzhypothese als Ausgangspunkt der Schadensermittlung

100

bb) Zusammenhang zwischen der Differenzhypothese und der Schadensverlagerung

101

cc) Normativer Schadensbegriff

103

dd) Kritik an der Schadensverlagerung

105

ee) Möglichkeit der Schadensentstehung bei Dritten

108

2. Verhältnis zum Vertrag mit Schutzwirkung für Dritte

112

B. Rechtsethische Rechtfertigung der Drittschadensliquidation

115

I. Teleologische Reduktion des Dogmas vom Gläubigerinteresse

116

1. Zweck des Dogmas vom Gläubigerinteresse

117

2. Materielle Abgrenzung zwischen mittelbar und unmittelbar Geschädigten

118

3. Bedingte Auflockerung des Dogmas vom Gläubigerinteresse bei der Drittschadensliquidation

120

II. Rechtsethische Auslegung des allgemeinen Schadensrechts

121

1. Identität des Schadens

122

2. Symmetrie als Indikator für gerechten Interessenausgleich

125

3. Vergleich der Auslegungsmöglichkeiten für einen eigenen direkten Schadensersatzanspruch des Dritten

131

a) Konstruktion der Vertrauensvertretung

132

b) Schutzanspruch zugunsten Dritter und § 311 Abs. 3 BGB

134

c) Konstruktion des wirtschaftlichen Eigentums

140

d) Möglichkeit des deliktischen Schutzes von Forderungen

142

e) Vergleich der Auslegungsmöglichkeiten für einen eigenen Schadensersatzanspruch Dritter mit der Auslegungsmöglichkeit für die Drittschadensliquidation

147

C. Schlussbemerkung zum zweiten Teil

150

Zusammenfassung der wesentlichen Ergebnisse

157

Literaturverzeichnis

161

Sachwortregister

184