Private or civil law: general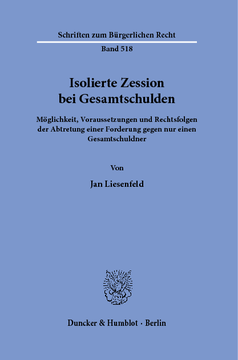 BOOK
Isolierte Zession bei Gesamtschulden
Möglichkeit, Voraussetzungen und Rechtsfolgen der Abtretung einer Forderung gegen nur einen Gesamtschuldner
Schriften zum Bürgerlichen Recht, Vol. 518
(2020)
Additional Information
Book Details
ISBN

978-3-428-58053-8
978-3-428-18053-0 (print edition)

DOI

https://doi.org/10.3790/978-3-428-58053-8

Edition

1

Language

German

Pages

361

Collections

Subjects
Pricing
Institution

€ 116.00 (incl. local VAT if applicable)

Individual

€ 89.90 (incl. local VAT if applicable)
About The Author
Jan Liesenfeld studierte Rechtswissenschaft an der Bucerius Law School in Hamburg und gastweise an der New York University, USA. Sein erstes Staatsexamen legte er 2015 in Hamburg ab. Dort promovierte er an seiner Studienhochschule im allgemeinen Schuldrecht unter Förderung der Studienstiftung des deutschen Volkes. Parallel arbeitete er am Lehrstuhl für Bürgerliches Recht und unterrichtete Studierende in der Examensvorbereitung. Sein Referendariat in Berlin schließt Jan Liesenfeld voraussichtlich Ende 2020 mit dem zweiten Staatsexamen ab. Er war für verschiedene Wirtschaftskanzleien im Arbeits-, Schiedsverfahrens- und Immobilienrecht tätig.
Jan Liesenfeld studied law at Bucerius Law School in Hamburg and as a visiting scholar at New York University in the USA. He passed his first state examination in Hamburg in 2015. There he completed his doctorate at his university in general law of obligations, supported by a scholarship of the »Studienstiftung des deutschen Volkes«. At the same time he worked at a chair for civil law and taught students in preparation for their exams. Jan Liesenfeld is expecting to complete his legal clerkship in Berlin at the end of 2020 with the second state examination. He has worked for various commercial law firms in the fields of labour law, arbitration and real estate law.
Abstract
Der Gesetzgeber ließ offen, welche Wirkungen die Zession einzelner Forderungen bei Gesamtschulden hat. Möglich ist eine derart isolierte Zession. Das klärt der Autor unter Beleuchtung von Problemen wie der Struktur einer Gesamtschuld, der Abtrennbarkeit akzessorischer Nebenrechte und dem Mindestgehalt der Abtretung. Trotz Trennung der Schuldner besteht die Gesamtschuld fort. Das Risiko des Zessionars, seine Forderung wegen Leistung an den Zedenten zu verlieren, erweist sich dogmatisch als akzeptabel. Stärker belastet eine isolierte Zession die Schuldner. Grund dafür ist ein missverstandener Effekt der Gläubigerverdopplung. Der Autor leitet ab, dass die isolierte Zession einer Zustimmung der Gesamtschuldner bedarf. Er widerspricht der herrschenden Meinung, wonach Zedent und Zessionar im Zweifel alle Forderungen abtreten wollen. Stattdessen wechseln »vergessene« Gesamtschuldforderungen analog § 401 BGB den Gläubiger, selbst wenn sie keinen vertraglichen Sicherungszweck haben. »Separate Assignment of Joint and Several Debts – On the Possibility, Requirements and Consequences of an Assignment to Take Effect only against Individual Joint and Several Debtors«

When claims from a joint and several debt are assigned it is often unclear, if all debtors change creditors or only some. The author clarifies this, examining accessory and ancillary rights and interpreting typical assignment contracts. He uses the structure of a joint and several debt to justify why an isolated assignment is possible and answers practical questions such as the necessity of consent from debtors or ways of performance and recourse in a joint and several debt which has been split.
Table of Contents
Section Title
Page
Action
Price

Vorwort

5

Inhaltsverzeichnis

9

Einführung

19

§ 1 Gesamtschuldforderungen als siamesische Zwillinge des Rechts

19

I. Problemstellung

19

II. Fallbeispiele

20

§ 2 Erkenntnisinteresse

22

I. Wissenschaftliche und praktische Relevanz

22

II. Thesen

24

III. Forschungsgegenstand

24

1. Nomenklatur

24

2. Thematische Eingrenzung

26

3. Zur cessio legis

27

§ 3 Gang der Darstellung

27

1. Kapitel: Strukturelle Ausgangsbedingungen einer isolierten Zession

29

§ 1 Meinungsstand

29

§ 2 Struktur der Gesamtschuld

32

I. Historischer Hintergrund: von Korreal- und Solidarobligationen

32

II. Aktualität des Problems einer Einheit oder Mehrheit der Obligation

34

1. Mehrheitsprinzip der Gesamtschuld – eine heute unangefochtene These

35

2. Die Einzelübertragung als vergessener Problemfall

36

III. Argumente zur Bekräftigung der Mehrheitstheorie

40

1. Keine Rückschlüsse aus dem Sprachgebrauch des BGB zur Gesamtschuld

40

2. Grundsatz der Einzelwirkung

42

3. Vergleich zur Gesamtgläubigerschaft

43

4. Systematik der bestärkenden Legalzession

45

5. Hinweise in den Gesetzgebungsmaterialien

48

IV. Fazit

49

§ 3 Mindestgehalt einer Forderungsübertragung

49

I. Grenze der zwingenden Wirkung der Abtretung?

50

1. Erste Prämisse: keine Vertragsfreiheit im Rahmen der Abtretung

51

a) Meinungsstand und Vorüberlegungen

51

b) Stellungnahme

54

aa) Analyse der Gesetzeshistorie zur Vertragsfreiheit bei der Abtretung

54

bb) Übertragbarkeit sachenrechtlicher Grundsätze zur Vertragsfreiheit

58

2. Zweite Prämisse: isolierte Zession als unzulässig abgeschwächte Abtretung

60

II. Fazit

61

§ 4 Ausschluss einer isolierten Zession nach § 399 BGB

61

I. Vertragliches Abtretungsverbot

61

II. Gesetzliches Abtretungsverbot wegen Inhaltsänderung

62

1. Grundlagen

63

a) Normkonkretisierung des § 399 Var. 1 BGB anhand von Fallgruppen

63

aa) Schrifttum

64

(1) Höchstpersönliche Ansprüche

64

(2) Unabtretbarkeit mit Rücksicht auf die Natur des Schuldverhältnisses

64

(3) Rechtlich unselbständige Rechte

66

bb) Rechtsprechung

66

b) Gesetzeshistorischer Hintergrund und Tragweite der Fallgruppen

67

2. Gesamtschuldforderungen als unselbständige Ansprüche?

68

a) §§ 401 I und 399 Var. 1 BGB – vom herrschenden Symmetriedogma

68

b) Das Argument vom Erfordernis der Gläubigeridentität

71

c) Mitlaufge- und Trennungsverbot – Argumente für ein Schnittmengenprinzip

72

aa) Grundsatz der Eigenständigkeit von Nebenrechten

72

bb) Bedeutung strenger inhaltlicher Akzessorietät allein

74

cc) Bedeutung des Sicherungszwecks akzessorischer Rechte

75

dd) Schlussfolgerung: zwingende Gläubigeridentität nur bei streng akzessorischen, reinen Sicherungsrechten

77

d) Implikation für Gesamtschuldforderungen: kein Erfordernis der Gläubigeridentität

79

3. Verbot der Einzelübertragung mit Rücksicht auf die Natur des Schuldverhältnisses

80

4. Fazit

80

§ 5 Zwischenergebnis

81

2. Kapitel: Rechtsfolgen einer isolierten Zession

82

§ 1 Vorbehalt einer Gesamtabwägung

82

§ 2 Problemaufriss: Spaltung der Rechtszuständigkeit

83

I. Schicksal der nicht übergegangenen Forderung

83

1. Meinungsstand

83

a) Rechtsprechung

83

b) Schrifttum

85

2. Stellungnahme

86

II. Wegfall einer Voraussetzung der Gesamtschuld

89

§ 3 Resultierende Rechtsverhältnisse zwischen Schuldnern und Gläubigern

90

I. Meinungsstand

91

1. Konsens: Fortbestehen der Tilgungsgemeinschaft

91

2. Kontroverse: dogmatische Anknüpfung der fortbestehenden Tilgungsgemeinschaft

91

a) Begründung über die Regeln zur Gesamtschuld

92

b) Begründung über die Grundsätze der Gesamtgläubigerschaft

93

3. Positionierung des Bundesgerichtshofs

94

II. Stellungnahme

97

1. Gesamtschuld trotz Trennung der Schuldner

97

a) Sukzessionsrechtliches Identitätsprinzip

97

b) Sukzessionsschutz für den Schuldner

99

c) Nemo-plus-iuris-Grundsatz am Beispiel der Forderungsabtretung eines Gesamtgläubigers

102

d) Fazit

104

2. Keine Gesamtgläubigerschaft zwischen Zedent und Zessionar

104

a) Erläuterung der Idee einer Gesamtgläubigerschaft zwischen Zedent und Zessionar

104

b) Keine Gesamtgläubigerschaft im Sinne des Gesetzeswortlauts

106

c) Beschränkte Vergleichbarkeit mit einer Gesamtgläubigerschaft

108

d) Fazit

110

§ 4 Leistung in der gespaltenen Gesamtschuld

110

I. Empfangsberechtigung, Modalität und Rechtsfolge der Leistung

110

1. Meinungsstand

110

2. Stellungnahme

111

II. Einziehungsverbot zulasten des Zedenten

113

1. Dogmatische Herleitung des Einziehungsverbots

113

2. Anwendungsfälle eines Einziehungsverbots

116

III. Einforderungsverzicht zulasten des Zedenten

117

IV. Treuwidrigkeit einer Geltendmachung der Forderung des Zedenten?

119

V. Fazit

122

§ 5 Regress zwischen Zedent und Zessionar

122

I. Meinungsstand

122

II. Stellungnahme

124

1. Vertraglicher Ausgleich

124

a) Schadensersatz wegen Nichtleistung

124

b) Schadensersatz wegen Schlechtleistung aufgrund eines Rechtsmangels

125

c) Einfacher Schadensersatz wegen Verletzung eines Einziehungsverbots

128

2. Gesetzlicher Ausgleich

128

a) Rückgriff wie unter Gesamtgläubigern

128

b) Pflichtverletzungen im Kontext des gesamtgläubigerähnlichen Ausgleichs

130

c) Bereicherungsrechtlicher Ausgleich

131

d) Deliktischer Schadensersatz

134

III. Fazit

135

§ 6 Zwischenergebnis

136

3. Kapitel: Zumutbarkeit der Rechtsfolgen einer isolierten Zession

137

§ 1 Gesamtwirkungen des Gesamtschuldrechts

138

I. Gesamtwirkung der Erfüllung und ihrer Surrogate

138

1. Zwingendes Fortbestehen der Tilgungsgemeinschaft

139

2. Probleme infolge des Fortbestehens der Tilgungsgemeinschaft

140

a) Gefahr einer Mehrfachbefriedigung des Zedenten

140

b) Schutzbedürftigkeit des Zessionars

143

aa) Keine strukturelle Missbrauchsgefahr nach der Motivlage des Zedenten

143

bb) Schutz des Zessionars mittels Einziehungsverbots und Regressansprüchen

146

cc) Möglichkeit einer Risikoprognose seitens des Zessionars

147

dd) Vergleich mit ähnlich riskanten Rechtsgeschäften

147

ee) Schlussfolgerung: keine Unwirksamkeit der isolierten Zession zum Schutz des Zessionars

149

3. Fazit

149

II. Gesamtwirkung des Erlasses

150

III. Gesamtwirkung des Gläubigerverzugs

153

IV. Sonstige Gesamtwirkungen

154

V. Fazit

154

§ 2 Regress zwischen den Gesamtschuldnern nach der Trennung gesamtschuldnerischer Forderungen

154

§ 3 Zwischenergebnis

159

4. Kapitel: Zustimmung als Wirksamkeitserfordernis einer isolierten Zession

160

§ 1 Meinungsstand

160

I. Literatur

160

II. Rechtsprechung

161

III. Offene Folgefragen: personale Reichweite und dogmatische Verwurzlung eines Zustimmungserfordernisses

163

IV. Fazit

164

§ 2 Berechtigung eines Zustimmungserfordernisses

165

I. Argumentation mit den Nachteilen einer Gesamtgläubigerschaft

165

1. Ausgangsüberlegung: rechtsgeschäftliche Begründung von Gesamtgläubigerschaft an einer bestehenden Einzelforderung

165

2. Transfer: Auswirkungen des neuen Gläubigers bei einer gesamtschuldspaltenden Forderungsübertragung

167

3. Missverständnis über die Entstehung einer "Gesamtgläubigerschaft"

169

4. Prozessualer Effekt einer Gläubigerverdopplung

172

II. Stellungnahme: Argumente für und wider ein Zustimmungserfordernis

174

1. Interesse an einer klaren Forderungszuordnung

174

2. Interessen der Zessionsparteien

175

a) Beeinträchtigung der Abtretungsfreiheit des Zedenten

175

b) Erwerbsinteresse des Zessionars und dessen Schutz durch Sekundärrechte

177

3. Interesse der Gesamtschuldner an einem Zustimmungserfordernis

178

a) Risiko unberechtigter Inanspruchnahme

179

aa) Art des Risikos – Präzisierung des Vergleichs mit der Gesamtgläubigerschaft

179

(1) Unterschied: Inanspruchnahme vor der Leistung

179

(2) Gemeinsamkeit: Inanspruchnahme nach der Leistung

180

bb) Ausmaß des Risikos – nicht nur allgemeines Lebensrisiko

182

cc) Rechtliche Schutzmöglichkeiten

183

(1) Aufklärungspflichten

183

(2) Einziehungsverbot und pactum de non petendo

186

(3) Zivilprozessualer Schutz – insbesondere Streitverkündung

187

(4) Regressansprüche

192

dd) Fazit

194

b) Beweisführung in einer fremden Rechtssphäre

194

c) Fazit

196

4. Vergleich zu Teilabtretung und Einziehungsermächtigung

196

5. Gesamtbewertung: Zustimmung der Gesamtschuldner erforderlich

199

III. Personale Reichweite des Zustimmungserfordernisses

201

§ 3 Dogmatische Einbettung des Zustimmungserfordernisses

202

I. Rechtsgrundlage des Abtretungsausschlusses

202

1. Kein Abtretungsausschluss nach § 399 Var. 2 BGB oder § 242 BGB

202

2. Unabtretbarkeit nach § 399 Var. 1 BGB aus Gründen des Schuldnerschutzes

205

II. Überwindung des Abtretungsausschlusses durch schuldnerseitige Zustimmung

208

1. Disponibilität von § 399 Var. 1 BGB durch schuldnerseitige Zustimmung

208

2. Rechtliche Qualifizierung der Zustimmung

211

a) Vergleichsszenario: Heilung eines Verstoßes gegen § 399 Var. 2 BGB

212

aa) Meinungsstand: Vertrags- versus Genehmigungslösung

212

bb) Stellungnahme

215

b) Transfer auf die Heilung eines Verstoßes gegen § 399 Var. 1 BGB

219

aa) Zustimmungslösung

219

bb) Analogie zu § 185 BGB und Anwendung der §§ 182–184 BGB

222

§ 4 Zwischenergebnis

225

5. Kapitel: Abgrenzung zwischen isolierter und umfassender Zession

226

§ 1 Meinungsstand

227

I. Unmittelbare Forderungsübertragung durch Abtretung

228

1. Schrifttum

228

2. Rechtsprechung

231

a) Beschluss des OLG Hamm von 1997: Gesamtabtretung in Unkenntnis der Gesamtschuld

231

b) Urteil des OLG Nürnberg von 2002: Einzelabtretung in Kenntnis der Gesamtschuld

233

c) Urteil des OLG Frankfurt a.M. von 2012: Einzelabtretung in Kenntnis der Gesamtschuld

234

d) Urteil des OLG Köln von 2016: Gesamtabtretung in Kenntnis der Gesamtschuld

235

e) Fazit

237

II. Mittelbare Forderungsübertragung analog § 401 I BGB

238

1. Bedeutung und Analogiefähigkeit von § 401 BGB

238

2. Gesamtschuldforderungen als Nebenrechte?

240

a) Schrifttum

240

b) Rechtsprechung

242

§ 2 Grundlagen zur Abgrenzung zwischen isolierter und umfassender Zession

244

I. Gesetzeshistorische Einführung

245

II. Dogmatische Weichenstellung für eine Gesamt- oder Einzelabtretung

247

1. Relevanz des Abtretungsvertrags

247

2. Gesamtschuldforderungen als Nebenrechte nach § 401 I BGB?

249

a) Unselbständigkeitsdogma

249

b) Akzessorietätsdogma

250

c) Verstärkungsdogma

254

aa) Rechtsverstärkung als entscheidendes Kriterium

254

bb) Begriff der Rechtsverstärkung

255

cc) Gesamtschuld als Sicherungsrecht – Vergleich mit der Bürgschaft

256

(1) Gesamtschulden mit Sicherungszweck

256

(2) Gesamtschulden ohne besonderen Sicherungszweck

257

dd) Interessenausgleich mittels § 401 I BGB

260

(1) Interesse des Zessionars

260

(2) Interesse des Zedenten

263

(3) Interessen der Gesamtschuldner

266

d) Fazit

266

3. Eine Frage der Gesamt- und Einzelwirkung?

267

a) Bedeutung einer Gesamtwirkung aufgrund des Schuldverhältnisses

267

b) Keine Gesamtwirkung der Abtretung kraft Abtretungsvertrags

269

c) Gesamtwirkung der Abtretung kraft Vereinbarung

270

d) Geringe Bedeutung der Gesamtwirkung einer Abtretung

272

4. Fazit

272

III. Verhältnis zwischen Abtretungsvertrag und § 401 I BGB

273

1. Rechtspraktische Bedeutung der Analogie zu § 401 I BGB

273

2. Lückenfüllung im Zessionsvertrag mittels § 401 I BGB

275

§ 3 Umfang des Forderungsübergangs bei konkreten Varianten eines Abtretungsvertrags

280

I. Gezielte Abtretung aller Gesamtschuldforderungen

281

1. Vertragsauslegung

282

2. Vertragsergänzung

282

II. Gezielte Abtretung nur einer Gesamtschuldforderung

283

1. Vertragsauslegung

283

2. Vertragsergänzung

285

a) Grundsatz: § 401 I BGB abbedungen

285

b) Ausnahme: gemeinschaftlicher Motivirrtum

286

III. Abtretung einer Gesamtschuldforderung ohne Erwähnung der anderen

294

1. Vertragsauslegung

294

a) Erläuternde Auslegung

294

b) Natürliche Auslegung

296

2. Vertragsergänzung

298

a) Lückenfeststellung

298

aa) Beidseitige Kenntnis der Gesamtschuld

298

bb) Kenntnis der zusätzlichen Forderung, nicht aber der Gesamtschuld

301

cc) Einseitige Kenntnis der Gesamtschuld

302

dd) Beidseitige Unkenntnis der nicht erwähnten Gesamtschuldforderung

303

b) Lückenfüllung

303

aa) Grundsatz: analoge Anwendung von § 401 I BGB

304

bb) Ausnahme: Abbedingung von § 401 I BGB in ergänzender Vertragsauslegung

305

c) Anpassung des Äquivalenzverhältnisses bei entgeltlichem Kausalgeschäft?

307

aa) Lösung auf Verfügungsebene: Teilungslösung

308

bb) Lösung auf Verpflichtungsebene: Entgeltanpassung

311

cc) Fazit

316

3. Zwischenergebnis

317

§ 4 Anfechtung

317

I. Anfechtung wegen arglistiger Täuschung

318

II. Anfechtung wegen Inhaltsirrtums

318

III. Anfechtung wegen Eigenschaftsirrtums

319

1. Voraussetzungen des Anfechtungsrechts

320

2. Anfechtung nach § 119 II BGB auch bezüglich des Verfügungsgeschäfts?

324

3. Rechtsfolge der Anfechtung

326

IV. Fazit

327

§ 5 Zwischenergebnis

327

Schlussbetrachtungen

329

§ 1 Gesamtschau: Ergebnisse zur isolierten Zession bei Gesamtschulden

329

§ 2 Ausblick: Ideen zur isolierten Legalzession bei Gesamtschulden

332

I. Einführung

332

II. Meinungsstand

333

III. Implikationen der Forschungsergebnisse für die isolierte Legalzession

336

1. Gemeinsamkeit: strukturelle Ausgangsbedingungen

336

a) Struktur der Gesamtschuld

336

b) Mindestgehalt einer Forderungsübertragung

336

c) Kein Erfordernis der Gläubigeridentität

337

d) Fazit

339

2. Unterschied: Rechtsfolgen und daraus folgende Grenzen

339

a) Legalzessionen nach erfolgter Drittleistung

339

aa) Erlöschen der nicht legalzedierten Forderung

340

bb) Kein Schutzbedürfnis gegenüber Belastungen infolge einer gespaltenen Forderungszuständigkeit

341

b) Legalzessionen vor erfolgter Drittleistung

343

c) Fazit

344

3. Unterschied: Abgrenzung zwischen isolierter und umfassender Forderungsübertragung

344

IV. Schlusswort zur isolierten Legalzession

345

Literaturverzeichnis

347

Sachwortverzeichnis

359