Criminal law: procedure & offences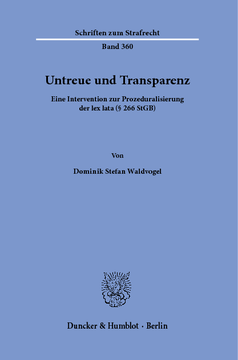 BOOK
Untreue und Transparenz
Eine Intervention zur Prozeduralisierung der lex lata (§ 266 StGB)
Schriften zum Strafrecht, Vol. 360
(2020)
Additional Information
Book Details
ISBN

978-3-428-55856-8
978-3-428-15856-0 (print edition)

DOI

https://doi.org/10.3790/978-3-428-55856-8

Edition

1

Language

German

Pages

410

Collections

Subjects
Pricing
Institution

€ 116.00 (incl. local VAT if applicable)

Individual

€ 89.90 (incl. local VAT if applicable)
About The Author
Dominik Waldvogel studierte Rechtswissenschaft an der Universität Tübingen, der Valparaiso University (USA) und der Ludwig-Maximilians-Universität München, wo er unter der Betreuung von Prof. Dr. Joachim Vogel, RiOLG, und Prof. Dr. Helmut Satzger mit einem Stipendium der Stiftung der Deutschen Wirtschaft promovierte. Dominik Waldvogel hat sein Referendariat am Landgericht München I absolviert und ist seit 2014 als Rechtsanwalt in Deutschland und den USA tätig.
Dominik Waldvogel studied law at the University of Tuebingen, Valparaiso University (USA), and the Ludwig-Maximilians-University Munich where he did his doctorate under the supervision of Prof. Dr. Joachim Vogel and Prof. Dr. Helmut Satzger with a scholarship of the German Business Foundation (Stiftung der Deutschen Wirtschaft). Dominik Waldvogel completed his legal clerkship at the District Court of Munich (Landgericht München I) and has been working as an attorney at law in Germany and the US since 2014.
Abstract
Die vorliegende Arbeit stellt einen Vorschlag zur Prozeduralisierung der Untreue (§ 266 StGB) dar. Die Strafbarkeit soll konkret davon abhängen, ob transparent oder intransparent gehandelt wurde. Den Ausgangspunkt bildet das »Siemens-Urteil« des BGH. Hierzu stellt der Autor die Frage, warum die bloße Nichtaufdeckung einer schwarzen Kasse eine vollendete Untreue begründen kann. Zunächst weist die Arbeit einen tatsächlichen Zusammenhang zwischen Untreue und Intransparenz nach. Es folgt eine Untersuchung des Tatbestands der Untreue auf prozedurale Elemente der Strafbarkeit anhand höchstrichterlicher Entscheidungen, insbesondere zu Risikogeschäften. Am Ende steht das Fazit, dass sich ein Großteil der Kritik an der Untreue und Rechtsprechung als Kritik an einer gesetzlich nicht geregelten prozeduralen Handhabung der Untreue darstellt. Dies wird zum Anlass genommen, ein Alternativkonzept als lex ferenda vorzustellen, bei dem der Untreuetatbestand anhand des Kriteriums der Transparenz prozeduralisiert wird. Die Arbeit soll damit nicht zuletzt Vorbildfunktion für die Prozeduralisierung weiterer Delikte des Wirtschaftsstrafrechts haben. »Breach of Trust and Transparency. An Intervention for the Proceduralization of the Lex Lata (Section 266 German Criminal Code)«

The present study represents an intervention for the proceduralization of the German criminal offence of »breach of trust« (section 266 German Criminal Code) on the basis of transparency as the procedural criterion. Based on a historical, criminological, and system-theoretical analysis and after systematizing the criticism of the German criminal offence of »breach of trust«, the author presents a concept of a procedural criminal law on »breach of trust« within the framework of a lex ferenda, thereby serving as an example for the proceduralization of other white collar offenses.
Table of Contents
Section Title
Page
Action
Price

Vorwort

7

Inhaltsverzeichnis

9

Einführung: Forschungshypothese, Gang der Untersuchung und Transparenzmerkmal

23

§ 1 Die Wahl des Themas

23

§ 2 Obligatorisches zu § 266 StGB

24

§ 3 Die Forschungshypothese

26

A. Kriminologischer und ökonomischer Hintergrund

26

B. Analyse des § 266 StGB de lege lata

27

C. Prozeduralisierung des § 266 StGB de lege ferenda

30

§ 4 Weitere Ziele der Untersuchung: Kriminologie, Prozeduralisierung und systemtheoretische Analyse des Wirtschaftsstrafrechts

31

A. Kriminologische Untersuchung von Einzeltatbeständen des Wirtschaftsstrafrechts

31

B. Prozeduralisierung und systemtheoretische Analyse des Wirtschaftsstrafrechts

31

§ 5 Der Gang der Untersuchung

32

A. Kapitel 1

32

B. Kapitel 2

33

C. Kapitel 3

34

D. Fazit

34

§ 6 Begriffliche Grundlegung

35

A. Das Transparenzmerkmal

35

I. Etymologie

35

1. Transparenz als naturwissenschaftlicher Begriff

36

2. Transparenz in Politik und volkswirtschaftlichem Kontext

36

3. Transparenz in der Rechtswissenschaft

36

II. Bezugspunkte der Transparenz

37

1. Transparenz als doppelt relativer Begriff

37

2. Akteure einer Untreuetat

37

III. Transparenz als eröffnete Informationsmöglichkeit

38

IV. Zur Frage, wer Transparenz herstellt

39

V. Transparenzhandlung vs. Transparenzerfolg

39

VI. Interne vs. externe Transparenz

39

VII. Transparenz und Kontrolle

40

VIII. Anforderungen an Transparenz

40

B. Untreue-Terminologie

41

C. Prozeduralitäts-Terminologie

41

I. Prozeduralität als Rechtskategorie

41

II. Hypothetische Prozeduralität

42

Kapitel 1: Grundlegung: Der Zusammenhang zwischen Untreue und Transparenz

44

§ 1 Die Grundlage der Forschungshypothese: Der Wirkungszusammenhang zwischen Untreue und Transparenz

44

A. Begrifflichkeit: Wirkungszusammenhang

44

B. Die tatsächliche Prämisse eines Wirkungszusammenhangs

44

C. Die inhaltliche Bestimmung des Wirkungszusammenhangs

45

I. Wirkungszusammenhang und Untreueprävention

45

II. Wirkungszusammenhang als minus zur Kausalität

46

III. Multikausaler Erklärungsansatz und Wahrscheinlichkeitsaussage

47

IV. Wirkungszusammenhang als Reziprozität

47

D. Entscheidung für das Transparenzmerkmal

48

§ 2 Die Struktur des Untreuetatbestandes

48

A. Gesamthistorische Entwicklung

48

I. Untreuetat als römisch-rechtliches furtum oder peculatus

49

II. Art. 170 Peinliche Halsgerichtsordnung Kaiser Karls V.

50

III. Das Zeitalter Matthias Berlichs

53

IV. von Carpzov – eine dogmatische Weiterentwicklung

55

V. Der Einfluss des Naturrechts

58

VI. Der Kleinschrod'sche Diebstahlsbegriff

60

VII. Die Entwicklung der Gesetzgebung im 18. Jahrhundert

61

VIII. Der Einfluss von Feuerbachs

62

IX. Die Entwicklungen im 19. Jahrhundert

64

B. Bedeutung der historischen Entwicklung für den Wirkungszusammenhang

65

I. Kompensation der Trennung von Vermögen und Verwaltung

65

II. Opfermitverantwortung

67

III. Intransparenz als Strafschärfungsgrund

71

IV. Gesamtergebnis der historischen Entwicklung der Untreue

73

C. Der heutige Tatbestand des § 266 StGB

74

I. Kriminologische Erklärung des Wirkungszusammenhangs

74

1. Vorgehensweise

74

2. Die Kriminologie der Untreue in der Literatur

75

3. Untreue und die Systematisierung der Wirtschaftsstraftaten

77

4. Untreue als Wirtschaftskriminalität

80

a) Die Begriffsbestimmung der Wirtschaftskriminalität

80

aa) Wirtschaftskriminalität als Kriminalität und die Akzessorietät zum materiellen Strafrecht

81

bb) Sutherland – white-collar crime

82

cc) Die Systematik des Strafgesetzbuches

83

dd) § 74c Abs. 1 StGB und § 30 Abs. 4 Nr. 5b AO

83

ee) Schadens- oder opferbezogene Begriffsbestimmung

84

ff) Kombination verschiedener Definitionen

85

gg) Wirtschaftskriminalität im engeren und weiteren Sinne

85

b) Eigene Definition

85

aa) Funktionalität der Definition

85

bb) § 74c Abs. 1 Nr. 6a GVG

87

cc) Kriterium des Vertrauensbruchs

88

dd) Strafrechtsdogmatischer Definitionsansatz

88

ee) Wirtschaftsstraftat und Vermögensdelikt

89

ff) Korruptionskriminalität

89

gg) Prämissen für die weitere Untersuchung

90

c) Erkenntnisse der täterbezogenen Theorien

91

aa) "Earning and burning money"

91

bb) Neutralisierungstechniken

92

d) Erkenntnisse der tatbezogenen Theorien

93

aa) Das "fraud triangle"

93

bb) Das Leipziger Verlaufsmodell wirtschaftskriminellen Handelns

93

cc) Der "routine activity approach"

94

dd) Schlussfolgerungen zum Wirkungszusammenhang

95

ee) Der rational choice approach

97

ff) Die principal agent theory

99

e) Erkenntnisse der opferbezogenen Theorien

100

aa) Kontrollvakuum bei selbständigen Rechtspersönlichkeiten

102

bb) Verflüchtigte Opfereigenschaft – Jedermannsrecht zur vorläufigen Festnahme bei der Untreue?

103

cc) Scheinlegale Einkleidung der Tathandlungen

105

f) Eigener Ansatz: materiell-rechtliche Besonderheiten des Untreuetatbestandes

106

aa) Zur Idiosynkrasie der Untreue

107

bb) Schlussfolgerungen anhand der Idiosynkrasie der Untreue

108

(1) Die Untreue als Kontaktdelikt

108

(2) Intransparenz als Kriterium einer Vermögensbetreuungspflicht

110

(3) Indifferenz der Tathandlung der Untreue

110

(4) Indifferenz des Taterfolgs der Untreue

112

(5) Überindividuale Opfer

113

(6) Rational choice theory trotz fehlender Bereicherungsabsicht als Tatbestandsmerkmal

114

(7) Untreue als special opportunity crime

115

cc) Systemtheoretischer Erklärungsansatz

115

(1) Systemfunktionale Definition von Wirtschaftsstrafrecht

116

(2) Transparenz als transpersonale mediatisierte Kommunikation

116

(3) Das Untreuesystem

116

(4) Autopoiesis des Untreuesystems

117

II. Praxis der Strafverfolgung

118

1. Hohe Latenz

119

2. Komplexe Sachverhaltskonstellationen

120

III. Metaebene

121

§ 3 Zusammenfassung der Ergebnisse

123

Kapitel 2: Rechtstatsächliche Analyse des § 266 StGB in Bezug auf prozedurale Elemente der Strafbarkeit

125

§ 1 Einführung

125

§ 2 Zum Begriff prozeduralen Untreuerechts

126

A. Wortlaut "prozedural"

126

B. Prozeduralität im Alltagsleben

127

C. Vorläufige Arbeitshypothese

128

§ 3 Prozedurales Strafrecht bei Andreas Eicker

128

A. Rechtstechnische Instrumente prozeduralen Rechts

128

B. Kritik an Eickers Konzeption prozeduralen Strafrechts

129

§ 4 Das Konzept des "rechtsfreien Raums" bei Arthur Kaufmann

130

A. Wertungspaare des Rechts als Disjunktionen

131

B. Prozedurales Recht als Rechtsanwendungsregeln

132

C. Der Grund für den "rechtsfreien Raum"

132

§ 5 Prozedurales Strafrecht bei Albin Eser

133

A. Das Unrecht als Prozeduralisierungsobjekt

133

B. Prozeduralisierung als Substitution eines materialen Kriteriums

134

C. Entmaterialisierung des Unrechts

135

D. Zum Nutzen prozeduralen Strafrechts bei Eser

135

E. Zusammenfassung: Esers Verständnis prozeduralen Strafrechts

136

§ 6 Prozedurales Strafrecht bei Winfried Hassemer

136

A. Hassemers Standpunkt Mitte der 1990er Jahre

136

B. Der Einfluss Niklas Luhmanns auf Hassemers Standpunkt

137

C. Zu den Vorzügen prozeduralen Strafrechts bei Hassemer

138

D. Zusammenfassung der Konzeption prozeduralen Strafrechts Hassemers

140

§ 7 Eigene Definition von (hypothetischer) Prozeduralität bei der Untreue

140

A. Differenzierung zwischen "Ob" und "Warum" einer Prozeduralität

141

B. Notwendigkeit einer eigenen Definition

141

C. Prozeduralität

142

I. Die Goldene Regel und der kategorische Imperativ

143

1. Goldene Regel und kategorischer Imperativ als bloße Verhaltensanleitungen

144

2. Verallgemeinerung der Prozeduralität der Prinzipien

145

II. Relativität der Prozeduralität

146

III. Das Prozeduralisierungsobjekt

147

IV. Prozeduralität des Entscheidungskriteriums

148

1. Bestimmung der "Andersartigkeit" des Entscheidungskriteriums

148

2. Zeitliche Entwicklung des Rechts

149

3. Prozeduralisierung als Vorgang

149

4. Bezugspunkt als Voraussetzung für Prozeduralität

150

D. Das Untreuesystem

150

I. Der Tatbestand des § 266 Abs. 1 StGB als Entscheidungsschema

150

II. Die Systemtheorie Luhmanns

151

1. Systemtheorie und Definition von prozeduralem Strafrecht

152

2. Intersystemische Einwirkungsmöglichkeiten und Prozeduralität

152

3. Im Rahmen der eigenen Definition von prozeduralem Untreuestrafrecht relevante Grundannahmen der Systemtheorie

152

a) Selektion

153

b) Code und Programm

154

c) Der Untreuecode und das Untreueprogramm

155

4. (Hypothetische) Prozeduralität als Veränderung der System-Umwelt-Differenz auf Grund intersystemischer Irritationen

157

III. Kriterien der Strafbarkeitsentscheidung

160

IV. Zwischenergebnis

160

E. Prozeduralisierungsindizien

160

I. Dilemmasituationen

161

II. Tatbestandlich angelegte Prozeduralisierungstendenzen des § 266 Abs. 1 StGB

161

F. Legitimität einer Prozeduralisierung

163

G. Ergebnis: Definition prozeduralen Untreuerechts

164

§ 8 Untersuchung des § 266 StGB auf hypothetische Prozeduralität

164

A. Untersuchungsgegenstand

164

B. Zusammenfassung und wichtige Begriffe

165

I. Prozeduralisierungsobjekt

165

II. Entscheidungskriterium

166

III. Entscheidungsschema

166

IV. Strafbarkeitsentscheidung

166

V. Arbeitsdefinition von Prozeduralisierung

167

C. Geschützes Rechtsgut des § 266 StGB

167

D. Einzelne Fallkonstellationen

168

I. Risikogeschäfte

168

1. Die Business Judgment Rule im Aktienrecht

169

a) Das ARAG/Garmenbeck-Urteil – unternehmerisches Ermessen

170

b) Die gesetzlich normierte Business Judgment Rule

171

c) Anwendungsvoraussetzung der Business Judgment Rule in § 93 Abs. 1 S. 2 AktG

171

d) Tatbestandsvoraussetzungen der Business Judgment Rule

172

e) Die Rechtsfolge der Business Judgment Rule

173

f) Handlungsdirektive – Beweislast

174

g) Die strafrechtliche Wirkung der Business Judgment Rule, limitierte Zivilrechtsakzessorietät der Untreue

176

h) Prozeduralität der Business Judgment Rule

178

2. Risikoüberwachungssysteme

180

a) Kreditgewährung

180

b) Die Pflichtverletzung bei der Kreditgewährung

181

c) Die Publizitätspflicht des § 18 S. 1 KWG

181

d) Die Entscheidung BGHSt 46, 30

181

aa) Inhalt der Entscheidung

181

bb) Zur (hypothetischen) Prozeduralität

184

e) Die Entscheidung BGHSt 47, 148 (Fortführung von BGHSt 46, 30)

186

aa) Inhalt der Entscheidung

186

bb) Zur Prozeduralität

189

cc) Materiale Voraussetzungen von Transparenz als prozedurales Entscheidungskriterium

190

3. Spekulationsgeschäfte und Investitionsentscheidungen

191

a) Investitionen in Asset-Backed-Securities

191

b) Fristentransformation als Pflichtverletzung

192

c) Indiz einer hypothetischen Prozeduralisierung

193

4. Zusammenfassung

194

II. Unternehmensspenden/Sponsoring (gravierende Pflichtverletzung)

194

1. Die Entscheidung BGHSt 47, 187 ("SSV Reutlingen" – gravierende Pflichtverletzung)

194

a) Sachverhalt der Entscheidung

194

b) Die rechtliche Würdigung des Bundesgerichtshofs

196

c) Zur hypothetischen Prozeduralität

198

aa) Hypothetisch prozedurales Entscheidungskriterium der gravierenden Pflichtverletzung

198

bb) Prozeduralität der "gravierenden Pflichtverletzung": Die Entscheidungskriterien der privaten Präferenz und innerbetrieblichen Transparenz

199

2. Die Entscheidung BGHSt 50, 331 "Mannesmann-Urteil"

201

a) Inhalt der Entscheidung

201

b) Zur hypothetischen Prozeduralität

202

III. Schwarze Kassen als Untreue

203

1. Die Entscheidung BGHSt 52, 323 ("Siemens")

204

a) Sachverhalt der Entscheidung

204

b) Das Urteil des Bundesgerichtshofes

205

c) Das Urteil des Bundesverfassungsgerichts

207

d) Zur hypothetischen Prozeduralität der Entscheidung des Bundesgerichtshofes

208

aa) Hypothetische Prozeduralisierung der Pflichtverletzung

208

bb) Hypothetische Prozeduralisierung des Vermögensnachteils

209

cc) Hypothetisch prozedurales Entscheidungskriterium: Transparenz

211

IV. Vermögensentzug einer Gesellschaft mit Zustimmung der Gesellschafter – Verstoß gegen Buchführungspflichten

212

1. Die Entscheidung BGHSt 35, 333 – Normativierung des Schadensbegriffs

212

a) Sachverhalt der Entscheidung

212

b) Zur hypothetischen Prozeduralität von BGHSt 35, 333

213

2. Die Entscheidung BGHSt 49, 147 – Bremer Vulkan

214

a) Zur Problematik des Einverständnisses

218

aa) Die Zustimmungsfähigkeit

218

bb) Die Wirkung der Zustimmung

219

cc) Aufgedrängter Vermögensschutz bei beschränkt haftenden Rechtspersönlichkeiten

221

dd) Argumentum a maiore ad minus: Gründungs- und Auflösungsfreiheit beschränkt haftender Rechtspersönlichkeiten

222

ee) Strafrechtlicher Gläubigerschutz und Interessentheorie

223

b) Zur hypothetischen Prozeduralität

225

V. Criminal Compliance und Untreue

226

1. Untreuestrafbarkeit durch Compliance-Verstöße

227

a) Untreue durch Verstoß gegen unternehmensinterne Compliance-Regeln

228

aa) Repetierende Compliance-Regeln

228

bb) Neue (verfahrensmäßige) Compliance-Regeln

228

cc) Untreue durch unterlassene Etablierung eines Compliance-Systems

229

b) BGHSt 54, 44 – Garantenpflicht des Compliance Officers

231

2. Der Deutsche Corporate Governance Kodex

232

3. Vermögensnachteil bei der Verletzung von Compliance-Regeln

234

4. Das Problem des Pflichtwidrigkeitszusammenhangs

234

5. Compliance als Strafmilderungsgrund

235

6. Fazit

236

7. Hypothetische Prozeduralität

236

VI. Strafprozessuale Aspekte

236

1. Die Verständigung im Strafprozess

237

3. Wege der vorzeitigen Beendigung des Strafverfahrens

241

4. Strafzumessung

242

VII. Die "Pflichtverletzung" bei der Untreue

242

1. Das Problem des Wortlauts des § 266 Abs. 1 StGB

242

2. Einschränkung auf "gravierende Pflichtverletzungen"

243

3. Entmaterialisierung des Tatbestandsmerkmals der Pflichtverletzung; Vermögensbezug der Pflichtverletzung

244

4. Die Verschleifung von Pflichtverletzung und Vermögensnachteil

245

5. Die hypothetische Prozeduralität des Tatbestandsmerkmals der "Pflichtverletzung"

245

VIII. Der Vermögensnachteil

246

1. Die schadensgleiche Vermögensgefährdung

247

a) Die schadensgleiche Vermögensgefährdung als notwendige Konsequenz des wirtschaftlichen Vermögensbegriffs

248

b) Inkonsequenzen der Anwendung der Lehre der schadensgleichen Vermögensgefährdung

249

c) Hypothetische Prozeduralität der schadensgleichen Vermögensgefährdung

250

2. Die Untreue als vermeintliches zeitliches Distanzdelikt

251

a) Der Begriff des zeitlichen Distanzdelikts

251

b) Entstehung eines effektuierten Vermögensnachteils als dynamischer Prozess?

251

c) Prozeduralisierung bei geringer zeitlicher Distanz zwischen Untreuehandlung und endgültigem Schadenseintritt

252

d) Konsequenz: Kritik an der Untreuerechtsprechung unter dem Topos der Vorverlagerung der Strafbarkeit bei fehlender Versuchsstrafbarkeit verfehlt

253

3. Hypothetische Prozeduralität des Nachteils bei der Untreue

256

IX. § 266 StGB als "Auffangtatbestand"

257

1. Die Entwicklung im Siemens-Fall

259

2. Strafprozessuale Maßnahmen

260

a) Der Schaden als Verdachtsgrundlage

261

b) Die Untreue als strafprozessualer "Türöffner"

262

3. Hypothetische Prozeduralität

263

X. Der subjektive Tatbestand des § 266 Abs. 1 StGB

263

E. Ergebnis: Hypothetische Prozeduralität der Untreue

265

§ 9 Ergebnis: Systematisierung der Kritik an der Untreue in Praxis und Theorie

267

Kapitel 3: Vorschläge zu einer lex ferenda

268

§ 1 Ausgangspunkt

268

§ 2 US-amerikanisches Recht

269

A. Einführung, US-amerikanisches Recht als Grundlage des Rechtsvergleichs

269

I. Transparenz in den USA

270

1. Der Freedom of Information Act

270

2. Dokumentation und externe Transparenz

271

II. Criminal Law Theory

271

1. Utilitarianism – John Rawls

272

2. An Economic Theory of the Criminal Law – Richard Posner

274

3. Malum prohibitum und malum in se crimes

275

4. Limitation to malum prohibitum crimes

275

a) Amendment VIII – United States v. Bajakajian

276

b) Amendment VIII – USA PATRIOT Act

277

c) Amendment V

278

d) Zur Prozeduralität von malum prohibitum crimes

279

5. "Carrot and stick" approach

279

6. Corporate criminal liability und criminal strict liability

280

a) Corporate criminal liability

280

b) Criminal strict liability – underlying concept

281

c) Zur Prozeduralität

281

III. Transparency and white-collar crime

281

1. Sutherland

281

2. Die geschichtliche Entwicklung bis zur Weltfinanzkrise

283

3. Die großen "accounting scandals" in den USA

283

B. Sarbanes-Oxley Act 2002

285

I. Die Ziele des Sarbanes-Oxley Acts

286

II. Dogmatische Analyse

287

1. Strafbarkeit von inchoate behavior

288

a) Obstruction of justice offenses

289

b) Zur Prozeduralität

290

2. Technische bzw. situative Prävention

290

a) Trennung von Bilanzprüfung und Beratung – Buchprüfer als gatekeeper

291

b) Kontrolle der Kontrollsysteme

291

c) Rechtsanwälte als gatekeeper

292

d) Prävention durch (externe) Transparenz

293

e) Zur Prozeduralität

293

C. Transparenz als "defense"

294

I. Federal sentencing guidelines

294

1. Compliance als Strafmilderungsgrund

295

2. Zur Prozeduralität

296

II. "Safe harbor" regulations

296

1. Business judgment rule

296

2. Corporate minutes

297

3. Pretrial diversion agreements

298

D. Schlussfolgerungen

300

§ 3 Geldwäschestrafrecht

301

A. Der Begriff der "Geldwäsche"

302

B. Typologiebildung im Geldwäscherecht

303

I. Trade based money laundering

303

II. Gatekeeper-Berufsgruppen

303

III. Offshore Finanzplätze

304

IV. Informelle Geldtransfersysteme

304

V. Intransparente geschäftliche Organisationsformen

304

VI. Finanzmarktprodukte

305

VII. Typologien

305

C. Die EG-/EU-Geldwäscherichtlinien und das Geldwäschebekämpfungsgesetz

305

D. Der risk based approach im Geldwäscherecht

307

I. Sinn der Typologiebildung im Geldwäscherecht

307

II. Novellierung des GwG und risk based approach

307

III. Schlussfolgerungen für die lex ferenda

308

§ 4 Straflosigkeit des Schwangerschaftsabbruchs, § 218a StGB

308

§ 5 Notwendigkeit einer Prozeduralisierung und Eignung des Transparenzmerkmals als prozedurales Entscheidungskriterium

309

A. Systemtheoretische Überlegungen

314

B. Die Koppelung von Rechts- und Wirtschaftssystem

316

C. BVerfGE 126, 170 als Prozeduralisierungsauftrag?

317

I. Bedeutung der Entscheidung

317

II. Grundlegender Inhalt der Entscheidung

317

1. Zum Bestimmtheitsgrundsatz

318

2. Auslegung des § 266 StGB im Allgemeinen

319

III. Konkretisierungsbedarf

319

1. Intransparenz des Taterfolgs

319

2. Entstehung des Vermögensnachteils als dynamischer Prozess

320

3. Tatbestandliche Unbestimmtheit des § 266 StGB

320

a) Unbestimmtheit des § 266 StGB

320

b) Konsequenzen der Unbestimmtheit

321

c) Fazit

322

IV. Bildung von Fallgruppen (gefestigte komplexe Obersätze)

322

V. Keine Verschleifung von Tatbestandsmerkmalen

324

VI. Die Pflichtverletzung als komplexes normatives Tatbestandsmerkmal

325

VII. Fazit

325

1. Zur (hypothetischen) Prozeduralität der Untreue

326

2. Verfassungsmäßigkeit der hypothetisch prozeduralen Handhabung des § 266 StGB auf Grund beschränkten verfassungsgerichtlichen Prüfungsmaßstabes

326

3. Verfassungsmäßigkeit im Sinne der Bestimmtheit des § 266 StGB durch hypothetisch prozedurale Handhabung

327

4. Prozeduralisierungsgebot

327

§ 6 Alternativkonzepte

328

A. Lösung über Einwilligungs- bzw. Einverständnisdogmatik – antizipiertes Einverständnis

328

B. Zivilrechtlich-akzessorische Prozeduralisierung

330

C. Prozeduralität auf Rechtsfolgenseite: Strafrahmenverschiebung und Strafzumessung

331

I. Strafmilderung gemäß § 49 Abs. 1 StGB

331

II. Analoge Anwendung der Vorschriften zur tätigen Reue

332

1. Systematisierung der Delikte der tätigen Reue (im Wirtschaftsstrafrecht)

332

2. Analoge Anwendung bei Transparenz bei § 266 StGB

333

III. Fazit zu einer Lösung auf Rechtsfolgenseite

338

D. Berücksichtigung von Transparenz im Rahmen der Strafzumessung – sentencing guidelines auch in Deutschland?

338

I. Strafzumessung im engeren Sinne

338

II. Sentencing guidelines im deutschen Strafrecht?

339

III. Fazit

340

E. Strafprozessuale Lösung

340

I. Die Möglichkeiten der Einstellung des Verfahrens nach §§ 153, 153b StPO

341

II. Die Möglichkeit der Einstellung des Verfahrens nach § 153a StPO

342

III. Lösung über Strafantragserfordernis

344

F. Zurechnungslösung

345

I. Bei Transparenz: Erlaubtes Risiko

345

II. Risikoverringerungslehre – Risikoerhöhungslehre

347

G. Abstraktes Gefährdungsdelikt

348

§ 7 Legitimation einer gesetzlichen Prozeduralisierung bei § 266 StGB

348

A. Herkömmliche Schranken des Strafrechtsgesetzgebers

349

I. Verfassungsrecht

350

1. Strafe als ultima ratio

350

2. Nulla poena sine lege

352

3. Nemo tenetur se ipsum accusare

352

II. Strafrechtsimmanente Schranken – systemkritischer Rechtsgutsbegriff

353

B. Utilitaristische Legitimation und strafrechtsdogmatische Konsequenzen

354

I. Keine Entmaterialisierung des Rechtsguts

355

II. Utilitaristischer Ansatz – Transparenz als Rechtsgut

356

C. Grenzen von Transparenz – nicht: Datenschutz

357

§ 8 Konkreter Vorschlag einer lex ferenda

359

A. In strafbefreiender Hinsicht

359

B. In strafbegründender Hinsicht

360

C. Detailfragen

360

I. Bestimmung des Prozeduralisierungsobjekts: Pflichtverletzung

360

II. Transparenz bei natürlichen Personen

362

III. Transparenz bei juristischen Personen

362

IV. Drittwirkung von Transparenz

362

V. Inhaltliche Reichweite der Transparenz

363

1. Relevante Informationen als Entscheidungsgrundlage

363

2. Beurteilungsmöglichkeit der Risiken und Chancen

363

3. Überprüfung der Entscheidungsgrundlage – "kreative Transparenz"

363

VI. Vorherige Transparenz vs. nachträgliche Transparenz

364

VII. Starre gesetzliche Anordnung vs. Entscheidung des Treugebers

365

VIII. Eingeschränkte Zurechnung des Vermögensnachteils

365

D. Formulierungsvorschlag

366

§ 9 Zusammenfassung

366

Literaturverzeichnis

368

Stichwortverzeichnis

407