Methods, theory & philosophy of law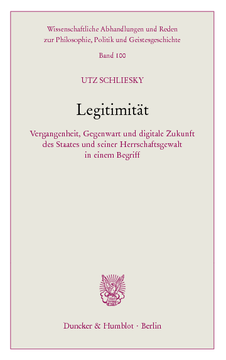 Additional Information
Book Details
ISBN

978-3-428-55900-8
978-3-428-15900-0 (print edition)

DOI

https://doi.org/10.3790/978-3-428-55900-8

Edition

1

Language

German

Pages

165

Collections

Subjects
Pricing
Institution

€ 46.00 (incl. local VAT if applicable)

Individual

€ 35.90 (incl. local VAT if applicable)
About The Author
Utz Schliesky studierte Rechtswissenschaften an der Christian-Albrechts-Universität zu Kiel. Dort war er anschließend Wissenschaftlicher Assistent bei Bundesminister a.D. Prof. Dr. Edzard Schmidt-Jortzig, unter dessen Betreuung 1995 die Promotion und 2002 die Habilitation erfolgten. Von 2003 bis 2005 war er Erster Beigeordneter und Stellvertretender Hauptgeschäftsführer des Deutschen Landkreistages in Berlin und Brüssel, von 2005 bis 2009 als Ministerialdirigent Leiter der Abteilung Verwaltungsmodernisierung im Finanzministerium des Landes Schleswig-Holstein. Seit 2009 ist er Direktor des Schleswig-Holsteinischen Landtages und seit 2007 Geschäftsführendes Vorstandsmitglied des Lorenz-von-Stein-Instituts für Verwaltungswissenschaften an der Christian-Albrechts-Universität zu Kiel.
Utz Schliesky studied law at the Christian Albrechts University in Kiel. There he was then a research assistant to the former Federal Minister. Prof. Dr. Edzard Schmidt-Jortzig, under whose supervision the doctorate took place in 1995 and the habilitation in 2002. From 2003 to 2005 he was first deputy chief executive officer of the German district assembly in Berlin and Brussels, from 2005 to 2009 as ministerial director, head of the administrative modernization department in the finance ministry of Schleswig-Holstein. Since 2009 he has been director of the Schleswig-Holstein state parliament and since 2007 executive board member of the Lorenz von Stein Institute for Administrative Sciences at the Christian Albrechts University in Kiel.
Abstract
Die Legitimität der Herrschaftsgewalt wird von zahlreichen Krisen und Umfeldveränderungen in Frage gestellt. Am intensivsten sind aber die Auswirkungen der Digitalisierung. Vor diesem Hintergrund untersucht Utz Schliesky die Veränderungen, die von der Digitalisierung ausgehen. Nach einführenden Bemerkungen und Begriffsbestimmungen folgt ein kurzer Abriss der Entwicklungsgeschichte des Legitimitätsbegriffes, der interessante Einblicke in die aktuelle Engführung der deutschen Staatsrechtslehre zulässt. Dieser Status quo der herrschenden deutschen Legitimitätskonstruktion wird danach kurz vorgestellt, um dann auf einen verfassungsrechtlichen Aspekt hinzuweisen, der bislang fast völlig übersehen wurde: die Vertrauensbeziehung als Inhalt demokratischer Legitimität. Dem Überblick über die aktuellen Herausforderungen der Digitalisierung für die Legitimitätskategorie folgen ausführliche Lösungsansätze für Legitimität in einem gewandelten Umfeld.
Legitimität erweist sich dabei als Schlüsselbegriff für Vergangenheit, Gegenwart und Zukunft der Herrschaftsgewalt. Wie in einem Brennglas lässt er Einblicke in Struktur, Stabilität und Dauerhaftigkeit eines Staates zu. Wenn auch unser demokratischer Verfassungsstaat Zukunft haben soll, müssen wir uns dringend mit der Legitimität seiner Herrschaftsgewalt beschäftigen. Legitimacy

Against the background of digitization, Utz Schliesky examines the changes in the concept of legitimacy. After introductory remarks and definitions, a brief outline of the development history of the concept of legitimacy follows, which allows interesting insights into the current narrowing of German constitutional law. This status quo of the prevailing German construction of legitimacy is then briefly presented in order to then point out a constitutional aspect that has so far been almost completely overlooked: the relationship of trust as the content of democratic legitimacy. The overview of the current challenges of digitization for the legitimacy category is followed by detailed solutions for legitimacy in a changed environment.
Table of Contents
Section Title
Page
Action
Price

Dank

5

Inhaltsverzeichnis

7

Vorbemerkung

9

I. Einführung

12

II. Der Begriff der Legitimität oder: Legitimität als Antwort auf die Frage nach der Rechtfertigung von Staatsgewalt

15

III. Entwicklungsgeschichte des Legitimitätsbegriffes

20

1. Römischer Ursprung

20

2. Legitimität weltlicher Herrschaft im europäischen Mittelalter

22

3. Herausbildung des modernen Staates

29

4. Legitimität ab 1815

38

5. Legitimität im Kaiserreich und staatsrechtlicher Positivismus

42

6. Legitimität 1918–1945

43

7. Historisches Fazit

46

IV. Demokratische Legitimation als Maßstab der Legitimität im Verfassungsstaat des Grundgesetzes

47

V. Vertrauensbeziehung als Inhalt der Legitimität

53

1. Normative Verankerung des Vertrauens in der Verfassung

53

2. Rechtliche Bedeutung politischen Vertrauens

54

3. Informationen als Bezugsobjekt des Vertrauens

59

VI. Herausforderungen durch die Digitalisierung

62

1. Fehlende Raumbeherrschung

62

2. Unterbrechung von Legitimationsketten für die Input-Legitimation

64

a) Fragwürdigkeit des Modells

64

b) Algorithmenbasierte Herrschaftsgewalt

66

c) Fehlende Nutzung von Kompensationsmöglichkeiten

67

3. Fehlende Output-Legitimität

68

4. Fehlen der Legitimitätsidee für den digitalen Staat

70

5. Vertrauensverluste in den Staat

71

6. Schwinden der demokratischen Öffentlichkeit

74

7. Auflösung des Volkes als Legitimationssubjekt

80

VII. Lösungsansätze

88

1. Neue Legitimitätsidee

88

2. Vergewisserung über das Volk

95

3. Digitalisierung rechtlich gestalten

104

4. Vertrauen zurückgewinnen: Staat als Orientierungspunkt in einer unübersichtlichen Welt

112

5. Neuformierung der Öffentlichkeit als Grundlage legitimer Staatswillensbildung

119

6. Rekonstruktion der Legitimität

128

a) Nachdenken über Legitimität

128

b) Demokratische Legitimation und sonstige Legitimation

131

c) Input- und Output-Legitimation

133

d) Optimierung anstatt formalistischer Verfahrensorientierung

136

e) Aufgabenerfüllung am Maßstab von Herrschaftszwecken und Herrschaftszielen

138

f) Legitimationssubjekt: rechtlich verfasstes Volk

140

g) Ausgangspunkt der Legitimation: Individuum

141

h) Plurale Legitimation: Baustein- und Netzzwerkdenken

148

i) Normative Abbildung maßgeblicher Legitimationsbausteine

149

j) Legitimationsobjekt

150

k) Zusammenführung im Legitimitätsniveau

151

VIII. Ausblick

152

Personenverzeichnis

159

Sachverzeichnis

160