Bankruptcy & insolvency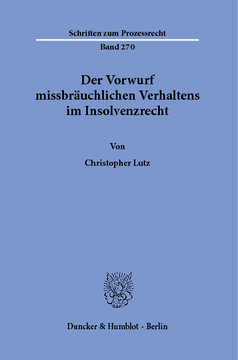 Additional Information
Book Details
ISBN

978-3-428-58045-3
978-3-428-18045-5 (print edition)

DOI

https://doi.org/10.3790/978-3-428-58045-3

Edition

1

Language

German

Pages

270

Collections

Subjects
Pricing
Institution

€ 92.00 (incl. local VAT if applicable)

Individual

€ 71.90 (incl. local VAT if applicable)
About The Author
Christopher Lutz studierte Rechtswissenschaften an der Rheinischen Friedrich-Wilhelms-Universität Bonn mit Schwerpunkt im Wirtschaftsrecht sowie Betriebswirtschaftslehre an der Universität Mannheim. Nach Abschluss der Ersten juristischen Prüfung war er als wissenschaftlicher Mitarbeiter am Institut für deutsches und internationales Zivilverfahrensrecht für Prof. Dr. Moritz Brinkmann, LL.M. (McGill) tätig. Den juristischen Vorbereitungsdienst absolvierte er im Bezirk des Oberlandesgerichts Köln. Seit Abschluss der Zweiten juristischen Staatsprüfung ist er als Rechtsanwalt bei einer internationalen Wirtschaftskanzlei tätig.
Christopher Lutz studied law with particular focus on commercial law at the Rheinische Friedrich-Wilhelms-University of Bonn and business administration at the University of Mannheim. Subsequent to the First Legal Examination, he worked as a research assistant at the Institute for German and International Civil Procedure Law for Prof. Dr. Moritz Brinkmann, LL.M. (McGill). He concluded his legal traineeship in the district of the Higher Regional Court of Cologne. Since completing the Second State Examination in Law, he has been working as a lawyer for an international law firm advising in commercial law.
Abstract
Die Figur des Rechtsmissbrauchs ist ein anerkanntes und notwendiges Korrektiv unserer kodifizierten Rechtsordnung. Nicht erst, aber vor allem seit den gesetzlichen Änderungen des ESUG taucht der Vorwurf missbräuchlichen Verhaltens immer häufiger auch im Insolvenzrecht auf. Unter Berücksichtigung der allgemeinen Grundsätze der Rechtsmissbrauchslehre untersucht die Arbeit den bislang im Zusammenhang mit dem Insolvenzverfahren erhobenen Missbrauchsvorwurf und widmet sich der grundsätzlichen Frage, inwieweit das Insolvenzverfahren überhaupt Gegenstand missbräuchlicher Rechtsausübung sein kann. Einen Schwerpunkt der Untersuchung bildet darüber hinaus der mitunter als missbräuchlich empfundene strategische Einsatz der Sanierungsinstrumente der Insolvenzordnung. Die Arbeit zeigt auf, dass die Annahme eines Rechtsmissbrauchs zwar grundsätzlich denkbar, der Vorwurf aber nur selten gerechtfertigt ist. Daher mahnt sie – auch mit Blick auf das zu erwartende vorinsolvenzliche Sanierungsverfahren – zu einem behutsameren Umgang. »The Doctrine of Abuse of Rights in German Insolvency Law«

The thesis analyses abusive behaviour with regard to insolvency proceedings. It focuses on the strategic use of the restructuring measures of the German Insolvency Code that partly has been regarded as an abuse of law. With recourse to the principles of the doctrine of abuse of rights, the thesis reveals that the invocation within insolvency proceedings is rarely justified and that the doctrine should be used more cautiously.
Table of Contents
Section Title
Page
Action
Price

Vowort

5

Inhaltsverzeichnis

7

Abkürzungen

15

Einleitung

17

I. Problemstellung und Zielsetzung

17

II. Gang der Untersuchung

18

1. Teil: Grundlagen der Missbrauchslehre und der Missbrauchsvorwurf im Insolvenzverfahren

21

1. Kapitel: Rechtsmissbrauch im Zivilrecht

22

I. Geschichtliche Entwicklung des Rechtsmissbrauchs im Privatrecht

22

II. Wesen des Rechtsmissbrauchs

24

III. Innen- oder Außentheorie

26

IV. Individueller und institutioneller Rechtsmissbrauch

27

1. Fallgruppen des individuellen Rechtsmissbrauchs

28

a) Früheres unredliches Verhalten

29

aa) Unredlicher Erwerb der eigenen Rechtsstellung

29

bb) Unredliche Vereitelung von Gegenrechten

30

cc) Kein genereller Missbrauchseinwand bei vertrags- oder gesetzeswidrigem Verhalten

30

b) Widersprüchliches Verhalten

31

c) Gegenwärtig unredliches Verhalten

33

aa) Geringfügiges Eigeninteresse und Unverhältnismäßigkeit

33

bb) Fehlendes Eigeninteresse und zweckwidrige Rechtsausübung

34

2. Anwendungsfälle institutionellen Missbrauchs

36

V. Verhältnis des Rechtsmissbrauchs zu anderen Instituten

36

1. Abgrenzung zur Normauslegung und Rechtsfortbildung

37

2. Abgrenzung zur Gesetzesumgehung

38

3. Abgrenzung zum Betrug

39

VI. Zusammenfassung

39

2. Kapitel: Rechtsmissbrauch im Zivilprozessrecht

40

I. Geschichtliche Entwicklung des Rechtsmissbrauchs im Zivilprozessrecht

40

II. Rechtsmissbrauch und treuwidriges Verhalten im Zivilprozessrecht

41

1. Rechtsmissbrauchsverbot im Erkenntnis- und Zwangsvollstreckungsverfahren

41

a) Erkenntnisverfahren

41

b) Zwangsvollstreckungsverfahren

43

c) Gründe für die beschränkte Geltung der Missbrauchslehre

43

2. Differenzierung zwischen materiellem Recht und Prozessrecht

44

III. Verhältnis von Rechtsmissbrauch zum Rechtsschutzinteresse

45

1. Gesetzliche Regelung

45

2. Rechtsschutzinteresse als Anknüpfungspunkt für Missbrauch im Prozessrecht

46

3. Fälle fehlenden Rechtsschutzinteresses

47

a) Nichterreichen der Prozesszwecke

47

b) Unzweckmäßige Prozesse

47

c) Zweckwidrige Prozesse

48

IV. Zusammenfassung

50

3. Kapitel: Missbrauchsvorwurf und Insolvenzverfahren

51

I. Missbrauchsausschluss durch Ordnungsfunktion?

52

1. Institutionelle Bedeutung des Insolvenzverfahrens

52

2. Rechtsschutzinteresse als Anknüpfungspunkt des Missbrauchseinwands

54

3. Aktienrechtliche Anfechtungsklage als Vergleichsfall

56

a) Missbrauch der Anfechtungsbefugnis durch den Aktionär

56

aa) Missbräuchliche Anfechtungsklage – Grundsätze

56

bb) Dogmatische Anknüpfung

59

b) Übertragbarkeit der Missbrauchsdogmatik?

59

II. Missbräuchlicher Einsatz des Insolvenzverfahrens

60

1. Differenzierung zwischen individuellem und institutionellem Missbrauch

60

a) Individueller Missbrauch des Insolvenzverfahrens

60

aa) Früheres unredliches Verhalten

60

bb) Widersprüchliches Verhalten

61

cc) Gegenwärtig unredliches Verhalten

63

(1) Fehlendes schützenwertes Eigeninteresse

63

(2) Verfolgung verfahrensfremder Zwecke

64

(a) Gläubigeranträge

65

(aa) Druckanträge

65

(bb) Ausforschungsanträge

67

(cc) Ausschaltung eines Wettbewerbers

68

(dd) Beendigung von Schuldverhältnissen

69

(b) Schuldneranträge

70

(c) Stellungnahme und Analyse der Fälle unter Berücksichtigung der Missbrauchslehre

71

b) Institutioneller Missbrauch des Insolvenzverfahrens?

75

2. Antragspflicht und Missbrauchsvorwurf

76

3. Beweis- und Darlegungslast für den Missbrauchseinwand

78

III. Missbrauchseinwand gegen die Beendigung des Insolvenzeröffnungsverfahrens

80

1. Missbräuchliche Erledigungserklärung bei Gläubigeranträgen

80

2. Missbrauch und Rücknahmeberechtigung bei juristischen Personen und Gesellschaften ohne Rechtspersönlichkeit

82

3. Stellungnahme

84

a) Keine Einschränkung allein im Hinblick auf § 1 InsO

85

b) Gefahr des Leerlaufens der Antragspflicht

88

aa) Antragspflicht gem. § 15a InsO

88

bb) Missbrauch durch Verhinderung einer Prüfung der Eröffnungsvoraussetzungen

89

IV. Zusammenfassung

92

2. Teil: Sanierung und Missbrauchsvorwurf

94

4. Kapitel: Die strategische Insolvenz im deutschen Insolvenzrecht

95

I. Sanierungsmöglichkeiten des Insolvenzrechts

95

1. Frühere Rechtslage

95

2. Gesetz zur weiteren Erleichterung der Sanierung von Unternehmen (ESUG)

96

a) Gesetzliche Änderungen

96

b) Gesellschaftsrechtliches Gestaltungspotenzial in der Insolvenz

97

II. Strategische Insolvenz als Besonderheit des Sanierungsrechts

98

III. Gestaltungsspielraum im Hinblick auf die Insolvenzgründe

100

1. Zahlungsunfähigkeit

101

2. Überschuldung

102

3. Drohende Zahlungsunfähigkeit

102

4. Fazit: Insolvenzeröffnungsgründe lassen Gestaltungsspielraum

103

IV. Zusammenfassung

104

5. Kapitel: Missbrauch durch den Schuldner?

105

I. Werbung mit der Eigenverwaltung – Beispielsfall aus der Sanierungspraxis

106

II. (Vorläufige) Eigenverwaltung und Schutzschirmverfahren – Missbrauch der Gestaltungsmöglichkeiten?

106

1. Missbrauchsvorwurf im Zusammenhang mit der (vorläufigen) Eigenverwaltung und dem Schutzschirmverfahren

106

a) (Vorläufige) Eigenverwaltung gem. §§ 270 ff. InsO

106

b) Schutzschirmverfahren gem. § 270b InsO

107

2. Stellungnahme unter Berücksichtigung der allgemeinen Rechtsmissbrauchslehre

108

a) Missbrauchseinwand vor dem Hintergrund der Masseschmälerung

108

b) Missbrauchseinwand bei zielgerichteter Herbeiführung der Insolvenzsituation

110

III. Rechtsschutzmöglichkeiten und haftungsrechtliche Konsequenzen

113

1. Rechtsschutzmöglichkeiten

114

2. Haftungsrechtliche Folgen

115

IV. Zusammenfassung

116

6. Kapitel: Missbrauch durch den Mehrheitsgesellschafter?

118

I. Suhrkamp Verlag GmbH & Co. KG – Beispielsfall aus der Sanierungspraxis

118

1. Ausgangssituation

118

2. Verfahrensgang

119

II. Verdrängung eines Minderheitsgesellschafters – Missbrauch der Gestaltungsmöglichkeiten?

120

1. Reichweite des Gesellschafterschutzes durch das wertbezogene Schutzkonzept des ESUG

120

a) Am Liquidationswert orientierter Vergleichsmaßstab

121

b) Einschränkungen zum Schutz des Minderheitsgesellschafters

122

aa) Wirtschaftlicher Ausgleich der Sonderrechte

122

bb) Unzulässigkeit der Verschlechterung der Mitgliedschaft bei nicht bezifferbarer Werthaltigkeit

123

c) Stellungnahme und Ausgangspunkt der weiteren Untersuchung

124

2. Schutz des Minderheitsgesellschafters durch die gesellschaftsrechtlichen Treuepflichten

124

a) Ursprung und Wirkungsweise

125

b) Potenzielle Wirkung der Treuepflichten in der Insolvenz

126

c) Fortgeltung der Treuepflichten?

126

aa) Überlagerung der Treuepflichten durch das Insolvenzrecht

127

bb) Keine Auswirkung auf die Treuepflichten

128

d) Stellungnahme

129

aa) Ausschluss im eröffneten Verfahren

129

bb) Geltung im Vorfeld der Insolvenz

130

3. Schutz des Minderheitsgesellschafters durch den gegen das Insolvenzverfahren gerichteten Missbrauchsvorwurf

131

a) Meinungsstand zum zweckwidrigen Einsatz des Insolvenzverfahrens

131

b) Stellungnahme

134

aa) Untersuchung des Missbrauchseinwands unter Berücksichtigung der allgemeinen Rechtsmissbrauchslehre

134

bb) Teleologische Reduktion des § 225a Abs. 3 InsO?

136

(1) § 1 InsO und die Zielsetzung des Insolvenzverfahrens

136

(2) Zweckwidrigkeitsvorwurf vor dem Hintergrund der dienenden Funktion des Insolvenzverfahrens

140

cc) Verbleibt ein Anwendungsbereich des Missbrauchseinwands?

142

III. Rechtsschutz

144

1. Rechtsschutz im Eröffnungsverfahren

145

a) Rechtsschutzinteresse analog § 14 Abs. 1 InsO

145

b) Sofortige Beschwerde

145

aa) Regelung des § 34 Abs. 2 InsO

146

bb) Überlegung einer analogen Anwendung

146

(1) Analoge Anwendung auf die Gläubiger

146

(2) Analoge Anwendung auf die Gesellschafter

147

(a) Planwidrigkeit der Regelungslücke

147

(aa) Unmittelbare Betroffenheit zum Zeitpunkt der Verfahrenseröffnung

148

(bb) Gleichwohl keine planwidrige Regelungslücke

148

(b) Verfassungsrechtliche Notwendigkeit?

149

(c) De lege ferenda

150

c) Schutzschrift

151

aa) Zulässigkeit der Schutzschrift im Insolvenzverfahren

151

bb) Schutzschrift aus Gesellschaftersicht

152

d) Anspruch auf Unterlassung und Rücknahme eines Insolvenzantrages

153

aa) Meinungsstand

153

(1) Einflussnahme auf die Antragstellung

153

(2) Außerinsolvenzgerichtlicher Rechtsschutz des Minderheitsgesellschafters

155

bb) Stellungnahme zum außerinsolvenzgerichtlichen Rechtsschutz

156

(1) Differenzierung zwischen Begründetheit und Zulässigkeit

156

(2) Materiell-rechtlicher Anspruch

156

(a) Allgemein zivilrechtlicher Anspruch

156

(b) Einfluss des Gesellschaftsrechts auf Unterlassungs- und Schadensersatzansprüche

158

(aa) Gesellschaftsrechtliche Anforderungen an die Antragstellung

158

(bb) Einfluss auf Unterlassungs- und Schadensersatzansprüche

159

(3) Zulässigkeit außerinsolvenzgerichtlichen Rechtsschutzes

160

(a) Identität des Prüfungsumfangs

161

(b) Keine Verzögerungsgefahr

163

(c) Zusammenfassung

164

2. Rechtsschutz im eröffneten Verfahren

165

a) Überprüfbarkeit der Unzulässigkeit durch das Insolvenzgericht

165

aa) § 250 Nr. 2 InsO

165

bb) § 231 Abs. 1 Nr. 1 und § 250 Nr. 1 InsO

166

(1) Unzulässigkeit der Maßnahme als Teil der Inhaltsprüfung

166

(2) Keine umfassende Zweckmäßigkeitsprüfung

167

(3) Auswirkung der Insolvenzeröffnung auf die Vornahme unzulässiger Planmaßnahmen

168

(a) Ausschluss des Einwands der Unzulässigkeit durch die Verfahrenseröffnung?

168

(b) Keine Auswirkungen der rechtskräftigen Eröffnungsentscheidung

169

(aa) Reichweite und Bedeutung der Rechtskraft im Hinblick auf den Insolvenzplan

169

(bb) Mangelnde Schutzwürdigkeit – Grundsätze der Quasirestitution

171

b) Außerinsolvenzgerichtlicher Rechtsschutz gegen den Insolvenzplan

172

aa) Materiell-rechtlicher Anspruch

173

bb) Zulässigkeit außerinsolvenzgerichtlichen Rechtsschutzes

173

c) Rechtsschutz gegen die Planbestätigung

173

aa) Beschwerderecht gem. § 253 InsO

174

bb) Erweiterung des Beschwerderechts bei unzulässigen Maßnahmen

175

cc) Ausschluss des "Freigabeverfahrens" gem. § 253 Abs. 4 Satz 1 InsO

177

dd) Verhältnis zum Minderheitenschutzantrag gem. § 251 InsO

177

IV. Haftungsrechtliche Folgen

178

1. Allgemein zivilrechtliche Haftung bei unzulässiger Verfahrenseinleitung und Vornahme einer unzulässigen Planmaßnahme

178

2. Gesellschaftsrechtlicher Einfluss auf die Haftungsansprüche

180

a) Ansprüche gegen die Geschäftsleitung bei Missachtung der gesellschaftsinternen Kompetenzverteilung

180

b) Ansprüche gegen Mehrheitsgesellschafter wegen Verletzung der Treuepflicht

181

3. Einzelfragen zum Schadensersatzanspruch auf Rechtsfolgenebene

182

a) Wiederherstellung des ursprünglichen Zustands – Naturalrestitution

182

aa) Unmöglichkeit der Naturalrestitution

183

bb) Normativer Ausschluss

184

b) Nachweisbarkeit von Schaden und Kausalität

185

c) Mitverschulden gem. § 254 BGB

186

V. Zusammenfassung

187

7. Kapitel: Missbrauch durch die Gläubiger?

189

I. Pfleiderer AG und IVG Immobilien AG – Beispielsfälle aus der Sanierungspraxis

190

1. Pfleiderer AG

190

a) Ausgangssituation

190

b) Verfahrensgang

190

2. IVG Immobilien AG

191

a) Ausgangssituation

191

b) Verfahrensgang

192

II. (Feindliche) Übernahme durch die Gläubiger – Missbrauch der Gestaltungsmöglichkeiten?

192

1. Debt Equity Swap gem. § 225a Abs. 2 Satz 1 InsO – Übernahme im Insolvenzverfahren

194

a) Kapitalherabsetzung

194

b) Kapitalerhöhung

195

c) Bezugsrechtsausschluss

195

d) Bewertung der Anteile der Altgesellschafter und das in diesem Zusammenhang diskutierte Missbrauchsrisiko

196

2. Distressed Debt Investing

199

a) Geschäftsmodell und Abgrenzung

199

b) Investorstrategien

200

aa) Active und Passive Investing

200

bb) Einfluss durch Financial Covenants

201

c) Rechtsfragen bezüglich des Forderungserwerbs

202

aa) Forderungserwerb aus schuldrechtlicher Sicht

202

bb) Forderungserwerb aus insolvenzrechtlicher Sicht

204

3. Stellungnahme zur Zulässigkeit von Unternehmensübernahmen und dem diesbezüglich erhobenen Missbrauchsvorwurf

204

a) Vorwurf der Instrumentalisierung und des Missbrauchs des Insolvenzverfahrens bei Unternehmensübernahme mittels Debt Equity Swap

204

b) Treuepflichtbindung der Gläubiger?

209

c) Einschränkung des Distressed Debt Investing?

210

III. Rechtsschutzmöglichkeiten und haftungsrechtliche Folgen

212

1. Rechtsschutzmöglichkeiten

212

2. Haftungsrechtliche Folgen

214

IV. Zusammenfassung

215

Schlussbetrachtung

217

I. Zusammenfassung der wesentlichen Ergebnisse

217

II. Ausblick

222

Literaturverzeichnis

224

Entscheidungsverzeichnis

259

Sachverzeichnis

268