Industrial relations & trade unions law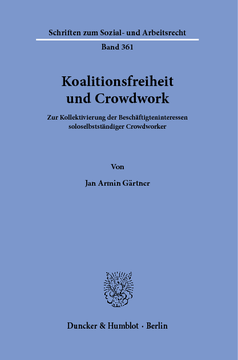 Additional Information
Book Details
ISBN

978-3-428-58137-5
978-3-428-18137-7 (print edition)

DOI

https://doi.org/10.3790/978-3-428-58137-5

Edition

1

Language

German

Pages

386

Collections

Subjects
Pricing
Institution

€ 126.00 (incl. local VAT if applicable)

Individual

€ 98.90 (incl. local VAT if applicable)
About The Author
Jan Armin Gärtner studierte Rechtswissenschaften an der Georg-August-Universität zu Göttingen und der National University of Ireland in Galway. Nach dem Studium promovierte er am Lehrstuhl für Arbeitsrecht und Bürgerliches Recht von Prof. Dr. Rüdiger Krause in Göttingen und war dort als wissenschaftlicher Mitarbeiter tätig. Seit September 2019 ist er Referendar im Bezirk des Oberlandesgerichts Braunschweig. Er absolvierte Stationen u.a. in der Denkfabrik Digitale Arbeitsgesellschaft des Bundesministeriums für Arbeit und Soziales in Berlin sowie in einer Wirtschaftskanzlei in Hamburg im Bereich Arbeitsrecht.
Jan Armin Gärtner studied law at the Georg-August-University Goettingen and at the National University of Ireland in Galway. He completed his doctoral thesis as a research associate at the Institute of Labour Law under Prof. Dr. Rüdiger Krause in Goettingen. In september 2019, he has commenced his legal clerkship in the district of the Higher Regional Court Braunschweig and worked at the Denkfabrik Digitale Arbeitsgesellschaft of the German Federal Ministry of Labour and Social Affairs in Berlin and at a law firm in Hamburg in the department of labour law.
Abstract
Crowdwork im engeren Sinne meint die Erledigung rein digitaler, ortsungebundener Arbeitsaufgaben. Crowdworker erbringen ihre Arbeit in der Regel als Soloselbstständige auf werkvertraglicher Basis und damit außerhalb des klassischen Arbeitsrechts. Vor diesem Hintergrund wurden Möglichkeiten der Interessenkollektivierung als Mechanismus zur Herbeiführung angemessener Arbeitsbedingungen untersucht. Crowdworker partizipieren an der entwicklungsoffen formulierten Koalitionsfreiheit nach Art. 9 Abs. 3 GG, weil sie, Arbeitnehmern vergleichbar, schutzbedürftig und in der Wahrnehmung ihrer Vertragsfreiheit stark eingeschränkt sind. Daraus folgt zwar kein Recht zum Abschluss normativ wirkender Tarifverträge, Crowdworker können die Koalitionsfreiheit gleichwohl durch den Abschluss schuldrechtlicher Kollektivvereinbarungen mit ihren Auftraggebern wahrnehmen. Diese sind durch atypische Arbeitskampfmaßnahmen erstreitbar und stehen im Einklang mit dem Kartellrecht sowie den europäischen Grundfreiheiten. »Freedom of Association and Crowdwork. On the Collectivisation of Interests of Self-Employed Crowdworkers without Employees«

Self-employed without employees, crowdworkers are excluded from the scope of classic labour law. As a means for inducing adequate working conditions for crowdworkers, the freedom of association (Art. 9 Abs. 3 GG) is considered and, though it does not provide them with the right to conclude collective agreements under the TVG, they can conclude collective agreements under the BGB and employ atypical industrial disputes without contradicting competition law or the European fundamental freedoms.
Table of Contents
Section Title
Page
Action
Price

Vorwort

3

Inhaltsverzeichnis

7

Erster Teil: Grundlagen

15

§ 1 Einführung

15

A. Crowdwork als Erscheinungsform der digitalen Arbeitswelt

15

B. Gang und Gegenstand der Untersuchung

19

§ 2 Formen und Verbreitung von Crowdwork

21

A. Plattformökonomie

21

I. Plattformtypen

22

II. Verbreitung

25

III. Spannungsfelder der Plattformökonomie

27

1. Tendenz zur Oligopolbildung

28

2. Einseitige Gestaltung der Vertragsbeziehungen

30

3. Reputationssysteme und Informationsasymmetrien

33

4. Kommodifizierung von Arbeit

37

B. Internes und externes Crowdwork

40

C. Zusammenfassung

41

Zweiter Teil: Crowdwork als rechtliches Phänomen

43

§ 3 Rechtliche Einordnung von Crowdworkern

43

A. Rechtsbeziehungen auf Crowdwork-Plattformen

44

I. Rahmenvertrag

44

II. Erledigung einzelner Arbeitsaufgaben

46

1. Rechtsverbindlichkeit der Ausschreibung von Arbeitsaufgaben

46

2. Begründung eines Schuldverhältnisses durch bindendes Versprechen nach § 657 BGB oder durch Vertrag

50

3. Sonderfall: Wettbewerbsbasiertes Crowdwork

53

4. Vertragsparteien

54

a) Lehrmeinungen

54

b) Rechtsprechung

55

c) Bewertung

58

III. Zusammenfassung

60

B. Rechtliche Qualifikation von Crowdworkern

61

I. Umgehung von Arbeitsverträgen durch Rahmenvertragsgestaltung

61

II. Arbeitnehmereigenschaft

63

1. Typologische Bestimmung des Arbeitnehmerbegriffs

64

2. Anwendung der Grundsätze auf typische Crowdwork-Gestaltungen

65

a) Weisungsgebundenheit

66

aa) Dauer

67

bb) Programmierung

68

cc) Kontrolle

69

b) Eingliederung in fremde Arbeitsorganisation

70

c) Sonstige Kriterien

71

d) Zusammenfassung

71

3. Mikro-Arbeitsverträge?

72

4. Alternativen bei der Ermittlung der Arbeitnehmereigenschaft

73

a) Arbeitnehmerbegriff nach Wank

74

b) Konzept des Arbeitgebers nach Prassl

77

c) Unionsrechtlicher Arbeitnehmerbegriff

80

d) Vertragliche Drei-Personen-Konstellationen

83

III. Arbeitnehmerähnlichkeit

87

1. Begriff der Arbeitnehmerähnlichkeit

88

2. Erweiterung des Begriffs der Arbeitnehmerähnlichkeit

90

3. Anwendbarkeit des Heimarbeitsgesetzes

91

IV. Selbstständigkeit

95

1. Negativabgrenzung – Kriterien selbstständiger Arbeit

95

2. Crowdwork als Spezialfall

96

V. Zwischenfazit

97

§ 4 Rechtsrahmen für soloselbstständige Crowdworker de lege lata

98

A. Individualrechtlicher Schutzschirm

98

I. AGB-Kontrolle – Auswahl der geprüften Klauseln

98

1. Sachlicher und persönlicher Anwendungsbereich der §§ 305ff. BGB

99

2. Auswirkungen der Vertragsparteien auf die Verwendereigenschaft

101

3. Untersuchung einzelner Klauseln

103

a) Leistungsablehnung

103

b) Preisausschreiben

106

c) Abtretung aller Rechte am Leistungsgegenstand

111

d) Nacherfüllungsfristen

112

e) Bindung an Plattformen, Exklusivitätsklauseln

113

aa) Exklusivitätsklauseln

114

bb) Begrenzung der Kontaktaufnahme

118

II. Wettbewerbsrechtliche Schutzmechanismen

119

III. Zusammenfassung

121

B. Kollektivrechtlicher Schutz arbeitnehmerähnlicher Crowdworker

122

I. Arbeitnehmerähnliche in der Betriebsverfassung

122

II. Tarifautonomie und Arbeitnehmerähnliche § 12a TVG

123

III. Sondervorschriften für Heimarbeiter

123

IV. Zusammenfassung

124

§ 5 Internationales Crowdwork

124

A. Anwendungsbereich des Internationalen Privat- und Zivilverfahrensrechts

125

I. Sachlicher Anwendungsbereich

126

II. Persönlicher Anwendungsbereich

126

B. Anwendbares Recht

127

I. Eingriffsnormen Art. 9 Rom I-VO

128

II. Öffentliche Ordnung Art. 21 Rom I-VO

130

C. Gerichtliche Zuständigkeit

131

I. Gerichtsstand nach der Brüssel Ia-VO

131

II. Gerichtsstandsvereinbarung

132

1. Formerfordernisse Art. 25 Abs. 1 lit. a–c, Abs. 2 Brüssel Ia-VO

133

2. Materielle Wirksamkeit Art. 25 Abs. 1 S. 1 Brüssel Ia-VO

133

D. Zusammenfassung

134

§ 6 Ergebnisse des Zweiten Teils

135

Dritter Teil: Interessenkollektivierung soloselbstständiger Crowdworker

136

§ 7 Verfassungsrechtlicher Rahmen

136

A. Soloselbstständige Crowdworker als Träger der Koalitionsfreiheit gem. Art. 9 Abs. 3 GG

138

I. Systematischer Unterschied zur Vereinigungsfreiheit nach Art. 9 Abs. 1 GG

138

II. Wortlaut des Art. 9 Abs. 3 GG

140

1. Jedermann-Grundrecht

140

2. Arbeits- und Wirtschaftsbedingungen

141

III. Historische Auslegung der Koalitionsfreiheit

142

1. Entwicklung bis zur WRV

142

a) Koalitionsverbote und ihre Aufhebung in § 152 GewO 1869

143

b) Ambivalente Rechtsprechung des Reichsgerichts in Zivil- und Strafsachen

143

c) Zwischenfazit

147

2. Koalitionsfreiheit in der WRV

147

3. Die Entstehung des Art. 9 Abs. 3 GG

150

4. Implikationen der Entwicklungsgeschichte der Koalitionsfreiheit

151

IV. Teleologische Auslegung des Art. 9 Abs. 3 GG

153

1. Sinn und Zweck der Koalitionsfreiheit

153

a) Verhältnis von Art. 9 Abs. 3 GG und dem Arbeitnehmerbegriff des einfachen Rechts

153

b) Unterscheidung von Tariffähigkeit und Grundrechtsträgerschaft

155

c) Schutzbereichsausweitung auf Arbeitnehmerähnliche

155

d) Schutzbereichsausdehnung auf sonstige Selbstständige

156

2. Zweckorientierte Schutzbereichsbestimmung: Vergleichbarkeit von Crowdworkern mit klassischen Arbeitnehmern

162

a) Persönliches Tätigwerden

162

b) Individuelle Verhandlungsschwäche

163

c) Verschärfte Konkurrenz am Markt

166

d) Beitrag zum Lebensunterhalt

169

e) Zusammenfassung

170

V. EU-rechtskonforme und völkerrechtsfreundliche Auslegung

170

VI. Auslegungsergebnis

173

B. Verfassungsrechtliche Vorgaben für Soloselbstständigenkoalitionen

173

C. Inhalt und Reichweite der Koalitionsfreiheit für soloselbstständige Crowdworker

176

I. Individueller Gewährleistungsgehalt

177

II. Kollektiver Gewährleistungsgehalt

177

1. Normsetzungsbefugnis – Tarifautonomie

178

a) Abwehrrechtliche Dimension

181

b) Leistungsrechtliche Dimension

182

aa) Differenzierung zwischen Eingriff und Ausgestaltung

184

bb) Gewährleistungsreichweite der Normsetzungsbefugnis

186

cc) Verfassungsrechtlicher Schutz des einfachgesetzlichen Tarifvertragssystems

188

dd) Gewährleistungsgehalt im Crowdwork-Kontext

189

2. Arbeitskampfrecht

191

a) Konzeption des Arbeitskampfs in der Rechtsprechung

192

aa) Entscheidungen des BVerfG

193

bb) Entscheidungen des BAG

195

b) Arbeitskampfbegriff

200

c) Grundrechtsdimensionen

202

aa) Natürliche oder normgeprägte Freiheit

203

bb) Differenzierung zwischen Eingriff und Ausgestaltung

206

cc) Einfluss des internationalen Rechts auf den Arbeitskampfbegriff

210

dd) Gewährleistungsgehalt im Crowdwork-Kontext

213

d) Kontrollmaßstab

214

III. Zwischenergebnis

214

§ 8 Kollektivmaßnahmen abseits klassischer Tarifverträge

215

A. Mögliche Akteure im Kontext von Crowdwork

215

I. Voraussetzung: Mobilisierung in der digitalen Arbeitswelt

215

1. Beispiel: "Dynamo"

216

2. Solidarität vs. Konkurrenz

218

3. Solidarität, Transparenz und Öffentlichkeit

221

4. Zwischenergebnis

223

II. Gewerkschaften

223

III. Selbstständigenverbände

224

IV. Internetforen, – portale und Tools

226

V. Die Crowd – "Ad-hoc Koalitionen"

228

B. Handlungsmöglichkeiten

230

I. Mittelbare Interessenvertretung

231

II. Abschluss sonstiger Kollektivverträge

234

1. Durchsetzungsschwäche schuldrechtlicher Vereinbarungen – Historische Gestaltungsmöglichkeiten

234

2. Rechtliche Begründung der Einbindung in Individualverträge

237

a) Tarifgemeinschaft

238

b) Vertrag zugunsten Dritter

239

c) Vertretungsmodell

240

d) Differenzierungsmodell

241

e) Leistungsbestimmung durch Dritte; Bezugnahme

241

f) Offene Verpflichtungsermächtigung

243

g) Bewertung

244

3. Konkrete Gestaltung von Koalitionsverträgen

247

a) Richtlinien- und Musterverträge; Empfehlungen

248

b) Allgemeine Koalitionsverträge

250

c) Anspruchsbegründende Koalitionsverträge

250

d) Verbindliche Regelungen

251

aa) Anknüpfung an bestehende gemeinsame Vergütungsfestsetzungen

252

bb) Anknüpfung an verbindlich vorgegebene Vergütungsordnungen

253

4. Zwischenergebnis

254

III. Interessenbündelung auf Gegenplattformen

254

IV. Arbeitskampfmaßnahmen

255

1. Rechtmäßigkeitsprüfung und Rechtsfolgen

255

2. Konkrete Kampfmaßnahmen

264

a) Unterstützungsstreik durch Stammbelegschaften

264

b) Störung der Vertragsbeziehungen – Digitaler Streik

271

c) Digitaler Flashmob – Cyberattacken

274

d) Boykott – Verruf, Shitstorm

281

3. Zwischenergebnis

291

§ 9 Kartellrechtliche Grenzen kollektiver Maßnahmen

291

A. Verhältnis von nationalem und europäischem Kartellrecht

295

B. Kartellkontrollprivileg für den Arbeitsmarkt

297

I. Nationale Entwicklung und dogmatische Herleitung

298

II. Privilegierung in der Rechtsprechung des EuGH

299

III. Rezeption der jüngeren Rechtsprechung des EuGH

303

1. Art der Vereinbarung

303

a) Begriff der Scheinselbstständigkeit

303

b) Begriff des Unternehmens bzw. der Unternehmensvereinigung

305

c) Beurteilungsperspektive im Mehrebenensystem

306

2. Gegenstand der Vereinbarung

307

3. Rechtspolitische und internationale Forderungen

308

IV. Stellungnahme

311

C. Ausdehnung der Privilegierung auf Kollektivmaßnahmen soloselbstständiger Crowdworker

315

D. Grenzen der Privilegierung

321

E. Zwischenergebnis

321

§ 10 Grenzziehung durch europäische Grundfreiheiten

322

A. Grundsätze

322

B. Relevanz für Crowdwork

326

I. Potentielle Eröffnung des Anwendungsbereichs der Grundfreiheiten

326

II. Beschränkung und Rechtfertigung

327

1. Koalitionsverträge

327

2. Kollektive Kampfmaßnahmen

330

C. Zwischenergebnis

334

Vierter Teil: Schluss

335

§ 11 Zusammenfassung der Ergebnisse

335

A. Rechtliche Einordnung und Rechtsrahmen von Crowdwork

335

B. Trägerschaft und inhaltliche Reichweite der Koalitionsfreiheit

336

C. Kollektivakteure und Kollektivmaßnahmen

336

D. Einfluss des Kartellrechts und der europäischen Grundfreiheiten

337

§ 12 Schlussbetrachtung

337

Literaturverzeichnis

339

Sachwortverzeichnis

380