Philosophy: metaphysics & ontology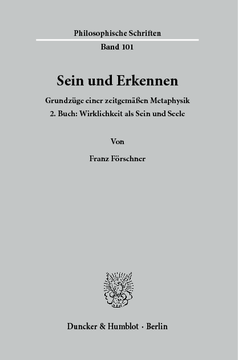 BOOK
Sein und Erkennen
Grundzüge einer zeitgemäßen Metaphysik. 2. Buch. Wirklichkeit als Sein und Seele
Philosophische Schriften, Vol. 101
(2020)
Additional Information
Book Details
ISBN

978-3-428-58105-4
978-3-428-18105-6 (print edition)

DOI

https://doi.org/10.3790/978-3-428-58105-4

Edition

1

Language

German

Pages

138

Collections

Subjects
Pricing
Institution

€ 70.00 (incl. local VAT if applicable)

Individual

€ 53.90 (incl. local VAT if applicable)
About The Author
Franz Förschner, geb. 1939 in Herbolzheim (b. Heilbronn/Neckar). Studium der Geologie an der Universität Heidelberg und der Theologie an der Universität Freiburg i.Br.; Promotion in Philosophie 1970 bei Bernhard Lakebrink. Von 1971 bis 1973 Bibliotheksreferendar an der Bayerischen Staatsbibliothek, München. Von 1973 bis 1975 Mitarbeiter in der Diözesanbibliothek Regensburg. Ab 1975 Leiter der Hochschulbibliothek in Karlsruhe und seit 2002 im Ruhestand.
Abstract
In »Sein und Erkennen 2« vollendet sich eine neue Metaphysik, indem der Seele (Psyche, Anima) völlig andere Züge als dem Sein zugesprochen werden (Wirklichkeit als Sein und Seele). Für die Metaphysik des Aristoteles und der Scholastik ist die Psyche die Ousia, bzw. die Anima die Essentia, so dass diese allein schon den Inhalt der Substantia ausmacht. Es ist gerade dieser monistische Einheitsblock, welcher die Möglichkeiten eines Fortschritts abblockt.

Phänomene wie Kultur und Geschichte, Religionen und Offenbarungen, Mythen und religiöse Mystik finden an der Wesensform (Ousia-Essentia) keine Ansatzstelle, denn sie können nur an der Existentia ihre Eingründung und ihre Deutungsmöglichkeiten erhalten. Die ontologischen Begriffe, welche die Existenzphilosophie gebracht hat, bleiben jedoch an dem Bedürfnis einer zwischen Essentia und Existentia ausgewogenen Metaphysik völlig zurück. Genau darin hält sich der Anspruch einer neuen Metaphysik. »Being and Knowing«

In ancient Greek and medieval scholastics the psyche (anima) as the essential form regards being as substance. Existence is totally underrepresented. This interpretation attributes completely different properties to the soul than to being. It is precisely the monistic idea of the unity of soul, being, essence and substance which blocks a more processive concept. Essence ist not a suitable starting point for the dimensions of history, culture, religion, myth etc. Existence and psyche offer a better basis for an organic connection.
Table of Contents
Section Title
Page
Action
Price

Vorwort

5

Inhaltsverzeichnis

7

1. Hauptteil: Metaphysis und Seele

11

1. Kapitel: Schema einer Abgrenzung; Wirklichkeit als Metaphysis und Seele

13

§ 1 Zum Begriff der Wirklichkeit

13

1. Skizze zu Seele, Geist, Materie

13

2. Vom Ur-Grund und vom Ur-Sprung

14

3. Sein und Zweck

16

4. Natur und Kultur

18

§ 2 Wirklichkeit als Weg nach innen

20

1. Das Wirkliche und das Erkennen

20

2. Materie und Seele

21

3. Die Betrachtungsweisen des Wirklichen

22

§ 3 Sein und Möglichkeit

22

1. Das Sein und das Nichts

22

2. Das drei-feldige Sein und seine Möglichkeiten

23

3. Das Wesen und die Möglichkeit; die Gattung

25

4. Das Dasein und die Möglichkeiten

26

5. Das Erkennen und die Möglichkeit

27

§ 4 Wirklichkeit und Möglichkeit

28

1. Die Erfahrung des Seelischen

28

2. Die Kennzeichen des Seelischen

31

3. Zur Wortwahl Metaphysis und Seele

34

2. Kapitel: Seele als Relation zwischen Geist und Materie

36

§ 5 Wirklichkeit im Begriff als Metaphysis und Seele; zwei grundsätzliche Schwierigkeiten

36

§ 6 Geist und Leben

38

§ 7 Metaphysis und Seele; Urgrund und Urbindung der Wirklichkeit

40

2. Hauptteil: Die Seele im Bereich der Natur; die Wildnis

43

1. Kapitel: Seele und Organismus

45

§ 8 Materie; Mythos und Physik

45

§ 9 Relatio universalis

47

1. Die Seele und die metaphysischen Ur-Teile

47

2. Seele und Materie

48

3. Seele als "innere" und "äußere" Bindung

49

§ 10 Materie und Kreislauf

50

1. Materie und Boden

50

2. Das Leben und der Kreislauf

51

3. Seele und Organismus

52

§ 11 Kultur und Wildnis; zur Abgrenzung der Begriffe

53

2. Kapitel: Die Kennzeichen des Seelischen im Bereich der Materie

55

§ 12 Das Chaos und die Materie

55

§ 13 Sein und Seele; das Geheimnis des Werdens und das Mahl

55

§ 14 Das Mahl als Sinn und Sinnbild des Lebens

57

§ 15 Der Stoffwechsel, das Wachstum und die Fortpflanzung

59

3. Kapitel: Die Züchtung als Brücke zwischen Wildnis und Kultur

61

§ 16 Die Seele und die geschlechtliche Anlage

61

§ 17 Die Seele und die Geschlechtskraft; die Geschlechtsreife und das Alter

63

§ 18 Das Geheimnis der Züchtung als Aufschluss zu Seele und Sein

64

3. Hauptteil: Die Seele im Bereich der Gesellschaft; die Kultur

69

1. Kapitel: Kultur als Züchtung

71

§ 19 Ackerbau, Nomadentum und Jagd; Züchtung als Versorgung und Verpflegung

71

§ 20 Boden, Heimat, Volk; Züchtung als Verwandtschaft und Rasse

72

§ 21 Geist, Seele, Leib; Züchtung als Erziehung zur Kultur

74

2. Kapitel: Kultur als Pflege der Seele

78

§ 22 Das Ideal der Kultur

78

§ 23 Züchtung und Versorgung; die Mitte als Pflege der Seele

80

§ 24 Das seelische Gleichgewicht

82

§ 25 Kultur als Pfeil und Pfeiler

83

§ 26 Die Leibwache des Geistes

84

§ 27 Der Hüter der Brücke

87

3. Kapitel: Die Pflege der Seele. Ordnung oder Weg?

89

§ 28 Eine Rückbesinnung

89

§ 29 Moral der Wildnis und Ethik des Schicksals

90

§ 30 Das Spiel der Seele

92

§ 31 Anima est quoddammodo omnia

93

§ 32 Das weltliche Schauspiel der Seele

96

4. Kapitel: Kultur als Gleichmaß der Seele

98

§ 33 Spiel und Arbeit, Moral und Lust; das Viergespann der Seele

98

§ 34 Der Frieden als Boden der Kultur; die letzte Brücke

101

§ 35 Krieg und Frieden

103

§ 36 Arbeit, der Gegenstandsbezug zwischen Bewusstsein und Gesellschaft

105

5. Kapitel: Kultur als Reifung der Seele

108

§ 37 Das Maß des Fortschritts

108

§ 38 Das Sein und das Schöne

110

§ 39 Kultur und Reifung

112

§ 40 Reifung als Seelenstärke

113

§ 41 Form und Materie im Bereich der Kultur

116

6. Kapitel: Urformen seelischer Offenbarung

118

§ 42 Die Seele und das Selbe

118

§ 43 Der Schlüssel zur Kultur und das Schloss der Seele

119

§ 44 Der Mythos als Form der Seele

121

§ 45 Der Mythos als Wahrheit der Seele

123

§ 46 Die Seele als Religio; Urbindung und Regelkreis

124

§ 47 Mythos und Religio

126

7. Kapitel: Die Bindungen der Seele

129

§ 48 Das metaphysische Selbe und der Gott der Seele; die drei Urbindungen

129

§ 49 Die Gottesbindung

130

§ 50 Die Seele und ihre Verwandten

132

§ 51 Schlusswort

133

Sachverzeichnis

135