Corruption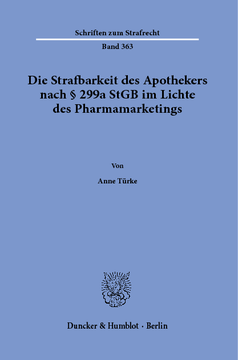 BOOK
Die Strafbarkeit des Apothekers nach § 299a StGB im Lichte des Pharmamarketings
Schriften zum Strafrecht, Vol. 363
(2021)
Additional Information
Book Details
ISBN

978-3-428-58125-2
978-3-428-18125-4 (print edition)

DOI

https://doi.org/10.3790/978-3-428-58125-2

Edition

1

Language

German

Pages

219

Collections

Subjects
Pricing
Institution

€ 80.00 (incl. local VAT if applicable)

Individual

€ 62.90 (incl. local VAT if applicable)
About The Author
Anne Türke studierte von 2009 bis 2015 Rechtswissenschaften an der Eberhard Karls Universität Tübingen. Im Anschluss daran absolvierte sie den juristischen Vorbereitungsdienst am Oberlandesgericht in Karlsruhe. Im November 2017 trat sie in den Justizdienst des Landes Baden-Württemberg ein. Sie arbeitete zunächst für zwei Jahre als Strafrichterin in einer Großen Strafkammer und ist seit Dezember 2019 als Staatsanwältin tätig. Von Februar 2018 bis Mai 2020 promovierte Anne Türke zu einer wirtschaftsstrafrechtlichen Fragestellung berufsbegleitend an der Albert-Ludwigs-Universität Freiburg bei Professor Dr. Gerson Trüg.
Anne Türke studied law at the Eberhard Karls University of Tübingen from 2009 to 2015. Following up, she completed the legal preparatory service at the Higher Regional Court in Karlsruhe. In November 2017, she joined Baden-Württemberg's judicial service. She initially worked as a criminal judge in a Grand Criminal Chamber for two years and has been ever after a public prosecutor since December 2019. From February 2018 to May 2020 Anne Türke finished her doctorate in the field of white-collar crime at the Albert-Ludwigs-University Freiburg under Professor Dr. Gerson Trüg parallel to her work.
Abstract
Der Apotheker nimmt im Gesundheitswesen aufgrund der Apothekenpflicht für Arzneimittel eine Schlüsselstellung ein, die ihn besonders attraktiv für Pharmaunternehmen macht, da ihr wirtschaftlicher Erfolg maßgeblich von der Abgabeentscheidung des Apothekers abhängt. Die Autorin zeigt in ihrem Werk auf, dass sich Apotheker auch nach Einführung des § 299a StGB, der Bestechlichkeit im Gesundheitswesen unter Strafe stellen soll, nicht strafbar machen können, wenn sie finanzielle Zuwendungen seitens der Pharmaunternehmen im Gegenzug für eine bevorzugte Abgabe ihrer Arzneimittel annehmen. Die insoweit bestehende Strafbarkeitslücke kann auch nicht durch andere Straftatbestände zufriedenstellend geschlossen werden und ist mit Blick auf die herausgehobene Stellung des Apothekers im Gesundheitswesen auch nicht unter dem Aspekt des fragmentarischen Charakters des Strafrechts hinnehmbar. Die Autorin schließt ihre Arbeit daher mit Überlegungen zu einer Reformierung des § 299a StGB. »Pharmacist's Criminal Liability in Accordance to Section 299a of the German Criminal Code under the Spotlight of Pharmaceutical Marketing«

The author states that pharmacists cannot be punished even after the introduction of Section 299a of the German criminal code if they accept financial advantages on the part of pharmaceutical companies in return for a preferential supply of their medicines. In regards with the prominent position of the pharmacist in the health sector, this criminality gap is unacceptable. The author, therefore, concludes her thesis with a reform proposal to Section 299a of the German criminal code.
Table of Contents
Section Title
Page
Action
Price

Vorwort

5

Inhaltsverzeichnis

7

Abkürzungsverzeichnis

11

§ 1 Einleitung

17

I. Anstoß für das Gesetz zur Bekämpfung von Korruption im Gesundheitswesen

17

II. Untersuchungsgegenstand

19

1. Hinführung

19

2. Untersuchung im Einzelnen

22

§ 2 Erforderlichkeit einer strafrechtlichen Regelung

25

I. Bedeutung für den Untersuchungsgegenstand

25

II. Notwendigkeit einer strafrechtlichen Norm

26

1. Dimensionen des Gesundheitsmarktes

26

2. Ultima-ratio Prinzip

27

a) Grundlagen des ultima-ratio Prinzips

27

b) Verhaltenskodizes der Pharmaindustrie im Lichte des ultima-ratio Prinzips

29

aa) Defizite der Verhaltenskodizes der Pharmaindustrie

30

bb) Zweckbestimmung der Maßnahmen der Verfahrensordnungen

34

c) Berufsrecht im Lichte des ultima-ratio Prinzips

35

aa) Defizite der berufsrechtlichen Vorschriften

36

bb) Zweckbestimmung berufsrechtlicher Maßnahmen

37

d) Approbationsrecht im Lichte des ultima-ratio Prinzips

41

aa) Defizite der approbationsrechtlichen Vorschriften

43

bb) Zweckbestimmung des Widerrufs der Approbation

44

e) Bewertung

45

f) Ordnungswidrigkeitenrecht im Lichte des ultima-ratio Prinzips

46

aa) § 15 Abs. 1 Nr. 4a HWG

46

bb) § 25 Abs. 1 Nr. 2 ApoG

50

cc) Verhältnis zum Strafrecht

51

g) Zwischenfazit

55

3. Unionsrechtlich determinierte Regelungspflicht

55

a) Der Rahmenbeschluss der Europäischen Union

56

b) Bewertung

58

4. Fazit

59

§ 3 Strafbarkeit des Apothekers nach § 299a StGB

61

I. Bedeutung für den Untersuchungsgegenstand

61

II. Untersuchung des § 299a StGB

62

1. Verlauf des Gesetzgebungsverfahrens

62

a) Bedeutung des Gesetzgebungsverfahrens für die Auslegung des § 299a StGB

62

b) Einzelne Etappen des Gesetzgebungsverfahrens

65

aa) Gesetzesantrag des Freistaates Bayern (BayE)

65

(1) Täterkreis

66

(2) Heilberufliche Bezugs- und Abgabeentscheidung

67

(3) Sog. Berufsrechtsmodell

68

bb) Referentenentwurf des Bundesministeriums der Justiz und für Verbraucherschutz (RefE)

69

(1) Täterkreis

70

(2) Heilberufliche Bezugs- und Abgabeentscheidung

71

(3) Sog. Berufsrechtsmodell

71

cc) Gesetzentwurf der Bundesregierung (RegE)

74

(1) Täterkreis

75

(2) Heilberufliche Bezugs- und Abgabeentscheidung

76

(3) Sog. Berufsrechtsmodell

77

dd) Beschlussempfehlung und Bericht des Ausschusses für Recht und Verbraucherschutz

78

(1) Täterkreis

79

(2) Heilberufliche Bezugs- und Abgabeentscheidung

79

(3) Sog. Berufsrechtsmodell

82

ee) Gesetz zur Bekämpfung von Korruption im Gesundheitswesen

82

c) Wille des Gesetzgebers

84

d) Zwischenfazit

87

2. Anwendungsbereich des § 299a StGB aus Apothekersicht

88

a) Tauglicher Täter

88

b) Mögliche Tatvarianten

90

aa) Verordnung von Arznei-, Heil- oder Hilfsmitteln oder von Medizinprodukten, § 299a Nr. 1 StGB

90

bb) Bezug von Arznei- oder Hilfsmitteln oder von Medizinprodukten, § 299a Nr. 2 StGB

91

cc) Zuführung von Patienten oder Untersuchungsmaterial, § 299a Nr. 3 StGB

92

(1) Grammatische Auslegung

93

(2) Teleologische Auslegung

94

(a) Geschützte Rechtsgüter des § 299a StGB

94

(aa) Schutz des fairen Wettbewerbs

94

(bb) Schutz des Vertrauens der Patienten in die Integrität heilberuflicher Entscheidungen

95

(b) Anwendung auf den Beispielsfall

98

(3) Historische Auslegung

98

(4) Teleologische Reduktion

101

(a) Abgrenzung zur restriktiven Auslegung

101

(b) Wesen der teleologischen Reduktion

102

(c) Ratio legis des § 299a StGB

103

dd) Auslegung und Rechtsfortbildung durch die Gerichte

104

(1) Grundsätzliche Zulässigkeit der Rechtsfortbildung durch die Gerichte

105

(2) Verfassungsrechtliche Grenzen

107

(3) § 299a Nr. 2 StGB

108

(4) § 299a Nr. 3 StGB

110

3. Bewertung

112

§ 4 Rechtspolitisches Erfordernis einer Strafbarkeit des Apothekers

115

I. Entscheidungsspielräume von Apothekern bei der Abgabe von Arzneimitteln

116

1. Verschreibungspflichtige Arzneimittel

117

a) Entscheidungsspielräume im System der gesetzlichen Krankenversicherung

117

aa) Vorliegen einer Rabattvereinbarung

120

bb) Wirkstoffverordnung

121

cc) Namensverordnung

123

b) Entscheidungsspielräume im System der privaten Krankenversicherung

123

2. Verschreibungsfreie Arzneimittel

124

II. Bewertung

125

§ 5 Strafbarkeit des Apothekers nach anderen Vorschriften

131

I. Strafbarkeit des Apothekers nach §§ 331, 332 StGB

131

1. Grundlegendes zum Amtsträgerbegriff

132

a) Wahrnehmung von Aufgaben öffentlicher Verwaltung

132

b) Sonstige Stelle

134

c) Bestellungsakt

134

2. Ursprünglicher Meinungsstand zur Amtsträgereigenschaft des Apothekers

135

3. Übertragbarkeit der Entscheidung des Großen Senats des Bundesgerichtshofs vom 29. März 2012 auf den Apotheker

136

a) Die Entscheidung im Hinblick auf die Amtsträgereigenschaft

136

b) Konsequenzen der Entscheidung des Großen Senats für den Apotheker

138

II. Strafbarkeit des Apothekers nach § 299 Abs. 1 Nr. 1 StGB

143

1. Strafbarkeit des Apothekers als Inhaber der Apotheke

143

2. Apotheker als Beauftragter der PKV

144

a) Grundlegendes zum Beauftragten- und Unternehmensbegriff des § 299 StGB

144

b) Subsumtion

146

3. Apotheker als Beauftragter der GKV

147

a) Ursprünglicher Meinungsstand zur Beauftragteneigenschaft des Apothekers

147

b) Übertragbarkeit der Entscheidung des Großen Senats des Bundesgerichtshofs vom 29. März 2012 auf den Apothe

148

aa) Die Entscheidung im Hinblick auf die Beauftragteneigenschaft

149

bb) Konsequenzen der Entscheidung des Großen Senats für den Apotheker

150

4. Abwandlung: Strafbarkeit des angestellten Apothekers

156

a) Grundlegendes zum Angestelltenbegriff

156

b) Weitere Tatbestandmerkmale des § 299 Abs. 1 Nr. 1 StGB

157

c) Konkurrenzen

159

III. Strafbarkeit des Apothekers nach § 263 StGB

162

1. Betrug bei der Abrechnung verschreibungspflichtiger Arzneimittel

162

a) Täuschung

162

aa) Abgrenzung konkludente Täuschung und Täuschung durch Unterlassen

163

bb) Auswirkungen des einheitlichen Apothekenabgabenpreises

166

b) Vermögensschaden

168

2. Betrug bei der Abrechnung verschreibungsfreier Arzneimittel

169

a) Eingepreiste Rückvergütung

170

aa) Täuschung

170

bb) Irrtum

171

cc) Vermögensverfügung und Vermögensschaden

172

b) Rückvergütung "auf eigene Rechnung"

174

3. Zwischenfazit

174

IV. Einordnung in den Untersuchungsgegenstand

174

§ 6 Reformvorschlag

177

I. Notwendigkeit einer Reform de lege ferenda

177

II. Hinführung zum Reformvorschlag

178

1. Erweiterung der Bezugsvariante und Aufnahme der heilberuflichen Abgabeentscheidung

178

2. Ergänzung des Straftatenkatalogs des § 100a Abs. 2 StPO

179

III. Reformvorschlag im Einzelnen

181

§ 7 Schlussbetrachtung

183

§ 8 Untersuchungsergebnisse

184

Literaturverzeichnis

188

Stichwortverzeichnis

217