Criminal law: offences against property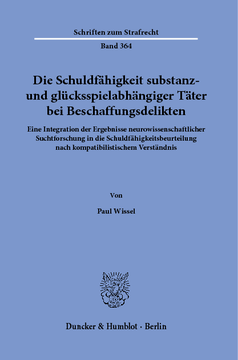 BOOK
Cite BOOK
Style
---
Wissel, P. (2021). Die Schuldfähigkeit substanz- und glücksspielabhängiger Täter bei Beschaffungsdelikten. Eine Integration der Ergebnisse neurowissenschaftlicher Suchtforschung in die Schuldfähigkeitsbeurteilung nach kompatibilistischem Verständnis. Duncker & Humblot. https://doi.org/10.3790/978-3-428-58114-6
Wissel, Paul. Die Schuldfähigkeit substanz- und glücksspielabhängiger Täter bei Beschaffungsdelikten: Eine Integration der Ergebnisse neurowissenschaftlicher Suchtforschung in die Schuldfähigkeitsbeurteilung nach kompatibilistischem Verständnis. Duncker & Humblot, 2021. Book. https://doi.org/10.3790/978-3-428-58114-6
Wissel, P, (2021): Die Schuldfähigkeit substanz- und glücksspielabhängiger Täter bei Beschaffungsdelikten: Eine Integration der Ergebnisse neurowissenschaftlicher Suchtforschung in die Schuldfähigkeitsbeurteilung nach kompatibilistischem Verständnis, Duncker & Humblot, [online] https://doi.org/10.3790/978-3-428-58114-6
---
Format
---
Die Schuldfähigkeit substanz- und glücksspielabhängiger Täter bei Beschaffungsdelikten
Eine Integration der Ergebnisse neurowissenschaftlicher Suchtforschung in die Schuldfähigkeitsbeurteilung nach kompatibilistischem Verständnis
Schriften zum Strafrecht, Vol. 364
(2021)
Additional Information
Book Details
ISBN

978-3-428-58114-6
978-3-428-18114-8 (print edition)

DOI

https://doi.org/10.3790/978-3-428-58114-6

Edition

1

Language

German

Pages

188

Collections

Subjects
Pricing
Institution

€ 76.00 (incl. local VAT if applicable)

Individual

€ 58.90 (incl. local VAT if applicable)
About The Author
Paul Wissel studierte Rechtswissenschaften an der Heinrich-Heine-Universität Düsseldorf. Nach Abschluss des ersten Staatsexamens im Mai 2016 war er von Juli 2016 bis September 2020 am Lehrstuhl für Strafrecht und Strafprozessrecht bei Prof. Dr. Helmut Frister sowie am Institut für Rechtsfragen der Medizin als wissenschaftlicher Mitarbeiter tätig. Im Oktober 2019 nahm er seinen Vorbereitungsdienst im Bezirk des Oberlandesgerichts Düsseldorf auf, unter anderem mit Stationen beim Landgericht Düsseldorf, bei der Staatsanwaltschaft Düsseldorf und bei den Kanzleien Wessing und Partner sowie Kapellmann und Partner.
Paul Wissel studied law at the Heinrich Heine University in Düsseldorf. After passing the first state examination in May 2016, he worked as a research assistant at the Chair of Criminal Law and Criminal Procedure Law under Prof. Dr. Helmut Frister and at the Institute for Legal Issues in Medicine from July 2016 to September 2020. In October 2019 he started his legal traineeship with stations at the District Court in Düsseldorf, the Public Prosecutor's Office in Düsseldorf and the law firms Wessing & Partner and Kapellmann & Partner.
Abstract
Trotz beachtlicher Fortschritte in der Suchtforschung hält der Bundesgerichtshof in seiner Rechtsprechung seit Jahrzehnten unverändert an der These fest, dass Abhängigkeitsstörungen die Schuldfähigkeit des Täters bei Beschaffungsdelikten grundsätzlich nicht beeinträchtigen können. Dazu statuiert er ein Konzept von Ausnahmen, deren Anwendung erhebliche Probleme aufwirft. Diesem Ansatz stellt Paul Wissel ein neues, die aktuellen Erkenntnisse neurobiologischer Suchtforschung integrierendes System gegenüber. Unter Zugrundelegung eines Begriffs von Schuldfähigkeit, der mit der Unbeweisbarkeit von Willensfreiheit im indeterministischen Sinne kompatibel ist, werden die Kriterien für die verschiedenen Schritte der Beurteilung einer Substanz- bzw. Glücksspielabhängigkeit herausgearbeitet. Dabei zeigt sich, dass Abhängigkeitsstörungen hinsichtlich nicht besonders schwerwiegender Beschaffungstaten regelmäßig zu einer erheblichen Verminderung der Schuldfähigkeit führen. »The Culpability of Substance- and Gambling Addicted Persons in Procurement Offences. An Integration of the Results of Neuroscientific Addiction Research into the Assessment of Guilt According to Compatibilistic Understanding«

In contrast to the jurisdiction of the Federal Court of Justice, Paul Wissel develops a new approach to the assessment of the culpability of substance- and gambling addicted persons in procurement offences. Starting from a concept of culpability that is compatible with the unprovability of freedom of will in an indeterministic sense, he addresses current findings in neurobiological addiction research and elaborates the criteria for the assessment of addiction.
Table of Contents
Section Title
Page
Action
Price

Vorwort

5

Inhaltsverzeichnis

7

A. Einleitung

11

I. Neurowissenschaften, Willensfreiheit und Schuld

12

II. Begriffsbestimmung Abhängigkeit

16

III. Abhängigkeitsstörungen und Kriminalität

17

IV. Gang der Untersuchung

21

B. Wissenschaftliche Standards zu Abhängigkeitsstörungen

23

I. Suchtverständnis – eine Frage der Perspektive

23

II. Neurobiologie von Abhängigkeit

26

1. Das Brain-Disease-Modell von Abhängigkeit

26

a) Die pathologische Veränderung des dopaminergen Motivationssystems als Ursache von Abhängigkeit

27

b) Schlussfolgerungen für das Suchtverständnis

33

2. Reichweite eines neurobiologischen Erklärungsmodells

36

a) Gültigkeit im Bereich der Substanzabhängigkeit

36

b) Gültigkeit für Glücksspielabhängigkeit

38

III. Klassifizierung von Abhängigkeit

42

1. Klassifizierung in der ICD-10

42

a) Substanzabhängigkeit

42

b) Glücksspielabhängigkeit

44

2. Klassifizierung im DSM-5

45

a) Substanzabhängigkeit

45

b) Glücksspielabhängigkeit

47

IV. Praktische Feststellbarkeit einer forensisch relevanten Abhängigkeitsstörung

48

1. Zuziehung eines psychiatrischen Sachverständigen

49

2. Bedeutung der Klassifikationssysteme für die psychiatrische Begutachtung

54

a) Verwendung als "gemeinsame Sprache"

55

b) Verwendung als Kriterienkatalog

58

3. Untersuchungsmethoden

60

V. Zwischenergebnis

65

C. Die Rechtsprechung des BGH zur Schuldfähigkeit abhängiger Täter

67

I. Die ständige Rechtsprechung zur Schuldfähigkeit substanzabhängiger Täter

67

1. Schwerste Persönlichkeitsveränderungen

68

2. Akute Rauschzustände

69

3. Starke Entzugserscheinungen

71

4. Angst vor Entzugserscheinungen

71

5. Zusammenfassung und Resonanz in der Literatur

74

II. Die ständige Rechtsprechung des BGH zur Schuldfähigkeit glücksspielabhängiger Täter

76

D. Alternative Beurteilung der Schuldfähigkeit abhängiger Täter

79

I. Ausgangspunkt der Schuldfähigkeitsbeurteilung

79

1. Das herkömmliche Verständnis von Schuldfähigkeit

80

a) Die Eingangsmerkmale des § 20 StGB

80

b) Einsichts- und Steuerungsfähigkeit

84

aa) Fähigkeit als ein unabhängig von der Willensfreiheit bestimmbarer Begriff

86

bb) Die indeterministische Prämisse des herkömmlichen Verständnisses

87

2. Schuldfähigkeit als normative Ansprechbarkeit

89

3. Schuldfähigkeit als Fähigkeit zu einem hinreichend rationalen Entscheidungsprozess

93

II. Die Fähigkeit zu einem rationalen Entscheidungsprozess als psychologisches Substrat der Schuldfähigkeit

99

1. Die psychologische Struktur rationaler Entscheidungsprozesse

101

2. Beeinträchtigung der Fähigkeit zu einem rationalen Entscheidungsprozess durch Abhängigkeitsstörungen

104

a) Die typischen Auswirkungen von Abhängigkeitsstörungen

104

b) Der notwendige Zusammenhang zwischen Störung und Tat

109

aa) Direkte Beschaffungsdelikte

110

bb) Indirekte Beschaffungsdelikte

111

cc) Sonstige Kriminalität

113

c) Einordnung sonstiger psychopathologischer Folgen (chronischen) Suchtmittelgebrauchs

115

d) Praktische Feststellung im Einzelfall

120

3. Zwischenergebnis

122

III. Das für die Schuldfähigkeit hinreichende Ausmaß an Rationalität

122

1. Die Schwere der Tat als abstraktes Kriterium für die Zuerkennung von Schuldfähigkeit

125

2. Zurechnungsschwellen bei der Schuldfähigkeit substanz- und glücksspielabhängiger Täter

130

a) Regelmäßig erheblich verminderte Schuldfähigkeit (§ 21 StGB)

130

b) Ausnahme besonders schwerwiegender Beschaffungstaten

132

c) Exkurs: Strafbarkeit des Eigenkonsums

133

3. Einzelfragen der Schuldfähigkeitsbeurteilung

138

a) Die Teilbarkeit der Schuldfähigkeitsbeurteilung

138

b) Der Grundsatz "in dubio pro reo"

139

c) Die Aufgabenverteilung zwischen Richter und Sachverständigem

141

IV. Berücksichtigung von Vorverschulden bei Abhängigkeitsstörungen

142

1. Die actio libera in causa bei Abhängigkeitsstörungen

143

2. Verschärfung des abstrakten Zurechnungsmaßstabs wegen Vorverschuldens?

149

3. Vorverschulden im Rahmen der fakultativen Strafrahmenmilderung nach § 21 StGB

151

E. Maßregeln der Besserung und Sicherung bei Abhängigkeitsstörungen

156

I. Unterbringung in einer Entziehungsanstalt gemäß § 64 StGB

156

II. Unterbringung in einem psychiatrischen Krankenhaus gemäß § 63 StGB

162

F. Zusammenfassung und Fazit

165

Literaturverzeichnis

170

Stichwortverzeichnis

186