Consumer protection law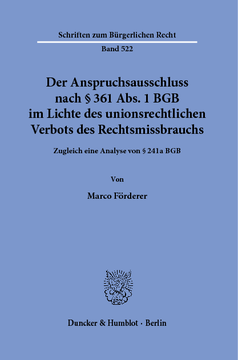 BOOK
Der Anspruchsausschluss nach § 361 Abs. 1 BGB im Lichte des unionsrechtlichen Verbots des Rechtsmissbrauchs
Zugleich eine Analyse von § 241a BGB
Schriften zum Bürgerlichen Recht, Vol. 522
(2021)
Additional Information
Book Details
ISBN

978-3-428-58072-9
978-3-428-18072-1 (print edition)

DOI

https://doi.org/10.3790/978-3-428-58072-9

Edition

1

Language

German

Pages

227

Collections

Subjects
Pricing
Institution

€ 92.00 (incl. local VAT if applicable)

Individual

€ 71.90 (incl. local VAT if applicable)
About The Author
Marco Förderer begann sein Studium der Rechtswissenschaften an der Philipps-Universität Marburg im Wintersemester 2012/2013. Im Februar 2017 legte er sein 1. Staatsexamen ab, woran sich eine dreijährige Tätigkeit als wissenschaftlicher Mitarbeiter am Lehrstuhl von Prof. Dr. Tobias Helms, dem Institut für Bürgerliches Recht, Internationales Privatrecht und Rechtsvergleichung, anschloss. Währenddessen startete Herr Förderer im Juli 2018 in sein Referendariat am Landgericht Frankfurt am Main, welches er im Juli 2020 mit dem 2. Staatsexamen abschloss. Seine Promotion zum Doktor der Rechte erfolgte schließlich im Februar 2020 durch die Juristische Fakultät der Philipps-Universität Marburg.
Marco Förderer began his studies of law at the Philipps University of Marburg in the winter semester 2012/2013. In February 2017 he passed his 1st state examination, followed by three years as a research assistant at the chair of Prof. Dr. Tobias Helms, Institute for Civil Law, Private International Law and Comparative Law. Meanwhile, Mr. Förderer started his legal clerkship at the District Court of Frankfurt am Main in July 2018, which he completed with the 2nd state examination in July 2020. His doctorate in law was awarded in February 2020 by the Law Faculty of the Philipps University of Marburg.
Abstract
Der im Zuge der Umsetzung der Verbraucherrechterichtlinie in das BGB eingefügte § 361 Abs. 1 normiert einen umfassenden Anspruchsausschluss für alle Ansprüche, die gegen den Verbraucher infolge des Widerrufs entstehen und keinen Niederschlag im eigens geregelten Widerrufsfolgenrecht finden. Bei der Untersuchung, welche Ansprüche überhaupt als infolge des Widerrufs eingestuft werden können, stellt sich heraus, dass durch den umfassenden Ausschluss sämtlicher Schadensersatzansprüche Missbrauchsmöglichkeiten des Verbrauchers entstehen können, wenn dieser die empfangene Ware beschädigt und eine Wertersatzpflicht gegenüber dem Unternehmer mangels ordnungsgemäßer Belehrung ausscheidet. In diesem Zusammenhang erarbeitet der Autor unter Berücksichtigung des Europäischen Verbots missbräuchlicher Praktiken eine Lösung zur Begrenzung der Missbrauchsmöglichkeiten und stellt fest, dass bei Beschädigungen der Ware, die in Schädigungsabsicht oder nach Erklärung des Widerrufs mit Vorsatz erfolgen, Schadensersatzansprüche erhalten bleiben. »The Exclusion of Claims under § 361 Section 1 of the German Civil Code in the Light of the European Principle that Abusive Practices are Prohibited. At the Same Time an Analysis of § 241a of the German Civil Code«

Due to the comprehensive exclusion of claims of § 361 section 1 of the German Civil Code (BGB), the consumer is not subject to any obligation to pay compensation in the event of damage to the goods in the case of revocation if he has not been properly informed. Taking into account the European principle that abusive practices are prohibited, the author develops a solution to limit the possibilities of abuse while at the same time investigating this European principle in its way of interaction.
Table of Contents
Section Title
Page
Action
Price

Vorwort

5

Inhaltsverzeichnis

9

Einleitung

15

Kapitel 1: Grundlagen

19

§ 1 Mindestharmonisierung vs. Vollharmonisierung

19

§ 2 Abgrenzung von Unternehmern und Verbrauchern

20

Kapitel 2: Unbestellte Leistungen nach § 241a Abs. 1 BGB als Vergleichsmodell

23

§ 1 Grundlagen

23

A. Historie

23

B. Rechtsfolgen des § 241a Abs. 1 BGB

23

I. Erhöhte Anforderungen an eine Willenserklärung des Verbrauchers

24

II. Auswirkungen auf die Eigentumslage

26

III. Recht zum Besitz

29

1. Zwei-Personen Verhältnis

30

2. Drei-Personen Verhältnis

30

a) Verkauf/Verschenkung an Dritte

30

b) Vermietung/Verleihung an Dritte

31

c) Zerstörung der Ware durch einen Dritten

32

3. Fazit

33

IV. Verfügungsbefugnis

34

§ 2 Der Anspruchsausschluss und seine Reichweite

37

A. Richtlinienkonforme Umsetzung des § 241a Abs. 1 BGB

37

I. Gesetzliche Ansprüche als "Gegenleistung" im Sinne des Art. 27 VRRL

38

II. Beschränkung des Regelungsbereichs von Art. 27 VRRL auf die vertragliche Ebene

39

B. Einzelne Ansprüche des Unternehmers gegen den Verbraucher

40

I. Ansprüche auf Herausgabe

41

II. Ansprüche auf Erlösherausgabe

41

III. Ansprüche auf Schadensersatz

42

IV. Ansprüche aus berechtigter Geschäftsführung ohne Auftrag

42

C. Einzelne Ansprüche des Unternehmers gegen Dritte

43

D. Ansprüche Dritter gegen den Verbraucher

44

§ 3 Missbrauchsmöglichkeiten des Verbrauchers im Rahmen von § 241a Abs. 1 BGB

45

Kapitel 3: Die Wertersatzpflicht und der Anspruchsausschluss infolge des Widerrufs

46

§ 1 Grundlagen

46

A. Historische Entwicklung der Wertersatzpflicht aus § 357 Abs. 7 BGB und des Anspruchsausschlusses aus § 361 Abs. 1 BGB

46

B. Die Wertersatzpflicht aus § 357 Abs. 7 BGB

51

I. Wertverlust der Ware

51

II. Umgang mit der Ware außerhalb des erforderlichen Prüfungsumfangs – Erfordernis eines Vertretenmüssens?

52

III. Belehrungspflicht des Unternehmers

55

IV. Berechnung des Wertersatzes

57

V. Fazit

58

§ 2 Einführung in die Ausschlusswirkung des § 361 Abs. 1 BGB

58

A. Europarechtlicher Hintergrund

58

B. Problemaufriss

59

C. Vom Ausschluss erfasste Ansprüche: geklärte Fragen

60

D. Nicht vom Ausschluss erfasste Ansprüche

60

E. Ausschlusswirkung hinsichtlich der Ansprüche des Verbrauchers gegen den Unternehmer oder Dritte

62

I. Haftung des Unternehmers für eine fehlerhafte oder unterbliebene Widerrufsbelehrung

62

II. Haftung bei der Verletzung sonstiger Aufklärungspflichten

65

III. Pflicht zum Ersatz von Verwendungen auf die Ware

65

IV. Ansprüche des Verbrauchers gegen Dritte

67

§ 3 Korrektur vor dem Hintergrund von Missbrauchsmöglichkeiten

67

A. Die Ausgangsproblematik der Beschädigung und Zerstörung der empfangenen Ware

67

I. Die Sachlage vor Kenntnis des Verbrauchers vom Widerrufsrecht (Phase 1)

67

II. Die Sachlage ab Kenntnis des Verbrauchers vom Widerrufsrecht, aber vor dessen Ausübung (Phase 2)

73

1. Parallele Diskussion im Rücktrittsfolgenrecht

74

a) Teleologische Reduktion bei Kenntnis vom Rücktrittsrecht

75

b) Teleologische Reduktion ab dem Kennenmüssen des Rücktrittsrechts

78

c) Ablehnung einer teleologischen Reduktion und Lösung über das Schadensersatzrecht

78

aa) Das Rückgewährschuldverhältnis als Haftungsgrundlage

79

bb) Der ursprüngliche Kaufvertrag als Haftungsgrundlage

83

2. Folgen für die Beurteilung der Sachlage im Widerrufsfolgenrecht

86

III. Die Sachlage nach Erklärung des Widerrufs durch den Verbraucher (Phase 3)

94

IV. Auslegung der Sperrwirkung des § 361 Abs. 1 BGB

97

1. Die Umsetzungsgrundlage des Art. 14 Abs. 5 VRRL

98

2. Einschränkende Auslegung des Art. 14 Abs. 5 VRRL unter Berücksichtigung des Erwägungsgrundes 48 Satz 2 VRRL

103

3. Folgen für die Auslegung des § 361 Abs. 1 BGB

104

a) Konkretisierungsansätze für das Merkmal "infolge des Widerrufs"

104

b) Stellungnahme zu den bisherigen Konkretisierungsansätzen

109

c) Eigener Konkretisierungsansatz

115

d) Folgen für den Beispielsfall

116

V. Zwischenergebnis

116

B. Die Gefahr des Missbrauchs

117

I. Allgemeine Erwägungen zum Begriff des Rechtsmissbrauchs nach deutschem Recht

117

II. Die Missbrauchsgefahr vor Kenntnis des Verbrauchers vom Widerrufsrecht (Phase 1)

119

III. Die Missbrauchsgefahr ab Kenntnis des Verbrauchers vom Widerrufsrecht (Phase 2)

120

IV. Die Missbrauchsgefahr nach Erklärung des Widerrufs durch den Verbraucher (Phase 3)

122

V. Alternative Anknüpfung: Rechtsmissbräuchliche Ausübung des Widerrufsrechts

126

VI. Zusammenfassung

127

C. Dogmatische Umsetzungsmöglichkeiten zur Vermeidung von Missbrauchsmöglichkeiten: § 242 BGB und der unionsrechtliche Grundsatz des Verbots von Rechtsmissbrauch

127

I. Historische Entwicklung des unionsrechtlichen Grundsatzes des Verbots von Rechtsmissbrauch

129

1. Beginn der Entwicklung im Rahmen der Grundfreiheiten

129

2. Weiterentwicklung im Rahmen von Verordnungen

132

3. Die Fortsetzung im Rahmen von Richtlinien

135

II. Kategorisierung der Fälle des Rechtsmissbrauchs in der Rechtsprechung des EuGH

145

1. Unterscheidung zwischen Primär- und Sekundärrecht

146

2. Unterscheidung zwischen nationaler Normvermeidung und nationaler Normerschleichung

147

3. Unterscheidung zwischen nationaler Normvermeidung und missbräuchlicher Ausübung von Rechten aus dem Unionsrecht

147

a) Einordnung des Rechtsmissbrauchseinwands in Fällen der Normvermeidung

149

b) Einordnung des Rechtsmissbrauchseinwands in Fällen der missbräuchlichen Geltendmachung von Rechten, die vom Unionsrecht verliehen werden

150

aa) Das Rechtsmissbrauchsverbot als teleologische Interpretation des Rechts

150

bb) Das Rechtsmissbrauchsverbot als nachträgliche, von der Auslegung unabhängige Korrektur eines formalen Ergebnisses

151

cc) Stellungnahme

152

c) Erfordernis einer Absicht als subjektives Kriterium im Rahmen der ersten Fallgruppe der Normvermeidung

155

d) Zwischenergebnis

156

4. Ergebnis

157

III. Das Verbot missbräuchlicher Praktiken als allgemeiner Grundsatz des Unionsrechts

157

1. Vorbemerkung

158

2. Die Anerkennung als allgemeiner Grundsatz des Unionsrechts

158

3. Eine generelle Regel des Unionsrechts

159

4. Stellungnahme

160

a) Die Auffassung der Europäischen Kommission

160

b) Die Auffassung der Generalanwälte des EuGH

161

aa) Ablehnende Stimmen

162

bb) Positive Stimmen

163

cc) Unentschlossene Stimmen

165

c) Die Rechtsprechung des Gerichtshofs

167

d) Bewertung

168

IV. Übertragbarkeit auf das Verbraucherschutzrecht

171

V. Anwendbarkeit im konkreten Fall des Art. 14 Abs. 5 VRRL und des § 361 Abs. 1 BGB

175

1. Objektives Element des Verbots missbräuchlicher Praktiken

175

2. Subjektives Element des Verbots missbräuchlicher Praktiken

178

VI. Folgen für die Beurteilung eines Rechtsmissbrauchs nach nationalem Recht

179

§ 4 Reichweite des Anspruchsausschlusses des § 361 Abs. 1 BGB in Dreipersonenverhältnissen

185

A. Die Weiterveräußerung der Ware an Dritte

185

I. Der Regelfall: Der Anspruch auf Herausgabe des Surrogats aus § 285 BGB im Mittelpunkt

186

1. Unwirksamkeit der Widerrufserklärung gem. § 242 BGB?

186

2. Die Sachlage vor Kenntnis des Verbrauchers vom Widerrufsrecht (Phase 1)

187

3. Die Sachlage ab Kenntnis des Verbrauchers vom Widerrufsrecht, aber vor dessen Ausübung (Phase 2)

190

4. Die Sachlage nach Erklärung des Widerrufs durch den Verbraucher (Phase 3)

191

5. Fazit

191

II. Kauf unter Eigentumsvorbehalt: Der Anspruch auf Herausgabe des Erlangten aus § 816 Abs. 1 S. 1 BGB im Mittelpunkt

192

1. Die Sachlage vor Kenntnis des Verbrauchers vom Widerrufsrecht (Phase 1)

192

2. Die Sachlage ab Kenntnis des Verbrauchers vom Widerrufsrecht, aber vor dessen Ausübung (Phase 2)

195

3. Die Sachlage nach Erklärung des Widerrufs durch den Verbraucher (Phase 3)

196

4. Fazit

197

B. Die Verschenkung der Ware an Dritte

197

I. Anspruch auf Herausgabe gegen den Dritten bei Verfügung als Berechtigter

198

II. Anspruch auf Herausgabe gegen den Dritten bei Verfügung als Nichtberechtigter

198

III. Zusammenfassung

199

Kapitel 4: Vergleich von § 241a BGB und § 361 Abs. 1 BGB

200

Kapitel 5: Schluss

203

§ 1 Fazit zu § 241a BGB

203

§ 2 Fazit zu § 361 Abs. 1 BGB

204

Literaturverzeichnis

210

Sachwortverzeichnis

225