Private or civil law: general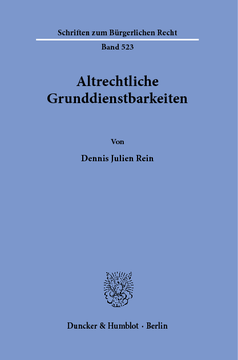 Additional Information
Book Details
ISBN

978-3-428-58136-8
978-3-428-18136-0 (print edition)

DOI

https://doi.org/10.3790/978-3-428-58136-8

Edition

1

Language

German

Pages

219

Collections

Subjects
Pricing
Institution

€ 80.00 (incl. local VAT if applicable)

Individual

€ 62.90 (incl. local VAT if applicable)
About The Author
Dennis Rein studierte an der Eberhard Karls Universität in Tübingen Rechtswissenschaft und arbeitete bis zum Ersten juristischen Staatsexamen im Jahr 2016 als studentische Hilfskraft am Lehrstuhl für Bürgerliches Recht, Römisches Rechte und Europäisches Privatrecht von Prof. Dr. Thomas Finkenauer, M.A. Im Anschluss daran arbeitete er bis 2018 am selben Lehrstuhl als akademischer Mitarbeiter. Danach absolvierte er sein Referendariat am Landgericht Stuttgart. Seit 2020 ist er in Stuttgart in einer internationalen Wirtschaftskanzlei als Rechtsanwalt tätig.
Dennis Rein studied law at the Eberhard Karls University in Tübingen. Until his First legal State exam in 2016, he worked as a student research assistant at the Chair for Civil Law, Roman Law and European Law of Prof. Dr. Thomas Finkenauer, M.A. Thereafter, he worked as a research assistant for the same chair until 2018. Subsequent to this, he completed his legal clerkship at the Regional Court of Stuttgart in two years. Since 2020, he works for an international law firm in Stuttgart.
Abstract
Altrechtlich sind all jene Grunddienstbarkeiten, die nicht nach dem BGB, sondern nach einem früheren Recht entstanden sind. Diese Rechte lasten auch über 120 Jahre nach dem Inkrafttreten des BGB noch auf so manch einem Grundstück. Hierdurch sind dieselben Rechtsfragen wie für moderne Dienstbarkeiten zu beantworten: Sind sie wirksam entstanden und bestehen sie noch fort? Passen sie sich an veränderte Umstände an? Unter welchen Voraussetzungen wird ihre Ausübung geschützt? Erlöschen sie infolge eines gutgläubigen Wegerwerbs?

Die Übergangsvorschriften im EGBGB sehen je nach Fallgestaltung die Geltung der Vorschriften der früheren Rechtsordnung oder des BGB vor. Die Studie arbeitet dieses Wechselspiel der Rechtsordnungen systematisch anhand der von Art. 184 ff. EGBGB vorgegebenen Unterscheidung zwischen nicht eingetragenen und eingetragenen Grunddienstbarkeiten auf. Hierbei wird gezeigt, dass einzelnen Übergangsvorschriften eine größere praktische Bedeutung zukommt als bislang angenommen. »Old-Law Easements»

Easements are so-called old-law easements when they weren't created under the German Civil Code (BGB), but under an earlier law. However, not only the provisions of the old law apply for these easements but also the provisions of the German Civil Code. This thesis shows when and how one of these legal systems is applicable and how the legal issues which result from the continued existence of those old-law easements are to be solved.
Table of Contents
Section Title
Page
Action
Price

Vorwort

7

Inhaltsverzeichnis

9

Abkürzungsverzeichnis

14

Einleitung

19

A. Historischer Teil

24

I. Gemeines Recht

24

1. Allgemeines

24

a) Unterscheidung zwischen gemeinem Recht und Partikularrecht

24

b) Abgrenzung einer Grunddienstbarkeit von anderen dinglichen Rechten

25

c) Unterteilung von Dienstbarkeiten

26

d) Voraussetzung an den Inhalt einer Grunddienstbarkeit

28

e) Spezieller Inhalt für bestimmte Grunddienstbarkeiten

29

f) Zusammenfassung

31

2. Entstehung

31

a) Vertrag

31

aa) Allgemeines

31

bb) Notwendigkeit einer quasi traditio?

32

cc) Zusammenfassung

35

b) Vorbehalt

36

aa) Deductio servitutis

36

bb) Patris familiae destinatio

36

cc) Zusammenfassung

40

c) Trennung

41

d) Letztwillige Verfügung

41

e) Richterliche Verfügung

42

f) Ersitzung

43

aa) Longa quasi possessio

43

bb) Unvordenkliche Verjährung

49

3. Anpassung

50

4. Erlöschen

51

a) Vertrag

51

b) Konfusion

51

c) Verjährung

52

d) Wegfall ihrer Existenzbedingung

53

e) Nebenbestimmung

53

II. Beratung und Einführung des BGB/EGBGB

53

1. Preußisches Recht

55

a) ALR

55

b) Preußisches EEG

56

2. Sächsisches BGB

57

3. Sachenrechtlicher Teilentwurf

58

4. 1. Kommission

60

5. 2. Kommission

63

6. Würdigung

67

B. Nicht eingetragene altrechtliche Grunddienstbarkeiten

70

I. Anzuwendendes Recht, anwendbare Vorschriften

70

1. Grunddienstbarkeiten des BGB

70

2. Altrechtliche Grunddienstbarkeiten

70

II. Entstehung

72

1. Ermittlung des maßgebenden Rechts

72

2. Die sogenannte Zwischenzeit

73

a) Rechtsbestellung während der Zwischenzeit

73

b) Dauer der Zwischenzeit

74

c) Entstehung nach der Zwischenzeit

76

3. Zusammenfassung

78

III. Fortbestand

79

1. Auslegung

79

2. Anpassung

82

a) Rechtsgeschäftlich

83

b) Ipso iure

83

aa) Grunddienstbarkeiten des BGB

84

(1) Unterscheidung von Inhalt und Ausübungsintensität

84

(2) Dogmatische Begründung der Anpassung

86

(3) Anpassung des Inhalts

88

(4) Anpassung der Ausübungsintensität

90

bb) Altrechtliche Grunddienstbarkeit

91

(1) Anpassung des Inhalts und der Ausübungsintensität

91

(2) Anpassung bei ersessenen Dienstbarkeiten

95

c) Zusammenfassung

95

3. Inhaltliche Änderungen nach Art. 184 S. 2 EGBGB

96

a) Vereinbarung einer Unterhaltspflicht, §§ 1021, 1022 BGB

96

b) Verlegung auf einen anderen Grundstücksteil, § 1023 BGB

97

c) Zusammentreffen mehrerer dinglicher Rechte, § 1024 BGB

97

4. Kellerrecht

97

a) Stockwerkseigentum

98

b) Superfiziarisches Recht/Erbbaurecht

99

c) Dienstbarkeit

100

IV. Anspruch auf Beseitigung einer Störung, § 1027 und § 1004 BGB

101

1. §§ 1027, 1004 BGB

101

2. Duldung eines Überbaus eines Dritten

101

3. Duldung eines Überbaus des Eigentümers des dienenden Grundstücks

102

4. Zusammenfassung

106

V. Besitzschutz

106

1. §§ 858ff. BGB und § 1029 BGB

106

2. Art. 191 EGBGB

108

a) Tatbestandsvoraussetzungen des Art. 191 II EGBGB

109

aa) Objektive Tatbestandsvoraussetzung

109

bb) Subjektive Tatbestandsvoraussetzung

111

b) Verhältnis von Art. 191 II EGBGB zu § 1029 BGB

113

aa) Anwendbarkeit des Art. 191 II EGBGB auf moderne Grunddienstbarkeiten

113

bb) Schutzumfang des Art. 191 II EGBGB

115

cc) Unterscheidung von § 1029 BGB und Art. 191 II EGBGB

115

3. Zusammenfassung

117

VI. Schadensersatzanspruch

118

VII. Erlöschen

119

1. Untergangsgründe nach früherem Recht

119

a) Rechtsgeschäftlicher Untergang

119

b) Die übrigen Erlöschensgründe

119

2. Untergangsgründe des BGB

120

3. Teilung des herrschenden und dienenden Grundstücks, §§ 1025, 1026 BGB

121

a) Überblick

121

b) Widersprüchliche Verweisung in Art. 184 S. 2 EGBGB

122

c) Zeitliche Geltung des Art. 184 S. 2 EGBGB i.V.m. § 1026 BGB

123

4. Verjährung, § 1028 BGB

125

5. Gutgläubiger Wegerwerb

126

6. Zwangsversteigerung und Flurbereinigung

128

C. Eingetragene altrechtliche Grunddienstbarkeiten

129

I. Grundbucheintragung

129

1. Art. 187 EGBGB

129

a) Der Eintragungsanspruch

129

b) Vormerkung und Widerspruch

130

2. Die formellen Anforderungen für die Eintragung

132

a) Anwendbarkeit der GBO-Vorschriften

132

b) § 19 GBO

133

c) Analoge Anwendung des § 894 BGB und des § 22 GBO

134

3. Eintragung in einem alten Grundbuch

136

4. Beweis im Grundbuchberichtigungsverfahren analog § 894 BGB

137

a) Beweismittel

137

b) Freie Beweiswürdigung des Richters nach § 286 ZPO

138

5. Zusammenfassung

139

II. Fortbestand

140

1. Art. 184 S. 1 EGBGB

141

2. Auslegung

144

3. Anpassung

147

a) Rechtsgeschäftlich, Ipso iure

147

b) Umwandlung

149

4. Teilweise Eintragung

150

III. Öffentlicher Glaube des Grundbuchs

150

1. Für den Bestand einer Grunddienstbarkeit

150

2. Für den Inhalt und Rang einer Grunddienstbarkeit

153

a) Bestandsschutz nach Art. 184 S. 1 EGBGB oder Verkehrsschutz nach § 892 BGB?

153

b) Für den Rang der Grunddienstbarkeit

155

c) Zusammenfassung

156

3. Grundbucheintragung

156

a) Wirksame Eintragung

156

b) Eintragung in einem alten Grundbuch

157

c) Sonderkonstellationen

158

4. Maßgeblicher Zeitpunkt

158

5. Keine Kenntnis

159

IV. Besitzschutz, Beseitigungsanspruch und Schadensersatzanspruch

160

V. Erlöschen

160

1. Allgemeines

160

2. Zwangsversteigerung

161

a) Anwendbare Normen

161

b) Voraussetzungen des § 9 I EGZVG

162

c) Erlöschen einer altrechtlichen Grunddienstbarkeit trotz § 9 EGZVG

165

D. Landesgesetzgebung

168

I. Württemberg-Hohenzollern/Württemberg-Baden

168

II. Baden-Württemberg

170

III. Bayern

171

1. Bayerisches Übergangsgesetz

171

2. Bayerisches AGBGB

173

IV. Bremen

175

V. Hamburg

178

VI. Hessen

180

VII. Rheinland-Pfalz

182

VIII. Neue Bundesländer

183

1. Altrechtliche Grunddienstbarkeiten

183

2. Mitbenutzungsrechte, Art. 233 § 5 EGBGB

184

a) Rechtsnatur, Inhalt und Entstehens- sowie Erlöschensvoraussetzungen

184

b) Fortgeltung eines Mitbenutzungsrechts nach EGBGB

187

c) Zusammenfassung

189

3. § 8 GbBerG

190

a) Motive des Gesetzgebers

190

b) Voraussetzung für das Bestehenbleiben

191

c) Verhältnis von § 8 GbBerG und dem EGBGB

191

d) Verfassungsmäßigkeit

192

e) Zusammenfassung

194

E. Zusammenfassung und Ergebnisse

195

Literaturverzeichnis

201

Sachregister

212

Paragraphenregister

215