Criminal procedure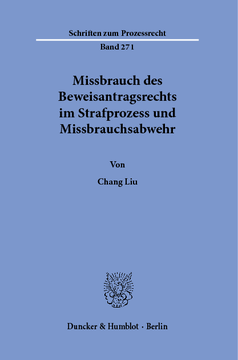 Additional Information
Book Details
ISBN

978-3-428-58116-0
978-3-428-18116-2 (print edition)

DOI

https://doi.org/10.3790/978-3-428-58116-0

Edition

1

Language

German

Pages

277

Collections

Subjects
Pricing
Institution

€ 92.00 (incl. local VAT if applicable)

Individual

€ 71.90 (incl. local VAT if applicable)
About The Author
Chang Liu hat an der Universität Fudan in Shanghai, Volksrepublik China, studiert und im Jahr 2009 das Studium der Rechtswissenschaften und im Jahr 2012 den LL.M. absolviert. Im Jahr 2010 hat sie das juristische Staatsexamen Chinas bestanden. Von 2012 bis 2020 hat sie in München unter der Betreuung von Prof. Dr. Dr. h.c. mult. Bernd Schünemann promoviert. Seit 2020 arbeitet sie bei dem Shanghai International College of Intellectual Property der Universität Tongji (Shanghai).
Chang Liu earned her LL.B. degree in 2009 and LL.M. in 2012, both from Fudan University (Shanghai). In 2010 she passed the National Bar Exam of China. From 2012 to 2020 she studied in Munich under the supervision of Prof. Dr. Dr. h.c. mult. Bernd Schünemann for her doctorate. Since 2020 she has been working at the Shanghai International College of Intellectual Property of Tongji University (Shanghai).
Abstract
Vor dem Hintergrund der einschneidenden Beschränkungen des Beweisantragsrechts im Namen der Missbrauchsbekämpfung in jüngerer Zeit stellen sich die Fragen, wann ein Missbrauch dieses schärfsten Mittels der Verteidigung vorliegt und wie weit die Missbrauchsabwehr gehen darf. Die Arbeit stellt fest, dass das strafprozessuale Ziel der Wahrheitserforschung das Beweisantragsrecht einschließlich seiner starken verfahrensrechtlichen Garantien gebietet. Daran gemessen werden Fallgruppen des Missbrauchs des Beweisantragsrechts gebildet. Für die Unterbindung dieser Missbrauchsvarianten reichen die gesetzlichen Ablehnungsgründe grundsätzlich aus, während die kontinuierliche und massenhafte Stellung von nichtsachdienlichen Anträgen die einzige Ausnahme darstellt. Da diese Lücke mittels einer zurückhaltenden und einzelfallbezogenen Rechtsfortbildung gefüllt werden kann, sind die durch Rechtsprechung und Gesetzgebung neulich geschaffenen Maßnahmen überflüssig. Diese zu weitgehende Missbrauchsabwehr öffnet am Ende sogar neuen Missbräuchen Tor und Tür. »Abuse of the Right to Apply for Evidence to Be Taken in Criminal Proceedings and the Prevention of Abuse«

The right to apply for evidence to be taken has been restricted in recent years in the name of the fight against abuse of this right, which raises the question of when this right is abused and how far the anti-abuse measures may go. This work examines the purpose of this right and categorizes on this basis abusive behaviors into several groups. Since all sorts of abuse of this right can be prevented by existing means, the recently introduced anti-abuse methods are superfluous, they even bring new risks of abuse.
Table of Contents
Section Title
Page
Action
Price

Vorwort

5

Inhaltsverzeichnis

7

Abkürzungsverzeichnis

11

Einleitung

15

A. Ausgangspunkt

15

B. Begrenzung der Untersuchungsgegenstände

18

C. Gang der Abhandlung

19

1. Teil: Entstehung und Entwicklung des Beweisantragsrechts

21

A. Entstehung der Beweiserhebungsansprüche der Angeklagten – Entwicklungen bis zur Reichsstrafprozeßordnung 1877

21

I. Die Constitutio Criminalis Carolina von 1532

21

II. Der reformierte Strafprozess

23

III. Die Reichsstrafprozeßordnung von 1877

27

B. Entstehung und Entfaltung des Beweisantragsrechts im deutschen Strafverfahren – Entwicklungen bis zum Inkrafttreten des Grundgesetzes

30

I. Etablierung des Beweisantragsrechts durch die Rechtsprechung vor dem ersten Weltkrieg

30

1. Die Gesetzesänderungsversuche

30

2. Die Rechtsprechung des Reichsgerichts

32

a) Exkursion

34

II. Weiterentwicklung des Beweisrechts zugunsten des Angeklagten in der Weimarer Republik

35

III. Die Einschränkung des Beweisrechts des Angeklagten während der NS-Zeit und die Reaktion der Rechtsprechung darauf

38

IV. Die gesetzliche Anerkennung eines umfassenden Beweisrechts des Angeklagten in der Bundesrepublik

42

C. Beschränkung des Beweisrechts des Angeklagten unter Berufung auf das Missbrauchsverbot – Entwicklungen in der Bundesrepublik seit 1974

43

I. Gesetzesänderungen vor 2014

43

II. Rechtsprechung vor 2014

52

1. Das allgemeine Missbrauchsverbot

52

2. Konnexität

53

3. Fristenlösung

59

III. Aktuelle Gesetzesänderung (2014–2019)

68

D. Resümee

74

2. Teil: Die Grundlagen des Beweisantragsrechts

75

1. Kapitel: Die Grundlagen des Strafverfahrens

75

A. Ziele des Strafprozesses

75

B. Rechtfertigung des Strafverfahrens

79

C. Rechtfertigung des Strafverfahrens durch Zusammenwirken seiner Ziele und Schranken

83

I. Zweck-Schranke-Struktur

83

II. Zwecke und Schranken des Strafverfahrens

84

III. Förderung der legitimen Strafzufügung als Ziel des Strafverfahrens

87

1. Erforschung der materiellen Wahrheit

87

2. Rascheste Verfahrensbeendigung

93

IV. Instrumentalisierungsverbot als Schranke des Strafverfahrens

98

1. Exkursion

106

V. Zusammenspiel der Ziele und Schranken

108

2. Kapitel: Beweisantragsrecht im legitimen Strafverfahren

111

A. Beweisantragsrecht und Wahrheitserforschung

112

I. Beweisantizipation und Beweisantizipationsverbot

112

1. Hintergrund der Diskussion

112

2. Begriff der Beweisantizipation

114

3. Umfang des Beweisantizipationsverbots

116

a) Ein Totalverbot?

116

b) Erlaubte Beweisantizipation im Rahmen der Aufklärungspflicht und des Beweisantragsrechts

118

aa) Theoretisch mögliche Antizipationsvarianten

119

bb) Zulässigkeit der Beweisantizipation aufgrund der richterlichen Überzeugung vom Gegenteil

121

cc) Zulässigkeit der Beweisantizipation hinsichtlich der Erheblichkeit einer Tatsache

121

(1) Erheblichkeit einer Haupttatsache

121

(2) Erheblichkeit einer Indiz- oder Hilfstatsache

122

dd) Zulässigkeit der Beweisantizipation hinsichtlich des Beweiswertes eines Beweismittels

124

ee) Zulässigkeit der Beweisantizipation hinsichtlich des Sachverhaltsmodifikationscharakters des Beweisergebnisses

127

(1) Prospektive Antizipation

127

(2) Retrospektive Antizipation

128

ff) Zwischenergebnis

131

II. Verfahrensrechtliche Garantien

133

B. Beweisantragsrecht und schnellste Verfahrensbeendigung

139

C. Beweisantragsrecht und Verfahrensgerechtigkeit

140

D. Ziel des Instituts des Beweisantragsrechts

144

3. Teil: Missbrauch des Beweisantragsrechts und Gegenmaßnahmen

145

1. Kapitel: Rechtsmissbrauch im Strafverfahren

145

A. Diskussion und Realität

145

B. Rechtfertigung der Missbrauchsidee

150

C. Kategorien des Rechtsmissbrauchs und ihre Rechtfertigung

152

I. Kategorien des Rechtsmissbrauchs

152

II. Rechtfertigung der Kategorisierung

155

1. Dramatisierung des Missbrauchs des Beschuldigten und des Verteidigers

155

a) Exkursion

161

2. Außerachtlassung des Missbrauchs der Staatsanwaltschaft und des Gerichts

164

D. Rechtfertigung der Missbrauchsabwehr

167

I. Zulässigkeit der Missbrauchsabwehr in Form der richterlichen Rechtsfortbildung

167

II. Rechtfertigung einer richterlichen Abwehrmaßnahme

175

E. Resümee

177

2. Kapitel: Missbrauch des Beweisantragsrechts und Missbrauchsabwehr

177

A. Missbrauch des Beweisantragsrechts

177

B. Maßnahmen gegen Missbrauch des Beweisantragsrechts seit 1950

183

I. Gesetzliche Missbrauchsabwehr

183

1. Missbrauchsabwehr in der StPO durch Ablehnungsgründe

183

a) Gründe für die Ablehnung eines Beweisantrags

183

b) Missbrauchsbekämpfung durch die gesetzlichen Ablehnungsgründe

185

2. Andere gesetzliche Abwehrmöglichkeiten

188

II. Missbrauchsabwehr durch vorsichtige und einzelfallbezogene Rechtsfortbildung praeter legem

196

C. Neue Maßnahmen gegen Missbrauch des Beweisantragsrechts

198

I. Das allgemeine Missbrauchsverbot

199

1. Rechtsprechung und Kritik

199

2. Eigene Stellungnahme

201

II. Konnexität im weiteren Sinne

204

1. Rechtsprechung, Gesetzgebung und Kritik

204

2. Eigene Stellungnahme

207

III. Fristenlösung

211

1. Das formelle Fristenmodell

211

a) Rechtsprechung, Gesetzgebung und Kritik

211

b) Eigene Stellungnahme

217

2. Das materielle Fristenmodell

222

a) Rechtsprechung und Kritik

222

b) Eigene Stellungnahme

227

IV. Erleichterte Ablehnung zur Prozessverschleppung gestellter Anträge

230

a) Gesetzgebung und Kritik

230

b) Eigene Stellungnahme

232

D. Resümee

237

Schlusswort

239

Literaturverzeichnis

241

Sachwortregister

272