Law of allowances & subsidies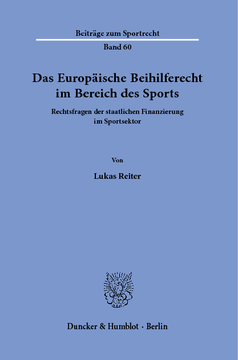 BOOK
Das Europäische Beihilferecht im Bereich des Sports
Rechtsfragen der staatlichen Finanzierung im Sportsektor
Beiträge zum Sportrecht, Vol. 60
(2021)
Additional Information
Book Details
ISBN

978-3-428-58094-1
978-3-428-18094-3 (print edition)

DOI

https://doi.org/10.3790/978-3-428-58094-1

Edition

1

Language

German

Pages

477

Collections

Subjects
Pricing
Institution

€ 138.00 (incl. local VAT if applicable)

Individual

€ 107.90 (incl. local VAT if applicable)
About The Author
Lukas Reiter studierte an der Universität Graz Rechtswissenschaften und schloss das Studium als einer der Jahrgangsbesten ab. Von 2017 bis 2020 war er als wissenschaftlicher Mitarbeiter am Institut für Öffentliches Recht und Politikwissenschaft an der Universität Graz tätig. Im Jahr 2020 promovierte er an eben dieser Universität zum Thema »Das Europäische Beihilferecht im Bereich des Sports«. Seit Juli 2020 ist er als Rechtsanwaltsanwärter in Wien tätig.
Lukas Reiter studied law at the University of Graz and graduated as one of the best in his class. From 2017 to 2020 he worked as a research assistant at the Institute for Public Law and Political Science at the University of Graz. In 2020, he received his PhD at the same university with a thesis on the topic »European State Aid Law in the Field of Sports«. Since July 2020 he is working as an associate in a business law firm in Vienna.
Abstract
Sowohl der Spitzen- als auch der Breitensport werden in Europa in erheblichem Ausmaß staatlich gefördert. Weil dabei häufig Unternehmen Förderungsempfänger sind, wirft die staatliche Sportförderung beihilferechtliche Fragen auf. Drei sportspezifische Fallgruppen werden im Rahmen der Untersuchung einer beihilferechtlichen Beurteilung unterzogen: (1) Die staatliche Finanzierung von Sportinfrastruktur, (2) die staatliche Sportsubjektsförderung sowie (3) die staatliche Finanzierung von Sportveranstaltungen. Es werden sowohl Fragen der Tatbestandsmäßigkeit als auch der Vereinbarkeit staatlicher Beihilfen behandelt. Die Untersuchung zeigt, dass zahlreiche staatliche Förderaktivitäten im Sport beihilferechtlich sensibel sind und der Anmeldung bei und der Genehmigung durch die Europäische Kommission bedürften. Zudem räumt die Kommission in ihrer Entscheidungspraxis dem Sport vielfach eine – nicht immer durch die Besonderheiten des Sports gerechtfertigte – Sonderstellung ein. »European State Aid Law in the Field of Sports. Legal Issues of State Financing in the Sports Sector«

The European Commission has so far attributed little relevance to the sports sector in its decision-making practice on state aid, despite the high level of state funding within this sector. This thesis examines the possible dimensions of European state aid law in the sports sector. Three case groups are being analysed towards their state aid relevance: (1) state financing of sports infrastructure, (2) state funding of sports subjects and (3) state financing of sports events.
Table of Contents
Section Title
Page
Action
Price

Vowort

5

Inhaltsübersicht

7

Inhaltsverzeichnis

11

Abkürzungsverzeichnis

21

A. Einleitung, Aufbau und Gang der Untersuchung

29

I. Einleitung

29

II. Konzeptioneller Aufbau der Untersuchung und sportspezifische Terminologie

32

1. Gliederung in Sportinfrastruktur-, Sportsubjekts- und Sportveranstaltungsfinanzierung

32

2. Konzeptionelle Zweiteilung: Tatbestandsebene und Vereinbarkeitsebene

34

3. Die sportspezifische Terminologie – Definitionen

36

a) Profi- und Amateursport

36

b) Sportverein, Sportverband und Einzelsportler

37

c) Sportinfrastruktur und sportstättenbezogene Infrastruktur

38

d) Sportveranstaltung, Sportveranstalter und Gastgeber

40

B. Die Besonderheiten des Sports und dessen unionsrechtliche Dimension

42

I. Allgemeines

42

II. Die Besonderheiten und besonderen Funktionen des Sports

42

1. Der Begriff "Sport" bzw. "Sportsektor"

42

2. Die besonderen Funktionen des Sports

45

3. Die Vielfalt von Sport

47

III. Der Sport im unionsrechtlichen Kontext – Die europäische Dimension von Sport und Recht

49

1. Allgemeines

49

2. Primärrecht

50

a) Spezifische EU-Kompetenz im Sport

50

b) Kompetenzübersteigende Bedeutung des Art. 165 Abs. 1 UAbs. 2 AEUV?

54

3. Sekundärrecht

59

a) Allgemeines beihilferechtliches "Hard Law" im Sport

59

b) Sekundäres beihilferechtliches "Soft Law" im Sport

61

4. Die Anwendung des Unionsrechts auf sportspezifische Sachverhalte

62

IV. Fazit

65

C. Sport und Beihilferecht

66

I. Die Berücksichtigung sportspezifischer Besonderheiten im Beihilferecht

66

1. Allgemeines

66

2. Unterschiede nach der Art sportspezifischer Besonderheiten

67

3. Berücksichtigungsmöglichkeiten sportspezifischer Besonderheiten in der (beihilfe-)rechtlichen Beurteilung

69

4. Die sportspezifischen Besonderheiten in der beihilferechtlichen Beurteilung

71

II. Das grundsätzliche (Spannungs-)Verhältnis zwischen dem Beihilferecht und dem Sport

72

III. Die wettbewerbsrechtliche Verankerung des Beihilferechts: Allgemeines zur Beihilferechtsdogmatik

77

1. Systematik des Art. 107 AEUV

77

2. Binnenmarkt und Wettbewerb

79

3. Die Bedeutung von Soft Law im Beihilferecht

81

IV. Fazit

83

D. Die "Staatlichkeitsbedingung" und (potentiell) beihilferechtlich-relevante Maßnahmen im Sportsektor

85

I. Allgemeines zur Staatlichkeitsbedingung

85

1. Das Staatlichkeitsverständnis des EuGH

86

2. Doppelte Ausprägung der Staatlichkeitsbedingung – Staatliche Mittel und Zurechenbarkeit

87

a) Staatliche Mittel

88

b) Zurechenbarkeit zum Staat

89

c) Allgemeines zur Staatlichkeitsbedingung in der sportbezogenen Entscheidungspraxis

90

II. Sportinfrastrukturfinanzierung und sportinfrastrukturbezogene Förderungen

91

1. Die Entscheidungspraxis der KOM im Sportinfrastrukturkontext

91

a) Errichtung, Renovierung und Ausbau von Sportinfrastruktur

91

b) Sonstige sportinfrastrukturbezogene Förderungen

93

2. Die Staatlichkeitsbedingung im Sportinfrastrukturkontext

94

III. Sportsubjektsförderung

96

1. Die Entscheidungspraxis der KOM und weitere (potentiell) beihilferechtlich relevante Konstellationen im Sportsubjektskontext

96

2. Die Staatlichkeitsbedingung im Sportsubjektskontext

97

a) Allgemeines aus der Entscheidungspraxis der KOM

97

aa) Staatlichkeitsbedingung in steuerlichen Fällen

97

bb) Bürgschaftsgewährung durch ein öffentliches Kreditinstitut

98

cc) Dänische Sportförderung

99

b) Die österreichische Bundessportförderung

101

aa) Die Kompetenz des Bundes zur Sportförderung

102

bb) Die Fördermittel der BSG als staatliche Mittel?

104

cc) Die Zurechenbarkeit der Förderungsgewährung zum Staat

107

(1) Zurechenbarkeit der einzelnen Förderentscheidungen durch die BSG

107

(2) Zurechenbarkeit aufgrund der Widmung zugunsten eines Produktionszweiges

111

3. Zwischenfazit: Staatlichkeitsbedingung und Sportsubjektsförderung

112

IV. Sportgroßveranstaltungsförderung

113

1. Die Entscheidungspraxis der KOM und weitere (potentiell) beihilferechtlich relevante Konstellationen im Sportveranstaltungskontext

113

a) Bisherige Entscheidungspraxis der KOM

113

b) Weitere beihilferechtlich-relevante Konstellationen im Sportveranstaltungskontext

114

c) TV-Rechte Erwerb an Sportveranstaltungen durch den öffentlich-rechtlichen Rundfunk

115

2. Die Staatlichkeitsbedingung im Sportveranstaltungskontext

116

a) Die Staatlichkeitsbedingung in der bisherigen Entscheidungspraxis der KOM

116

b) Weitere Fragen der Staatlichkeitsbedingung im Sportveranstaltungskontext

117

aa) Das Staat-/Gastgeber- und das Gastgeber-/Sportveranstalter-Verhältnis

117

bb) Das Staat-/Sportveranstalter-Verhältnis und sonstige Fälle

118

c) TV-Rechte-Erwerb durch den öffentlich-rechtlichen Rundfunk

119

aa) Die Mittel des ORF als staatliche Mittel?

120

bb) Zurechenbarkeit der Erwerbsentscheidung von TV-Rechten zum Staat?

122

(1) TV-Rechte-Erwerb als unternehmensautonome Entscheidung

122

(2) De facto Zurechenbarkeit aufgrund normierter "Free-TV-Pflicht"?

123

V. Fazit: Staatlichkeitsbedingung

126

E. Das Kriterium der Unternehmenseigenschaft im Sportsektor

129

I. Allgemeines

129

1. "Originäre" Unternehmenseigenschaft: Ausübung einer wirtschaftlichen Tätigkeit

130

2. "Derivative" Unternehmenseigenschaft: Untrennbarkeit von einer vor-/nachgelagerten wirtschaftlichen Tätigkeit

135

II. Unternehmenseigenschaft im Sportinfrastrukturkontext

137

1. Allgemeines

137

2. Errichtung und Betrieb einer Sportinfrastruktur als wirtschaftliche Tätigkeit

139

III. Die Unternehmenseigenschaft von Sportverbänden, Sportvereinen und Einzelsportlern

142

1. Allgemeines

142

2. Unternehmenseigenschaft im vereinsinternen Verhältnis

143

3. Die sportausübende Tätigkeit und damit in (untrennbarem) Zusammenhang stehende Tätigkeiten

146

a) Differenzierung anhand des Profi- und Amateursports?

146

b) Taugliche Einordnungskriterien

148

c) Reichweite der Unternehmenseigenschaft im Sportverein: Jugendausbildung als wirtschaftliche Tätigkeit?

150

aa) Begründungsansätze einer wirtschaftlichen Tätigkeit im Jugendbereich

151

bb) Widerspruch zur Entscheidung KOM, N 118/00, Subventions publiques aux clubs sportifs professionnels?

153

IV. Sonstige Fälle

156

V. Die Unternehmenseigenschaft bei Sportveranstaltungen

156

1. Der Sportveranstalter: Die sportveranstaltende Tätigkeit und daran anknüpfende Verwertungstätigkeiten

157

2. Die organisatorische Veranstaltung des Gastgebers als wirtschaftliche Tätigkeit?

162

VI. Fazit: Unternehmenseigenschaft

166

F. Begünstigung / ​Vorteil

169

I. Allgemeines zum Tatbestandsmerkmal

169

1. Marktüblichkeit: Beurteilungsparameter

169

2. Unerheblichkeit des verfolgten (politischen) Ziels bzw. politischer Sekundäreffekte

173

II. Bewertungsgrundsätze bei Sportinfrastrukturvorhaben

174

1. Allgemeines

174

2. Betreiberebene

176

a) Beurteilungsmaßstäbe der Marktkonformität

176

b) Auswahl des Betreibers nach Durchführung einer Ausschreibung als Nachweis der Marktkonformität?

178

c) Würdigung des Ansatzes der abstrakten / ​hypothetischen Marktüblichkeit

181

d) Sonstige Vorteilselemente

184

3. Nutzerebene (Sportsubjekte)

185

4. Stadionerwerb / ​Stadionveräußerung

188

III. Förderungen von Sportsubjekten

192

1. Staatliche Zuschüsse / ​Kredite

192

2. Vergleichsvereinbarungen

193

3. Staatliche Bürgschaften / ​Garantien

194

4. Sozialabgaben- und Steuervorteile

198

5. Forderungsverzicht / ​Forderungserlass

202

IV. Bewertungsgrundsätze im Sportveranstaltungskontext

205

1. Verhältnis Staat zu Gastgeber

207

2. Verhältnis Gastgeber zu Sportveranstalter

210

a) Beurteilungsmaßstab Leistung-/Gegenleistung

210

b) Berücksichtigung infrastruktureller Kosten

211

c) Imageerwägungen in der Rentabilitätsrechnung des Gastgebers?

214

d) Sonstige Kosten des Gastgebers

215

3. Sonstige (unmittelbare) Begünstigungen

216

4. Mittelbare Begünstigungen

217

a) Mittelbare Begünstigungen im Gefolge von Sportgroßveranstaltungen

217

b) Mittelbare Begünstigungen im Sportinfrastrukturkontext (Nutzerebene)

219

c) Reichweite der (beihilferechtlich-relevanten) mittelbaren Begünstigungen bei Sportveranstaltungen

221

V. Die Altmark-Kriterien im Sport, insb. DAWI im Sport

223

1. Allgemeines

223

2. Sport und Dienstleistungen von allgemeinem wirtschaftlichem Interesse

224

a) Allgemeines zur Qualität von DAWI

224

b) Jugend- und Breitensportausbildung als DAWI?

230

c) Bereitstellung von Sportinfrastrukturen als DAWI?

230

d) Sportveranstaltungen als DAWI?

233

aa) Besonderheiten von Sportveranstaltungen als Ausgangspunkt der Einordnung als DAWI

233

bb) Mangelnde Unmittelbarkeit und Dauerhaftigkeit als Einordnungshindernis?

236

3. Die sonstigen Altmark-Kriterien im Sport

239

VI. Fazit: Begünstigung / ​Vorteil und DAWI

242

1. Begünstigung / ​Vorteil

242

2. Sport als DAWI

244

G. Selektivität

246

I. Allgemeines

246

II. Einzelmaßnahmen im Sport

250

1. Allgemeines aus der Entscheidungspraxis zum Sport

250

2. Eigentümer- und Betreiberebene bei Sportinfrastrukturen

250

III. Beihilferegelungen im Sport

251

1. Allgemeines zur Selektivitätsbeurteilung von Beihilferegelungen

251

2. Die sportbezogene Entscheidungspraxis

252

a) Die steuerliche Behandlung spanischer Profisportvereine

252

b) Sonstige Beihilferegelungen

257

3. Nutzerebene von Sportinfrastrukturen

258

a) Allgemeines zur Selektivität auf Nutzerebene

258

b) Multifunktionalität als Selektivitätsausschlussvoraussetzung?

260

c) Selektivität aufgrund faktischen Nutzungsvorteils?

261

d) Übertragbarkeit der Jud. des EuGH zur Selektivität von Flughafengebührenordnungen?

263

e) Verbleibender Raum für de facto-Selektivität auf Nutzerebene?

265

4. Sonderfall: Selektivität "allgemeiner" Infrastrukturen mit sportbezogenem Anknüpfungspunkt

267

a) Allgemeines zur Selektivität allgemeiner Infrastrukturen

267

b) Tatbestandliche Verortung der Selektivitätsfrage allgemeiner Infrastrukturen

270

c) Grundsätze der Selektivitätsbeurteilung allgemeiner Infrastrukturen

271

5. Die Selektivität von Sportförderung

275

a) Allgemeine Sportförderung und sektorale Selektivität

275

b) Die Selektivität der Fördertatbestände des BSFG

280

IV. Fazit: Selektivität

283

H. Wettbewerbsverfälschung und zwischenstaatliche Handelsbeeinträchtigung

286

I. Allgemeines

286

1. (Drohende) Wettbewerbsverfälschung

287

2. (Drohende) Handelsbeeinträchtigung

288

3. Gemeinsamkeiten

289

II. (Drohende) Wettbewerbsverfälschung im Sport

292

1. Die Beurteilungsreichweite einer Wettbewerbsverfälschung im Beihilferecht (sachliche Marktabgrenzungsreichweite)

293

2. Wettbewerb zwischen Infrastrukturbetreibern bzw. organisatorischen Sportveranstaltern

296

3. Wettbewerb zwischen Sportsubjekten

299

4. Wettbewerb zwischen (Monopol-)Sportveranstaltern

301

a) Das Verhältnis zwischen kartell- und beihilferechtlicher Marktabgrenzung

301

b) Die internationale Sportorganisation als besonderes Merkmal des Sports

304

c) Aspekte des Sportverbandsmonopols als rechtliches / ​natürliches / ​gesetzliches Monopol?

306

d) Die Frage nach den Wettbewerbern: Das Verhältnis zwischen den Sportveranstaltern

307

aa) Allgemeines zur Globalbetrachtung bei Sportveranstaltern

307

bb) Bindung des staatlichen Vorteils an die Monopoltätigkeit der Sportorganisation?

310

cc) Wettbewerbsverhältnisse auf den der Sportveranstaltung nachgelagerten Absatz- und sonstigen Märkten

311

(1) Beihilferechtlicher Ansatz

311

(2) Kartellrechtlicher Ansatz bei Sportgroßveranstaltungen

312

(3) Kartellrechtlicher Ansatz bei sonstigen Sportveranstaltungen

314

(4) Beihilferechtliche Auflösung des (vermeintlichen) Spannungsverhältnisses bei Sportgroßveranstaltungen

315

dd) (Potentielle) Wettbewerbsverhältnisse am unmittelbaren Veranstaltungsmarkt (Sportorganisationsmarkt)?

316

(1) Wirkung staatlicher Vorteilszuwendung an Monopolisten

317

(2) Aktualität potentiellen Wettbewerbs – Abgrenzung zwischen potentiellem und theoretischem Wettbewerb

318

(3) Wahrscheinlichkeit des Markteintritts potentieller Wettbewerber

320

III. (Drohende) grenzüberschreitende Handelsbeeinträchtigung im Sport

325

1. Grundlegendes zum Tatbestandsmerkmal, insb. zu dessen räumlicher Dimension

325

2. Sportinfrastruktur

328

a) Allgemeines

328

b) Die Nachfrageperspektive

330

c) Die Markteintritts- und Investitionsperspektive / ​Angebotsperspektive

334

d) Das Einzugsgebiet der Infrastruktur (räumliche Marktabgrenzung)

337

3. Sportverbände, Sportvereine und Einzelsportler

342

4. Sport(groß)veranstaltung

345

a) Der sportliche Veranstalter

345

b) Der organisatorische Bewerber / ​Ausrichter einer Sportgroßveranstaltung

346

IV. Fazit: Wettbewerbsverfälschung und Handelsbeeinträchtigung

347

1. Wettbewerbsverfälschung

347

2. Handelsbeeinträchtigung

348

I. Ausnahmen (Rechtfertigungsmöglichkeiten tatbestandsmäßiger Beihilfen)

350

I. Allgemeines

350

II. Art. 107 Abs. 2 AEUV (Legalausnahmen)

352

III. Art. 107 Abs. 3 AEUV (Ermessensausnahmen)

353

1. Allgemeines

353

2. Art. 107 Abs. 3 lit. b) AEUV

354

3. Art. 107 Abs. 3 lit. c) AEUV

357

a) Allgemeines

357

b) Sportbezogene Beihilfen zur Förderung eines Zieles von gemeinsamem Interesse?

360

c) Ist die Beihilfemaßnahme zielführend ausgestaltet? (Notwendigkeit und Verhältnismäßigkeit der Beihilfe)

364

aa) Geeignetheit

364

bb) Anreizeffekt

367

cc) Angemessenheit

368

d) (Un)verhältnismäßige Wettbewerbsverzerrungen und Handelsbeeinträchtigungen?

369

aa) Allgemeines

369

bb) Sportinfrastrukturen

370

cc) Im Besonderen: Förderung von Amateursportinfrastrukturen bei vereinsinternem Betrieb

373

dd) Beschränkung der Wettbewerbsverfälschung durch Verbesserung der Marktstellung als Ausrichter einer Sportgroßveranstaltung?

375

e) Würdigung der KOM-Praxis im Sport

376

f) Sportveranstaltungskontext

378

4. Die Kriterien der AGVO in der Vereinbarkeitsprüfung nach Art. 107 Abs. 3 lit. c) AEUV

379

IV. Art. 107 Abs. 3 lit. d) AEUV

380

V. Die AGVO im Sportsektor

382

1. Allgemeines zur AGVO

382

2. Art. 55 AGVO – Freistellung für Sportinfrastrukturen

383

a) Allgemeines

383

b) Infrastrukturebenenübergreifende Struktur des Art. 55 AGVO

385

c) Freistellung für Beihilfen auf Nutzerebene?

386

d) Freistellung für Beihilfen auf Betreiberebene?

389

3. Sonstige im Sportsektor in Betracht kommende Freistellungsbestimmungen

390

VI. Rettungs- und Umstrukturierungsbeihilfen für Unternehmen in Schwierigkeiten

392

1. Rettungs- und Umstrukturierungsbeihilfen als Beitrag zu einem Ziel von gemeinsamem Interesse

394

2. Sportvereine als Unternehmen in Schwierigkeiten

396

3. Umstrukturierungsplan und Wiederherstellung der langfristigen Rentabilität

398

4. Vermeidung unzumutbarer Wettbewerbsverfälschungen (insb. Maßnahmen zur Begrenzung von Wettbewerbsverfälschungen)

400

VII. Art. 106 Abs. 2 AEUV (Ausnahmen für DAWI)

402

VIII. Fazit: Vereinbarkeit tatbestandsmäßiger Beihilfen

405

J. Conclusio

409

I. Allgemeines zum Beihilferecht im Sportsektor

409

II. Sportinfrastrukturfinanzierung

410

III. Sportsubjektsförderung

413

IV. Sportveranstaltungsförderung

416

V. Résumé

418

Literaturverzeichnis

421

Allgemeines Literaturverzeichnis

421

Verzeichnis der Onlinequellen

452

Judikaturverzeichnis

459

EuGH

459

Schlussanträge der Generalanwälte

463

EuG

464

VfGH

465

VwGH

466

OGH

466

Entscheidungsverzeichnis der europäischen Kommission

467

Entschiedene Fälle

467

Freigestellte Fälle (AGVO)

470

Sachverzeichnis

471