Criminal law: procedure & offences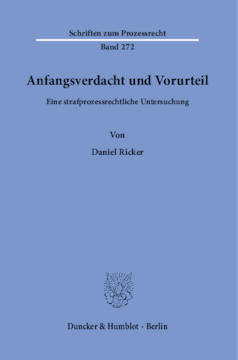 Additional Information
Book Details
ISBN

978-3-428-58142-9
978-3-428-18142-1 (print edition)

DOI

https://doi.org/10.3790/978-3-428-58142-9

Edition

1

Language

German

Pages

216

Collections

Subjects
Pricing
Institution

€ 80.00 (incl. local VAT if applicable)

Individual

€ 62.90 (incl. local VAT if applicable)
About The Author
Daniel Ricker studierte Rechtswissenschaften an der Universität Augsburg mit Schwerpunkt im Wirtschaftsstrafrecht und Internationalen Straf- sowie Strafprozessrecht. Nach Abschluss der Ersten Juristischen Prüfung und einem LL.M.-Studium am Chicago-Kent College of Law (U.S., International & Transnational Law) war er als wissenschaftlicher Mitarbeiter am Lehrstuhl für Strafrecht, Strafprozessrecht, Risiko- und Präventionsstrafrecht sowie Juristische Zeitgeschichte von Prof. Dr. Arnd Koch tätig. Die Promotion erfolgte mit einer strafprozessrechtlichen Dissertation. Sein Rechtsreferendariat im Bezirk des Oberlandesgerichts München schloss er 2021 mit der Zweiten Juristischen Prüfung ab. Seit 2021 ist er als Rechtsanwalt im Arbeitsrecht für eine internationale Wirtschaftskanzlei in München tätig.
Daniel Ricker graduated from the University of Augsburg (School of Law) with a major in corporate criminal law and international criminal law as well as criminal procedure. He received his LL.M. in U.S., International & Transnational Law from Chicago-Kent College of Law with honors and worked as a research assistant for Prof. Dr. Arnd Koch (chair for criminal law, criminal procedure and contemporary history of law, University of Augsburg). He received his Ph.D. for a dissertation in the field of criminal procedure and completed his legal clerkship in the judicial district of the Higher Regional Court of Munich in 2021 with the Second Legal Examination. Since 2021, he has been working as a lawyer in employment law for an international commercial law firm in Munich.
Abstract
Dem strafprozessualen Anfangsverdacht kommt eine Schlüsselfunktion für das Ermittlungsverfahren, die Inkulpation sowie Ermittlungsmaßnahmen zu. Dieser herausragenden Bedeutung werden seine unscharfen Voraussetzungen indes nicht gerecht. So bildet der Verdachtsgrad infolge des Rückgriffs auf den Maßstab diffuser »kriminalistischer Erfahrung« ein Einfallstor für Vorurteile. Die Arbeit zeigt, dass solche aufgrund von verfassungs-, völker- und europarechtlichen Demarkationslinien vor allem dann nicht berücksichtigungsfähig sind, wenn sie an personenbezogene Merkmale anknüpfen, und gelangt auf der Grundlage kriminologischer Studien zu dem Ergebnis, dass die rechtlichen Grenzen einer vorurteilsbedingten Anfangsverdachtsschöpfung teilweise systematisch missachtet werden. Einen weiteren Schwerpunkt der Untersuchung bildet die Auswertung sowie Systematisierung einschlägiger strafprozessrechtlicher Rechtsprechung. Die Arbeit schließt mit einer liberal-rechtsstaatlichen Reformagenda. »Suspicion of Bias: Stereotypes and the Establishment of Initial Suspicion Under German Criminal Procedure Law«

This study discusses the biased use of enforcement discretion in the context of »initial suspicion« under German criminal procedure law. It addresses the particular importance as well as the prerequisites of the standard and considers if the threshold allows for a (factual) establishment of suspicion based on stereotypes. Also, the book provides a systematic analysis of pertinent criminological field studies and case law. The last section includes a synopsis and a reform agenda.
Table of Contents
Section Title
Page
Action
Price

Vorwort

7

Inhaltsverzeichnis

11

Abkürzungsverzeichnis

17

1. Kapitel: Einleitung sowie Gang der Darstellung

23

A. Einleitung

23

B. Gang der Darstellung

37

2. Kapitel: Bedeutung des Anfangsverdachts

39

A. Allgemeine Begriffsbestimmung

39

B. Bedeutung des Anfangsverdachts als Auslöser und Voraussetzung des Ermittlungsverfahrens

40

I. Der Anfangsverdacht als Auslöser des Ermittlungsverfahrens

41

II. Der Anfangsverdacht als Voraussetzung des Ermittlungsverfahrens

43

III. Reichweite der Verfolgungverpflichtung sowie -berechtigung

44

IV. Vorfeldermittlungen

45

V. Fortbestand der Wirkungskraft der auslösenden und begrenzenden Funktion des Anfangsverdachts

47

1. Aufwertung des Ermittlungsverfahrens im "postreformierten" Strafverfahr

47

2. Stigmatisierungseffekte aufgrund der Einleitung sowie Durchführung eines Ermittlungsverfahrens

48

3. Eingeschränkter Rechtsschutz gegen die Einleitung und Fortführung eines Ermittlungsverfahrens

50

C. Bedeutung des Anfangsverdachts als Voraussetzung sowie Auslöser der Inkulpation

51

D. Bedeutung des Anfangsverdachts als Mindestvoraussetzung strafprozessualer Ermittlungsmaßnahmen sowie Abwägungstopos

53

I. Der Anfangsverdacht als Mindestvoraussetzung strafprozessualer Ermittlungsmaßnahmen

53

II. Der Anfangsverdacht als Abwägungstopos

55

III. Weitreichender Rechtsschutz gegen die Anordnung und Durchführung strafprozessualer Ermittlungsmaßnahmen

56

E. Bedeutung des Anfangsverdachts als Voraussetzung des Auskunftsverweigerungsrechts nach § 55 StPO

59

F. Weitere Bedeutung des Anfangsverdachts

60

G. Zwischenfazit

61

3. Kapitel: Anforderungen an den Anfangsverdacht sowie an dessen Gewinnung

63

A. Gesetzlich normierte Voraussetzungen des Anfangsverdachts

63

B. Anforderungen der Literatur und Rechtsprechung

64

I. Die Anforderungen an die tatsächliche Würdigung

66

II. Die Anforderungen an die rechtliche Würdigung

71

III. Doktrin vom Beurteilungsspielraum und dessen Grenzen

73

IV. Berechtigung zur Durchführung von Vorermittlungen

77

V. Formelle Voraussetzungen der Anfangsverdachtsbegründung

80

C. Die Berücksichtigungsfähigkeit von Vorurteilen

83

I. Die Zulässigkeit einer vorurteilsbedingten Anfangsverdachtsschöpfung

83

1. Begriffsbestimmung, Teil 2: Definitionsansätze zum "Vorurteil"

83

2. Rechtswidrigkeit einer Anfangsverdachtsschöpfung auf der Grundlage von Vorurteilen im weiteren Sinne

85

3. Partielle Berücksichtigungsfähigkeit von Vorurteilen im engeren Sinne

86

a) Die verfassungsrechtliche Grenze der Gleichheit vor dem Gesetz nach Art. 3 GG

87

b) Völker- sowie europarechtliche Demarkationslinien

90

II. Die Möglichkeit einer vorurteilsbedingten Anfangsverdachtsschöpfung

95

D. Zwischenfazit

96

4. Kapitel: Begründung des Anfangsverdachts in der Rechtswirklichkeit

99

A. Der kriminologische Bezugsrahmen des Labeling-Ansatzes

99

B. Die selektive Beschaffenheit der Strafverfolgung im Allgemeinen

100

C. Im Besonderen: der Anfangsverdacht und das Ermittlungsverfahren

102

I. Generelle Erkenntnisse zur Anfangsverdachtsschöpfung in der Rechtswirklichkeit

103

II. Die Selektivität der Kenntniserlangung von verdachtsbegründenden Tatsachen

103

III. Allgemeine Ungleichbehandlungen im "Anfangsverdachtsmanagement"

105

IV. Schwerpunktsetzungen bei der Ermittlungstätigkeit

106

D. Die Vorurteilslastigkeit der Anfangsverdachtsschöpfung

107

I. Stereotype Täterbilder in der kriminalistischen Ausbildungsliteratur sowie in "Verdachtskalendern"

107

II. Auffälligkeiten von Tatverdächtigenstrukturen in der Polizeilichen Kriminalstatistik

108

III. Schlaglichter vorurteilsgeleiteten polizeilichen und staatsanwaltschaftlichen Handelns der jüngeren Vergangenheit

109

IV. Der kriminologische sowie polizeiwissenschaftliche Forschungsstand

111

1. Die Pionierarbeit zur sozialen Wirklichkeit polizeilicher Strafverfolgung von Feest/Blankenburg

111

2. Neue Horizonte: die Untersuchung zum polizeilichen Umgang mit Sinti und Roma von Feuerhelm

115

3. Erneute Diskurserweiterung: die Studie zur nationalitätsspezifischen Kriminalisierung durch Organe der Strafrechtspflege von Mansel

119

4. Der Status quo: die Erhebungen der Europäischen Union zu Minderheiten und Diskriminierung (EU-MIDIS)

123

5. Ergänzende Untersuchungsbefunde

125

E. Zwischenfazit

127

5. Kapitel: Rechtsprechung zur vorurteilsbedingten Anfangsverdachtsbegründung

131

A. Entscheidungen in Fällen einer durch Dritte vermittelten Kenntniserlangung

132

I. Der ausländerstrafrechtliche INES-Beschluss des Bundesverfassungsgerichts

132

II. "Ungewöhnliches Geschäftsgebaren": die Geldwäscheentscheidungen der Landgerichte Saarbrücken und München I

133

III. Die Beschwerdeentscheidung des Landgerichts Offenburg in einem Fall anonymer Anzeigeerstattung

134

IV. Praxisrelevante Mitteilungspflichten: der insolvenzstrafrechtliche Beschluss des Landgerichts Stuttgart

135

V. Bewertung

135

B. Entscheidungen in Fällen einer Verdachtsschöpfung aufgrund anderer Straftaten oder Ermittlungsverfahren

137

I. Der steuerstrafrechtliche Wiederholungstäterbeschluss des Landgerichts Köln

137

II. Die Dresdner Bank-Entscheidung des Bundesverfassungsgerichts zur systematischen Begehung von Straftaten

138

III. En passant: der Bundesgerichtshof zu strafrechtlichen Ermittlungsverfahren in der Vergangenheit

139

IV. "Statistische Wahrscheinlichkeiten": das Amtsgericht Saalfeld und Konsumenten synthetischer Drogen

140

V. Die Beschwerdeentscheidung des Landgerichts Wuppertal zu einem Gruppenverdacht gegenüber Asylbewerbern

141

VI. Der betäubungsmittelstrafrechtliche Vorstrafenbeschluss des Bundesverfassungsgerichts

142

VII. Rauschgiftkonsumenten, Teil 2: das Landgericht Trier zum Generalverdacht

143

VIII. Bewertung

143

C. Entscheidungen in Fällen einer Verdachtsschöpfung aufgrund "erlaubten Verhaltens"

146

I. Der Zufallsfundbeschluss des Berliner Verfassungsgerichtshofs

147

II. Edathy ante portas: die Pädophilieentscheidung des Bundesverfassungsgerichts

148

III. Kein Generalverdacht im Sexualstrafrecht: die Pädophilieentscheidung des Landgerichts Regensburg

149

IV. Bewertung

151

D. Entscheidungen in Fällen einer Verdachtsschöpfung aufgrund der Vornahme sog. "Tafelgeschäfte"

153

I. Das Landgericht Itzehoe: unzureichender Betriebsverdacht vs. hinreichende Anonymisierung

153

II. Die Beschwerdeentscheidung des Landgerichts Bielefeld zur Einlösung von Zinsscheinen im Ausland

154

III. Der gegenläufige Ansatz des Landgerichts Detmold: Auslandsbezug + Zinsabschlagsteuer = Anfangsverdacht

154

IV. "Gezielte Anonymisierung": das Bundesverfassungsgericht auf den Spuren des Landgerichts Itzehoe

155

V. Bewertung

156

E. Entscheidungen in Fällen einer Verdachtsschöpfung aufgrund von Vermögenstransaktionen nach Luxemburg bzw. in die Schweiz

157

I. Der Luxemburgbeschluss des Oberlandesgerichts Frankfurt am Main als Ausgangspunkt

157

II. "Typische Verschleierungshandlung": der zurückhaltende Ansatz des Landgerichts Bielefeld

158

III. Im Kontrast: die weitreichende Beschwerdeentscheidung des Landgerichts Detmold

159

IV. Bewertung

159

F. Entscheidungen in Fällen einer Verdachtsschöpfung aufgrund der Verweigerung freiwilliger DNA-Proben

160

I. Fehlende Rechtswegerschöpfung infolge freiwilliger Zustimmung: der frühe Zulässigkeitsansatz des Bundesverfassungsgerichts

160

II. Der Nichtannahmebeschluss des Bundesverfassungsgerichts im Münchener Porschefahrer-Fall

161

III. Der Bundesgerichtshof zur verdachtsverstärkenden Wirkung einer Verweigerung im Einzelfall

162

IV. Bewertung

163

G. Varia: Entscheidungen in Fällen einer Verdachtsschöpfung aufgrund sonstiger Vorurteile

164

I. Das Bundesverfassungsgericht zum Anfangsverdacht der Geldwäsche gegenüber "Milieuanwälten"

164

II. Bewertung

165

III. Neue Perspektiven: das Oberlandesgericht Hamburg zum Anfangsverdacht der Steuerhinterziehung im Rahmen von § 55 StPO

165

IV. Bewertung

166

H. Öffentlich-rechtlicher Exkurs: zu dem Anfangsverdacht ähnlichen Eingriffsschwellen und Vorurteilsjudikaten

167

I. Die polizei- bzw. sicherheitsrechtliche Gefahr

167

1. Prognostische Anforderungen an den Gefahrenbegriff im Allgemeinen und die abstrakte sowie konkrete Gefahr im Besonderen

167

2. Die vollumfängliche verwaltungsgerichtliche Überprüfbarkeit der Polizeigefahr

168

II. Der nachrichtendienstrechtliche Verdacht einer Straftat nach dem Artikel 10-Gesetz

169

1. Baader-Meinhof I: die Anerkennung einer uneingeschränkten Justiziabilität der Eingriffsschwelle durch das Oberverwaltungsgericht Nordrhein-Westfalen

169

2. Baader-Meinhof II: die Bestätigung der umfassenden justiziellen Prüfungsdichte durch das Bundesverwaltungsgericht

171

III. Die verwaltungsgerichtliche racial profiling-Rechtsprechung nach dem Beschluss des Oberverwaltungsgerichts Rheinland-Pfalz aus dem Oktober 2012

173

1. Fortschreibung der restriktiven Linie und prozessuale Präzisierung: das Berufungsurteil des Oberverwaltungsgerichts Rheinland-Pfalz

174

2. Im Anschluss: die Annäherung an ein absolutes Anknüpfungsverbot durch das Oberverwaltungsgericht Nordrhein-Westfalen

174

3. Weitere einschlägige erst- und zweitinstanzliche Entscheidungen zugunsten von Maßnahmeadressaten

175

4. Entgegen dem Trend: die klageab- bzw. berufungszurückweisenden Urteile des Verwaltungsgerichts München respektive Oberverwaltungsgerichts des Saarlandes

176

I. Zwischenfazit

177

6. Kapitel: Zusammenfassung sowie Reformvorschläge

181

A. Zusammenfassung

181

B. Reformvorschläge

184

Literaturverzeichnis

192

Sachwortregister

213