Social & political philosophy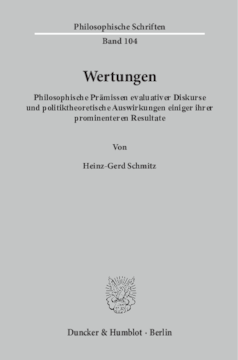 BOOK
Wertungen
Philosophische Prämissen evaluativer Diskurse und politiktheoretische Auswirkungen einiger ihrer prominenteren Resultate
Philosophische Schriften, Vol. 104
(2021)
Additional Information
Book Details
ISBN

978-3-428-58169-6
978-3-428-18169-8 (print edition)

DOI

https://doi.org/10.3790/978-3-428-58169-6

Edition

1

Language

German

Pages

176

Collections

Subjects
Pricing
Institution

€ 80.00 (incl. local VAT if applicable)

Individual

€ 62.90 (incl. local VAT if applicable)
About The Author
Heinz-Gerd Schmitz, nach dem humanistischen Gymnasium und dem Zivildienst Studium der Philosophie, Germanistik und Pädagogik in Münster und in Köln. Staatsexamina für das Lehramt und Schuldienst in Köln; Promotion und Abordnung in den Hochschuldienst. Professurvertretung an der Erziehungswissenschaftlichen Fakultät der Universität zu Köln nach der Habilitation in der Philosophischen Fakultät (philosophisches Seminar); fortgesetzte Lehrtätigkeit am Philosophischen Seminar der Universität zu Köln. Bis 2013 Referendarausbilder am Studienseminar Köln. Philosophische Publikationen insbesondere im Felde der politischen, der Rechts- und der Sozialphilosophie.
Heinz-Gerd Schmitz, grammar school training (mainly ancient Greek and Latin), service as a hospital orderly for 18 months. Universities of Muenster and Cologne: philosophy, literature, and theory of education. Grammar school teacher in Cologne. Earning a doctorate in philosophy and getting the qualification for university teaching (›Habilitation‹ at University of Cologne). Associate professor (›apl. Prof.‹) of philosophy. Books mostly in the realm of political philosophy, theory of law, social philosophy.
Abstract
Die Untersuchung erörtert einerseits eine subjektivistische Theorie der Wertung, i.e. die Annahme, dass sich evaluative Urteile aus den Bedingungen des Individuums bzw. seiner Gruppe ergeben und entsprechend limitierte Geltung haben. Andererseits kommt die geläufige objektivistische Auffassung zur Sprache, der zufolge Wertungen für alle rationalen Wesen auf diesem und auf allen anderen Planeten unseres Universums die gleiche Form haben und zu den gleichen Resultaten gelangen müssen. Beide Ansätze weisen – wie sich zeigt – irreparable Mängel auf, so dass es ratsam erscheint, sich um einen dritten Zugang zu bemühen. Er wird als intersubjektiver Ansatz präsentiert und semiotisch begründet. Die These lautet, dass auf diesem Wege die Rede von einer transsubjektiven Gültigkeit von Werten sinnvoll wird, ohne dass man sich in den Fallstricken subjektivistischer oder objektivistischer Theoreme verfängt. Exemplifiziert werden die Ergebnisse durch eine Anwendung auf den Bereich des Politischen, in welchem – so wird gezeigt – letztlich nur ein Wert oberste Gültigkeit hat, nämlich die Freiheit. Von diesem Resultat ausgehend werden dann Fragen der Berechtigung und der Grenzen des Sozialstaates sowie der Migrationspolitik erörtert, um zu einer Exemplifikation der Ergebnisse zu gelangen und eine direktere Verbindung zu den Gegenwartsdebatten herzustellen. »Valuations. Philosophical Premises of Moral Discourses and some of the Political Consequences«

Concerning the problems of valuation, the philosophical tradition knows of two different approaches: the first sees all values which we are appreciating as unchangeable premises of an eternal orientation, the second tries to persuade us to concede, that we are merely following subjective rules, created by our education or even made up by ourselves as we go along. The book proposes a new perspective – based a on the fact that we are creatures using signs to find our ways around. Exemplifying the consequences of this result some problems of political freedom and equality, of the welfare state and of migration are integrated.
Table of Contents
Section Title
Page
Action
Price

Inhaltsverzeichnis

7

Abkürzungen

9

I. Einleitung

11

Teil A: Prämissen

21

II. Umwertung

23

III. Das Tragische, die Werte und das Böse

30

IV. Die Freiheit und der Wille

42

Exkurs (a): Deterministen und Indeterministen

52

V. Kulturen

60

Teil B: Analysen

71

VI. Der wertphilosophische Subjektivismus

73

VII. Der wertphilosophische Objektivismus

82

VIII. Der wertphilosophische Intersubjektivismus

91

IX. Semiotische Axiologie

99

Teil C: Applikationen

107

X. Der Grundwert des Politischen

109

Exkurs (b): Die Intrige

117

XI. Aus- und Einwanderung

124

XII. Der Sozialstaat

135

XIII. Die Gleichheit der Bürger

145

XIV. Schlußüberlegung

157

Bibliographie

162

Personenregister

172

Sachregister

173