Criminal law: procedure & offences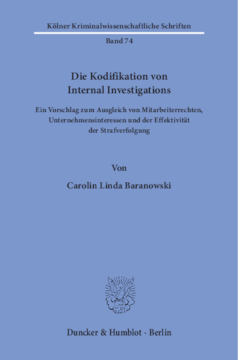 BOOK
Die Kodifikation von Internal Investigations
Ein Vorschlag zum Ausgleich von Mitarbeiterrechten, Unternehmensinteressen und der Effektivität der Strafverfolgung
Kölner Kriminalwissenschaftliche Schriften, Vol. 74
(2021)
Additional Information
Book Details
ISBN

978-3-428-58122-1
978-3-428-18122-3 (print edition)

DOI

https://doi.org/10.3790/978-3-428-58122-1

Edition

1

Language

German

Pages

230

Collections

Subjects
Pricing
Institution

€ 92.00 (incl. local VAT if applicable)

Individual

€ 71.90 (incl. local VAT if applicable)
About The Author
Carolin Linda Baranowski hat Rechtswissenschaften in Köln und Sevilla studiert. Studienbegleitend arbeitete sie am Lehrstuhl für Arbeits- und Wirtschaftsrecht der Universität zu Köln, an dem sie schließlich ihre Dissertation anfertigte. Unterstützt wurde sie durch ein Promotionsstipendium der Rechtsanwaltskanzlei Loschelder in Köln. Derzeit absolviert sie den juristischen Vorbereitungsdienst mit Stationen in Köln, Düsseldorf, Berlin und Bangkok.
Carolin Linda Baranowski studied law in Cologne and Seville. During her studies, she worked at the Institute for Labour and Economic Law at the University of Cologne, where she subsequently completed her doctorate. She was supported by a doctoral scholarship from the law firm Loschelder in Cologne. Currently she is completing her legal training which includes stages in Cologne, Düsseldorf, Berlin and Bangkok.
Abstract
Internal Investigations gelten heute als unentbehrlicher Teil eines effektiven Compliance-Management-Systems. Angesichts dieser Entwicklung beabsichtigt der Gesetzgeber, gewisse Grundregeln zu kodifizieren.

Unter kritischer Würdigung dessen unterbreitet die Arbeit einen eigenen Vorschlag für die gesetzliche Ausgestaltung interner Ermittlungen. Dafür beleuchtet sie geltende arbeits- und datenschutzrechtliche Vorgaben. Folgenreich ist die Erkenntnis, dass sich ein Mitarbeiter gegenüber seinem Arbeitgeber grundsätzlich selbst belasten muss. Es gilt daher sicherzustellen, dass seine Auskunft nicht zweckwidrig in einem eigenen Strafverfahren gegen ihn verwendet wird.

Selbst wenn interne Ermittlungen durch Rechtsanwälte durchgeführt werden, sind die Befragungsprotokolle laut BVerfG vom 27.06.2018 nicht zwingend beschlagnahmefrei. Das Mandat birgt zwar ein Verwertungsverbot zugunsten des mandatierenden Unternehmens nach § 160a Abs. 1 S. 2 StPO, nicht aber zugunsten des einzelnen Mitarbeiters. Für ihn ist ein absolutes, selbstständiges Beweisverwertungsverbot zu schaffen. »The Codification of Internal Investigations. A Proposal to Harmonize Employee Rights, Corporate Interests and the Effectiveness of Law Enforcement«

Nowadays, internal investigations are considered an indispensable part of an effective compliance management system. In view of this development, the legislator intends to codify certain principles. Under critical appraisal, the study makes its own proposal for the legal design of internal investigations. In addition to the guarantee of labour and data protection standards, an absolute, independent exclusion of evidence in favour of an employee, who must incriminate himself during an employee interview, is to be created.
Table of Contents
Section Title
Page
Action
Price

Vorwort

5

Inhaltsverzeichnis

7

Teil 1: Einführung und Problemaufriss

15

Kapitel 1: Internal Investigations als fester Bestandteil der Unternehmenswirklichkeit

15

§ 1 Terminologie

16

§ 2 Gründe und Ziele

18

A. Pflichtenerfüllung

18

B. Schadensminimierung

19

C. Sanktionsmilderung

20

I. Die Durchführung interner Ermittlungen als Milderungsgrund

20

1. Sanktionsrecht der Unternehmen de lege lata

21

2. Sanktionsmildernde Berücksichtigung interner Ermittlungen

21

II. Die Kooperationsbereitschaft des Unternehmens als Milderungsgrund

24

Kapitel 2: Eingrenzung des Untersuchungsgegenstandes

25

§ 1 Die Mitarbeiterbefragung als Konfliktherd interner Ermittlungen

25

A. Das Aussagedilemma als Kernproblematik

26

B. Notwendigkeit allgemeiner Verfahrensregeln

27

§ 2 Motivation und Ziel der Untersuchung

28

Teil 2: Das Aussagedilemma – Ursprung, Entstehung und Grenzfindung

29

Kapitel 1: Ursprung: Die Mitarbeiterbefragung im Rahmen des Arbeitsverhältnisses

29

§ 1 Datenschutzrechtliche Legitimation nach § 26 Abs. 1 BDSG

30

A. § 26 BDSG in den Grenzen des Art. 88 DS-GVO

31

B. Anforderungen des § 26 Abs. 1 BDSG

32

I. Umgang mit dem Erfordernis "tatsächlicher Anhaltspunkte"

33

II. Umgang mit dem Erfordernis der "Straftat"

33

1. Subsumtion unterstrafgesetzlicher Verstöße unter § 26 Abs. 1 S. 1 BDSG

34

2. Stellungnahme

36

C. Allgemeine Vorgaben der DS-GVO

37

D. Fazit zu den Vorgaben des Datenschutzrechts für die Mitarbeiterbefragung

37

§ 2 Teilnahmeverpflichtung

39

A. Grundlagen und Grenzen nach §§ 106 GewO, 241 Abs. 2, 315 BGB

39

B. Teilnahmeverpflichtung gegenüber externen Ermittlungspersonen

40

§ 3 Auskunftspflicht

40

A. Der nemo-tenetur-Grundsatz im Arbeitsrecht

41

I. Hintergrund und Herleitung

42

II. Schutzbereich und Rechtsnatur

44

III. Zur Geltung im Arbeitsrecht

46

1. Geltung als verfahrensbezogenes Abwehrrecht zwischen Privaten

46

a) Mittelbare Drittwirkung von Grundrechten

47

b) Mittelbare Drittwirkung als verfahrensbezogenes Abwehrrecht

49

2. Verbleibende Geltung über die freiheitsgrundrechtlichen Teilaspekte

50

3. Fazit zur Geltung des nemo-tenetur-Grundsatzes in der Mitarbeiterbefragung

51

B. Vorgaben und Grenzen des einfachen Rechts

51

I. Zur Hinzuziehung prozessualer Grenznormen

52

1. Verfahrensrechtliche Zeugnis- und Auskunftsverweigerungsrechte

52

2. Darlegungs- und Beweislast nach § 1 Abs. 2 S. 4 KSchG

53

II. Grenzziehung nach den Grundsätzen des Arbeitsrechts

54

1. Meinungsbild

55

a) Aussagen über den eigenen Aufgabenbereich, §§ 666, 675 BGB

55

b) Aussagen über Inhalte außerhalb des eigenen Aufgabenbereichs, §§ 242, 241 Abs. 2 BGB

56

2. Argumente und Evaluation

57

a) Ablehnung pauschaler Ansätze

57

b) Arbeitsrechtliche Selbstbelastungspflicht als Regelfall

60

C. Auskunftspflicht gegenüber externen Ermittlungspersonen

62

D. Fazit zur arbeitsrechtlichen Auskunftspflicht

63

§ 4 Verfahrensanforderungen

64

A. Thesen der BRAK zum Unternehmensanwalt im Strafrecht

64

B. Rechtliche Gebotenheit der vorgeschlagenen Verfahrensanforderungen

65

I. Rechtsgrundlage und Prüfungsmaßstab

66

II. Abwägung der einzelnen Thesenvorschläge

68

1. Möglichkeit der Anwaltskonsultation

68

2. Protokollführung und Einsichtnahmerecht

71

3. Belehrungspflichten

73

III. Folgen der Missachtung einschlägiger Verfahrensanforderungen

75

1. Folgen für die Beweisverwertung

75

2. Folgen für die Privilegierung des Unternehmens

76

§ 5 Betriebsratsrechte

76

A. Informationsrecht, § 80 Abs. 2 S. 1 BetrVG

76

B. Mitbestimmungsrechte

77

I. § 87 Abs. 1 Nr. 1 BetrVG

77

II. § 87 Abs. 1 Nr. 6 BetrVG

79

III. § 94 Abs. 1 S. 1 BetrVG

80

C. Anwesenheitsrecht, § 82 Abs. 2 S. 2 BetrVG

81

D. Folgen der Missachtung des einschlägigen § 80 Abs. 2 S. 1 BetrVG

81

§ 6 Motivations- und Druckmittel

81

A. Arbeitsrechtliche Sanktionsmittel

82

B. Amnestieprogramme

85

§ 7 Befragungen unter Einflussnahme der Staatsanwaltschaft

86

§ 8 Fazit zur Behandlung des Aussagedilemmas auf der Ebene des Arbeitsrechts

89

Kapitel 3: Lösung des Aussagedilemmas durch die Neuregelung interner Ermittlungen

150

§ 1 Gesamtheitliche Regelung interner Ermittlungen nach dem Vorbild von Moosmayer und Petrasch

150

A. Inhalt und Kernelemente

151

B. Stellungnahme und alternative Regelungsweise

152

I. Verfahrensregeln für interne Untersuchungen

152

II. Hinzuziehung von Rechts- oder Syndikusrechtsanwälten

153

1. Das "Gesetz zur Neuordnung des Rechts der Syndikusanwälte"

154

2. Kritik an der Ausnahme der Syndizi aus den legal privileges

156

3. Eigener Regelungsvorschlag

159

III. Strafprozessuale Grenzziehung zugunsten des einzelnen Mitarbeiters

159

1. Eigener Regelungsvorschlag eines absoluten, selbstständigen Beweisverwertungsverbots

160

a) Der Markstein des § 97 Abs. 1 S. 3 InsO

163

b) Möglichkeit der analogen Anwendung des § 97 Abs. 1 S. 3 InsO

165

aa) Auskunftspflicht gegenüber einer geschädigten Privatperson

165

bb) Zur Voraussetzung einer "gesetzlichen" Auskunftspflicht

165

cc) Berechtigte Interessen eines privaten Auskunftsgläubigers

167

dd) Einfluss staatlichen Zwangs

167

c) Möglichkeit der wertungsmäßigen Anwendung des § 97 Abs. 1 S. 3 InsO

169

d) Neuregelung eines absoluten, selbstständigen Beweisverwertungsverbots auf der Grundlage von Art. 2 Abs. 1 i.V.m. Art. 1 Abs. 1 GG

173

e) Vorzüge gegenüber sonstigen dogmatischen Anknüpfungspunkten

173

aa) § 136a Abs. 3 S. 2 StPO analog

173

bb) Nemo-tenetur im engeren Sinne oder fair-trial

174

2. Reichweite des absoluten, selbstständigen Beweisverwertungsverbots

176

a) Ausgestaltung in § 97 InsO

176

b) Ausgestaltung im Zuge der Neuregelung

178

aa) Verwertungs- oder Verwendungsverbot

179

bb) Verbleibende Kooperationsmöglichkeiten des Unternehmens mit der Staatsanwaltschaft

182

3. Widerspruchs- oder Zustimmungslösung

184

4. Formulierungsvorschlag

186

IV. Festlegung des Milderungsgrundes der Kooperation

187

C. Persönlicher Anwendungsbereich

188

I. Diskussionsstand

188

II. Erweiterung des Anwendungsbereichs auf Einzelkaufleute

189

1. Geltung festgestellter Verfahrensanforderungen

189

2. Übertragbarkeit der Wertentscheidung zugunsten eines Verwertungsverbots

189

3. Fazit zur Erweiterung des Anwendungsbereichs auf Einzelkaufleute

191

III. Verortung im Rechtssystem

191

§ 2 Eigener Regelungsvorschlag eines § 618a BGB n.F.

192

Teil 3: Zusammenfassung

194

Kapitel 1: Wesentliche Ergebnisse der Arbeit

194

Kapitel 2: Ausblick – Referentenentwurf eines Verbandssanktionengesetzes

196

§ 1 Auskunftsverweigerungsrecht des Mitarbeiters

197

§ 2 Verfahrensregeln und Sanktionsmilderung

200

§ 3 Verortung im Rechtssystem

202

Kapitel 3: Schlussbetrachtung

202

Literaturverzeichnis

204

Sachverzeichnis

228